Final Predictions for Who Will Make St. Louis Cardinals Roster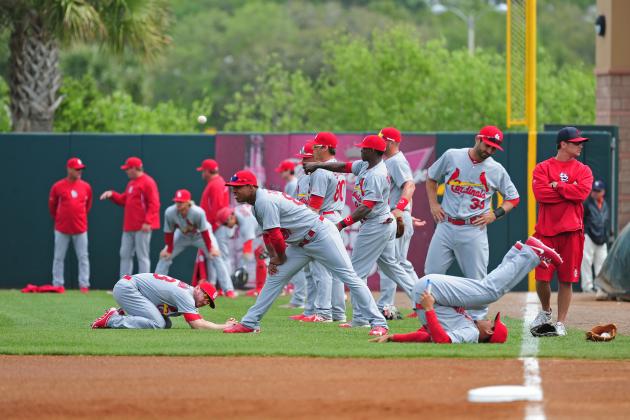 Scott Cunningham/Getty Images

With spring training nearing its end, rosters are beginning to take shape around MLB.
The St. Louis Cardinals' active roster, which has had its share of position battles both minor and major, is now beginning to take shape.
With question marks surrounding the fifth starter, second base and shortstop, there were plenty of spots to be won on the team, but only a handful of roster holes left to fill. Most of them have now been worked out and seem to be in pretty good shape to start the season.
A number of other "issues" could make things interesting for the Cardinals early in the season. Carlos Beltran's nagging toe injury from February has yet to go away and David Freese continues to deal with back stiffness.
Does the Cardinals' roster have what it takes to weather a storm like that?
Following is a complete 25-man roster prediction for the Cardinals in 2013.
Begin Slideshow

»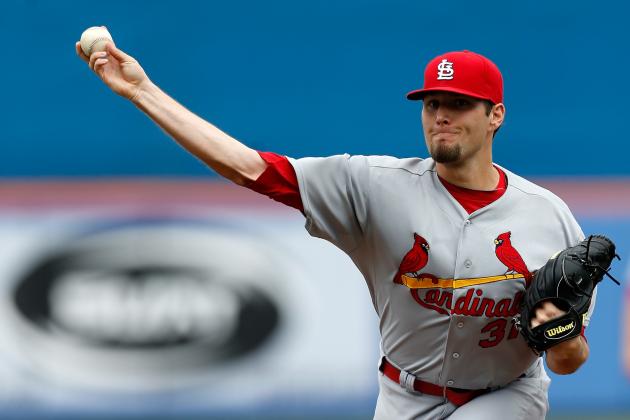 Chris Trotman/Getty Images

The Cardinals starting rotation took several hits after the 2012 season.
Kyle Lohse left to free agency and Chris Carpenter has once again gone down for the year with nerve problems. Left-hander Jaime Garcia went into the offseason with questions surrounding his arm, as well. The loss of all three would likely have been more than the Cardinals' depth could handle.
The top three of the rotation are no surprise: Adam Wainwright, Jaime Garcia and Jake Westbrook.
Lance Lynn will likely hold onto the next slot despite having some hiccups getting a hold on his approach since losing weight over the offseason.
While the fifth starter has not been officially decided, at this point there is little doubt Shelby Miller will get the nod since he has made the most recent start and is slated for the next. Miller projects as a starter and that's how the Cardinals would like to keep it to avoid slowing his development.
Adam Wainwright
Jaime Garcia
Jake Westbrook
Lance Lynn
Shelby Miller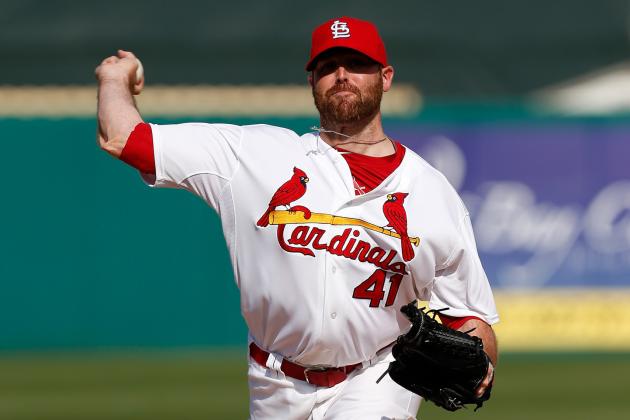 Chris Trotman/Getty Images

The Cardinals bullpen was sharp at the end of 2012—possibly the most solid aspect of the team at that point.
Once the night's starter was finished, the 7-8-9 trio of Edward Mujica, Mitchell Boggs and Jason Motte shut down almost everyone they faced. That trio, however, has taken a hit.
With Jason Motte likely to begin the season on the disabled list with an elbow strain, Boggs will be expected to take over the closer role. Boggs had a 2.21 ERA in 2012 and a 1.050 WHIP over 78 appearances.
In all likelihood, Trevor Rosenthal or Joe Kelly will find themselves taking over the eighth inning setup role until Motte returns.
From top to bottom, this bullpen looks strong.
Jason Motte
Mitchell Boggs
Edward Mujica
Randy Choate
Marc Rzepczynksi
Joe Kelly
Trevor Rosenthal
Fernando Salas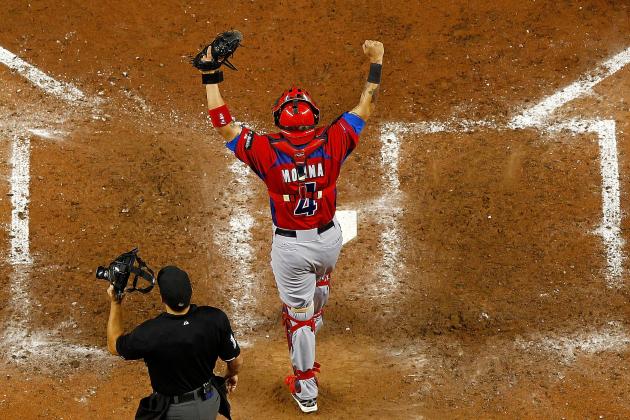 Mike Ehrmann/Getty Images

There won't be many surprises behind the plate in 2013.
Yadier Molina will obviously be catching, but the real story is in the backup position. The Cardinals have shown a lot of faith in Tony Cruz as backup and the pitchers seem to work well with him, too.
His bat isn't the same threat as Molina's, but he is a career .250-plus hitter with a plus-glove capable of filling in when Molina needs a day off. The catch is, Molina doesn't require a lot of days off.
Tony Cruz
Yadier Molina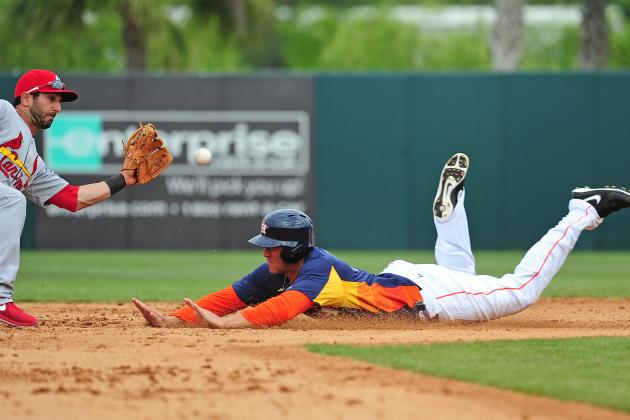 Scott Cunningham/Getty Images

The basics of the Cardinals infield look pretty simple. Allen Craig will be at first base, Matt Carpenter will be at second base, Pete Kozma at shortstop and David Freese at third base.
The "extra" infielders won't be a surprise either. Matt Adams has almost certainly earned a spot on the roster. His role will be simple—first base when Craig is in the outfield or needs a day off and DH during interleague play on the road. He'll also make a solid bat off the bench late in games.
Daniel Descalso and his glove will fill in for Carpenter and Kozma when needed. With that said, he will spend the majority of his time as a pinch hitter in late innings.
Ty Wiggington, assuming he makes the roster, will be charged with a backup third baseman role. If there came a time when Freese landed on the disabled list, it's most likely that a longer term stint would go to Descalso.
Matt Adams
Allen Craig
Daniel Descalso
David Freese
Pete Kozma
Ty Wiggington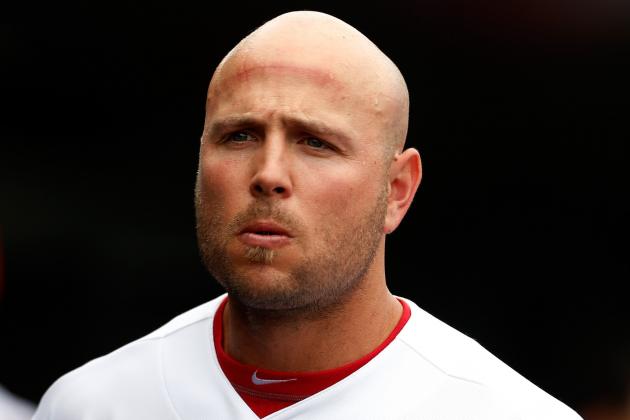 Chris Trotman/Getty Images

The Cardinals outfield is pretty much set, at least for the first part of the season. There are, however, several options for how to handle it.
The average day will consist of Matt Holliday in left field, Jon Jay in center and Carlos Beltran in right field just like in 2012. Shane Robinson will be along as the fourth outfielder, but it's not that simple.
Given the Craig/Adams situation, it's possible Craig could be the "true" fourth outfielder. Robinson will no doubt get playing time, both off the bench and as an additional outfielder.
Later in the season, how much later remains to be seen, there could be another name in the mix: Oscar Taveras. There's no way to say for sure when it will happen, but expect to see Taveras involved in the Cardinals outfield during 2013 most likely sharing time with Beltran.
Carlos Beltran
Matt Holliday
Jon Jay
Shane Robinson