Breaking Down the Chicago Bears' Depth Chart After the Peak of Free Agency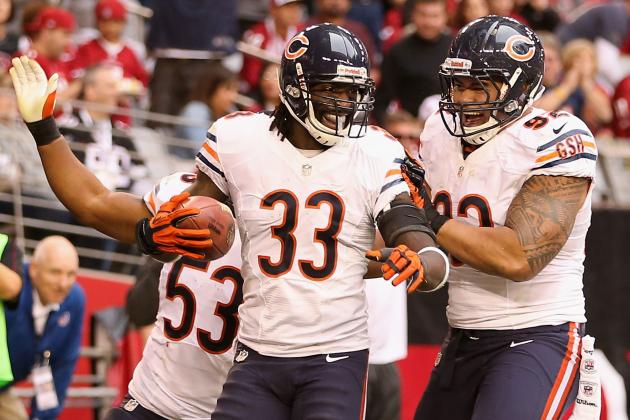 Christian Petersen/Getty Images
Charles Tillman
The high point of free agency is in the books. The Bears came out strong with two key signings and have since filled in their roster with cheaper options.
They have said goodbye to a couple linebackers, including franchise icon Brian Urlacher, and have replaced him and Nick Roach with a couple of veterans.
There are still holes on the team's depth chart that will likely be addressed in the draft and possibly with some players looking to sign for the minimum. Here is how the depth chart looks after the peak of free agency.
Begin Slideshow

»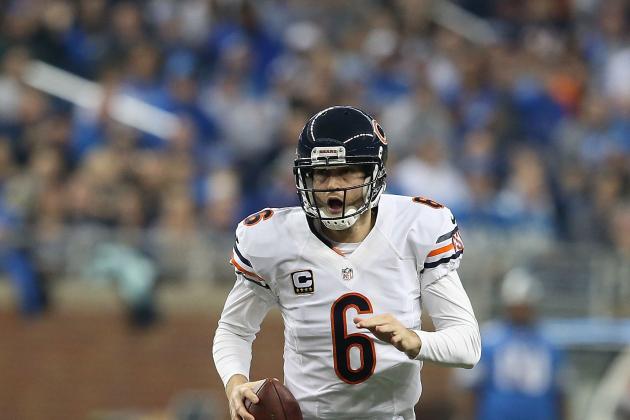 Leon Halip/Getty Images
Jay Cutler
1. Jay Cutler
Much will be put on the shoulders of Cutler this season as he faces the pressure of a new coach and the last season of his contract. He will be the new face of the franchise with Brian Urlacher gone and will look to prove he is and should be paid like an elite quarterback.
2. Matt Blanchard
The second-year man from Wisconsin-Whitewater has yet to make a NFL appearance, but without Jason Campbell signed, he is currently the backup to Cutler.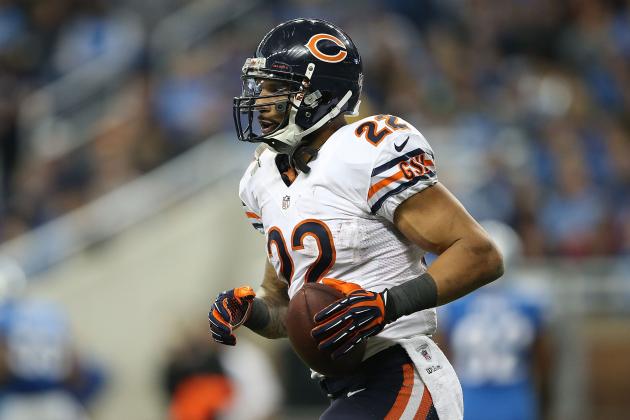 Leon Halip/Getty Images
Matt Forte
Running Backs
1. Matt Forte
Expect Forte to be more of a focal point in the passing game under Marc Trestman. Last season Mike Tice did not use Forte's receiving skills. He had only 44 receptions last year, which was a career low.
2. Michael Bush
The Bears paid Bush a decent amount of money and then didn't use him last year. Bush is more than just a goalline running back and needs to be used more this season.
3. Armando Allen
Allen is the perfect third option. He fights for extra yards and proves to be valuable when injuries arise.
Fullbacks
1. Evan Rodriguez
If the second-year man can stay out of trouble he can have a role in this offense and could grab around 25 catches this year. Last season he didn't get his first catch until Week 7 and finished the year with four.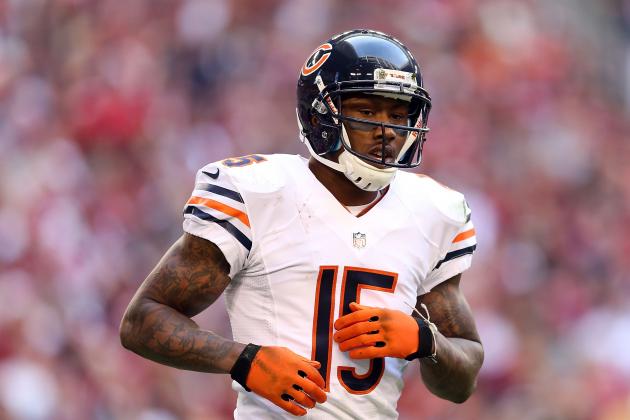 Christian Petersen/Getty Images
Brandon Marshall
Marshall was the primary target last year and finished with 118 receptions. It will actually benefit the team if his catches went down a tad while making sure others get in on the action. The passing game can not be so one-dimensional.
2. Alshon Jeffery
Only 24 receptions for Jeffery in 10 games last year. He was marred by injuries and the learning curve was big for him in his first season. Working out in the offseason with Marshall and a fast-paced offense will benefit him greatly.
3. Earl Bennett
The Bears need Bennett to be a more dependable slot receiver. He has been known to disappear for weeks at a time.
4. Joe Anderson
Anderson can have more of a role in the offense this year. He has the skills to get down the field and make big plays.
5. Devin Hester
Come the start of the season Hester will not see any plays on offense. That could change with injuries or Marc Trestman's desire to change it up.
6. Eric Weems
Like Hester, Weems will strictly be a special teams player.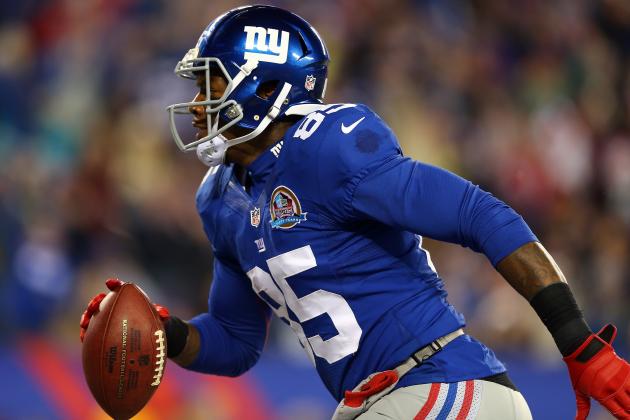 Elsa/Getty Images
Martellus Bennett
1. Martellus Bennett
The Bears finally have a three down tight end who can stretch the field, roam the middle and block on the line of scrimmage.
2. Steve Maneri
The blocking tight end signed from Kansas City only has six receptions in two seasons.
3. Kyle Adams
Adams, like Maneri, is a blocking tight end who only had four catches last year.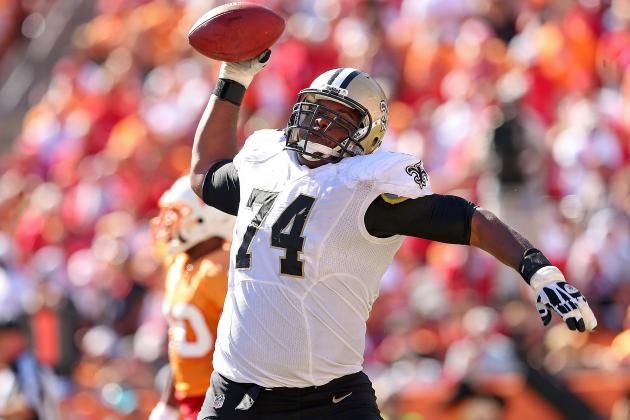 Mike Ehrmann/Getty Images
Jermon Bushrod
Left Tackle
1. Jermon Bushrod
The big free-agent acquisition will allow Jay Cutler to rest easily at night knowing he has a two-time Pro Bowl player protecting his blind side.
2. Cory Brandon
The former Buccaneer was brought in last year for depth.
Right Tackle
1. J'Marcus Webb
Webb wasn't the best left tackle but he actually is a solid right tackle. Having Bushrod on the team allows Webb to move to the right side, making the line better in two spots.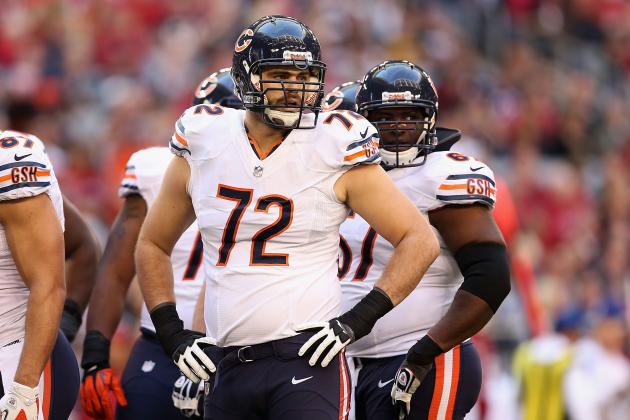 Christian Petersen/Getty Images
Gabe Carimi
Left Guard
1. James Brown
Brown played in five games last season, starting three of them.
2. Chris Riley
Riley will try hard to stick with the Bears for another year after unsuccessful stints in Cincinnati and Tampa Bay.
Right Guard
1. Gabe Carimi
If Carimi can prove to be a quality guard then the bust label that is currently attached to him will start to fade. Unfortunately, he has a high hill to climb.
2. Edwin Williams
Williams is entering his fourth year with the Bears. He has started 12 games with the team.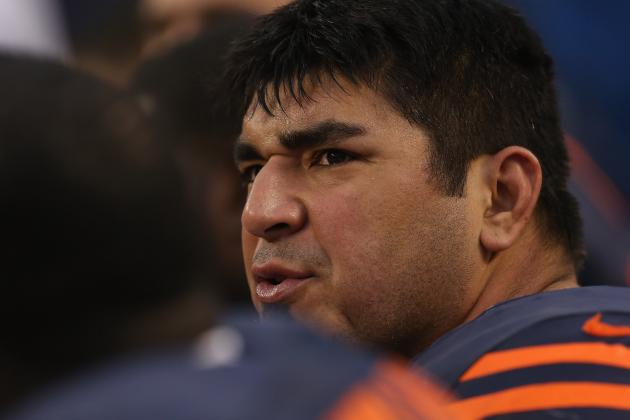 Jonathan Daniel/Getty Images
Roberto Garza
1. Roberto Garza
Father time is catching up to Garza. This very well could be his last season with the Bears.
2. Nick Pieschel
Pieschel, from Central Florida, is entering his second season. He joined the Bears as an undrafted free agent.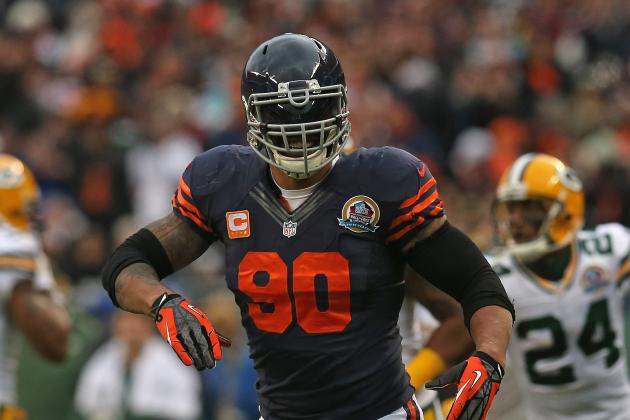 Jonathan Daniel/Getty Images
Julius Peppers
1. Julius Peppers
The accomplished veteran with start the year with 111.5 career sacks under his belt. He will look to go for his third straight double-digit sack season.
2. Corey Wootton
Last season Wootton finally emerged as the pass-rusher the Bears have been waiting for. He had seven sacks while playing in all 16 games and starting seven of them.
3. Shea McClellin
Expect McClellin to still be a pass-rushing specialist in his second year. He will be rotated in on obvious passing downs.
4. Turk McBride
The six-year veteran was brought in from New Orleans where he had zero sacks last year and two the season before.
5. Cheta Ozougwu
Ozougwu appeared in only two games last year.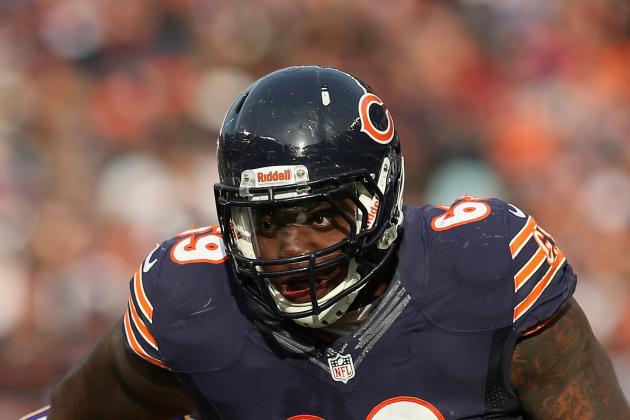 Jonathan Daniel/Getty Images
Henry Melton
1. Henry Melton
Melton will look to prove last year was not a fluke and he deserves a lucrative long-term deal. The Bears want him to be elite against better opponents and show more consistency.
2. Stephen Paea
The big run stuffer started 14 games last year and added 2.5 sacks.
3. Nate Collins
Collins had six tackles in nine games last year. Showed flashes at times but tapered off as the season went along.
4. Matt Toeaina
Only three games for Toeaina last year for the man who has spent his entire six seasons with the Bears.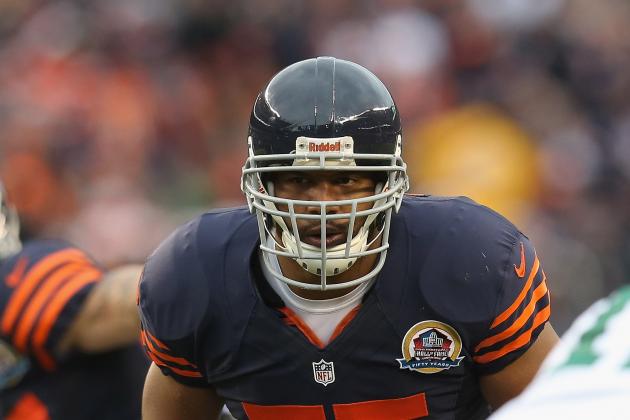 Jonathan Daniel/Getty Images
Lance Briggs
Strong Side Linebacker
1. James Anderson
The newly acquired Anderson had his lowest tackle numbers last year since 2008. He played in 12 games for the Panthers last season, starting 11.
2. J.T. Thomas
Entering his third year with the Bears, Thomas has the chance to prove he is more than a special teams player.
3. Patrick Trahan
Only seven games total for Trahan in his two years with the Bears.
Middle Linebacker
1. D.J. Williams
The nine-year veteran brought in from the Broncos struggled with injuries last year but has over 800 tackles in his career.
2. Blake Constanzo
Entering his second season with the Bears, Constanzo still looks to be an important part on special teams.
3. Dom DeCicco
Like Constanzo, DeCicco will see most of his time on special teams.
Weak Side Linebacker
1. Lance Briggs
Old Reliable is the only starter from last year's linebacking unit still on the roster. The seven-time Pro Bowler will assume the leadership role left open by the departure of Brian Urlacher.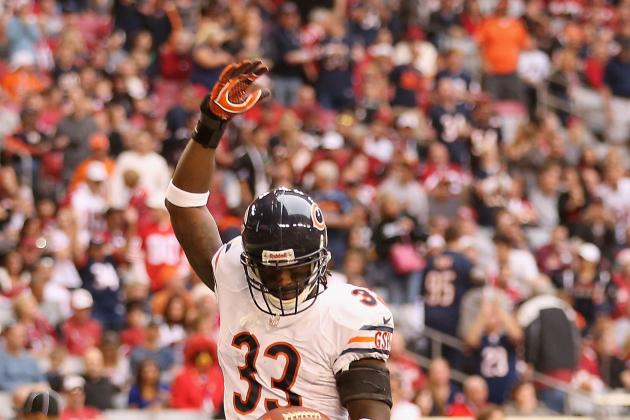 Christian Petersen/Getty Images
Charles Tillman
1. Charles Tillman
It has been back-to-back Pro Bowl seasons for Tillman, who is showing no signs of slowing down even after 10 seasons with the Bears.
2. Tim Jennings
Jennings will look to prove his Pro Bowl season last year was no fluke. If he can then he is in for a big payday.
3. Zack Bowman
The special teams standout was brought back recently for another season with the team.
4. Sherrick McManis
McManis will be an intricate part of the special teams unit once again.
5. Isaiah Frey
Frey has the chance to really step up in his second season in the NFL.
Jonathan Daniel/Getty Images
Chris Conte
Free Safety
1. Chris Conte
Conte locked down the back half of the field last year. He played in 15 games and had nine pass deflections to go with a couple interceptions.
2. Anthony Walters
Walters played in all 16 games last year, mostly on special teams, but did start one game.
3. Brandon Hardin
Hardin will look to get his first taste of the NFL this year after being placed on IR in the preseason last year.
Strong Safety
1. Major Wright
Wright started and played in all 16 games last season for the first time in his career.
2. Tom Zbikowski
The hometown product was signed from the Colts. He brings starting experience and quality depth as well as an important piece to the special teams unit.
3. Craig Steltz
Steltz is pushed down with the signing of Zbikowski and is in danger of not making the roster when camp breaks.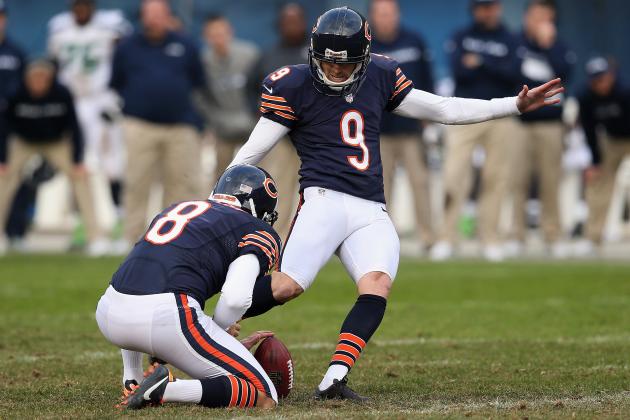 Jonathan Daniel/Getty Images
Adam Podlesh & Robbie Gould
Kicker
1. Robbie Gould
Gould will return from injury that caused him to miss the last three games last season.
Punter
1. Adam Podlesh
Podlesh is reunited with special teams coach Joe DeCamillis. The two spent time together in Jacksonville.
Kick Return/Punt Return
1. Devin Hester
Hester was shut out of the end zone last year on special teams. His main job will be returning the football this year, which should help him get back on track.
2. Eric Weems
Weems filled in for Hester last year when he was struggling or out with injury.