Gonzaga was the first No. 1 seed to go down in the NCAA tournament, while the other three survived at least until the Sweet 16. Unfortunately, things only get tougher from this point forward.
Louisville had little trouble disposing of Colorado State in the third-round game, but the other top seeds were not as fortunate. Indiana had to survive a low-scoring battle against Temple and only won by six points, while Kansas had to come back from being down nine at halftime against North Carolina.
Still, every team will have to work harder to stay alive in the next round. Here is a breakdown of each matchup for the remaining No. 1 seeds.
No. 1 Louisville vs. No. 12 Oregon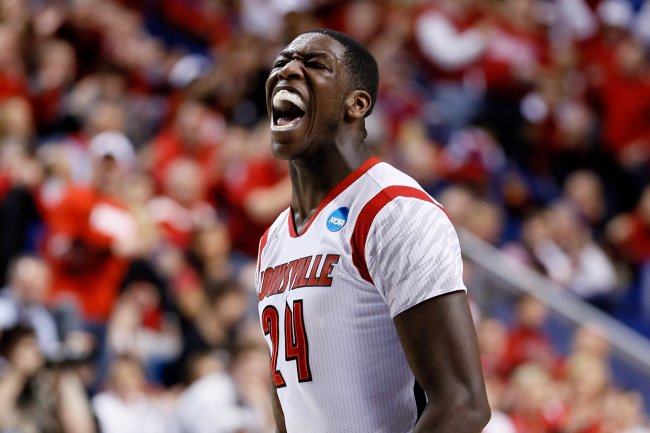 Kevin C. Cox/Getty Images
By seed, Oregon is the easiest matchup for all of the No. 1 seeds. However, anyone watching this squad over the past week knows that this is not a normal No. 12 seed.
The Ducks are a deep team that has athleticism in players like Carlos Emory, rebounding from Arsalan Kazemi and playmaking from E.J. Singler. Add in the recent shooting of Damyean Dotson, and this squad can beat anyone.
However, that will not matter if they cannot get the ball across half-court.
Louisville has the best full-court press in the country, and it has caused problems for each of the team's first two opponents in the tournament. Colorado State and North Carolina A&T combined to turn the ball over 44 times in two games.
As well as Oregon has played lately, holding onto the ball has not been a strength. The Ducks were last in the Pac-12 with 14.9 turnovers per game, and they had 18 in each of the first two games of the NCAA tournament.
Those figures will become an issue against the dominant defense of Louisville. The Cardinals will prevent Oregon from scoring and will get easy buckets for themselves at the same time, turning this into an easy victory.
Prediction: Louisville 75, Oregon 62
No 1. Louisville vs. No. 12 Oregon: Sweet 16 Preview
No. 1 Indiana vs. No. 4 Syracuse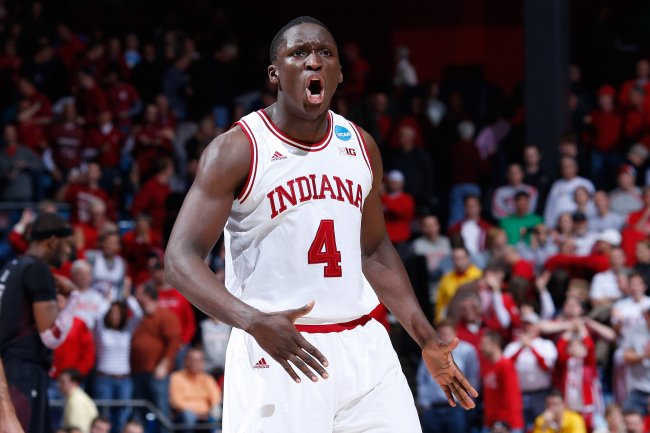 Joe Robbins/Getty Images
Syracuse has been playing extremely well lately, winning five of its last six games. The squad has the size in the 2-3 defense to disrupt almost any offense.
However, there are two things you need to do to beat a zone: shoot threes and get offensive rebounds. Fortunately, those are things that Indiana does very well.
The Hoosiers finished third in the nation in outside shooting, making 41.1 percent of shots from behind the arc. Additionally, Cody Zeller and Victor Oladipo, they can find gaps in the zone to get plenty of boards for second-chance opportunities.
On the defensive end, Syracuse has a tendency to get hot and cold. This will cause trouble at times for the top seed, but things will even out if the Orange suffer another 12-minute drought without a field goal like they did against California.
Indiana cannot afford to be passive like it was against Temple. However, an aggressive version should beat able to beat Syracuse in the next round.
Prediction: Indiana 67, Syracuse 61
No. 1 Indiana v No. 4 Syracuse preview
No. 1 Kansas vs. No. 4 Michigan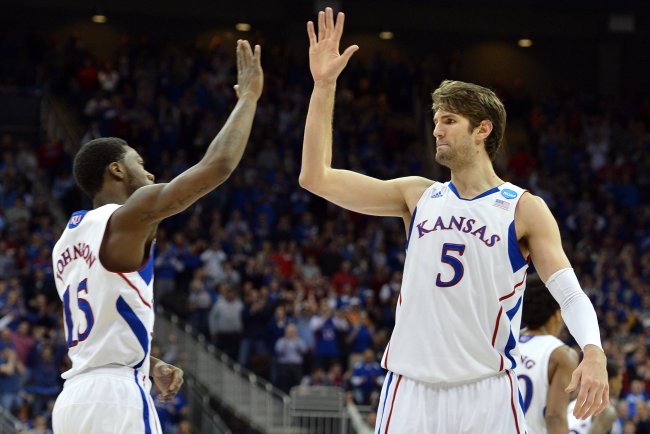 Peter G. Aiken-USA TODAY Sports
Going forward, Kansas has to be very concerned about the ice-cold shooting of leading scorer Ben McLemore. In two tournament games, the star freshman is only 2-of-14 from the field, including 0-of-8 from behind the arc.
While Travis Releford picked up the slack against North Carolina, it is tough to count on his 22 points every game.
This will especially be an issue against Michigan's talented offense. The Wolverines already dominated one good defensive team in VCU, and they are looking to do the same against Kansas.
Trey Burke is one of the best point guards in the country, and he can help his team either as a scorer or distributor on the offensive end. If his teammates Tim Hardaway Jr. and Nik Stauskas are hitting shots, the Wolverines are tough to stop.
In addition, they have finally found someone to provide balance inside with freshman Mitch McGary. The forward finished with 21 points and 14 rebounds against VCU, and he has the ability to match up well with Jeff Withey in the Kansas game.
The Jayhawks still lack consistency in the backcourt, and the quickness of Michigan will simply be too much for them in the Sweet 16.
Prediction: Michigan 71, Kansas 67
No. 1 Kansas vs No. 4 Michigan: Sweet 16 Preview