UNC Basketball: The Highs and Lows of Tar Heels' 2012-13 Season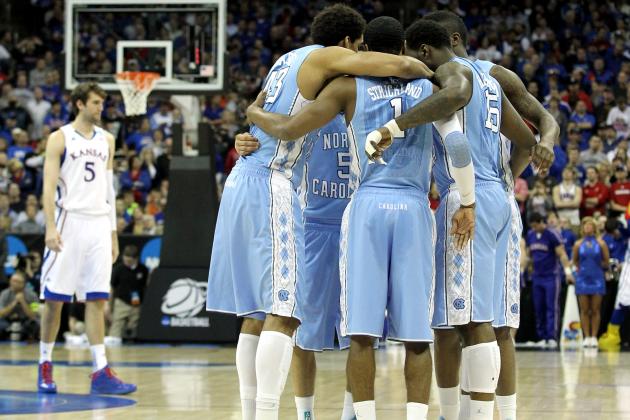 Ed Zurga/Getty Images

North Carolina's season didn't end on a very high note, with a loss to Kansas in its second game of the NCAA tournament. That doesn't mean this season was completely devoid of highs.
UNC fans have become so accustomed to winning, a third-place finish in the ACC feels like a Chapel Hill apocalypse. And as disappointing as this season was for everyone that lives and breathes Carolina basketball, this team proved that doomsday is not upon us.
This is just the start of a new era for the Tar Heels.
In the following slides, I will take you through the highest highs and the lowest lows of Carolina's 2012-13 season. I prefer ending on a positive note, so we will start with the lows and work our way up from there.
Begin Slideshow

»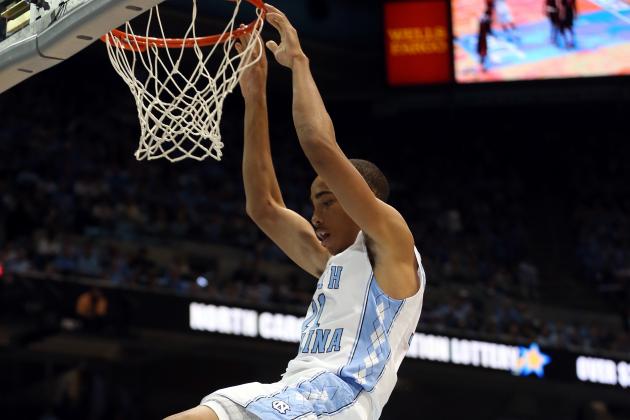 Streeter Lecka/Getty Images

Counting the game against Kansas in the NCAA tournament, the Tar Heels had eight opportunities to take down a Top 25 opponent though the course of the season.
They only won one of those games.
That was a 79-73 win over the No. 20 (at the time) UNLV Rebels in Chapel Hill. However, UNLV wouldn't finish the season in the Top 25. It did earn a No. 5 seed in the tourney, though—three seeds higher than Carolina.
As for the other seven games—well—they weren't very close. The average margin of loss in those contests was 14.4 points.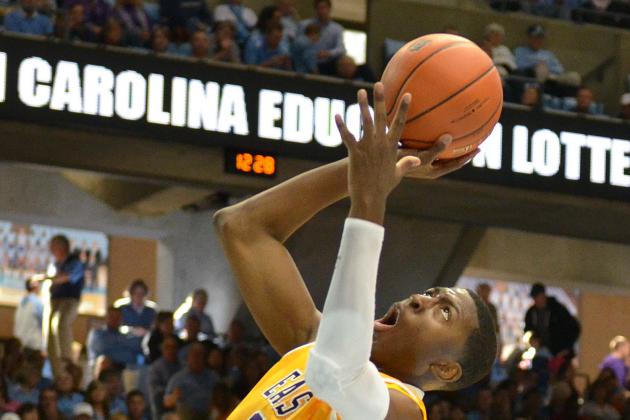 Rob Kinnan-USA TODAY Sports

This North Carolina squad had a knack for letting off the gas when it appeared to be running the opposing team out of the building. The game against East Carolina was the first—and greatest—indicator of things to come.
The Tar Heels had a comfortable 42-26 lead going into the locker room, and they were dominating the Pirates in every facet of the game.
Then there was the second half, when the Tar Heels became completely lethargic on defense. They allowed 61 second-half points, and the Pirates pulled within four points with 26.6 seconds to play.
A pair of free throws from Dexter Strickland and a dunk by Leslie McDonald sealed the deal.
It kind of reminds you of the tourney game against Villanova.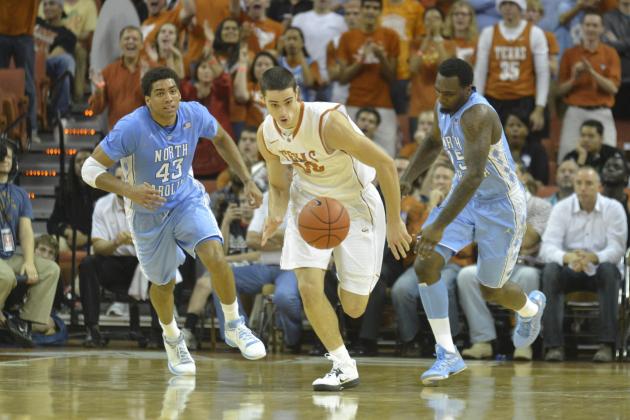 Brendan Maloney-USA TODAY Sports

The Tar Heels didn't follow up that second-half blunder very well. They faced the stumbling Longhorns in Austin next, and there was even less to be proud of in this one.
Texas opened up the game on an 8-0 run, thanks in part to three UNC turnovers in the first three minutes of action.
The Longhorns pushed the lead to 19 points in the first half, and the Tar Heels would eventually make a run in the second. They got as close as four points before running out of steam, and Texas just pulled away over the final 10 minutes.
UNC never had a lead in this one, against a team that finished 16-18.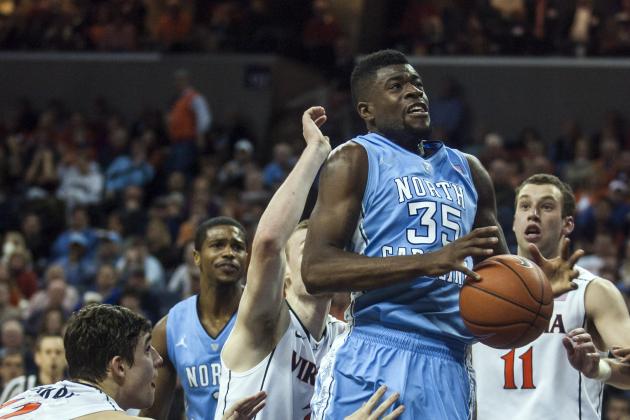 USA TODAY Sports

After the Tar Heels' first—and only—win over a Top 25 team in UNLV, it appeared they were ready turn the season around.
Then conference play began.
North Carolina lost back-to-back games against Virginia (away) and Miami (home) to start its ACC season. Now knowing how these two teams performed the rest of the season, those two losses don't look nearly as bad.
But those opening losses brought out the Carolina doomsdayers in full force, guaranteeing another NIT season. It was "2009-10 all over again."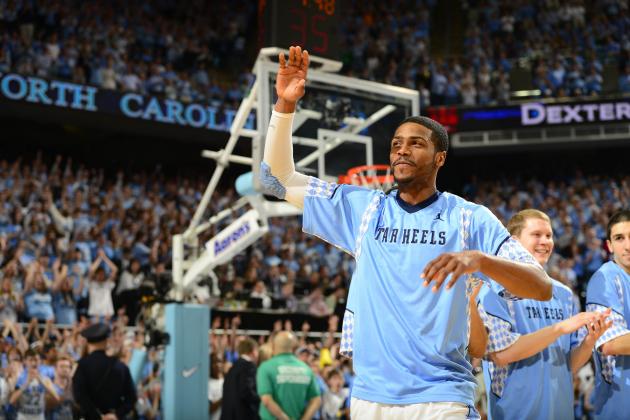 Bob Donnan-USA TODAY Sports

Dexter Strickland has been through a lot during his career at North Carolina.
He was a part of the aforementioned 2009-10 team that was left out of the NCAA tournament. He tore his ACL in 2011-12, during a season where Carolina appeared to be title contenders—until John Henson and Kendall Marshall went down, too.
Senior Night was supposed to belong to Dexter Strickland—UNC's lone senior.
Instead, it belonged to Duke. The Blue Devils jumped out to a 14-0 lead and never looked back, eventually beating the Tar Heels, 69-53.
This was Roy Williams' first loss on Senior Night, and Strickland was there to witness every painful second of it.
Not only was the loss at the hands of Carolina's biggest rival, it was also the second time it lost to Duke this season.
Poor Dex.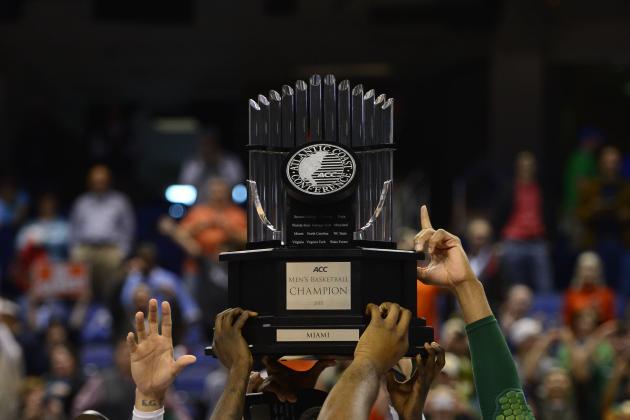 Bob Donnan-USA TODAY Sports

It isn't often you see UNC go down to the same team three times, but this was an unusual season for the Tar Heels.
They lost to Miami at home, then got crushed by the Hurricanes in Coral Gables, Fla. Miami had a 44-27 lead at the half, and Carolina never even came close to making it a game.
Following that loss, Roy switched to a small lineup that put P.J. Hairston in a starting role.
The Tar Heels started playing better basketball, finishing the regular season 6-2 and storming their way to the ACC title game.
They would have one more shot at Miami. This time it would be with the new lineup and an ACC title on the line.
The Tar Heels probably played their best basketball of the season that afternoon. Unfortunately, so did the 'Canes.
Carolina led most of the way, but Shane Larkin and the 'Canes would not be held down. They went on to win 87-77, in one of the most entertaining ACC games of the season.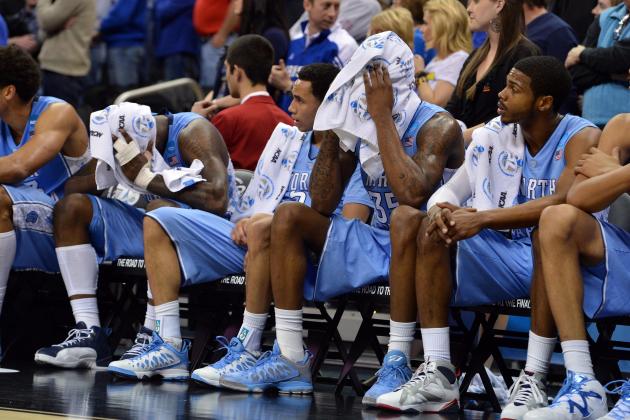 Peter G. Aiken-USA TODAY Sports

The Tar Heels made it to the NCAA tournament, but their performance in it was very underwhelming.
After a couple shaky minutes by both North Carolina and Villanova in their first game of the tourney, the Tar Heels turned it on. They led 30-11 with just over seven minutes left in the half.
It looked like this team had found itself, and was poised to make a deep run in the tourney. Once again, the team would prove it wasn't mentally tough enough to do such a thing.
The defense disappeared and the offense just started jacking up everything, as if the game was already won. 'Nova managed to cut the lead to 37-29 at the half.
Carolina eventually won 78-71, but it wasn't very pleasant to watch.
The same could be said about the following game against Kansas. The Tar Heels had a 30-21 lead at the half, but their shooting was atrocious.
You knew both team wouldn't continue to be this cold coming out of the locker rooms, and that was certainly the case. Kansas was on fire in the second half, and pretty much rolled Carolina over the final 20 minutes.
UNC lost 70-58, and shot just 30.1 percent from the floor.
This was a tourney to forget.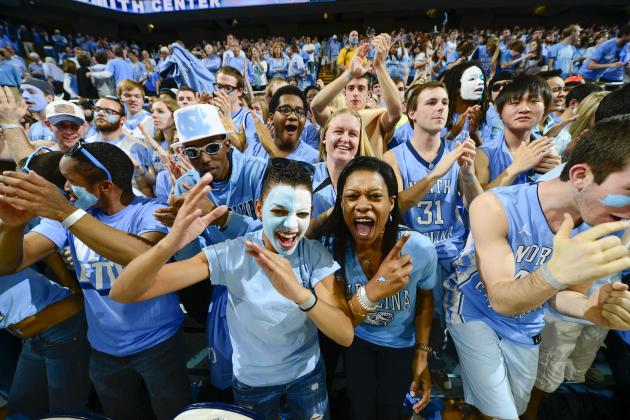 Bob Donnan-USA TODAY Sports

North Carolina may have lost 11 times this season, but at least the home crowd only had to witness two of them. They saw five losses during the 2009-10 season.
While none of the games in 2012-13 would be considered "signature" wins, I'm sure the victories over UNLV, UVA and especially NC State felt like it to the home crowd.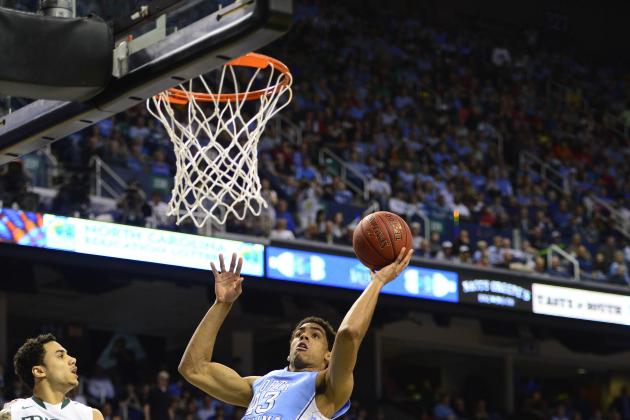 Bob Donnan-USA TODAY Sports

OK, so the Tar Heels didn't win the ACC title. But just making it to the title game after such a tumultuous season is something to be proud of.
So is the fact the Tar Heels didn't seem to fold under the spotlight, as they had multiple times throughout the season.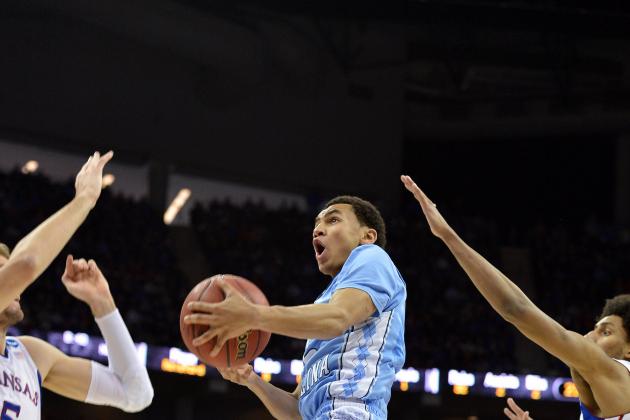 Peter G. Aiken-USA TODAY Sports

After losing four starters to the NBA draft, the NIT chants began to rain down upon this 2012-13 squad before the season even began. Through the first 15 games, the Tar Heels were just 10-5, and more fans began to hop on the NIT train.
Roy Williams and the Tar Heels never bought into that, though, and they would only lose three more games through the remainder of the regular season.
Carolina finished third in the ACC behind Miami and Duke, and ahead of preseason-favorite NC State. Then it played in the ACC championship, which would ultimately earn the team a No. 8 seed in the tourney.
This was in a season many thought UNC would be lucky to even be on the bubble.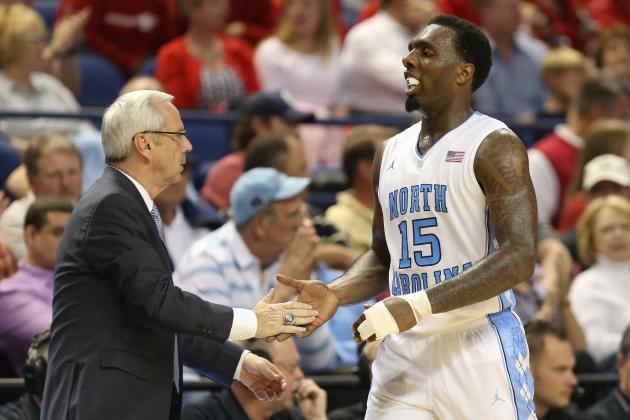 Streeter Lecka/Getty Images

For most of the season, we were wondering if Roy had something against Hairston. To all of us viewing from home, he seemed to be the deadliest player on the squad.
Yet, Hairston still wasn't starting.
Despite the losses, Roy wasn't changing a thing. It appeared Coach Williams was being as stubborn as ever, refusing to adapt to his players' talents.
After losing to Miami for the second time in an ugly fashion, Roy held a meeting with his assistants to figure out what was wrong with the team. The meeting resulted in a transition Williams had never made before.
He dropped the dual-post scheme for a four-guard, spread offense that featured Hairston at the 4.
We can say the change was made way too late all we want, but at least it was made. Roy is known for being stubborn with his ways, but he showed growth as a coach this season.
That could mean a lot in his final years as a head coach at North Carolina.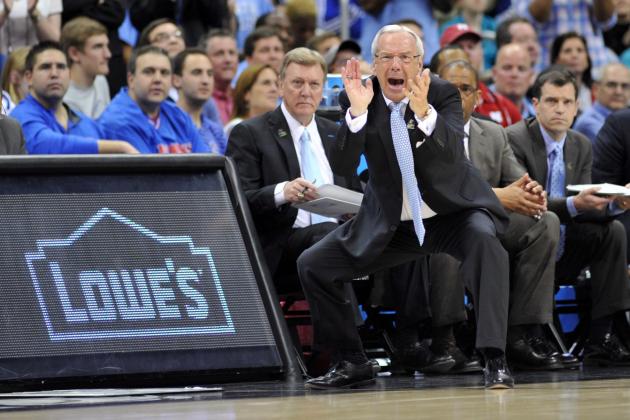 Peter G. Aiken-USA TODAY Sports

With the win over Villanova, Roy Williams became only the third active coach to reach 700 wins in D-I basketball, joining Mike Krzyzewski and Jim Boeheim. He now ranks 17th on the all-time list, and will likely enter the top 10 before he retires.
I'm sure he would have preferred his 700th had come in the ACC title game, but that would have been too perfect. And we all know life is far from that.
It is what you make of it, and the disappointing game against Villanova did nothing to deter his happiness. He was seen jumping around and bumping the players in the locker room.
Then Reggie Bullock presented him with a No. 700 Carolina jersey.
Congratulations Coach Williams #700wins #uncbball #goheels twitter.com/TarHeel_Photo/…

— J D Lyon (@TarHeel_Photo) March 23, 2013
Roy Williams' 700th victory came in just his 879th game. Only Adolph Rupp and Jerry Tarkanian reached that mark faster.
Congratulations, Coach!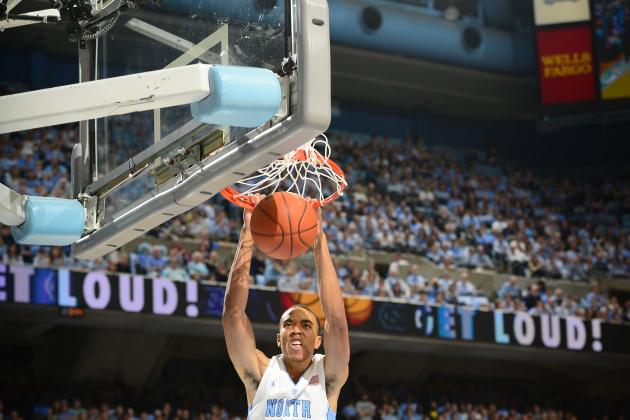 Bob Donnan-USA TODAY Sports

Through the first half of the season, Brice Johnson was on a tear. Every time he went to shoot the turnaround jumper, you pretty much knew it was hitting the bottom of the net.
His teammates started calling him "Easy B" (Easy Bucket) for his ridiculous field-goal percentage of 64.5. At that point, he was averaging 9.4 points, 5.1 rebounds and 0.9 blocks in just 14.1 minutes per game.
Eventually his minutes were reduced, and his shooting percentage went with it. He still shot 51.1 percent on the season, though, and we got a glimpse of what could be a very bright future with Johnson.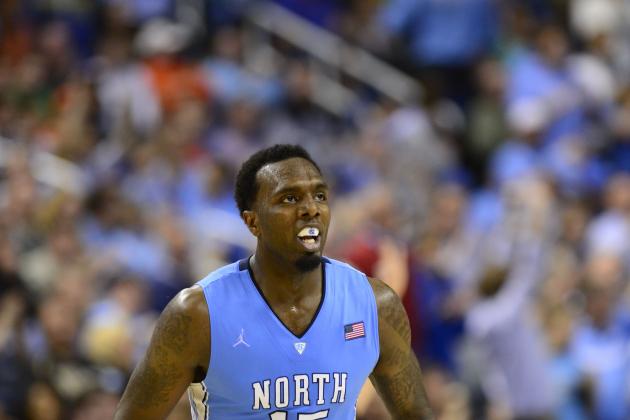 Bob Donnan-USA TODAY Sports

Remember when people were wondering why Roy ever offered such a bad shooter?
In his freshman season at North Carolina, Hairston shot 30.8 percent from the floor and 27.3 from downtown. That was a far cry from the guy scouts were touting as the purest shooter in his class.
That wasn't the case in 2012-13.
Hairston lit it up this season, shooting 43.1 percent from the field and 39.6 beyond the arc. He ended up leading the team with 14.6 points per game, despite averaging four minutes less than any other starter.
In his 14 games as a starter, Hairston was putting up 18.2 points per contest. He also averaged 19.8 points with stitches and a wrap on his left hand.
Hairston also led the team in 20-point games, reaching that number eight times.
Let's just hope we get to see another season from Carolina's newest star—and hands-down fan favorite.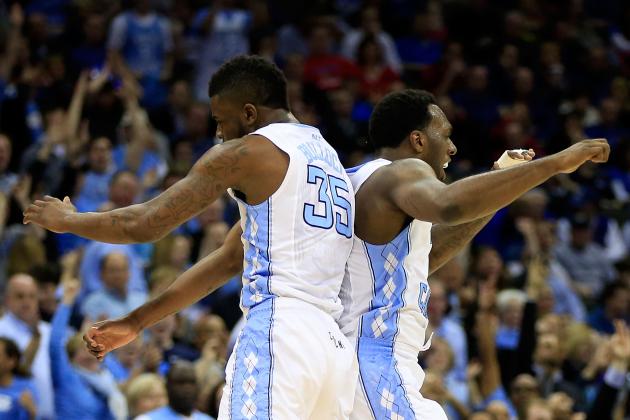 Jamie Squire/Getty Images

Reggie Bullock had a remarkable shooting season, finishing second in the ACC with a three-point percentage of 43.8. P.J. Hairston found himself in the 14th spot, shooting 38.9 percent by the end of the regular season.
But no duo buried more treys than these two.
Hairston and Bullock combined for 165 threes through the course of the regular season. Duke's Seth Curry and Quinn Cook were the next closest, nailing down 138.
Will we have an encore in 2013-14?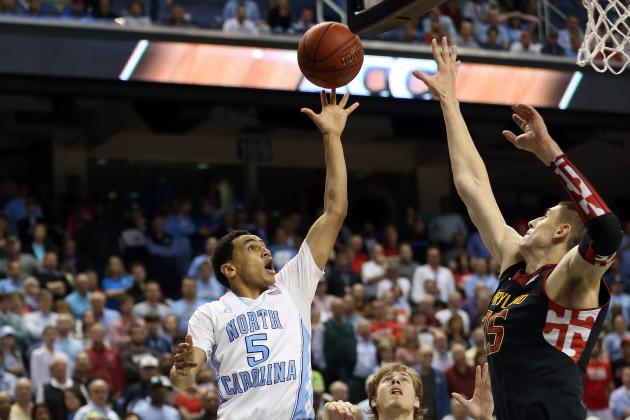 Streeter Lecka/Getty Images

As nice as it would be to have a freshman jump in at the point and dominate, it's pretty rare that actually happens. But that didn't matter Marcus Paige's doubters.
He was too small, and he wasn't dishing out assists at the rate of Kendall Marshall. On top of that, he was struggling to find the bottom of the net.
Instead of giving him time to adjust, many fans wanted him yanked for Strickland. They felt the Tar Heels would be better off just waiting for 2013 recruit Nate Britt to show up.
But Paige didn't care.
He knew what he was capable of, and he didn't fold under the pressure of being a UNC point guard. He punched that monster in the face, and continued to improve as the ACC season went on.
Now you don't hear many people hating on Paige.
He overcame a lot of adversity to become the type of point guard everyone expected. Paige was dropping dimes, threes and made multiple clutch shots through the final stretch of the season.
In one season, Paige went from scapegoat to one of the fan favorites.
Any Tar Heel fan will tell you they wished he played that way all season. But most will also say they enjoyed watching the young man grow.
I know I did.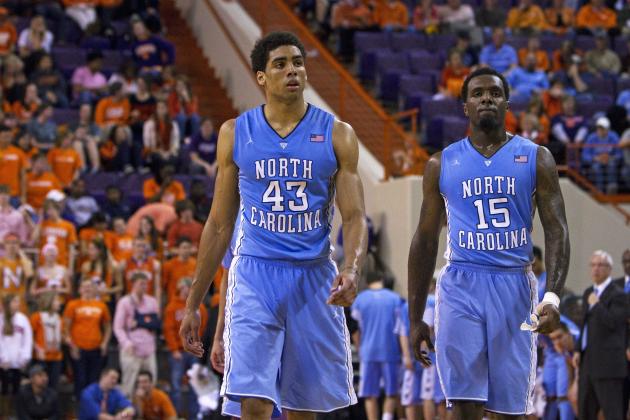 Joshua S. Kelly-USA TODAY Sports

Nobody knows if we will ever see the Triangle Trio together again. McAdoo, Hairston and Bullock are all in consideration for the 2013 NBA draft.
But if this is the last time we see these guys together, it was certainly fun while it lasted.
Hairston and McAdoo averaged over 14 points, and Bullock came up just shy at 13.9 points per game. Together, the trio averaged 42.9 points, 18.1 rebounds, 5.4 assists and 4.1 steals per game.
Add in Bullock and Hairston's 165 threes, and you have a pretty versatile group.
Will we ever see the Triangle Trio step on the floor together again?
Probably not. But retaining at least two of them would make this team a true contender next season.
Though the lows may outweigh the highs of 2012-13, it wasn't the disastrous season so many were expecting. And the team gave fans something to look forward to in 2013-14.
Roy hasn't lost it, the freshmen showed promise, Paige and Hairston can ball and the UNC basketball program is not about to blow up in an apocalyptic fashion.
Everything is just fine in Chapel Hill.