UFC Welterweight Division Should Be Wary of Rory MacDonald When He Returns
Use your ← → (arrow) keys to browse more stories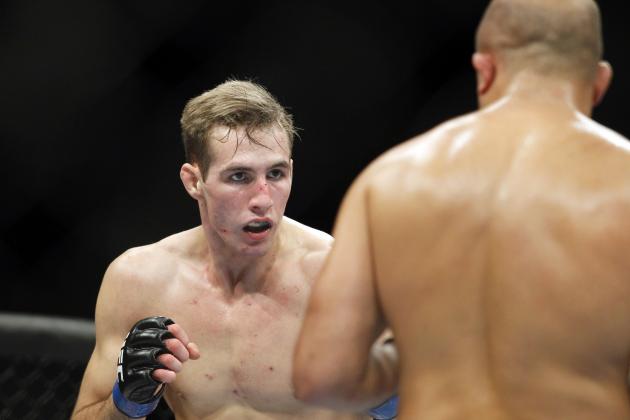 Joe Nicholson-USA TODAY Sports

Take a glance at the freshest batch of UFC divisional rankings; more specifically feast your eyes on the welterweight rankings.
It's hard to argue that Johny Hendricks doesn't deserve to be in the No. 1 position; after all he's on a six-fight winning streak, with four of those six wins earning him some extra scratch in the way of highly coveted "Fight Night" bonuses. He's also coming off a big win over the No. 2-ranked fighter on the list, Carlos Condit.
Some may question how a fighter coming off two straight defeats, which Condit is, deserves to be the No. 2-ranked welterweight. They shouldn't. Condit may have lost to Hendricks at UFC 158 and before that to UFC welterweight kingpin Georges St-Pierre at UFC 154, but the former WEC champion deserves his high ranking.
The next name is the one that may be a little curious. Rory MacDonald, a fighter who has not competed since putting a beating on BJ Penn in December of last year.
I'm not questioning MacDonald's placement as much as I am the fact that he actually rose in the rankings without fighting. Sure, Nick Diaz plummeted some after his loss to St-Pierre at UFC 158, but in a sport where you're usually only as good as your last fight, it's a surprise to see MacDonald move up and remain in front of Jake Ellenberger, who had an impressive win at UFC 158.
MacDonald has obviously gained the respect and admiration of the MMA media and fans, but as we all know both of those groups are very fickle and MacDonald can't expect that goodwill to stay on his side for too long. If MacDonald remains sidelined for a prolonged period of time or if he falls victim to another injury, expect fans and media alike to begin to refer to him with sentences that begin with "Remember when."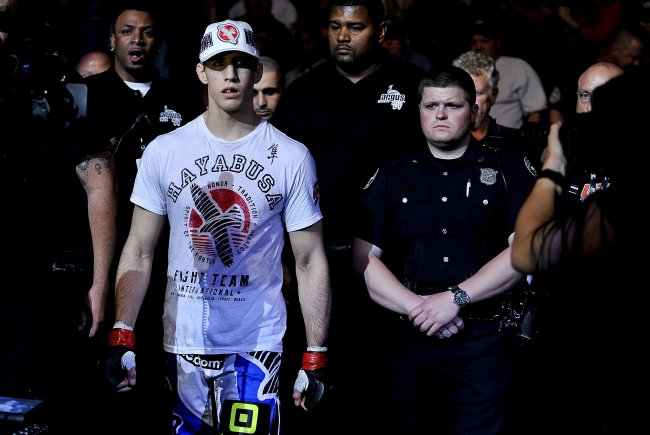 Paul Abell-USA TODAY Sports
MacDonald, for one reason or another has shown that he is prone to injury. The 23-year-old fighter has suffered four injuries that have removed him from fight cards over the last two years, an alarming trend that MacDonald will need to somehow get under control, if it is in his power to do so.
Hopefully the culprit is merely youthful exuberance, which is causing the young fighter to over-train and leave himself susceptible to injury, something that should be easy enough to fix.
Had MacDonald not sustained his latest injury, he would have faced Carlos Condit at UFC 158. Instead, MacDonald was just another spectator attending the event in Montreal. Perhaps the most well-dressed spectator at the Bell Centre, but a spectator nonetheless.
At this point there has been no indication as to when MacDonald will return or who he will face when he does return, but the welterweight division should be wary of MacDonald when he does make his next appearance in the Octagon.
I suspect many of the UFC's other top-ranked welterweights are already in their guard when it comes to MacDonald. If you noticed, the name Rory MacDonald has not come from the lips of many of the fighters you think would have been calling out that name in the aftermath of UFC 158.
Jake Ellenberger, fresh off a destruction of Nate Marquardt, focused his attention on the man he was originally booked to face on the card, Johny Hendricks—a fight he knows he won't get for the foreseeable future. Wouldn't it have been wise for him to call out MacDonald instead of Hendricks, the man that is next in line to face St-Pierre?
Or how about Nick Diaz? He could have easily walked into the post-fight presser and said he wanted to face MacDonald; instead he vacillated between talking retirement and asking for fights with St-Pierre or UFC middleweight champion Anderson Silva.
I'm not implying that fear plays into the lack of MacDonald's name being in the air, but maybe it should. MacDonald has shown a type of scary focus during his UFC tenure. An example being how he called for a rematch against the only man to defeat him, Carlos Condit.
After defeating Penn, MacDonald said, "I was humiliated and embarrassed after that fight. I think about that fight all the time. It haunts me, and I really need to get past that chapter in my life." (h/t FuelTV)
That is not the type of thing you hear that often from a fighter and it goes a long way to letting everyone know what type of individual MacDonald is. Expect the layoff and the shifting dynamic of the welterweight division to hone MacDonald's focus in the coming months.
In other words, if you think MacDonald's name was largely absent from the post UFC 158 talk due to oversight, it wasn't.