Duke vs. Creighton: Live Score and Analysis for Round of 32 Game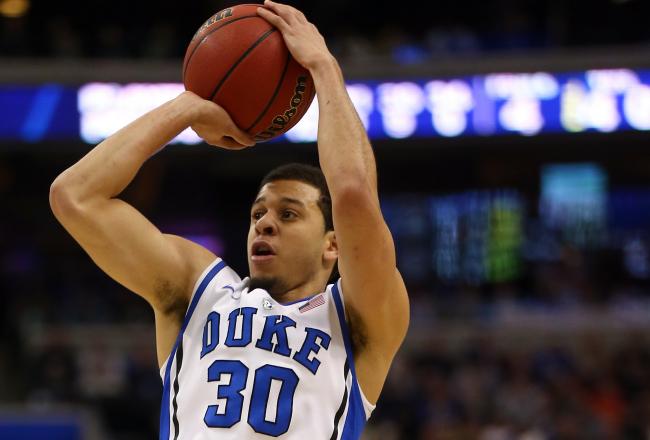 Elsa/Getty Images
In a Sunday full of close games demanding clutch performances, Duke beat Creighton 66-50 in an absolute slugfest.
The No. 2 seeded Blue Devils avoided the upset against Doug McDermott and the No. 7 seeded Bluejays despite being dogged by poor shooting and foul trouble.
Ryan Kelly and Mason Plumlee were both saddled with four fouls for much of the second half, but contributions from the freshman pairing of Rasheed Sulaimon and Amile Jefferson helped Duke push through a physical game.
Sulaimon finished with 21 points while Jefferson provided solid defense against McDermott. In the end, the Blue Devils had enough to get past Creighton and go to the Sweet Sixteen.
Duke 66, Creighton 50 (Final)
Well Duke won, but everyone who watched that hot mess lost. Michigan State has to be feeling good about getting a Duke team that hasn't shot the ball well since the final regular season game against North Carolina.
A positive spin on things might say that Duke managed to win a game in which they shot the ball poorly. Plus, Sulaimon had a good game and bench contributions from Jefferson and Thornton were invaluable.
Duke 64, Creighton 50 (1:01 Second Half)
This has been the antithesis of the exciting Florida Gulf Coast game. No excitement, a mess of fouls and abysmal shooting.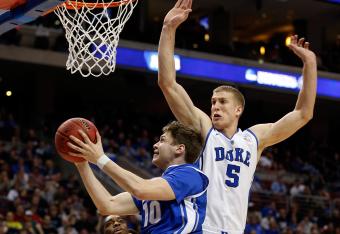 Duke 57, Creighton 47 (2:17 Second Half)
Mason Plumlee fouls out. Not a good decision on his part and a second straight NCAA game where he didn't really assert his presence.
Tonight Duke has been saved by Sulaimon, Jefferson and Thornton.
Duke 57, Creighton 44 (3:00 Second Half)
Gibbs fouls out and that'll end his college career unless a miracle occurs. Kelly uses the free-throws to get his first point of the game after 27 minutes of nada.
Duke 56 , Creighton 44 (3:20 Second Half)
Quinn Cook has six assists after Duke had only two in the first half. Plumlee makes two free-throws. Things are starting to fall right for the Blue Devils while Creighton continues to struggle.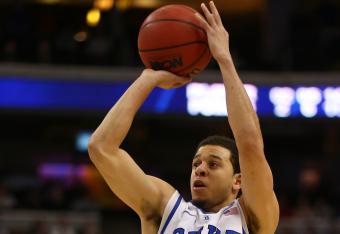 Duke 54, Creighton 42 (4:02 Second Half)
Sulaimon continues to attack by getting in the lane. He and Jefferson have been the bright spots for Duke. With Curry starting to come on, Duke is looking to run clock and push the lead.
Duke 49, Creighton 38 (6:41 Second Half)
Coach K keeps rolling the dice with Plumlee and Kelly. They are getting minutes with four fouls and so far Duke's defense hasn't really suffered. Still, Creighton aren't going away.
My two cents: let Sulaimon go isolation and attack the basket. The way the game is going, he'll draw fouls and go to the line. Sulaimon played well in the first half, but only has one point in the second half.
Duke 45, Creighton 34 (7:45 Second Half)
With Hariston disqualified, Ryan Kelly is back in and Jefferson is continuing to see minutes. Somehow Duke has slogged toward a eleven point lead.
Duke 43, Creighton 32 (9:10 Second Half)
Did you know that McDermott and Plumlee were contending for National Player of the Year at one point?
Josh Hairston just fouled out with 9 minutes left. Unbelievable.
Duke 43, Creighton 32 (9:37 Second Half)
Fortunately for Duke, Mason Plumlee has good practice playing incredibly soft defense. Jefferson just contributed a valuable bucket and then plays good defense on McDermott.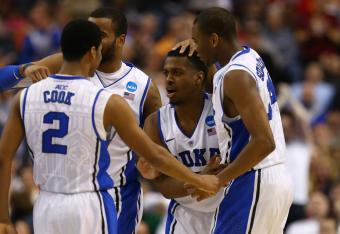 Duke 39, Creighton 32 (11:54 Second Half)
A tenuous seven point led and both Kelly and Plumlee with four fouls has Duke in a vulnerable state. McDermott has the offense to bring his team back into the game, but no one seems to be able to make a shot.
Maybe all the Florida Gulf Coast dunks in the first game bent the rims.
Duke 39, Creighton 30 (13.25 Second Half)
Just as Duke starts to get the shooting stroke back, Ryan Kelly gets his fourth foul. Mason Plumlee is back in with four fouls. Coach K is rolling the dice.
Duke 37, Creighton 30 (14:30 Second Half)
Hairston's defense on McDermott consists of him holding his jersey as he runs through screens. Ryan Kelly still has zero points but Curry just hit his first three.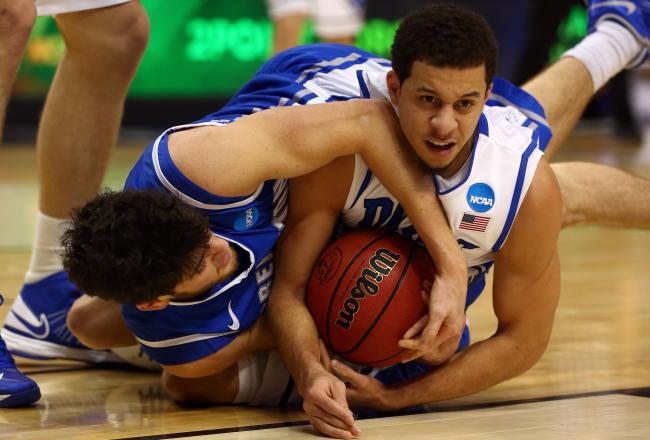 Duke 32, Creighton 27 (15:53 Second Half)
Another break to look at that dumb flagrant 1 rule. As for the game, this is just a drunken fist fight with the occasional basket. The couple in the Bud Light blind date commercial have more chemistry than either team on the court.
Duke 32, Creighton 27 (16:17 Second Half)
The game is still very disjointed. Even the free throws aren't going down for Duke. With Plumlee out, all the Blue Devils have is jump shots. Creighton would do well to go after Kelly and try and get a fourth foul on him.
Duke 31, Creighton 27 (17:30 Second Half)
Plumlee gets hit with a fourth foul. Duke is in DEEP trouble. Hairston will have to check McDermott and Duke loses what little inside scoring threat they had.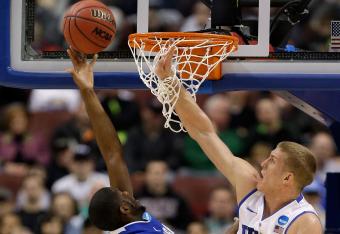 Duke 29, Creighton 25 (19:30 Second Half)
Duke needs the seniors Curry, Plumlee and Kelly to step up. If they continue to play like shadows of themselves, then this could be the end of their college careers.
And now Plumlee gets a third foul.
Also, it's worth pointing out that Creighton was first in the NCAA in field goal percentage at 50.8 percent. That was first in the nation.
I'm starting to think this game is being played on an aircraft carrier. That's the only way to explain all this horrid shooting.
Duke 29, Creighton 23 (Halftime)
Duke is shooting 37 percent. Creighton is shooting 28.6 percent. On the season Duke averaged 78 points and Creighton averaged 75. So you figure that the shooting should improve. Whoever can right the ship first will get the win.
I like the idea of Memphis coach Josh Pastner going to UCLA. He'd recruit well, play a fun style of basketball and the media there isn't as rough as they make it out to be in my opinion.
Ben Howland has been fired by UCLA after 10 seasons.He went to 3 Final Fours during his tenure in Westwood.

— SportsCenter (@SportsCenter) March 25, 2013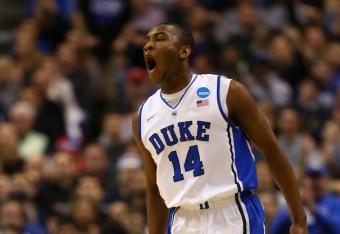 Duke 29, Creighton 23 (Halftime)
Creighton is 1-of-8 from three. McDermott is pretty much their whole team with 13 points, but he's had to really work to score. Credit to Duke's defense, but some of the Bluejays' misses have been from open looks. If those start to fall, then this game could flip to the underdogs.
As for Duke, this is the nightmare scenario. Poor shooting and an inability to score inside through Plumlee has the Blue Devils crawling to just 29 points in the half. Fortunately for Duke, Creighton isn't shooting well either.
The good news for Duke is that Sulaimon has all of a sudden inserted himself into the offense to great effect. He leads the team with 11 points.
... a sweet little girl's voice coming from behind me has told every Blue Devil that's gone to the line to "pay no attention to the bird!"

— Stephen Schramm (@stephenschramm) March 25, 2013
Duke 29, Creighton 23 (Halftime)
THORNTON! Maui Invitational anyone? We were forced to wait 19:58 minutes for something exciting to happen, but Thornton banks in a long last-second buzzer beater.
That's the good news for Duke. The bad news? Thornton's six points make him the second leading scorer. Plumlee also has six, but Curry has four, Cook has two and Ryan Kelly only took one shot - which he missed.
This article is
What is the duplicate article?
Why is this article offensive?
Where is this article plagiarized from?
Why is this article poorly edited?