Chicago Bulls vs. Minnesota Timberwolves: Postgame Grades and Analysis for Bulls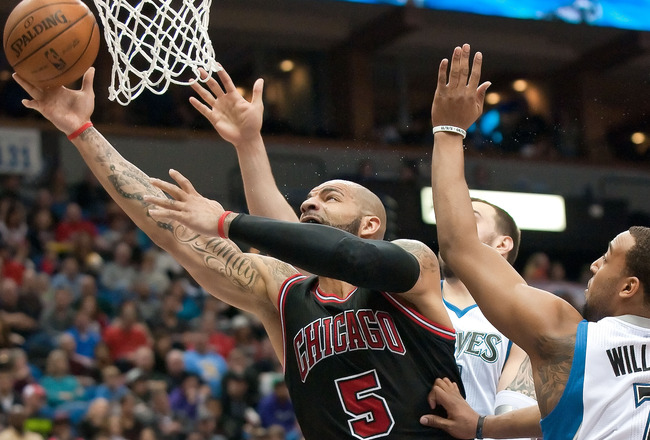 Greg Smith-USA TODAY Sports
The Chicago Bulls are on their first winning streak in nearly two months after knocking off the host Minnesota Timberwolves by a final score of 104-97.
Winners of two straight for the first time since taking a pair of games from the Charlotte Bobcats on Jan. 28 and the Milwaukee Bucks on Jan. 30, the Bulls proved that the absence of hyperactive center Joakim Noah wasn't going to diminish the team's overall hustle.
An impressive group effort led to 13 first-half offensive rebounds, which helped Chicago build a 13-point advantage at the break. The Bulls didn't let up after the half, either, ultimately finishing with a whopping plus-20 advantage on the glass.
Jimmy Butler led the Bulls on both ends, pouring in 20 points and playing terrific defense in an exhausting 44-minute effort. Plus, Nate Robinson hit the afterburners off the bench, scoring a team-high 22 points and dishing out 10 assists.
Great work on the glass helped offset a 50-percent shooting night from the Wolves, while a couple of clutch plays by Butler and Luol Deng down the stretch gave the Bulls their 38th win of the year.
With the Atlanta Hawks also victorious against the Milwaukee Bucks earlier in the day, Chicago's triumph kept them within a half-game of the No. 5 seed in the Eastern Conference playoff race.
Point Guard
Kirk Hinrich: D
It's not really an ideal scoring model to rely on Kirk Hinrich to carry an offense, but the shorthanded Bulls turned to their point guard when nobody else could get anything going in the game's early stages.
To his credit, the steady point guard did well in shouldering the load, scoring eight of Chicago's first 10 points.
From that point on, though, Hinrich all but disappeared. He failed to score after his hot start and logged just three assists and two rebounds on the night.
In many ways, Hinrich has the opposite problem of his hyperactive backup, Nate Robinson—he's a little too steady. There's a fine line between low-risk basketball and playing so carefully that you fail to impact the game.
Other than a nice early stretch, Hinrich's play fell under the latter category.
Shooting Guard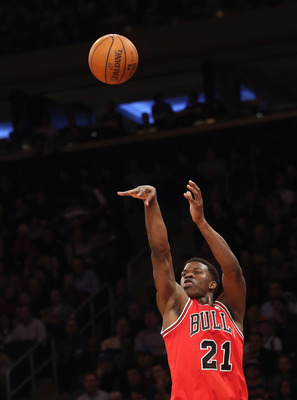 Bruce Bennett/Getty Images
Jimmy Butler: A
With both Rip Hamilton and Marco Belinelli sidelined due to injury, Butler, heartthrob of the advanced stats community, got the starting nod at shooting guard.
By virtually every on- and off-court metric, Butler makes the Bulls a substantially better club when he plays ahead of Chicago's other shooting guard options. Per 82games.com, Chicago is about 3.3 points per 100 possessions better when Butler is on the court. In contrast, the club is about 2.2 possessions worse when Hamilton plays.
Against the Wolves on Sunday, the numbers got some visual support.
Butler finished with 20 points, nine rebounds and three steals while guarding everyone from Luke Ridnour to Derrick Williams. He was a terror in the passing lanes, a beast on the boards and the team's most reliable free-throw shooter. In short, Butler was the Bulls' best player on both ends against Minnesota.
The young swing man's length, athleticism and defensive tenacity make his offensive skills (which are no joke) something of a bonus. If the Bulls are interested in making more noise down the stretch this year and in the future, they'll just leave Butler where he belongs: in the starting lineup.
Small Forward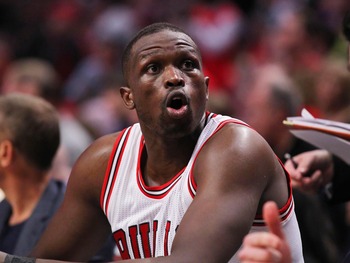 Dennis Wierzbicki-USA TODAY Spor
Luol Deng: B
The league's leader in minutes showed a few signs of fatigue against the Timberwolves, as a handful of Luol Deng's jumpers came up short and he was one of the few Bulls who looked a bit sluggish in pursuit of rebounds.
But as he's done all season, the durable small forward sucked it up and put together a solid two-way effort. More important than that, he made a couple of key plays when the going got tough.
In one critical sequence, Deng corralled a crucial offensive rebound with under six minutes left. Despite having played 34 minutes at that point, Deng elevated above every Timberwolves player on the floor, reaching over the back of his man to secure a key possession.
His kick-out pass went right to Nate Robinson, who buried a huge three-point shot to curtail a burgeoning Minnesota comeback.
On the night, Deng played 40 minutes, finishing with 17 points, seven rebounds and four assists. He's getting by on guts and fumes these days, but somehow, Deng continues to give the Bulls what they need.
Power Forward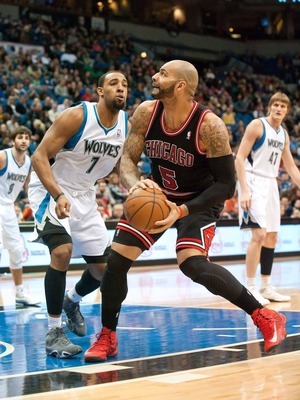 Greg Smith-USA TODAY Sports
Carlos Boozer: A-
Carlos Boozer knew the bulk of the interior scoring load would fall to him with center Joakim Noah out of the lineup.
He shouldered the burden admirably, working hard inside to finish with 19 points on 9-of-15 shooting.
When Minnesota opted to put rookie Derrick Williams on Chicago's bruising forward, it was as though alarm bells went off. The Bulls fed Boozer down low repeatedly against the mismatch, and the veteran delivered with a series of post moves from both blocks.
In addition to the scoring he provided, Boozer also joined the rest of his teammates in one of the most dominant rebounding efforts any club has put up all season. The power forward was one of five Bulls to grab at least three offensive boards, pulling down five on the night.
The only blemishes on the big man's report card were the five turnovers he committed. Other than that, Boozer was fantastic against the Wolves.
Center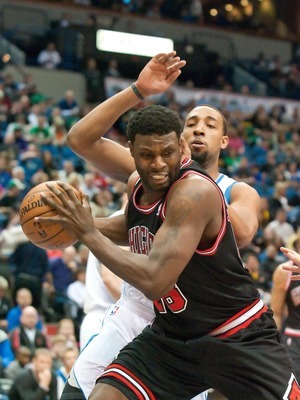 Greg Smith-USA TODAY Sports
Nazr Mohammed: B
Starting for just the third time this season, Nazr Mohammed gave the Bulls exactly what they needed with Noah out of the lineup.
In his 22 minutes, the veteran center put up four points on 2-of-6 shooting. But more importantly, he rotated intelligently in help situations, made life somewhat difficult for Nikola Pekovic underneath and held down the boards on both ends.
And like the rest of the Bulls' big men, he cleaned the glass at a high rate, pulling down 10 rebounds (including five on the offensive end) in his relatively short stint.
Short of Noah's skills as a facilitator, Mohammed did a pretty nice impression of Chicago's starting center.
It's unclear how long Mohammed will be pressed into starting duties, but with Noah listed as day-to-day with plantar fasciitis, the Bulls have to be satisfied with the fill-in performance they got against Minnesota.
Sixth Man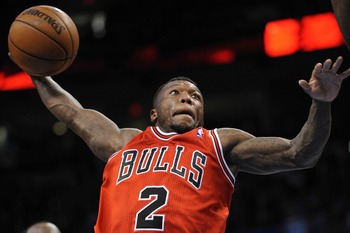 Mark D. Smith-USA TODAY Sports
Nate Robinson: A-
Nate Robinson probably rolls out of bed at a dead sprint. At least that seems like a plausible thing to imagine, given the manic energy with which he played against the Wolves.
Chicago's sixth man pumped in a frenzied 22 points in 34 minutes, complementing his own scoring with 10 assists.
Of course, because this is Robinson we're talking about, there were a few instances of overdribbling and the occasional bad shot. But on the whole, the Bulls' pint-sized point guard committed just three and shot an uncharacteristically efficient 9-of-16 from the field.
Perhaps best of all, he ticked off J.J. Barea—no stranger to being an irritant himself—in the fourth quarter. There's no stat for that, but it was fun to watch the pair of feisty guards get into it down the stretch.
The only point of criticism Robinson has to face for his performance against the Timberwolves was his ineffective defense on Ricky Rubio. It's hard for anyone to keep the Spaniard from getting wherever he wants on the floor, but Robinson was particularly ineffective in deterring him from getting to his preferred spots.
Had Minnesota's scorers capitalized on a few more of Rubio's excellent passes off of penetration, this might have been a different game.
Bench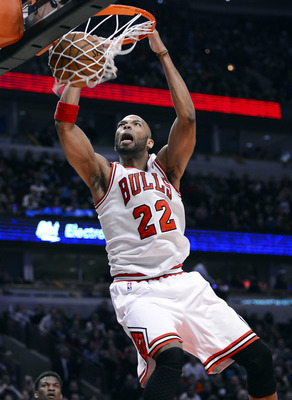 Mike DiNovo-USA TODAY Sports
Bench Grade: B+
Gibson tossed up an easy 12 points and 11 rebounds off the bench on Sunday, benefiting from an undersized set of Minnesota frontcourt players. But there was some cause for concern with his health in the second half:
Taj Gibson asked out after that dunk and three-point play. He talked last night about how knee still isn't quite right.

— K.C Johnson (@KCJHoop) March 25, 2013
Chicago's backup big man would return to finish the game, but with Noah out, the Bulls can hardly afford yet another nagging injury in their front line. That's a concern for the future, though.
Focusing on this game alone, Gibson brought his trademark energy and excellent effort on the boards. It might seem like he was just piling on by exploiting a vulnerable Wolves group on the glass, but really, Gibson dominates the paint like this against everybody.
Keep Reading

Chicago Bulls: Like this team?