Ranking the Top Sleeper College Football Recruit at Every Position
247Sports
It's a little early in all honesty to be talking about "sleepers" with this 2014 recruiting class, but let's take an early stab anyways, shall we? Every recruit wants to be a 5-star prospect and get a lot of hype and coverage, but not all recruits get the shine they deserve.
Sleepers are born in every recruiting class. We'll have many more emerge in this 2014 class as we move forward. For this read, we'll look at one sleeper at each major position on the field and tell you a little more about him.
For whatever reason, these sleepers are not getting as much coverage as their peers are. Yet, this read may just be that spark that helps put them on the national recruiting radar.
Remember who gave them some love first when these guys go on to produce in college.
Begin Slideshow

»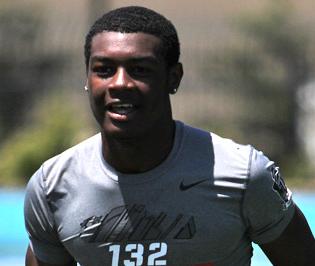 247Sports
Woodard is a 5'10", 165-pound CB prospect from Long Beach Poly and plays against some of the very best competition on a weekly basis. In fact, in order to start for Poly you must be a great athlete, so he has credibility right there already.
He's lanky and light for a CB, but he has solid hip flexibility and short area quickness to aid his cover skills. He's just a 3-star prospect via Scout.com, but this guy can play with the best in the country.
Several mid-majors have offered.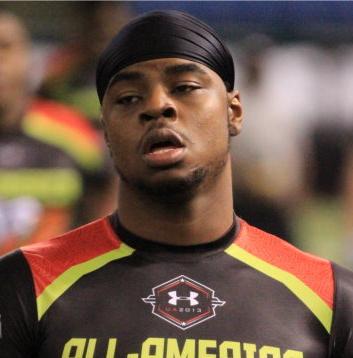 247Sports
Reavis reminds me a little bit of Holland Fisher, as both are from Virginia and are big safeties. Reavis is 6'1" and weighs just north of 200 pounds but also has solid play speed and attacks against the run.
He had over 100 tackles as a junior and broke up 17 passes while picking off two. With his versatility to play safety, outside linebacker and a little rover/drop-end, I don't understand why he isn't more well known.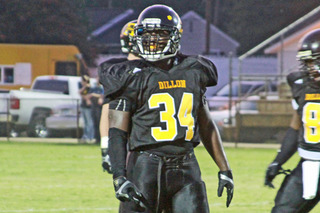 247Sports
Blue isn't the best-looking LB on the hoof, but he's productive, tough and stout. The 6'0", 230-pounder is from South Carolina and is committed to the Gamecocks.
He's quick to read the run and it's tough for blockers to dig him out of alleys. Blue may not wow you in shorts and in workouts, but when the pads get put on, he comes alive and produces at a good clip.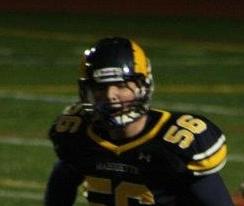 247Sports
Sheehy is ranked as just the 23rd-best DE prospect by Scout.com. That's still significantly higher than about 99 percent of of other high school players, but this guy has a lot going for him.
First, he's a 6'4", 260-pounder that has a great motor and good quickness at the snap. He's also tough and has some strength to hold up against the run.
Committed to Wisconsin, Sheehy could definitely grow and fit well into a DE role in the Badgers' new 3-4 defense.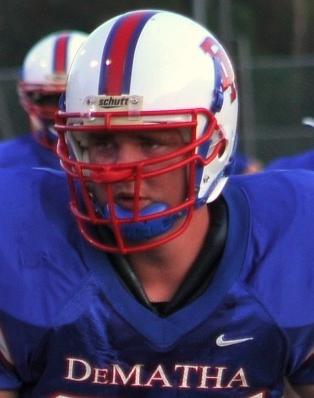 247Sports
Ruble is the kind of player you want to be the first guy stepping off the bus when your team is the visiting squad. He's a good 6'9" and weighs 310 pounds.
From Maryland, he bends better than expected for such a tall lineman and moves pretty well thanks to his basketball background. He has to clean up some things, but I think he could become a serviceable OT at the collegiate level.
BeRecruited.com
Leonard only started playing high school football last season, but he flashed enough potential to warrant some offers and interest from schools like Ole Miss, Rutgers and Pitt amongst others (Scout.com).
He's a 6'7", 230-pound edge player from Maryland who has obvious good length, but deceptive speed and a high ceiling. He could become a great TE or DE in college after a season or two of seasoning.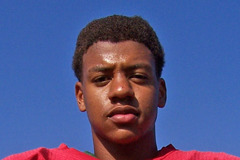 247Sports
Now, I know Scout.com has Smith rated as a 5-star recruit, but that's as a safety. Smith is a sleeper as a WR prospect because that may be his best position, but Long Beach Poly couldn't get him the ball consistently.
He's 6'1", weighs about 190-200 pounds and I think while Smith has solid speed and ball skills, he strikes me as having deceptive strength. He understands why people want him as a safety, but I think Smith prefers to catch passes.
Don't sleep on him as a college WR.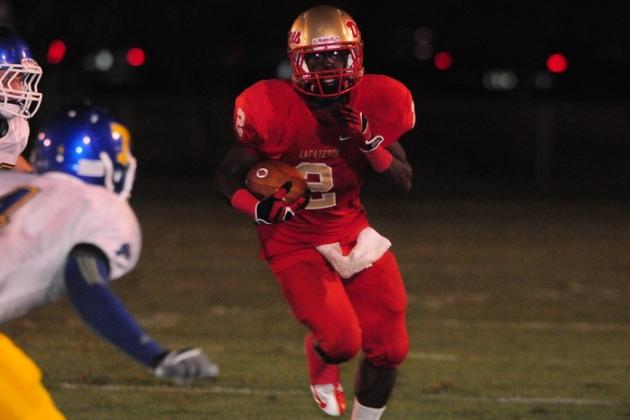 247Sports
Scout.com rates Buford as a 3-star prospect and ranks him as the 40th-best RB prospect in this year's class. I don't think I agree with that—he's easily a "sleeper" now, based on that news.
Buford is committed to Ole Miss and stands just about 5'10" while weighing no more than 190 pounds. He's lightning in a bottle with the football thanks to his excellent speed, elusiveness and quick feet.
I can see Buford becoming a joker in Oxford by being lined up as a RB, slot WR, Wildcat QB and also returning punts and kicks.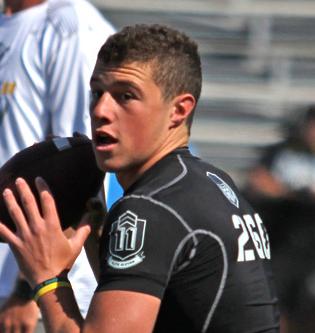 247Sports
Carta-Samuels is the 18th-best signal-caller on the Scout.com QB board, but I think he could finish this recruiting cycle as a top 10 QB prospect on my own board.
He's a 6'4", 207-pound passer with great arm strength, size and good passing skills. He can deliver strikes to the third level of a defense and outside the numbers with ease.
James Franklin knows he's getting a good QB and probably disagrees with Scout.com, too.
Edwin Weathersby is the College Football Recruiting Analyst for Bleacher Report. He has worked in scouting/player personnel departments for three professional football teams, including the New York Giants, Cleveland Browns and the Las Vegas Gladiators of the Arena League. He spent a year evaluating prep prospects and writing specific recruiting and scouting content articles for Student Sports Football (formerly ESPN Rise-HS). A syndicated scout and writer, he's also contributed to WeAreSC.com, GatorBait.net and Diamonds in the Rough Inc., a College Football and NFL Draft magazine.