Chicago Bulls vs. Minnesota Timberwolves: Live Score, Results and Highlights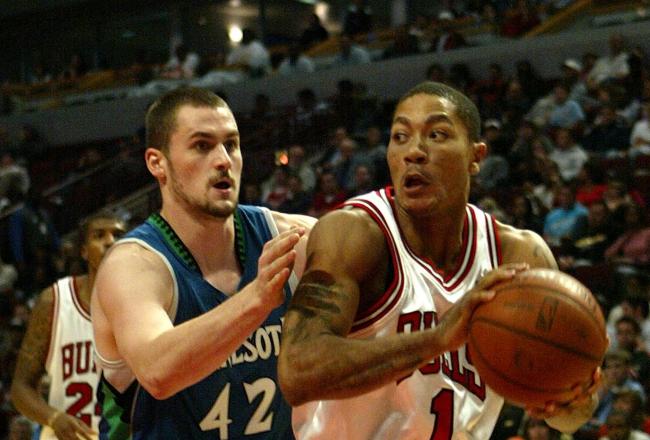 Chris Chambers/Getty Images
Game commentary from the Chicago Bulls 104-97 victory over the Minnesota Timberwolves from the Target Center in Minneapolis, MN on March 24, 2013.
5 Keys to Bulls Win:
1) Rebounding: The Bulls murdered Minny on the glass tonight. Chicago had 20 offensive rebounds and their starting frontline of Nazr Mohammed/Luol Deng/Carlos Boozer accounted for 13 of those, as the Bulls out-rebounded Minnesota 52-32.
2) Bench Production: The Bulls got double-doubles from both Taj Gibson and Nate Robinson off the bench. Robinson had a plus/minus of +20, and he shot 9-of-16 from the floor en route to 22 points. Robinson had three of the Bulls' 14 turnovers, but that's excusable with 10 assists. If Jimmy Butler hadn't been starting, the Bulls would have even had more firepower off the bench. Butler had 20 points and nine rebounds, and he hit 8-of-9 from the stripe.
3) Strong Start to Game: The Bulls closed the first quarter on an 18-4 run to take a seven point lead after one period. They never looked back and led by as many as 16 mid-way through the third quarter.
4) Good Ball Movement and Sharing: The Bulls had 25 assists on 41 field goals.
5) Three-Point Production: The Bulls hit 10-of-26 from behind the arc, led by Lil Nate's 4-of-8.
BULLS 104, WOLVES 97 — FINAL
I really want this game to end so I can get this Florida Gulf Coast game on. I'm pretty sure no one is watching the Bulls up by 15 with no Derrick Rose nor Joakim Noah llate in the fourth against a team that isn't playoff bound without its best player, too.
I'm like 98% sure that Florida Gulf Coast could beat the '95-'96 Bulls.

— Jared Speckman (@Speck60) March 25, 2013
How good is this Florida Gulf Coast team? I don't know. I haven't seen either of their games!
BULLS 103, WOLVES 90 — 2:04 4th
If Derrick Rose was playing in this game, it would feel like United Center in here. Bulls fans definitely in the house today

— TwolvesNow (@Twolvesnow) March 25, 2013
It's amazing how the Jordan era has impacted fan bases around the league. Buy a Jordan jersey and support the Bulls for life—seems to have been a blueprint for many NBA fans who grew up in the 90s.
BULLS 99, WOLVES 88 — 3:47 4th
Never underestimate the Bulls ability to throw away a lead.

— Kelly Scaletta (@KellyScaletta) March 25, 2013
It's hard to stave off runs without a go-to scorer to provide a lift when everyone goes cold. I mean, we could just relate every struggle to Derrick Rose's absence, but something about having a guy who can drop 30-plus with regularity on the court helps preserve leads.
BULLS 99, WOLVES 88 — 4:00 4th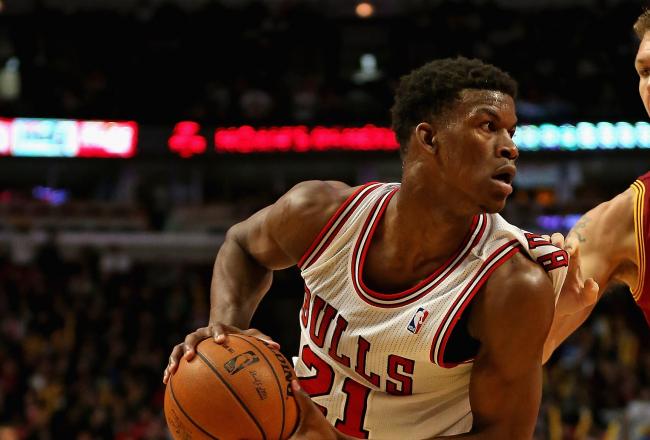 At this point, Bulls fans should have no doubts who their swingman of the future is. Jimmy Butler is going to pair very nicely with Derrick Rose for years to come. Butler has 19 points, three steals and nine rebounds in the contest, and might not Thibbs be better off starting Butler and bringing Marco Belinelli off the bench?
At this point, I'd say it's a safe bet Butler is the starter by opening night of 2013-14.
BULLS 96, WOLVES 87 — 4:50 4th
Nate Robinson and Carlos Boozer both have double-doubles on the evening. Robinson has 16 points and 10 assists, while Boozer has grabbed 11 boards and scored 19.
BULLS 90, WOLVES 83 — 6:30 4th
J.J. Barea vs. Nate Robinson at the point has been very entertaining. It's a showdown between a 5'9" guy with a 40-plus inch vertical leap and a white guy who inspires hope in YMCA ballers everywhere that they can play in the NBA.
BULLS 89, WOLVES 83 — 6:45 4th
Turnovers: CHI 10, MIN 10
BULLS 87, WOLVES 78 — 7:50 4th
Rebounds: CHI 44, MIN 26
BULLS 85, WOLVES 78 — 8:06 4th
Back-to-Back threes by Chase Budinger and Alexey Shved forced a Chicago Bulls timeout. So much for that "quick run to close this out" one. That's two consecutive jinxes by B/R on the Chicago Bulls after my "closing the quarter out strong" failed prediction.
BULLS 85, WOLVES 78 — 8:15 4th, CHI Timeout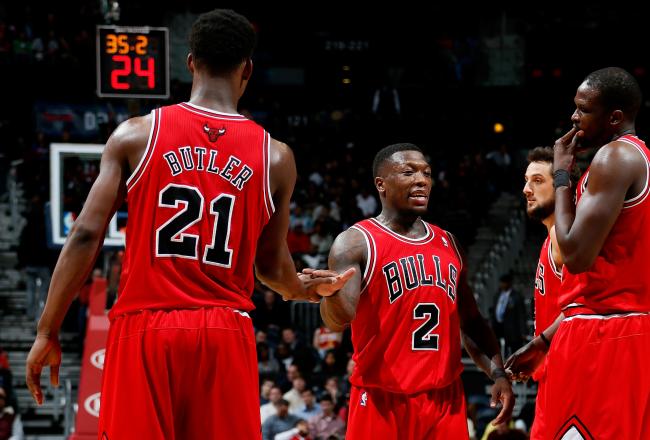 Nate Robinson's layup on the baseline gave him 16 points and nine assists on the night. A Jimmy Butler steal and breakaway re-extended the Bulls' lead to 13. A strong run by Tom Thibodeau's squad when this game returns from timeout will put this one into garbage time.
BULLS 85, WOLVES 72 — 9:02 4th, MIN Timeout
After that note about how well the Bulls are closing out quarters, the Wolves scored back-to-back buckets by J.J. Barea and Derrick Williams—and they'll trail by only 10 going into the fourth quarter.
BULLS 78, WOLVES 68 — End of 3rd
The Bulls are doing what is necessary to win these kind of see-saw affairs: closing out quarters strong and taking good shots.
BULLS 78, WOLVES 64 — 53 seconds 3rd
April 17th vs. Washington Wizards: TAJ GIBSON BOBBLEHEAD NIGHT!
Gibson with 8 & 8 off the bench so far.
BULLS 74, WOLVES 62 — 2:30 3rd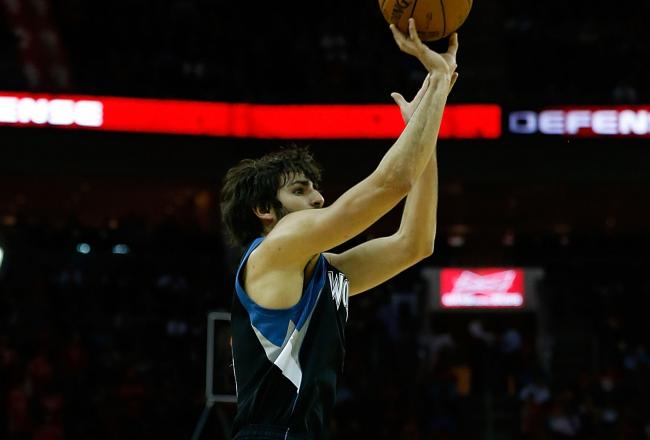 One thing that separates the guys who you can tell are going to be pretty good from the guys you can tell are going to be perennial All-Stars is their ability to control games. This applies most especially to point guards.
Ricky Rubio's choices to push or quell the pace of the game has taken precedence over Kirk Hinrich's, and the Wolves are playing their game.
Ricky Rubio's ability to control game pace is a characteristic you find only in very good NBA point guards.

— Brett David Roberts (@BDRHoops) March 25, 2013
Nate Robinson will try to fare better with Rubio, as Kirk Hinrich couldn't stay between him and the basket. Rubio has 13 points, four rebounds and four dimes.
BULLS 73, WOLVES 62 — 2:34 3rd, MIN Timeout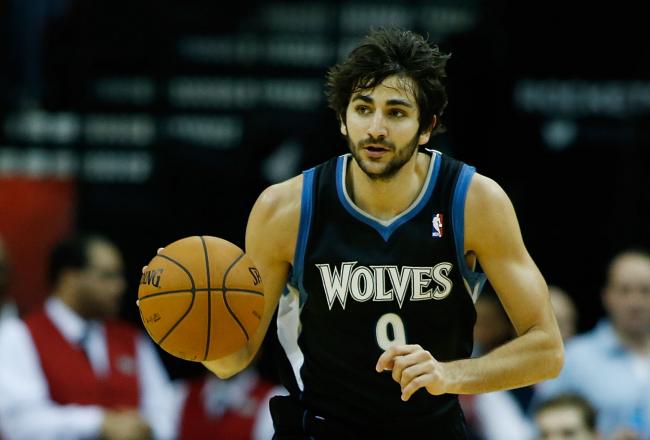 Stacey King of WGN Chicago is right: Ricky Rubio must be made a jumpshooter. Kirk Hinrich is respecting his shot entirely too much, and it's opening up driving lanes for Rubio. His finish and three-point play gave Rubio his 11th point, and five have come from the line on six attempts.
BULLS 66, WOLVES 58 — 5:18 3rd, CHI Timeout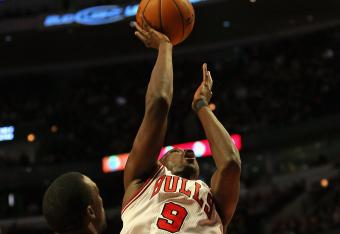 Luol Deng is giving Andrei Kirilenko fits. AK-47 has long been known as one of the league's best defenders of small forwards and power forwards, but Deng's speed is giving Kirilenko problems. Deng also has the length and wingspan to get his shot off. He's 7-of-13 from the floor for 16 points.
BULLS 64, WOLVES 52 — 7:00 3rd
No Joakim tonight so no surprise that Taj Gibson (8 pts, 8 reb, 2 ast, 1 blk) is contributing in a #BIG way for the Bulls.

— NBA Fantasy (@NBAFantasy) March 25, 2013
Well, Taj Gibson could start on at least half the teams in the league, and should start ahead of Carlos Boozer, so it's not really a surprise.
BULLS 62, WOLVES 46 — 8:45 3rd
Nazr Mohammed scored the first bucket of the second half before Ricky Rubio answered at the other end.
Rubio won a battle for the loose ball, and Stacey King of WGN said he felt Kirk Hinrich should have called a 20-second timeout when he grabbed the ball on the floor. He's right. Misplaced hustle doesn't save games, and a timeout would have garnered an extra possession.
BULLS 58, WOLVES 46 — 10:10 3rd
I have received my 1st"The #Bulls should draft Jeff Withey" text message. #Jayhawks

— Silvy (@WaddleandSilvy) March 24, 2013
I'm still not sure what to make of Jeff Withey's pro prospects. Mehmet Okur v. 2.0? Better?
Your guess is as good as mine. That said, the Bulls are fine on the interior tonight—without Joakim Noah.
BULLS 56, WOLVES 43 — Halftime
Maybe it's really just a 5'9" LBJ.
Nate Robinson has scored or assisted on 23 of the 34 points the Bulls have scored since he entered the game.

— Jeff Mangurten (@JeffGurt) March 24, 2013
BULLS 48, WOLVES 35 — 2:40 2nd, CHI Timeout
This is Minnesota—without Kevin Love.
Who needs Noah? RT @jeffgurt: Over the last 12 minutes, the Bulls have outrebounded Minnesota 19-5.

— Bulls by the Horns (@BullsbytheHorns) March 24, 2013
BULLS 46, WOLVES 33 — 4:10 2nd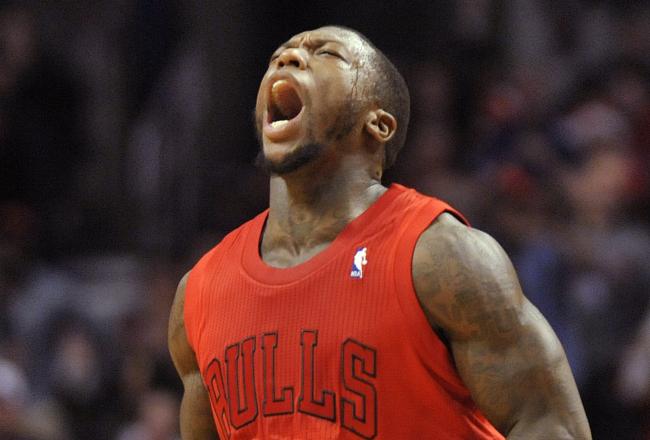 Nate Robinson has nine points and six assists in 11 minutes off the bench. He's helping the Bulls pull away in this one, and if it weren't for his 5'9" frame he'd be a starter in the NBA. For a while, there was the detractor of Robinson's turnovers and his shot selection, but both have been vastly improved.
It's given Tom Thibodeau the confidence to rely on Robinson for extended stretches, and he did a fine job starting with Kirk Hinrich out.
BULLS 46, WOLVES 33 — 4:51 2nd, TV Timeout
Every player who has seen court time for both teams has scored, except Alexey Shved.
BULLS 41, WOLVES 31 — 5:50 2nd
This article is
What is the duplicate article?
Why is this article offensive?
Where is this article plagiarized from?
Why is this article poorly edited?