Top Highlights from Day 6 of the NCAA Tournament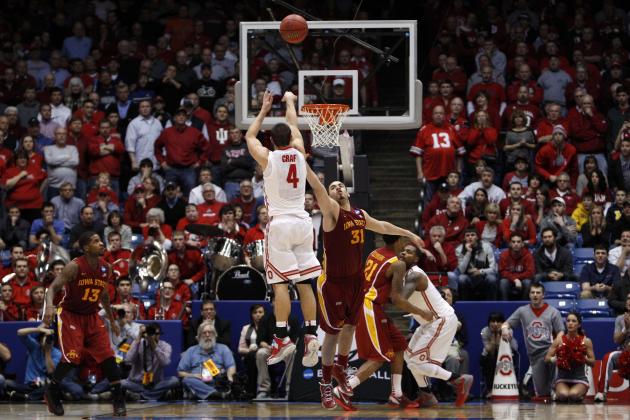 Frank Victores-USA TODAY Sports

Day 6 of the 2013 NCAA tournament is officially in the books. The phrase March Madness was embodied in every possible manner, as we saw game-winners and controversial calls throughout.
So what were the top highlights of the day?
We had top seeds escape upsets by virtue of clutch three-point field goals. We also saw underdogs fail to top their opposition due to debatable decisions by the referees.
Just another day in March.
Begin Slideshow

»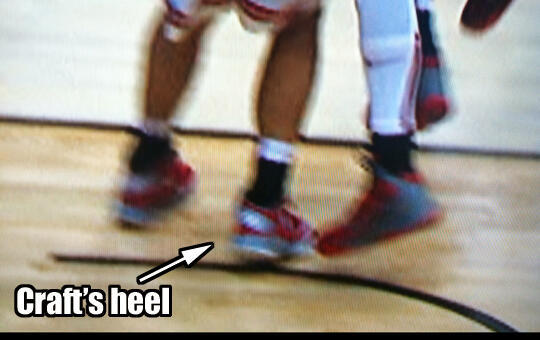 USA TODAY Sports
During No. 2 Ohio State's narrow escape of No. 10 Iowa State, the officials managed to steal the headlines. Regardless of what you feel transpired, there is no denying how controversial it was.
With one minute, 41 seconds remaining and Iowa State up 75-74, Will Clyburn drove the lane and appeared to drain and-1. Unfortunately, the play was called a charge—not a block.
The Twittersphere instantly erupted, claiming that this call determined the outcome of the game. While a four-point lead with 1:41 remaining would have hardly signaled the end, it would have created a different ending.
A black eye on an otherwise excellent day of basketball.
It wasn't a competitive first half, as Florida jumped out to a 48-27 lead over Minnesota. With that being said, the Gators' last first-half points were ones to marvel at.
Scottie Wilbekin threw it up, and Casey Prather threw it down for a picture-perfect alley-oop.
This set the tone for what ended up being a 78-64 victory. Prather finished with seven points, while Wilbekin tallied six assists.
Perhaps no connection was as impressive as this.
Kansas' Jeff Withey had one of the most prolific days in NCAA tournament history. Not only did he tally 16 points, 16 rebounds and five blocks, but his final swat was highlight-reel worthy.
Clearly out of his comfort zone, Withey swatted a jump shot attempt by 6'7" Reggie Bullock. It doesn't get much prettier than that defensively.
An incredible game and a phenomenal play by the senior center.
If there is one thing we've learned about the Florida Gulf Coast Eagles, it's that they can run and throw down ferocious dunks. Such was evident early, as Chase Fieler went baseline and encountered a San Diego State defender.
An and-1 posterization soon followed.
Fieler went up straight, throwing down a one-handed jam in the pose of Air Jordan. This was one of many Florida Gulf Coast dunks to come.
Perhaps this was also a preview of what we will witness in the Sweet 16.
In an otherwise defensive-minded outing, Kansas' Kevin Young reminded us why we love basketball. That, of course, was the unforgettable image of one of the best cleanup dunks you'll ever see.
Off of the backboard and double-clutched. Ferocious.
Florida Gulf Coast may have come away with the victory, but San Diego State's Jamaal Franklin threw down one of the best dunks of the year. Not only was it an alley-oop, but the throwdown came over another player.
The long-sleeve-wearing high-flyer strikes again.
Franklin, a top NBA prospect, had plenty to prove in this game. If that dunk didn't do it for you, how about 20 points, 11 rebounds, four assists and four steals?
Franklin was sensational, even if Florida Gulf Coast's team was better on this day.
With the clock winding down in the first half of Duke and Creighton's round of 32 showdown, Duke's Tyler Thornton crossed mid-court. With just over 0.5 seconds remaining, Thornton let it go from beyond the arc with a man in his face.
Take it to the bank, folks, Thornton hit it off glass!
As a result, the Blue Devils jumped out to a 29-23 lead at the half after no team shot better than 40 percent.
A clutch shot on the grandest stage.
When it comes to March Madness, we're often looking for a clutch basket to decide a game. The fact of the matter is, it takes key defensive stops for a team to have the opportunity to shine on offense.
Christian Watford's block with 2:20 remaining embodied that truth.
With Temple leading 52-50, Cody Zeller came over to double-team Khalif Wyatt. Wyatt sent a pass to a wide-open Anthony Lee directly under the basket.
Watford changed the outcome of this game with a come-from-behind swat.
For what it's worth, Watford also made a play on the follow-up and ended up grabbing the rebound. It may not have been a jump shot, but it was clutch.
Behind 31 points from Khalif Wyatt, the Temple Owls were leading the No. 1 Indiana Hoosiers as late as the 1:51 mark of the second half. The game was tied at 52-52 with 1:19 remaining.
And then Victor Oladipo happened.
Oladipo gave Indiana a 53-52 lead with a clutch free throw, and it would stay that way until the 14-second mark.
Cody Zeller made a crisp pass, Oladipo set up a few feet behind the three-point line and drained it. 56-52 Indiana.
The Hoosiers would end up winning, 58-52.
One of the most inspiring stories of the 2013 NCAA tournament is that of the La Salle Explorers. After beginning its tenure in a play-in game, La Salle upset No. 4 Kansas State for a berth in the round of 32.
Thanks to Tyrone Garland's layup with 2.5 seconds remaining, La Salle is now headed to the Sweet 16.
In a tightly contested game against the Ole Miss Rebels, Tyreek Duren crossed mid-court with 10.5 seconds remaining. Duren handed it off to Garland, who slashed into the paint and drew a defender into his face.
Despite having his view of the basket blocked off, Garland went off glass to give La Salle a 76-74 lead—the eventual margin of victory.
In one of the most invigorating games of the year, the Iowa State Cyclones took the No. 2 Ohio State Buckeyes to the brink of an upset. With 12 three-point field goals made, Iowa State nearly made its first Sweet 16 appearance since 2000.
Unfortunately, it was another three that decided this game—one by OSU's Aaron Craft.
Craft took over during the closing minutes of the second half, scoring the Buckeyes' final seven points. That included two shots to tie the game and another two to give Ohio State the lead.
The last bucket came with 0.5 seconds remaining and proved to be the game-winning basket in a 78-75 win.