Notre Dame Football: 7 Ways to Know You're a Fighting Irish Fan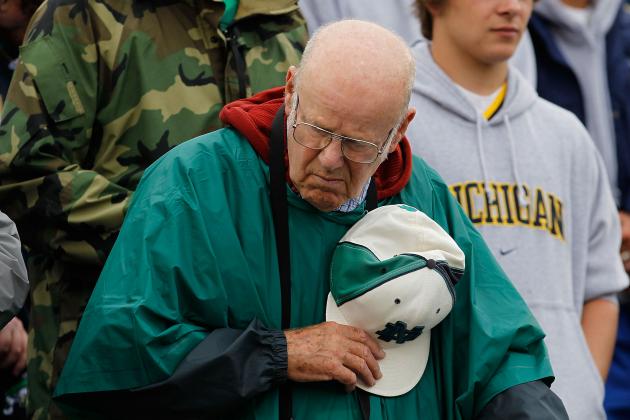 Jonathan Daniel/Getty Images

Notre Dame has become an institution in the 125 years the Fighting Irish have played football.
Ever a lightning rod in the world of college sports, the Irish always inspire a reaction. Whether you love them or hate them, no one seems to be able to ignore them.
The Irish diaspora have remained loyally committed to the school over the decades, making Notre Dame the most visible team in all of college football, much to the chagrin of fans of—dare I say—lesser football programs.
My colleague Connor Killoren compiled a very good list of 10 ways you know you're an Irish fan last year during the offseason.
Here are a few more that will either offend you or inspire a chuckle.
Begin Slideshow

»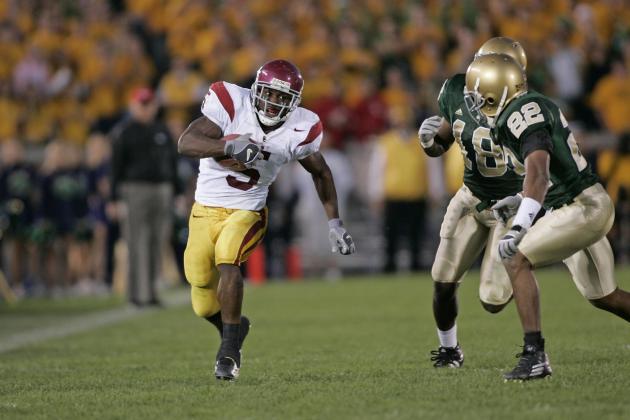 G. N. Lowrance/Getty Images

Real Notre Dame fans know exactly what the photo attached to this slide is and why I selected it. It is of Reggie Bush from USC's game against the Fighting Irish on October 15, 2005, the game that would go down in infamy as the "Bush push" game.
I have never seen the old football fans in my family sour faster than when someone brings up the aforementioned Bush push, or the phantom clipping call on Raghib "Rocket" Ismail in the 1991 Orange Bowl.
Ismail—for the few of you who haven't had the tale retold to you regularly—returned a punt 91 yards for a touchdown that would have won the game for Notre Dame, but a clipping penalty was called, nullifying the run and sealing the Irish's 10-9 loss to Colorado.
As you can see, even I can't resist going into detail about the robberies committed against the Irish over the years. We Notre Dame fans can hold grudges for generations.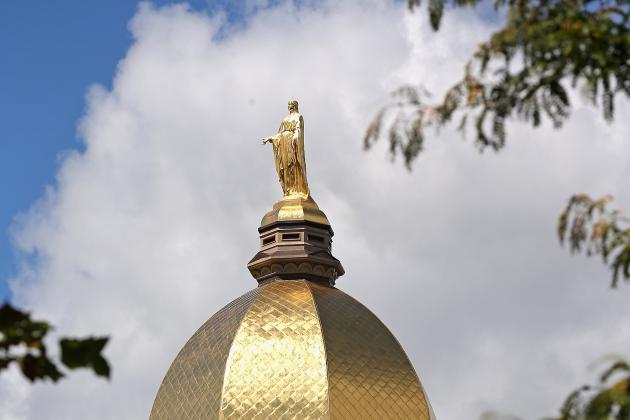 Jonathan Daniel/Getty Images

Finish that line. Now finish the chorus.
Every real Notre Dame fan can belt out Victory March—a song which, in my totally biased opinion, is one of the best fight songs in the world of college football.
Golden domers have been "shaking down the thunder" since 1905 when the song was written by a pair of brothers (although it was not until 1928 that the song was officially copyrighted by the school).
The music of the fight song has been adopted by a ridiculously long list of high schools, adding their own lyrics atop the iconic melody. For a full list, check out the song's very own Wikipedia page.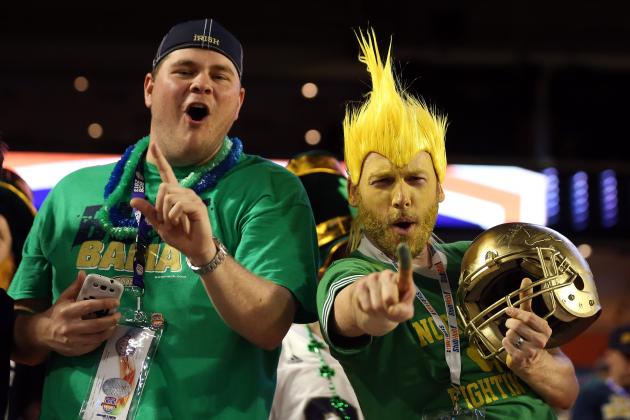 Streeter Lecka/Getty Images
You can recycle this look for St. Patrick's Day, right?
It's the offseason, but you have so much ND gear. What is a self-respecting Irish fan to do?
Now I understand that most of us don't need an excuse to break out the gear, but on St. Patty's day you can really go the whole nine yards.
While your friends are donned in "kiss me I'm Irish" tee-shirts, you stand proud in your green throwback jersey and temporary face tattoos, and maybe even a gold wig. Because really, any excuse in the offseason, right?
St. Patrick's Day is the day everyone—whether they know it or not—is an Irish fan.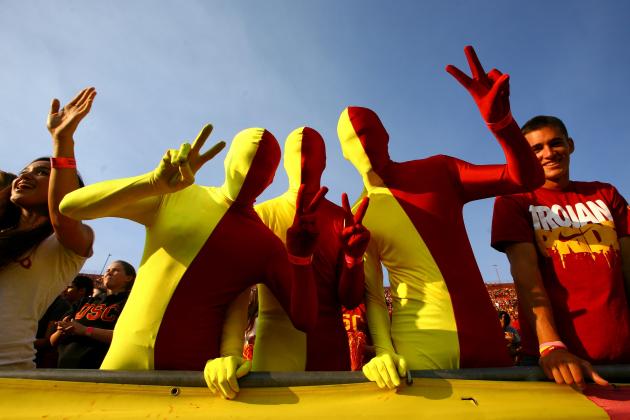 Stephen Dunn/Getty Images

Who do you hate more, USC or Michigan?
You know you just paused to think about it. It's a tough question. Both have given the Irish a run for their money over the decades, and both have legions of rabid fans.
This may be influenced by your location, as living among either Wolverine or Trojan fans can have a significant impact on how much you dislike either team. This author had the misfortune of growing up in metro Detroit, then moving to LA as an adult.
Last November when Notre Dame came to the Coliseum, the ever-creative legions of Tommy Trojan actually created a shirt with the logo "ruin their day," referencing Notre Dame's undefeated season. There was also a paper-mache leprechaun lynched from a tree (I believe I may have even seen a pool cue impaled through the little fellow) on the walk to the stadium.
If you grew up in a family like I did, you may even have a few choice nicknames for the schools that you avoid repeating in polite company. I won't write them here, but please feel free to leave them in the comments below.
Ronald Martinez/Getty Images

Take a look in your garage. Do you have old VHS tapes? I'm willing to bet if you dig through there you will find (among various recorded games) at least one copy of Rudy.
The 1993 flick starred Sean Astin as the beloved Daniel "Rudy" Ruettiger, who persevered through significant obstacles to be a walk-on for the Fighting Irish.
Indeed, "Rudy" (as I will always affectionately refer to him as) has gone on to have a successful career in Hollywood, most notably in the Lord of the Rings trilogy.
Even Nissan got in on the Rudy love last year, when they had Astin reprise his roll in a commercial for the Nissan Heisman House.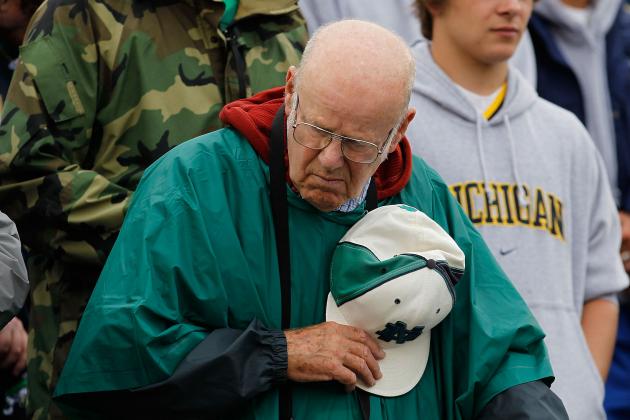 Jonathan Daniel/Getty Images

Unless you live in South Bend, it's a lonely world if you're an Irish fan.
Walking into the Coliseum or the Big House adorned with Irish swag can be a daunting experience for even the boldest Irish fan, but you get used to it. For most of us, it becomes a matter of pride to fly the Irish colors in hostile waters.
While there are not vast hordes of us anywhere, there are a few of us everywhere, and that is the beauty of being an Irish fan. Notre Dame has more fans across the country than any other CFB team.
If you don't believe me on that one, just ask NBC—they seem to be more than content with the ratings the Fighting Irish draw for their network.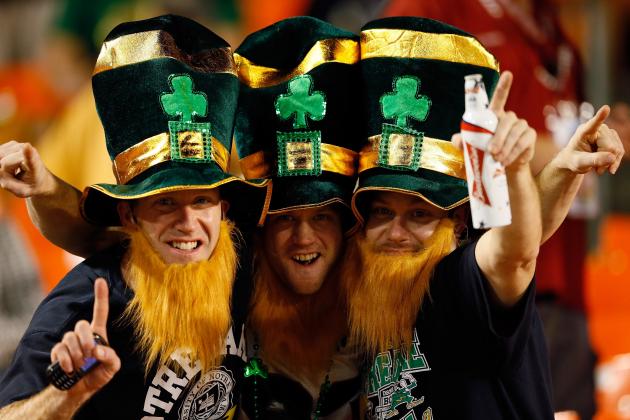 Kevin C. Cox/Getty Images

From lucky socks to arranging bottles of your favorite libation into the team logo, every fan has their particular superstitions, and the Irish are no exception.
Many fans took up the beard challenge last winter when the Irish went 12-0 in their regular season, vowing to grow their facial hair until Notre Dame beat Alabama.
Joseph Kovatch, a soldier away on deployment, told Josh Stowe of the Notre Dame Alumni Association that the key was in the clothing:

I am currently deployed with the U.S. Army and have my ND t-shirt and shorts that I have to wear nightly. I have to fold them a certain way and put them together where you can see the logos, and I put on top of my wall locker instead of in the drawer. That is because our Irish are on top where they belong.
While some scoff at the notion that superstitious traditions can influence games, a good number of you out there partake in them. I know I do.