9 Takeaways from Sunday Night's Rousing NBA Action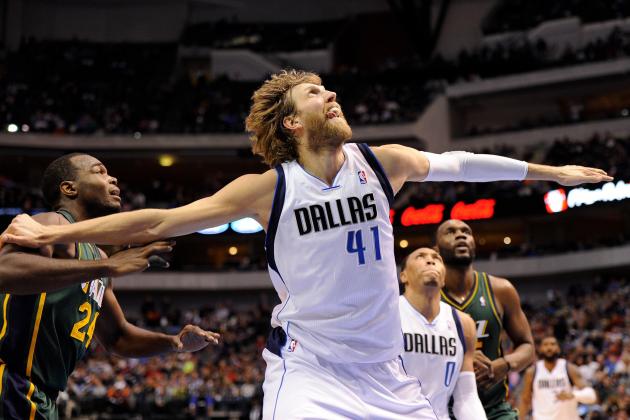 USA TODAY Sports

It was certainly not a lazy Sunday in the NBA this week, as there was enough rousing action to get every association fan off the couch.
Dirk Nowitzki and the Dallas Mavericks downed the Utah Jazz, moving ever closer to an improbable playoff berth.
Plus, Monta Ellis put on a Jekyll-and-Hyde performance in Milwaukee, James Harden got the last laugh in a battle with Tony Parker and the Miami Heat rolled on.
And we haven't even mentioned the ridiculous individual performances of Goran Dragic, LeBron James and Jrue Holiday.
Yes, it was a busy day in the league on Sunday—especially for some of the NBA's brightest emerging stars. Hopefully, these takeaways won't leave you too exhausted to shuffle off to work on Monday morning.
Begin Slideshow

»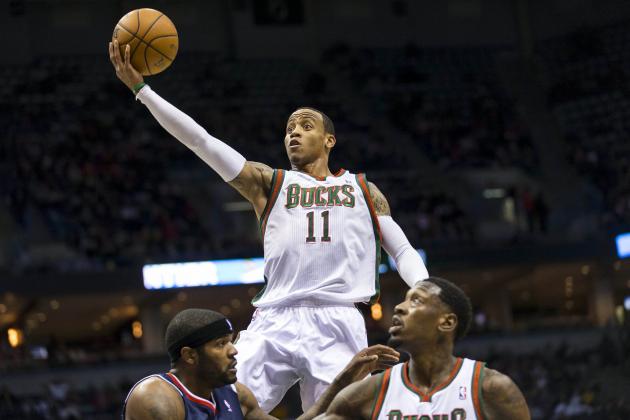 Jeff Hanisch-USA TODAY Sports

Monta Ellis had all but put the game away, knocking in a long jumper and three straight three-point shots during a two-minute span of the Milwaukee Bucks' contest against the visiting Atlanta Hawks. The streaky scorer was on fire, and his own personal fourth-quarter run had turned a two-point deficit into a five-point advantage faster than you could blink.
But then he committed a turnover that led to a Josh Smith layup on the other end, missed his next long jumper and threw the ball away again.
This last turnover, which Ellis committed with less than 30 seconds left in a tie game, was beyond inexcusable.
Dribbling up the right side, the Bucks guard casually flipped a one-handed pass to J.J. Redick, who wasn't even looking for the ball. Anthony Tolliver was between Ellis and Redick anyway, allowing him to come away with one of the easiest steals of his career.
Dahntay Jones' ensuing free throw gave Atlanta the lead back for good.
To summarize, Ellis seized control of the game all by himself, only to give it right back with poor shot selection and head-scratching turnovers.
This is who Ellis is, though; he's capable of putting on a one-man show few players can match, but he's just as likely to completely sabotage his team. Really, it's no wonder that a talented club like the Bucks now sits below the .500 mark on the season.
Monta giveth, and Monta taketh away.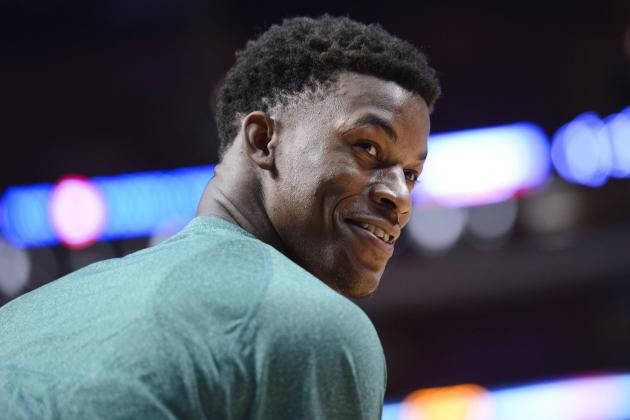 Mike DiNovo-USA TODAY Sports

It's understandable that Jimmy Butler, a role player on a solid but hard-to-watch Chicago Bulls team, isn't a major topic of discussion around the league.
But that doesn't make it fair.
Butler put up 20 points, nine rebounds and three steals in Chicago's 104-97 road win over the Minnesota Timberwolves on Sunday, and he flat-out stole the show on both ends of the floor.
With the size and length of a small forward, but the quickness and touch of a shooting guard, Butler looks like a player who just needs a consistent role to take a step toward stardom. Both Rip Hamilton and Marco Belinelli sat out Sunday's Bulls game with injuries, so Butler got a full 44 minutes to show what he could do.
Guarding everyone from Luke Ridnour to Derrick Williams, Butler was a monster on D. And he never tired, sprinting back on a couple of late Minnesota transition opportunities to deflect outlet passes and slow potential breakaways.
Considering Tom Thibodeau's unforgiving minute demands, those kinds of plays can only endear Butler to his hard-nosed coach.
It may be too late for it to happen this season, but given enough opportunities, Butler is going to eventually make his way into the conversation of the league's best two-way wings.
The Houston Rockets finally beat the San Antonio Spurs on Sunday, and James Harden's fourth-quarter performance was a big reason why.
The "Bearded One" scored or assisted on Houston's final nine points, as the Rockets very nearly gave away their fourth straight loss to the Spurs. Tony Parker was virtually unguardable down the stretch, dicing up the Rockets defense to score San Antonio's final 12 points.
But Harden drew a suspect shooting foul on a three-point attempt with 1:04 left, and after he made two of his three foul shots, the Rockets got a stop and retained the ball with nine ticks left.
On Houston's final possession, Harden inbounded to Omer Asik on the right wing, getting the rock back in a handoff as Asik screened Kawhi Leonard.
Driving hard to the middle, Harden pulled up at the foul line, anticipating contact from the trailing Leonard. He got what he was looking for, but no whistle blew.
It's a good thing for the Rockets that he buried the mid-range jumper anyway.
Harden's bucket gave the Rockets a 96-95 lead that held up when the Spurs couldn't convert on a couple of last-second tries. Had things turned out a little differently, this takeaway could easily have been about Tony Parker's seemingly unstoppable scoring dominance—and really, his performance shouldn't go unnoticed.
But Harden's finishing flurry was huge for the Rockets, who desperately needed to prove to themselves that they could beat their Texas big brother, if only for the first time in four tries this year.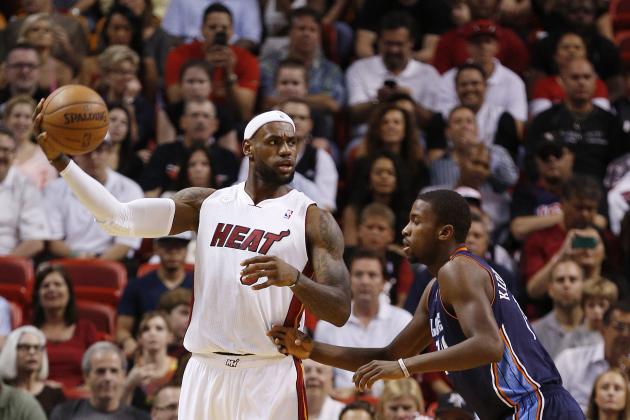 USA TODAY Sports

Or a thousand.
The Miami Heat extended their winning streak to 26 with an absolutely dominant 109-77 win over the Charlotte Bobcats. LeBron James led Miami—which played without Dwyane Wade, who was held out with a sore knee—with 32 points, 10 assists and eight rebounds on 11-of-14 shooting.
One of the keys to the Heat's easy win was ball movement, which is a deficient area of the Bobcats offense. Miami recorded assists on 28 of its 38 baskets, while Charlotte managed helpers on just nine of its 30 makes.
On the season, the Bobcats are dead last in the NBA in assist-rate rankings, while the Heat check in at No. 4.
Obviously, there are innumerable differences between Miami and Charlotte (39 wins, for starters), but the huge discrepancy in ball movement and unselfish play is one of the biggest.
The Heat's three-to-one advantage in the assist category on Sunday is dually attributable to Kemba Walker's still-developing court vision and Miami's massive skill advantage.
Still, if the Bobcats are looking for ways to improve, a little more emphasis on team offensive play wouldn't be a bad place to start.
No, Kevin Durant didn't flirt with a triple-double on Sunday in an effort to emulate James' big night against the Bobcats. But KD did duplicate one of LBJ's most exciting moments of the year when he tackled a lucky fan who had just knocked in a $20,000 half-court shot.
Guy just nailed the halfcourter for $20,000. Kevin Durant pulled a LeBron and ran out and tackled him.

— Royce Young (@dailythunder) March 25, 2013
It's not every day that one of these long-range bombs goes down, but here's hoping that for every one in the future, a superstar is present to lay a celebratory hit on the lucky shooter.
Oh, and there was also a game played between the Oklahoma City Thunder and the Portland Trail Blazers, too. If you're interested in takeaways from that affair, know the following: Durant, Russell Westbrook and Serge Ibaka combined to shoot 26-of-44, and the Thunder forced 17 turnovers in an easy 103-83 win.
But really, isn't the whole fan-tackling thing more entertaining?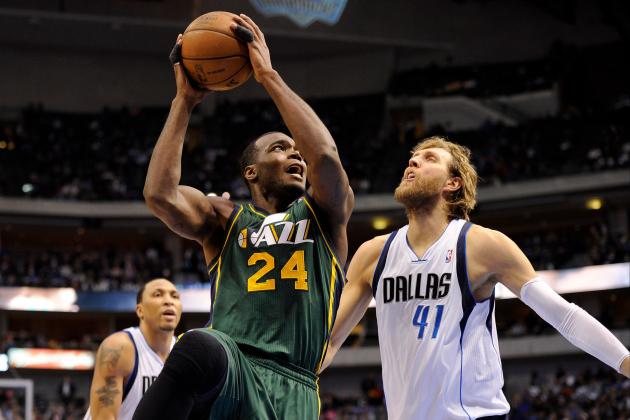 USA TODAY Sports

After falling to the Dallas Mavericks in a disappointing 113-108 road loss, the Utah Jazz now trail the LA Lakers by two full games for the eighth and final playoff spot out West.
And although the Jazz tried to rally with a late press—thanks to a good defensive effort from DeMarre Carroll and some big shots from Alec Burks—it was too little, too late.
After entering halftime with a one-point disadvantage, the Jazz failed to summon the requisite urgency in the third quarter. Utah stopped scoring and allowed the Mavs to run up a 30-point quarter, creating an 11-point deficit at the start of the final period.
Appropriately, Utah's desperate last gasp fell short. Losers of 12 out of their last 15 contests, the Jazz simply haven't been able to sustain their effort when it has mattered most this season. Questionable rotation decisions by coach Tyrone Corbin are deserving of partial blame, but a perplexing lack of sustained intensity seems to be the real culprit in Utah's downward spiral.
With three consecutive lottery-bound opponents coming up, the Jazz will have a chance to make up some ground on the Lakers. But it's getting increasingly difficult to imagine that this team has the will to engineer a turnaround at the point.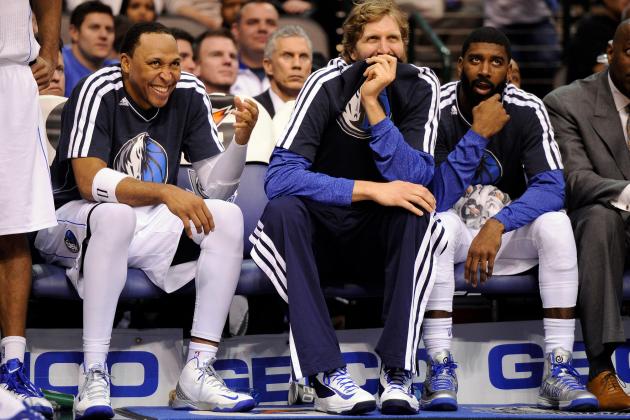 USA TODAY Sports

Of course, there was a flip side to Utah's disappointing loss on Sunday: The Dallas Mavericks pulled into a tie for the ninth spot out West.
That's right, folks; Dirk Nowitzki and the Mavs are also now just two games behind the Lakers for the final postseason dance ticket. And although Dallas is in a technical tie with the Jazz, the two-game deficit between the Mavs and Lakers feels a heck of a lot smaller than the identical one between Utah and LA.
Dallas has been getting the job done as a team lately, and its performance against Utah was a good example of that. Seven Mavericks reached double figures, and nine players logged at least 20 minutes on the night.
Nowitzki is still the team's heartbeat, though, and his 17 points on 7-of-13 shooting helped set the tone in a critical win. But Shawn Marion has looked good in his two games since returning from a calf injury, and Mike James even chipped in 19 unlikely points.
As everyone knows, the Lakers aren't looking like world-beaters lately. If continued problems in the defense and chemistry departments conspire to hold the Lakers back, down the stretch, don't be surprised if the Mavs—winners of seven out of their last 10—sneak up and pass LA before season's end.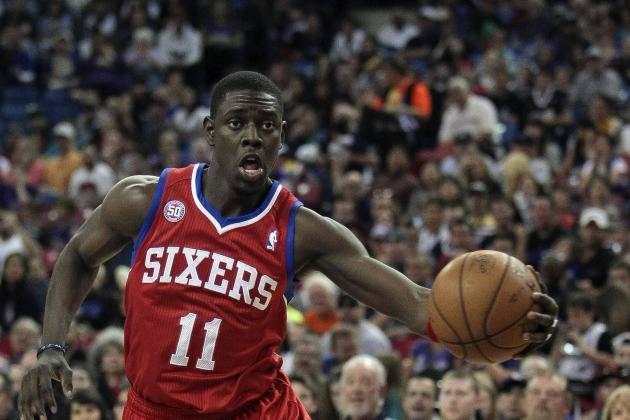 Kelley L Cox-USA TODAY Sports

Jrue Holiday put up 21 points, 10 rebounds, seven assists, five steals and a block in the Philadelphia 76ers' 117-103 win over the Sacramento Kings on Sunday, but the solid supporting efforts he got from Spencer Hawes and Dorell Wright marked an unfortunate exception to the rule for the star point guard this year.
All season, he's been on an island.
Jrue Holiday passed it to Spencer Hawes over his left shoulder, but Hawes, as usual, turned right. 52-43 Sacramento

— Dime Update (@DimeUpdate) March 25, 2013
Sunday's effort was a sight to behold, as Holiday seemed to be everywhere for the Sixers. At the end of what's turned out to be a painfully long season, that kind of total dedication is pretty amazing to see.
Hopefully, for Holiday's sake, his teammates will chip in like they did against the Kings more often.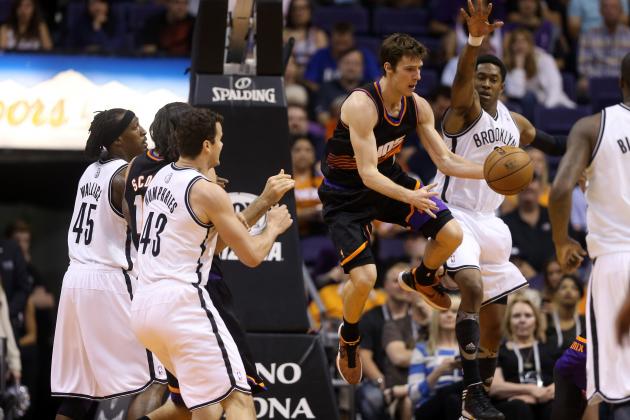 Mark J. Rebilas-USA TODAY Sports

With apologies to Beno Udrih, Goran Dragic is the NBA's most exciting left-handed Slovenian point guard. Actually, Dragic is one of the league's most exciting players, period.
In a 102-100 loss to the playoff-bound Brooklyn Nets, Dragic pumped in 31 points, dished out 12 dimes and grabbed nine rebounds.
His herky-jerky pace and sneakily chippy game made for a fun matchup with the bulkier Deron Williams—a matchup that Dragic pretty much got the better of on an individual basis.
Whether circling through the lane like his mentor Steve Nash or shouldering off defenders before unleashing his arsenal of lefty flip shots, Dragic is a joy to watch. It's just too bad that in order to catch him, you also have to drink in the disaster that is the Phoenix Suns.