Breaking Down the Philadelphia Eagles' Depth Chart After Free Agency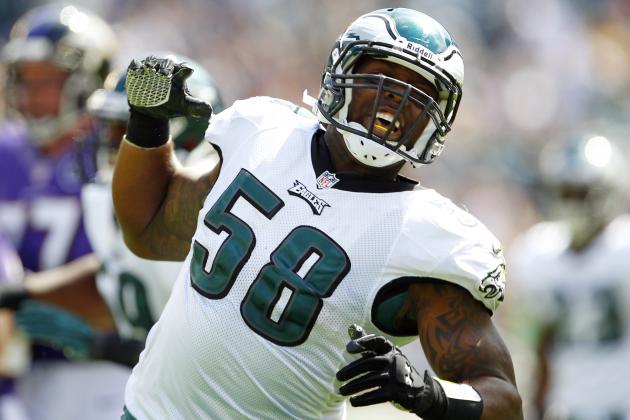 Rich Schultz/Getty Images

Chip Kelly was aggressive in free agency, signing five players on day one. It was a far cry from the Dream Team experiment that ruined the 2011 Philadelphia Eagles. Kelly aimed more for signing players that fit his scheme, opting for versatile players like James Casey from the Houston Texans and underachieving players like Patrick Chung.
In all, the Eagles completely changed their defensive backfield, adding four players that will all likely start. Kelly grabbed a key pass-rusher in Connor Barwin and a new nose tackle in veteran Isaac Sopoaga. The roster still isn't set, as Kelly could use an upgrade at right guard, 3-4 defensive end, cornerback and especially a franchise quarterback.
Those issues will likely be addressed heading in the NFL draft, which means the Eagles have about a month still to evaluate the top college players. As of now, the depth chart for the team will have some intriguing training camp battles. Here's a glimpse at what it looks like as of now.
For the current projected starters, click here.
Begin Slideshow

»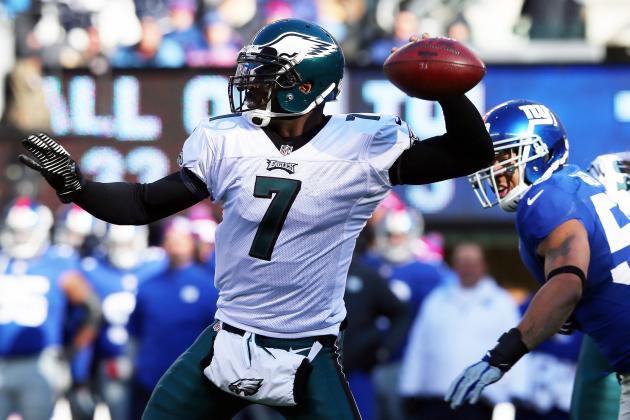 Elsa/Getty Images

It's difficult to project what the quarterback position will hold for the Philadelphia Eagles in 2013. Chip Kelly re-signed Michael Vick to a one-year deal, but Vick is 33 years old and merely a stopgap.
Dennis Dixon ran Kelly's offense at the University of Oregon and was brought over via free agency. He was signed to a two-year contract, but it's no guarantee that he even makes the roster.
There's still last year's rookie starter, Nick Foles, who has yet to be traded. Foles doesn't project to be a good fit for Kelly's offense but he showed enough potential as a rookie that Kelly may want to keep him (and there aren't many teams vying for his services).
Trent Edwards is mysteriously still on the roster, which makes little to no sense. Former UFL and Arena Football League quarterback G.J. Kinne was added but is a likely practice squad fit. And there's still the possibility of the Eagles drafting a franchise quarterback like Geno Smith, E.J. Manuel or Matt Scott.
That makes for a crowded quarterback jam on the depth chart.
Quarterback No. 1: Michael Vick
Quarterback No. 2: Nick Foles
Quarterback No. 3: E.J. Manuel
Quarterback No. 4: Dennis Dixon
Elsa/Getty Images

There's really no need for the Philadelphia Eagles to alter their running backs at all. LeSean McCoy is an All-Pro who can handle a full workload and catch passes out of the backfield. He's already been locked up to a five-year long-term contract extension.
Bryce Brown showed flashes of unbelievable potential as a rookie, and that will definitely intrigue Chip Kelly. A lot needs to be done for Brown to develop into a capable No. 2 running back, namely his tendency to fumble the football.
Dion Lewis was hardly used in year two after spending his rookie season as the backup to McCoy. And Chris Polk was an undrafted rookie free agent who was initially expected to go in the upper rounds of the draft. Polk has too much potential for the Eagles to ignore, and Kelly will enjoy utilizing all four running backs.
Running Back No. 1: LeSean McCoy
Running Back No. 2: Bryce Brown
Running Back No. 3: Dion Lewis
Running Back No. 4: Chris Polk
Running Back No. 5: a low draft pick who also returns kicks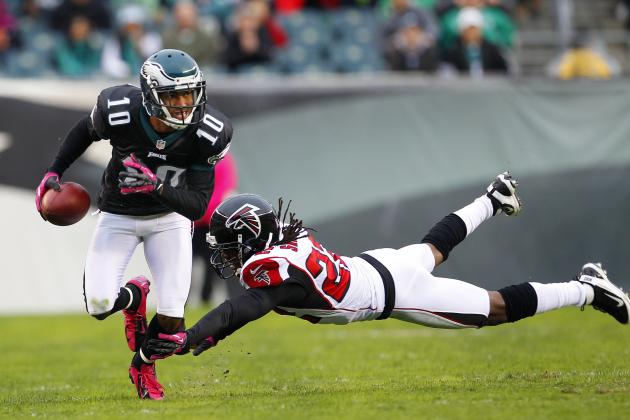 Rich Schultz/Getty Images

DeSean Jackson and Jeremy Maclin are perfect pieces to Chip Kelly's offense. Jackson is a playmaker if there ever was one, and he has the speed to score touchdowns from anywhere on the field. Maclin has underachieved since being drafted in Round 1, but Kelly should be able to bring out the best in him.
Jason Avant has been the team's third receiver for the last six seasons. He's an extremely productive slot receiver, but his days in Philadelphia may be numbered.
Arrelious Benn is a new piece of the puzzle, and it will be interesting to see how Kelly utilizes him. Benn is a former second-round pick of the Tampa Bay Buccaneers, who has struggled to reach his potential (and stay healthy) since 2009.
Damaris Johnson had a role as a slot receiver as a rookie, while also returning punts. He seems like a logical fit given his speed. Riley Cooper is the team's hopeful big receiver at 6'3", but he hasn't produced well enough to even be a lock to make next year's roster.
And then there are players like Marvin McNutt, Greg Salas, Nick Miller, DeMarco Sampson, B.J. Cunningham and Ron Johnson, all of whom are very long shots to make the roster.
Wide Receiver No. 1: DeSean Jackson
Wide Receiver No. 2: Jeremy Maclin
Wide Receiver No. 3: Jason Avant
Wide Receiver No. 4: Arrelious Benn
Wide Receiver No. 5: Damaris Johnson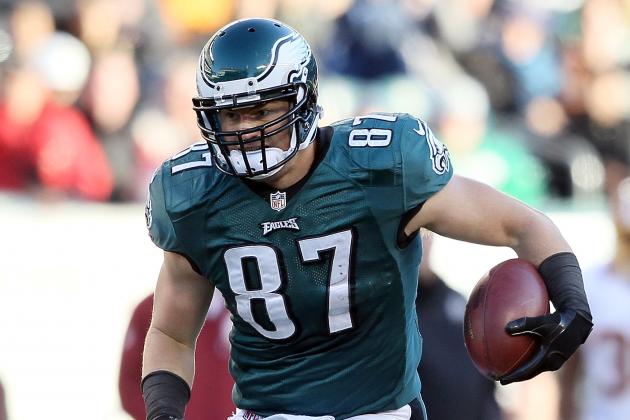 Alex Trautwig/Getty Images

The Philadelphia Eagles currently have Brent Celek locked up for another five years, at a reasonable deal of about $4-5 million per year. Celek is a solid player, although he hasn't come close to duplicating the near-1,000 receiving yards he put up in 2009.
There's no reason not to have Celek on the 53-man roster, but he does seem like a possible veteran cut in the future. James Casey is the player Chip Kelly will love, as he was a versatile fullback/tight end who will line up at many positions in 2012.
That could spell an end to the days of Clay Harbor, who has provided a minimal impact in three seasons with the club. It should also be noted that the signing of Casey means the end of fullback Stanley Havili in Philadelphia.
Tight End No. 1: Brent Celek
Tight End No. 2: James Casey
Tight End No. 3: Clay Harbor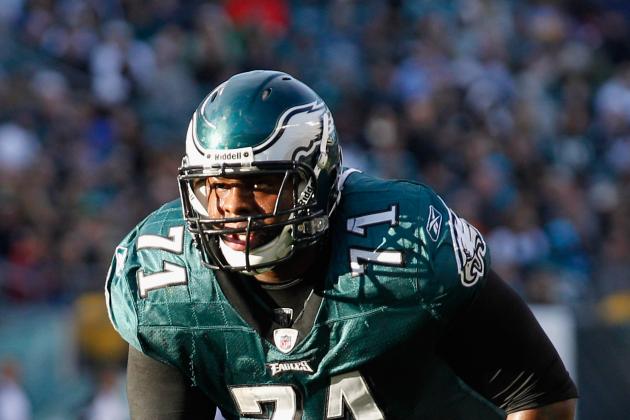 Rob Carr/Getty Images

Jason Peters should be at full strength again in 2013 after a devastating Achilles injury last offseason. He's a phenomenal all-around offensive tackle and perfect for Chip Kelly's system when healthy.
Todd Herremans is at least an above-average right tackle who is better suited at guard. He struggles to handle speed-rushers, and he has a big role as Michael Vick's blindside protector. If the Philadelphia Eagles can add a quality right tackle in the draft (Eric Fisher), Herremans can move inside to right guard.
The team allowed five-year veteran King Dunlap to walk in free agency. He wasn't as bad as people seemed to think, but he won't be missed. Last year's fifth-round rookie Dennis Kelly will probably be the top backup behind Peters and Herremans, although Ed Wang will be in the mix too.
Offensive Tackle No. 1A: Jason Peters
Offensive Tackle No. 1B: Todd Herremans
Offensive Tackle No. 3: A mid-round draft pick
Offensive Tackle No. 4: Dennis Kelly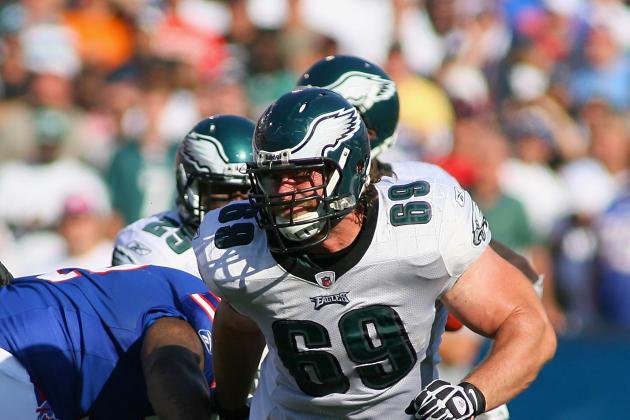 Rick Stewart/Getty Images

Evan Mathis is slated as the starting left guard, and he's one of the best in the business. Danny Watkins has been a two-year bust at right guard, and it still remains to be seen as to whether he will make next year's roster.
Jake Scott took over the starting spot for Watkins in 2012, as essentially a free agent off the street. He played well but the team hasn't extended an offer to re-sign him at all. The only other guard currently on the roster is Julian Vandervelde.
Guard No. 1A: Evan Mathis
Guard No. 1B: Danny Watkins
Guard No. 3: a fifth-round draft pick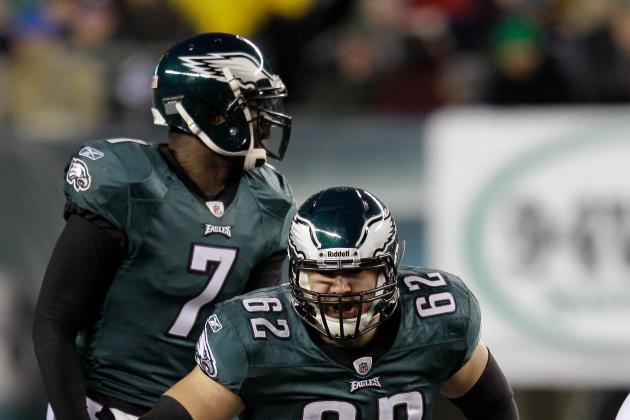 Rob Carr/Getty Images

Jason Kelce is a young and athletic center who should be at full strength following last season's knee injury. Kelce is excellent at getting downfield on screen passes, and he will be a great fit in Chip Kelly's offense.
Dallas Reynolds started when Kelce was hurt last season, rating as the worst regular center in the NFC last year, per Pro Football Focus (subscription required). Reynolds was overmatched and especially struggled with getting the right calls. He's no guarantee to even make next year's roster.
Center No. 1: Jason Kelce
Center No. 2: Dallas Reynolds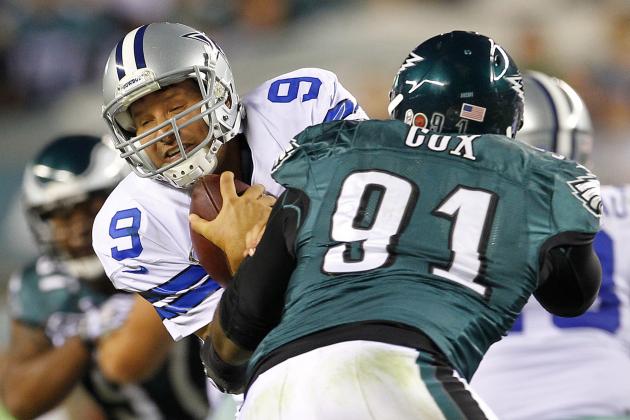 Rich Schultz/Getty Images

The defensive ends of your 2013 Philadelphia Eagles won't be the same as the ones on the 2012 roster. Trent Cole and Brandon Graham are both moving to 3-4 outside linebacker, and Mike Patterson and Cullen Jenkins were released.
Jenkins would have been a fine 3-4 end, having played the position while in Green Bay. As of now, Fletcher Cox projects to be the one starting end. He was a force as a pass-rushing defensive tackle in his rookie season, which should carry over to his new position.
Cedric Thornton is the current starting end opposite Cox, but he's better suited as a rotational player. There's probably no one player the Eagles need in the draft more than another 3-4 end.
Defensive End No. 1A: Fletcher Cox
Defensive End No. 1B: A second or third-round draft pick
Defensive End No. 3: Cedric Thornton
Defensive End No. 4: A low draft pick or free agent signing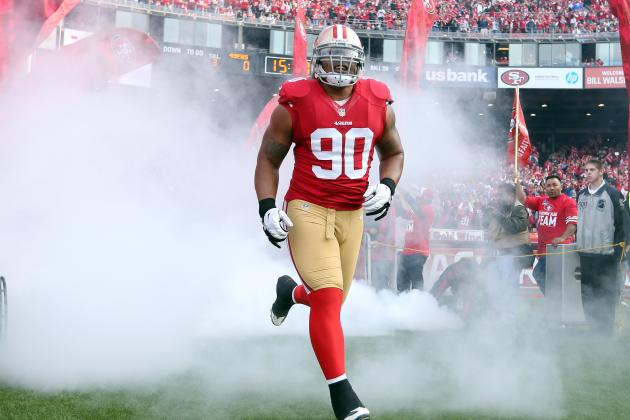 Ezra Shaw/Getty Images

Chip Kelly grabbed his nose tackle for the 2013 season when he signed Isaac Sopoaga from the defending NFC champion San Francisco 49ers.
Sopoaga has started 80 games with the 'Niners, mainly at nose tackle. He's a mammoth-sized man at 325 pounds, and he has plenty of experience as a zero-technique interior lineman over center. He's a solid one-year stopgap until Kelly gets his nose tackle of the future.
Nose Tackle No. 1: A first or second-round draft pick
Nose Tackle No. 2: Isaac Sopoaga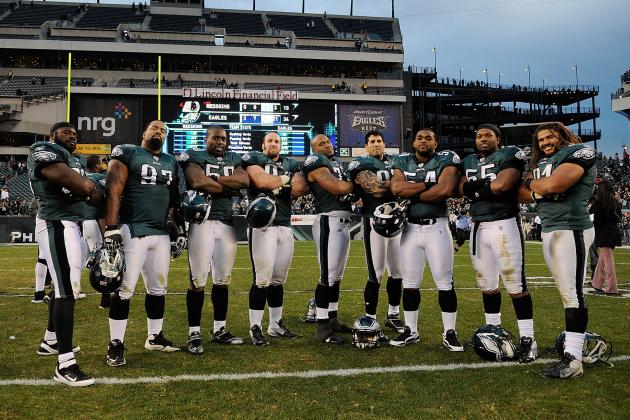 Patrick McDermott/Getty Images

There are plenty of pass-rushing 3-4 linebackers on the Philadelphia Eagles. Trent Cole and Brandon Graham will likely move from 4-3 end to 3-4 linebacker, while Connor Barwin was just signed in free agency. And there's also last year's second-round pick, Vinny Curry, who has the potential to be a disruptive force.
Cole and Barwin will likely start for the Eagles. There have been reports linking Cole's name in possible trade scenarios, but his contract figures are high enough that it's doubtful he will go anywhere.
Graham is essentially a third-down pass-rusher as of now, although he will push for snaps again like he did with Jason Babin last year. Curry gives the Eagles some fine depth at the position.
Outside Linebacker No. 1A: Trent Cole
Outside Linebacker No. 1B: Connor Barwin
Outside Linebacker No. 3: Brandon Graham
Outside Linebacker No. 4: Vinny Curry
Outside Linebacker No. 5: Phillip Hunt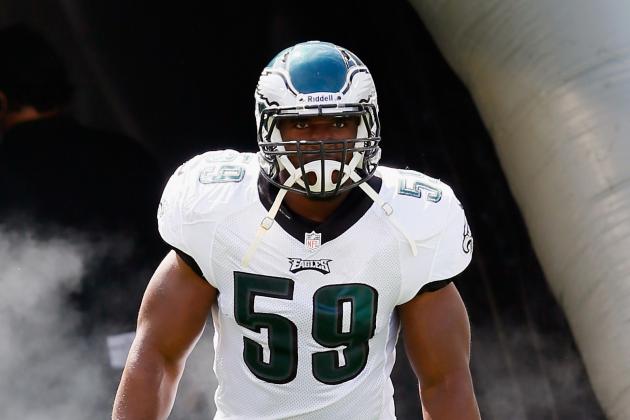 Rob Carr/Getty Images

The Philadelphia Eagles' switch to a 3-4 defense moves DeMeco Ryans and Mychal Kendricks inside. Kendricks did the same playing for the University of California.
Ryans had experience playing in a 3-4 for the Houston Texans, though he did struggle in it and is set to make $6.7 million against the cap. But the Eagles should still retain him in Philadelphia.
Casey Matthews and Jamar Chaney are former middle-to-low draft picks that will be fighting for roster spots. Other players in the mix include Ryan Rau, Jason Phillips and Marcus Dowtin.
Inside Linebacker No. 1A: DeMeco Ryans
Inside Linebacker No. 1B: Mychal Kendricks
Inside Linebacker No. 3: Ryan Rau or Jason Phillips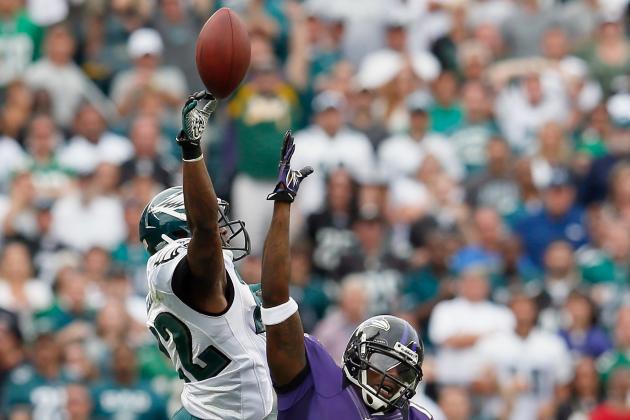 Rob Carr/Getty Images

Nnamdi Asomugha and Dominique Rodgers-Cromartie are gone, and Cary Williams and Bradley Fletcher are in.
Williams is a free-agent signing from the world champion Baltimore Ravens. He's an average starting corner who agreed to a three-year deal with the Philadelphia Eagles, and he's almost a lock to start from day one. Fletcher has had his moments with the St. Louis Rams, although he was benched and demoted to the dime corner spot last year.
If Dee Milliner is there at the fourth overall spot, Chip Kelly should heavily consider him. Brandon Boykin is a solid nickel corner, but the stretch may be Fletcher as a starter. Another starter would allow Boykin and Fletcher to cover the nickel and dime spots.
Players like Curtis Marsh, Brandon Hughes and Trevard Lindley will probably be fighting for one or two spots.
Cornerback No. 1: Cary Williams
Cornerback No. 2: Bradley Fletcher
Cornerback No. 3: Brandon Boykin
Cornerback No. 4: a second or third-round draft pick
Cornerback No. 5: Curtis Marsh, Brandon Hughes or Trevard Lindley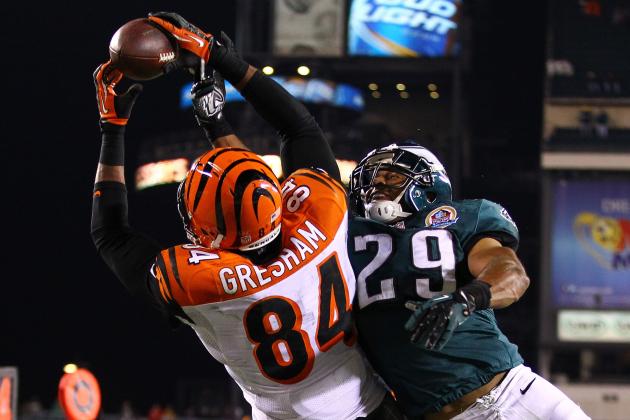 Al Bello/Getty Images

Andy Reid's most foolish move last year was thinking he could win games with Nate Allen and Kurt Coleman as his starting safeties.
Chip Kelly brought on board both Kenny Phillips and Patrick Chung, each of whom should start on day one. Phillips has had his success with the New York Giants, helping deliver a Super Bowl championship after 2011. He has also struggled with injuries, missing nine games last year and 14 in 2009.
Chung was a second-round pick of the New England Patriots four years ago, and he's had his moments of success. He also has missed significant time with injuries, and he fell out of favor with Bill Belichick in New England.
Nate Allen will probably return as at least a backup in 2013. Kurt Coleman really has no business playing in the NFL. He's just overmatched. That means Kelly should add another safety to compete for a starting spot. There's also Colt Anderson in the mix, but he's solely a special-teams player.
Safety No. 1A: Kenny Phillips
Safety No. 1B: Patrick Chung
Safety No. 3: Nate Allen
Safety No. 4: A mid-round draft pick or free agent signing
Safety No. 5: Colt Anderson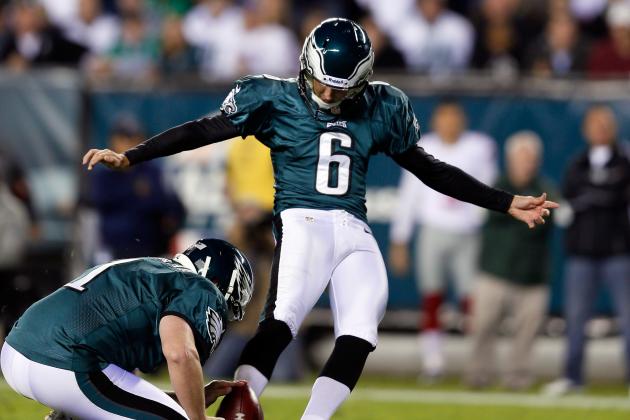 Rob Carr/Getty Images

Alex Henery has had two productive seasons as the Philadelphia Eagles' kicker, and he's deadly accurate inside 40 yards.
Mat McBriar has struggled as the punter, which could open up the chance that Chip Kelly selects a punter in the NFL draft.
Kelly probably won't keep Bryce Brown and Damaris Johnson as the return men, although they both will make the team at their respective positions. Jon Dorenbos is a top long snapper in the business, and he was wisely locked up for four more years.
Kicker: Alex Henery
Punter: Mat McBriar
Kick Returner: A low draft pick
Punt Returner: Damaris Johnson
Long Snapper: Jon Dorenbos