Ohio State Football: 10 Ways You Know You're a Buckeye Fan
There are plenty of ways to know whether or not you are an Ohio State fan, changed emotions for Urban Meyer is one of them.
Rich Barnes-USA TODAY Sports
Ohio State is one of the largest universities in the country and has the largest athletic department, so there are plenty of Ohio State fans all around the nation (and the world for that matter).
There are a handful of ways to know whether you are a Buckeye fan. The easiest may be whether or not the sight of this gets the hair on the back of your neck to stand up or not.
But if that didn't cause a reaction, there are 1o more reasons to help you decide.
If You Used to Hate the Coach You Love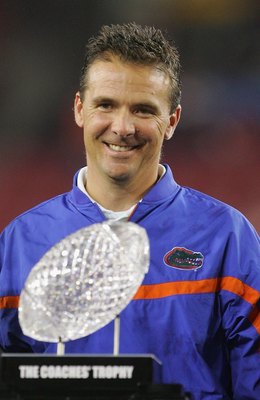 Urban Meyer won his first national championship against his beloved Buckeyes.
Stephen Dunn/Getty Images
Whether it was the "debacle in the desert," the dream, the retirement, the comeback or the second retirement, Buckeye fans—like fans all around the country—didn't like Urban Meyer.
But my how things have changed.
Meyer has come home and led his state's top program to an undefeated season and brought in two big-time recruiting classes (2012 and 2013) that have the future looking bright for the football program.
And its adoring fans.
If Your School Has the Best Football/Basketball Coaching Tandem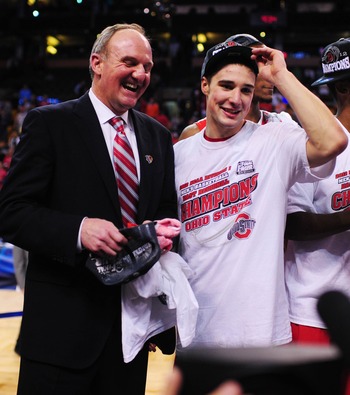 Thad Matta and Aaron Craft are looking to make another deep run in the NCAA Tournament.
Michael Ivins-USA TODAY Sports
I'll give you Nick Saban, but that's about it. Urban Meyer is without question one of the top coaches in college football.
Thad Matta's case may be a little harder to make since Matta's teams have never won a national title... yet.
But with the win over the Iowa State Cyclones, Matta's program is the only one to make four straight Sweet 16's.
If Your Rival's Uniforms Look Radioactive.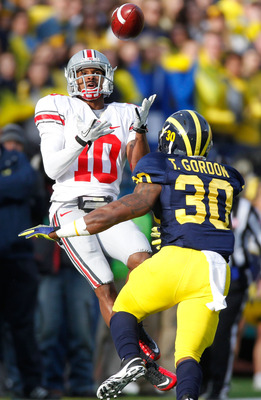 Michigan ended Ohio State's winning streak in "The Game" in 2011, but the Buckeyes started a new streak in 2012.
Gregory Shamus/Getty Images
Adidas has been in the news for making some ugly uniforms lately, but Buckeye fans believe the complaints are coming a few years late.
They've have had to look at their rival's awful uniforms for years.
Look, "maize" is Indian corn. Meaning it should resemble the color of corn. Either this rival's uniform-makers don't realize this or people in that state are eating radioactive corn.
Either way, it wouldn't surprise the Buckeyes.
If Your Football Coach Is Recruiting Your Point Guard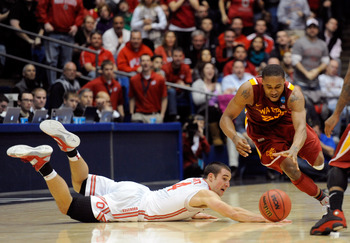 Aaron Craft, the tough-nosed, defensive-minded leader of the Ohio State basketball team, is respected by Urban Meyer.
Jason Miller/Getty Images
Aaron Craft has impressed many with his gritty play on the basketball court. With his quickness, smarts and knack for getting his hands on the basketball, Craft has become one of the nation's top defensive players.
Football coach Urban Meyer has taken notice and has joked about getting Craft to play football.
While it's likely all in jest, Craft was a great high school football player. He ranks 16th all-time in passing yards without even playing football his senior year.
Greg Paulus, one of Ohio State's assistant basketball coaches, played four years of basketball at Duke before playing one year of football at Syracuse.
If "Holy Buckeye" Nearly Brings a Tear to Your Eye

The greatest single play during the special 2002 season.

Now that you've watched and wiped the tears away, I'm not sure there's much else I can say to add to it.
Other than maybe adding a link to a video of highlights from the entire 2002 season.
The 2012 season had a little bit of the same vibe as the 2002 season and even had its own unlikely comeback against Purdue.
Unfortunately for the Buckeyes, they weren't eligible for the BCS title game.
If You Suffered from Premature Graying from 2001-2010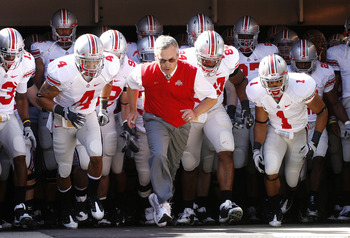 Jim Tressel is known for his sweater-vest and conservative style.
Gregory Shamus/Getty Images
No season better demonstrated "Tresselball" than the 2002, when the Buckeyes went 14-0 and won the BCS National Championship.
Of the 14 wins that season, Ohio State won seven of them by a TD or less. This includes the final four games, two of which went to overtime.
But 2002 wasn't the only year Jim Tressel squeaked out games on a regular basis.
If You've Ever Considered a Kicker/Punter the MVP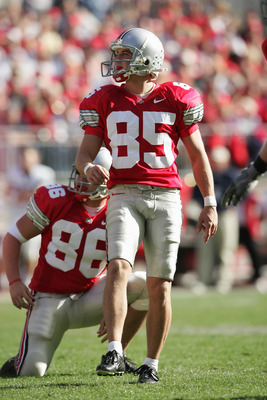 Mike Nugent had one of the greatest seasons for a kicker in college football history in 2002.
Andy Lyons/Getty Images
Jim Tressel regularly called the punt the most important play in football.
He had some good punters during his time in Columbus, but the best special teams player of the Tressel era was Mike Nugent.
Nugent's leg was the difference in several of Ohio State's wins in 2002 and 2003.
Tressel didn't always have Nugent, but his teams were consistently good in the kicking game.
If You Believe It Was without Question, Pass Interference

This is one of the most debated calls in college football history.

Not to restart the debate all over again.
I'm a Buckeye fan, it was pass interference.
But all Miami fans and fans all around the country that dislike Ohio State will agree that the official bailed out Ohio State and handed them a BCS National Championship.
If Your Rules for the Naming of a Rival Is All Relative
Brady Hoke is 1-1 versus Ohio State, but 0-1 versus Urban Meyer.
Andrew Weber-USA TODAY Sports
Ohio State fans love the fact that Urban Meyer is taking after Woody Hayes and referring to Michigan as "That Team Up North" or "That State Up North."
Brady Hoke has taken up the same sort of motto. Instead of referring to his rival as "Ohio State," Hoke calls it the university in Columbus "Ohio."
Something Buckeye fans can't stand, but makes this upset all the more entertaining.
If You Occasionally Look Up Some Ted Ginn Jr. Highlights on YouTube

It never gets old watching Ted Ginn Jr. run all over the field.

If there was a more explosive return man in the college game, then please comment with a video because I've never seen it. But even if there has been, I can guarantee it wasn't in an Ohio State uniform.
Ted Ginn Jr. changed Ohio State from "three yards and a cloud of dust" to "three steps and you're in my dust" during his three seasons in Columbus.
Ginn hasn't turned into the same type of player in the NFL, but his work is college will live forever on YouTube.
Keep Reading

Ohio State Football: Like this team?