San Antonio Spurs at Houston Rockets: Postgame Grades and Analysis for Houston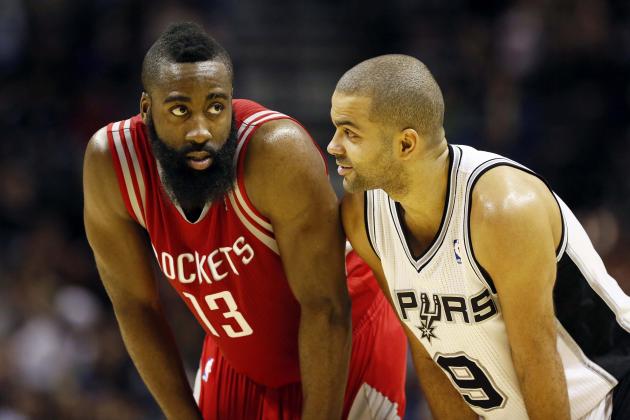 USA TODAY Sports

After James Harden hit a difficult leaning mid-range jump shot over Tim Duncan with 4.5 seconds left in the game, the Houston Rockets defeated the San Antonio Spurs by a score of 96-95.
The Rockets trailed by three points at the half, but they headed into the fourth quarter with a seven-point lead. In the end, Tony Parker and James Harden were the two offensive catalysts neither defense could slow down.
It just so happened that Harden hit the final shot. Also, Omer Asik (five points, 14 rebounds) had his best defensive game of the season.
Begin Slideshow

»
Lin struggled mightily in the first half, registering one more turnover than his combined points and assists (three to two). In the second half he snapped out of his malaise a bit, knocking down a couple jumpers and coming up with a crucial steal against Tiago Splitter in the fourth quarter.
He was subbed out in the fourth quarter of an extremely close game, though. So that says a lot about how much better his backup played today.
Shooting was a major issue, as Lin finished 2-of-8 from the floor.
Grade: C-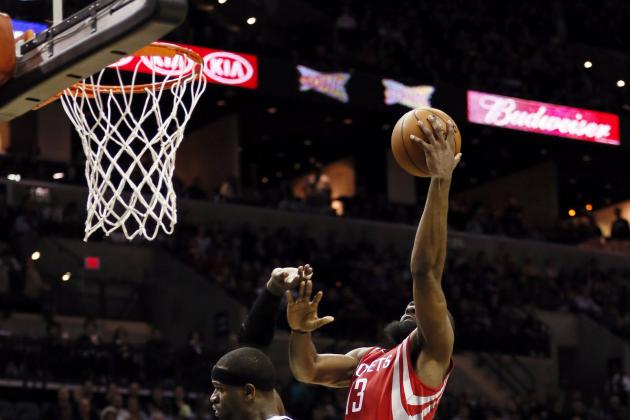 USA TODAY Sports

Harden began the game aggressively attacking the rim in transition, but defensively he was hot and cold, leaving Danny Green open on the perimeter, losing him with unnecessary help and even fouling him on a corner three with 41 seconds to go in the first half.
He scored 11 points in the first half, making two three-pointers and five free throws. In the third quarter he exploded for 12 points, pushing Houston into a seven-point lead heading into the final quarter.
Harden also hit a go-ahead leaner with 4.5 seconds left in the game, a huge shot over Tim Duncan that gave Houston a one point lead. He finished with 29 points and 15 made free throws, nine rebounds, six assists, two steals and one turnover.
Grade: A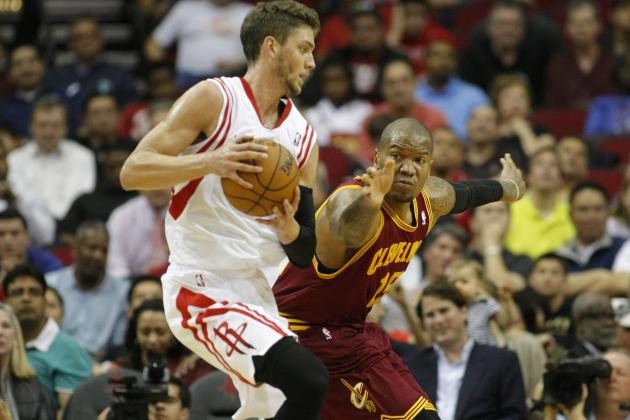 USA TODAY Sports

Parsons is so valuable as a player who thrives in the open court, especially off turnovers, and he showcased that ability early on. He was also effective on the perimeter with his pump fake, getting defenders to bite and then attacking.
He hit a huge three-pointer with just over a minute to go in the game to cut San Antonio's lead down to one, and finished with 20 points on 17 shots.
Grade: A-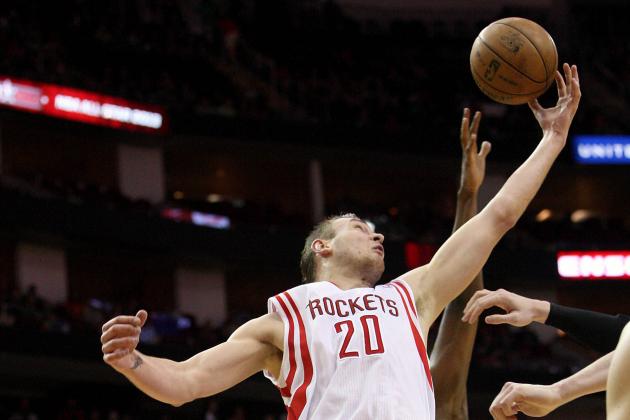 Troy Taormina-USA TODAY Sports

Motiejunas scored Houston's first five points on a pretty dribble drive to the right and a corner three. But guarding Tim Duncan got him in foul trouble, so Motiejunas hit the bench within just a few minutes of action.
Unfortunately, foul trouble was a major theme throughout the game for Motiejunas, as he picked up No. 5 early in the second half and played just 16 minutes.
Grade: D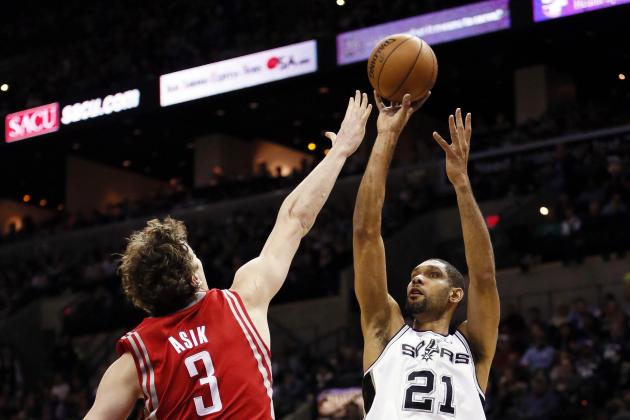 USA TODAY Sports

Asik's interior defense was phenomenal in this game, as he single-handedly slowed down San Antonio's offense whenever the game hit a sped-up pace. And his work on Tim Duncan was noticeable every time the two faced off.
Duncan was limited to several mid-range bank shots he misfired on, and on the game's final possession Asik stifled him to a badly missed shot.
He was 2-of-10 from the floor, but defensively he more than made up for it.
Grade: A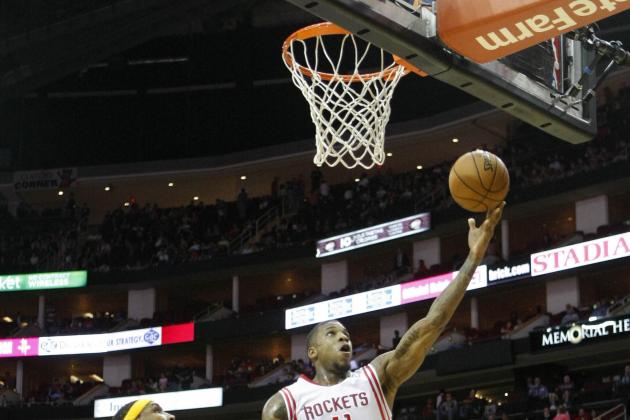 USA TODAY Sports

His nose for defensive rebounds remains strong, but on the offensive end Robinson still tends to go outside his "lane," as happened early in the second quarter when he needlessly pulled up for an 18-foot jump shot with over 10 seconds left on the shot clock. (That shot is different than when he took an open shot out of a pick-and-pop two minutes later.)
Robinson played just 11 minutes despite Motiejunas being in major foul trouble. He grabbed four rebounds.
Grade: C-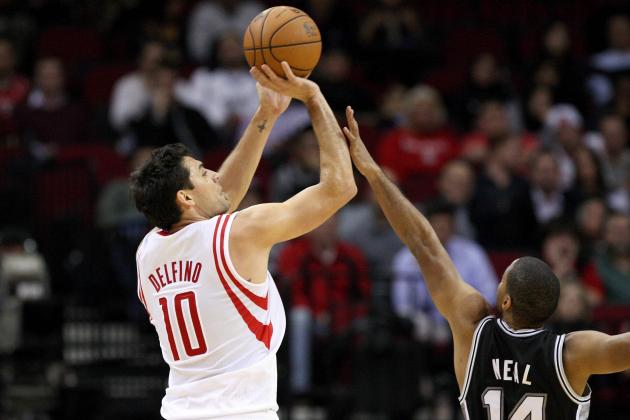 USA TODAY Sports

Bench
Patrick Beverley took over the end of the first quarter, hitting two floaters and grabbing his own free-throw miss. He scored Houston's final five points of the quarter, and sent them into the second with a two-point lead.
He finished with 11 points.
Greg Smith offered solid defense on Tim Duncan towards the end of the third quarter, which played a significant role in keeping San Antonio's offense stagnant. And in the fourth quarter he absolutely posterized Tiago Splitter with a monstrous dunk down the lane.
Carlos Delfino scored nine points but went just 1-of-6 from behind the three-point line.
Grade: B+