NHL Trade Talk: 5 Teams That Are 1 Player Away from Changing Their Luck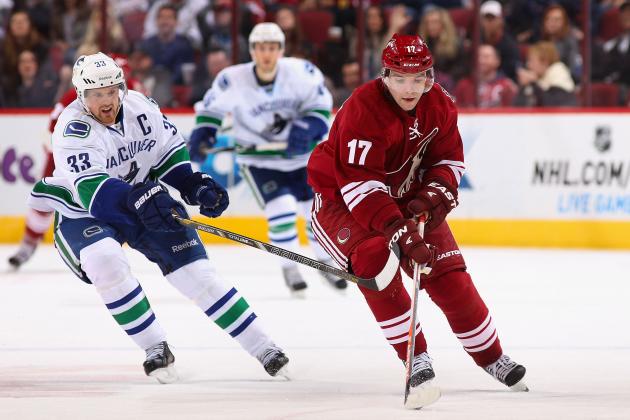 Christian Petersen/Getty Images

Not a single NHL team that finished first in its division last season entered Sunday night's action at the top of its five-team circuit. The closest party in that respect was Vancouver, which went into a tilt with Colorado virtually tied with Minnesota for tops in the Northwest, though the Wild have two games in hand as of Monday.
That is the dominant motif in a slew of teams who have sculpted a recent foundation for success and/or believable expectations for success in 2012-13, but so far have not followed through to the best degree.
Some teams are already at a point where duplicating last year's regular-season feats are out of the question. Nonetheless, they, among others, can catch a second wind in the second season with a few simple tweaks—or maybe even just one.
Next Wednesday's trading deadline will be the last call for those who could stand to shore up for the homestretch and playoffs by way of an external acquisition.
Here are five teams who can set a timely tone by importing and gelling in one missing puzzle piece on their depth chart.
Unless otherwise indicated, all stats and information for this slideshow were found via NHL.com
Begin Slideshow

»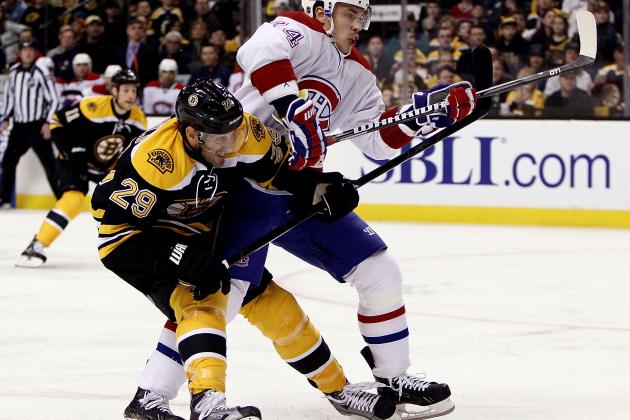 Alex Trautwig/Getty Images

Losers by one-goal regulation decisions in three heavyweight matchups this month, one to Montreal and two to Pittsburgh, the Bruins need a firepower booster shot to keep up. If they had one extra forward with reliable scoring prowess, they would have a better chance against the likes of the Penguins, in particular.
Case in point: Pittsburgh mustered only two goals in one meeting with Boston and a rapid-fire succession of three in another, despite boasting the most prolific strike force in the NHL. Yet despite being uncharacteristically confined to defensive arm-wrestling bouts with the Bruins, the Penguins prevailed both times because they are just that supremely formidable.
Even when everyone is healthy and committed, Boston still has a hole to fill among its top nine, a task that Chris Bourque, Jordan Caron and Jay Pandolfo have all proven less-than-suited to meet.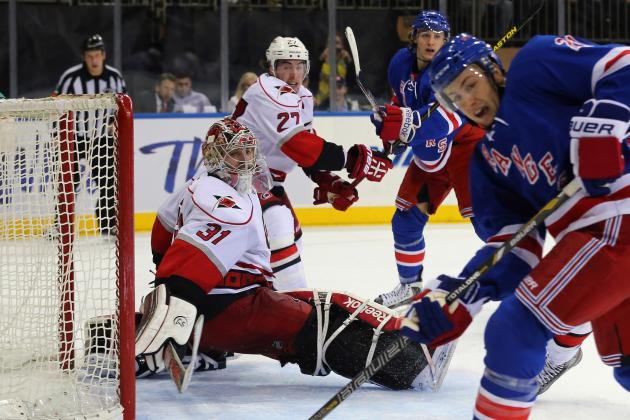 Bruce Bennett/Getty Images

Depending on how well Tuomo Ruutu is performing in comparison to his pre-injury form, the Hurricanes should have enough up-front production to get by. The likes of Jussi Jokinen and Patrick Dwyer will also need to snap out of a slump, but this season has given encouraging indications of what they and the usual suspects are capable of.
In the crease, it appears the injured Cam Ward likely won't be back until around the start of the playoffs. Dan Ellis should be back by the start of April, and he and Justin Peters, a recent AHL All-Star, will be leaned on to spell Ward until he is ready.
Regardless of who is in the cage and how much offensive support he is getting, though, he can be helped by the addition of a dependable defensive defenseman.
The rest of the requisite pieces are, or will be, in place and have so far transformed the Canes into contenders for the Southeast Division title. A recent skid of 0-4-1 has dropped them behind Winnipeg, whom they will face in two of their next three games.
But with two games in hand on the Jets, they need not take those virtual four-point purses for a make-or-break week. Carolina can reassert itself for the final month of the regular season with one addition in one area that continuously cries for attention on the blue line.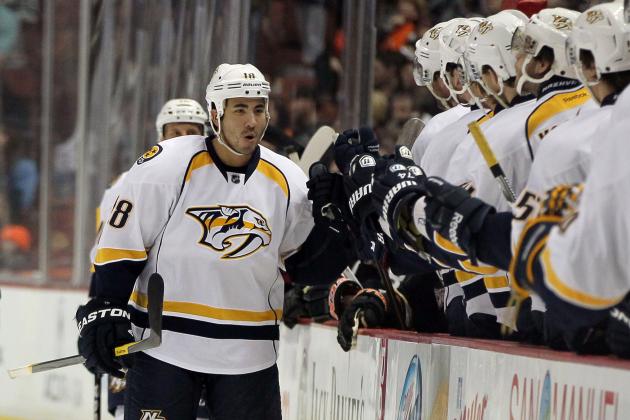 Victor Decolongon/Getty Images

The Predators hit the two-third mark of their schedule on Saturday with a 5-2 triumph over Columbus, giving them their first set of consecutive victories since Valentine's Day and only their third all season. The other was a four-game winning streak spanning Jan. 31 through Feb. 7.
After attaining the franchise's only two playoff series victories in the two preceding seasons, the Preds are tied with San Jose and Columbus for the first non-playoff spot in the West. The chief culprit is, balance aside, an altogether shallow offense that is averaging only 2.44 goals per game.
That average has paradoxically improved as of late, even while top producer Colin Wilson has been out with an injury, along with Patric Hornqvist. It can still get better even when and if he is reinserted. So can the Predators' stature in the standings.
The players on the top-two lines, as listed by The Hockey News, have combined for 40 goals, 20 for each line, to date this season. The rest of the forwards (10 in all) who have dressed for at least one game have combined for 22.
With one more forward to beef up the bottom six, preferably one with solid two-way credentials a la the struggling and injured Paul Gaustad, Nashville should have the ability to attack in more sustained drives and win more consistently.
Those who have stepped up in the absence of Wilson and Hornqvist may keep up their pace when those two return, but based on the first half of the season, banking on that alone is not enough.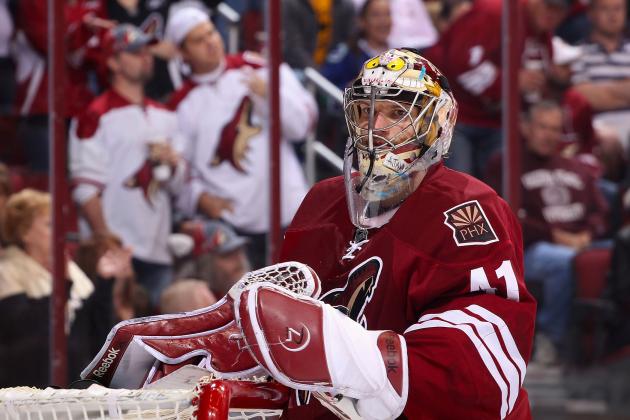 Christian Petersen/Getty Images

A lack of a follow-up on a breakout year by goaltender Mike Smith certainly has not helped (he went from a .930 save percentage and 2.21 goals-against average to .901 and 2.83). But the Coyotes are also showing how much they miss Ray Whitney up front.
The age-defying Whitney transferred to divisional rival Dallas last summer after posting a 77-point season, in which Phoenix finished with a nightly average of 2.56 goals. Right now, they are averaging 2.48 per night, which may look like a negligible drop-off, but could use a bigger boost given Smith's struggles.
The Coyotes have had a gratifyingly balanced output from their roster as it is, but one more addition up front could make a critical difference in their push to exit the cellar of the Pacific Division.
While the Anaheim Ducks are running away with first place, there is a six-point separation between second and fifth, and Phoenix is only three points behind Whitney's Stars for third in the division and eighth in the conference.
Winning a trade deadline derby for an extra piece against the teams ahead of them could help them against those same teams in the chase for a playoff spot.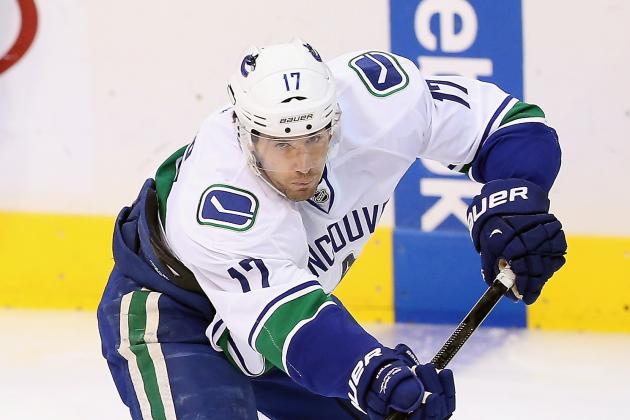 Ronald Martinez/Getty Images

The repeatedly injured Ryan Kesler accumulated 45 goals and 48 assists on the power play in 323 games over the previous four seasons.
With Kesler out for the better part of this season, including all games in the month of March, the Canucks went on a 1-of-43 slump with the man advantage in the 15 contests leading up to Sunday's visit to Colorado.
As it happened, their only conversion in that span came against Minnesota, the team they are jockeying with for first place in the Northwest Division. But regardless of which colors and crest they are directly competing against on a given night, a booster on special teams and offense in general ought to give the Canucks a better position in the divisional footrace.
Kesler might help if and when he returns, or his injuries may prove to diminish his effectiveness, but an external additive is highly recommended either way.
The lowdown: Vancouver's X-factor is a replacement for the void Kesler's absence has created, which would also enhance the team's depth up front.