Bold Predictions Heading into the NHL Trade Deadline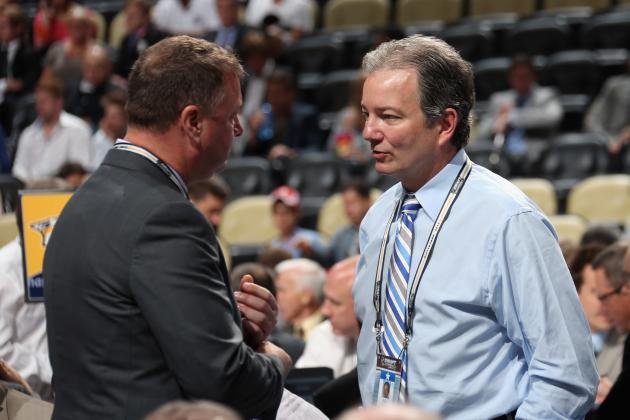 Bruce Bennett/Getty Images

The NHL trade deadline is rapidly approaching, and rumors are already starting to leak out from insiders and there is a ton of speculation about players who could move on or before April 3.
These players include, but are not limited to, forwards like Jarome Iginla, Marian Gabork, Mike Ribeiro and various others.
The deadline is always interesting because when you least expect it, a bombshell trade can go down in the final minutes leading up to the deadline.
With the rumors starting to smolder, here are some bold predictions heading into the deadline.
Begin Slideshow

»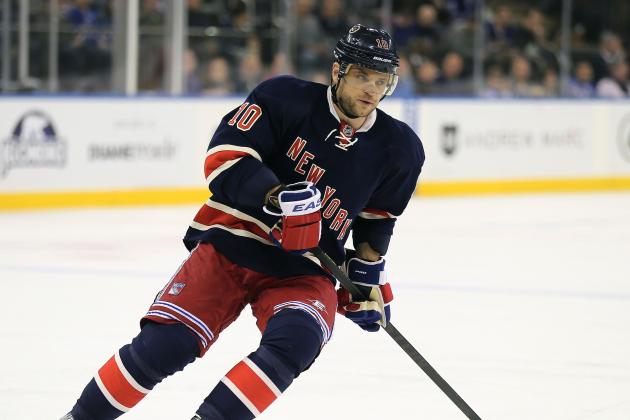 Elsa/Getty Images

Marian Gaborik has been involved in multiple trade rumors throughout the past few weeks, and ultimately, I see him heading to the Western Conference at the deadline.
With Corey Perry signed for the next eight years in Anaheim, Gaborik will become one of the premier wingers on the trade market.
He has one year left on his contract of $7.5 million, but consider that Gaborik has scored 40 goals or more in three of his last five seasons.
Cap commitments to current RFAs like Derek Stepan, Carl Hagelin, Ryan McDonagh and Chris Kreider will force the Rangers to free up some cap space sooner rather than later.
The Rangers lost Jeff Halpern to the Montreal Canadiens via waivers and waived Stu Bickel, so it is fair to speculate they are preparing for a trade by freeing up contract space.
The limit in the league for contracts is 50 per year, and the Rangers have 48 contracts on their payroll.
Rumors indicate that his and John Tortorella's relationship has finally reached an impasse, so don't be surprised to see the Rangers deal him out West even if they have to eat a small part of his salary in a trade.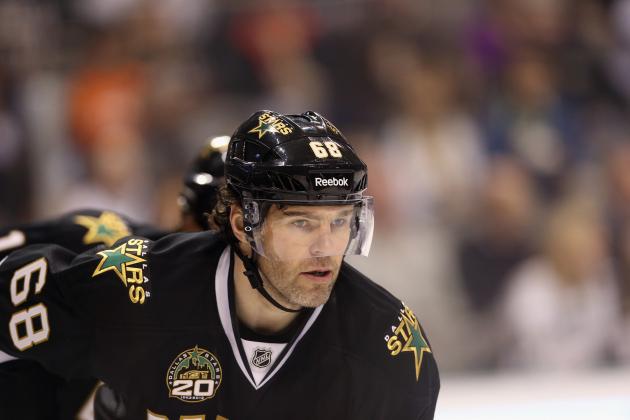 Ronald Martinez/Getty Images

Jaromir Jagr has always had interest in playing for the Montreal Canadiens, and it could finally become a reality at the deadline. Jagr is an UFA after the season, and Dallas has been in and out of a playoff spot.
The Montreal Canadiens are likely going to make a strong push for a championship run this season. Jagr would fit in like a glove on the team, and he has tremendous chemistry with pivot Tomas Plekanec.
The cost would be relatively low, and Jagr would add scoring depth to the top-six and the Habs power play.
Although the team had little interest in signing him earlier in the summer, I think they might reconsider given their current success and how well Jagr has played thus far.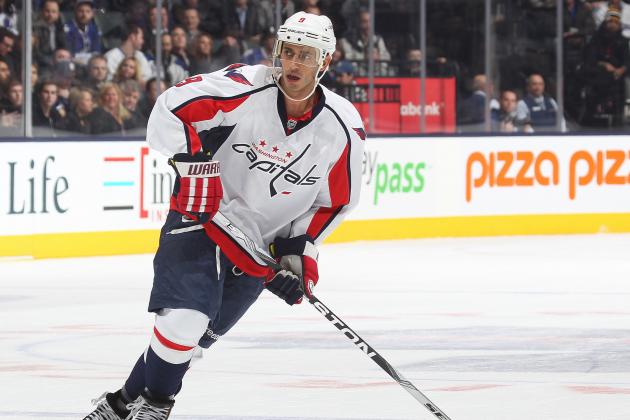 Claus Andersen/Getty Images

The Washington Capitals are working on an effort to come back into the playoff picture, but that should not stop them from trying to address some of the holes on their roster.
George McPhee has the opportunity to get a nice return back for one of his top UFAs, especially now that the price for a rental has been set with the Brenden Morrow trade.
Mike Ribeiro is an upcoming UFA who could decide to walk after the season despite his success with the team thus far.
On the open market, he can make his destiny and collect a big paycheck during the process.
With that, I see the Capitals shipping out Ribeiro to a contender in the West at the deadline.
A prime fit would be the Vancouver Canucks, but I wouldn't be surprised to see the Chicago Blackhawks make a run at Ribeiro to slot in as the No. 2 center.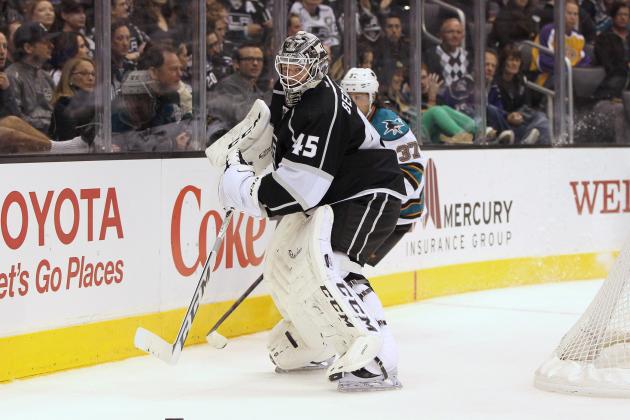 Victor Decolongon/Getty Images

The New Jersey Devils need a starting goaltender for the future, and adding Jonathan Bernier would be a great move that is also feasible.
Johan Hedberg is no longer a useful backup, and adding Bernier to split starts with Martin Brodeur going forward would be an amazing move.
New Jersey not only would add their netminder of the future, but they would have him learn from a future Hall of Famer in the meantime.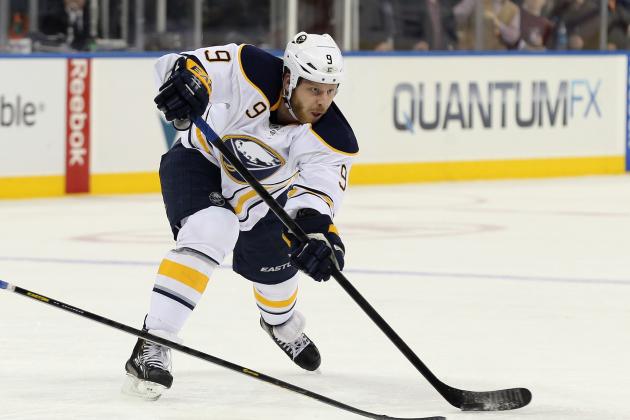 Bruce Bennett/Getty Images

The Buffalo Sabres are on the outskirts looking at a playoff spot, but chances are that they could look to rebuild their roster at the deadline.
It is possible that change will be coming this summer, and I think Terry Pegula will mandate a quick rebuild if the team falls farther out of the playoff picture.
Steve Ott is a great trade chip to use, and he could fetch a nice return because of the skills he brings. Paul Gaustad was worth a first-round pick at last year's deadline, and Ott will be worth more.
Although Ott is a vital part of the Sabres, what he can bring back in a trade will be worth more to the Sabres in the long run.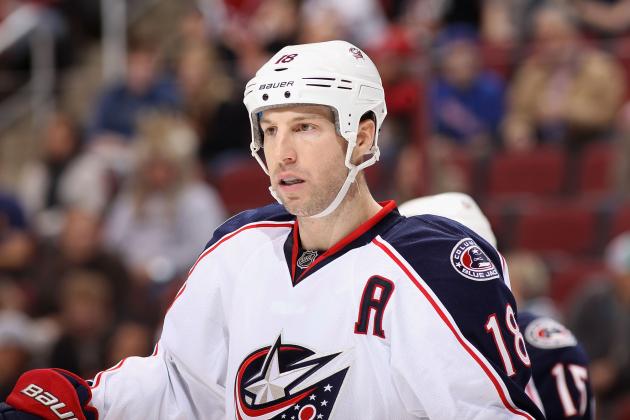 Christian Petersen/Getty Images

New GM Jarmo Kekalainen will likely want to make some changes to his new team, and although the team has played well, Columbus is a long way from being a legitimate contender.
The team wants to build for the future, and R.J. Umberger is the perfect asset to deal at the deadline. He is a solid two-way forward whose offense would likely increase if surrounded by better talent, and he is a very tough player.
The Vancouver Canucks could use a player of his caliber, so look for them to reclaim their former draft pick at the trade deadline.
His salary is a little steep, but he is the type of player that would really fit in well stylistically with the makeup of the Canucks.
For the Blue Jackets, they would likely be content with freeing up cap space and receiving a package of a roster player and a prospect or two so they can continue building the franchise into a contender.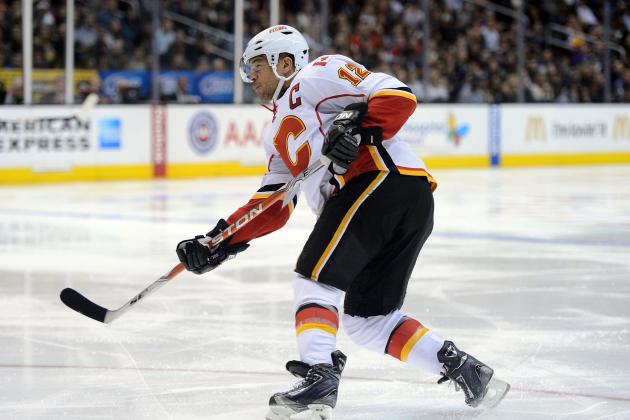 Harry How/Getty Images

Iginla trade spec grows by the day. Source says Pit,Bos,Chi,LA on his list with ongoing discussions. CGY will not comment,confirm, or deny.
— Darren Dreger (@DarrenDreger) March 23, 2013


The Los Angeles Kings are never unwilling to make a splash, and don't underestimate the impact bench-boss Daryl Sutter could have on trying to bring his former captain to Hollywood.
The Pittsburgh Penguins appeared to have exited the Jarome Iginla stakes after dealing for Brenden Morrow, but reports suggest they could still go after the Flames' captain. However, they don't appear to be the best fit.
The Kings have multiple assets like Mike Richards, Justin Williams, prospects like Tanner Pearson and Tyler Toffoli and goaltender Jonathan Bernier if Calgary wanted to add a goaltender this year.
Los Angeles could send multiple parts that would give the Flames pieces to build around, and the sum of the parts could be enough to satisfy Jay Feaster.
Nonetheless, Iginla holds all the cards, and there is a good chance he would want to be re-united with Sutter.
It may not seem likely, but expect Los Angeles to push hard for Iginla.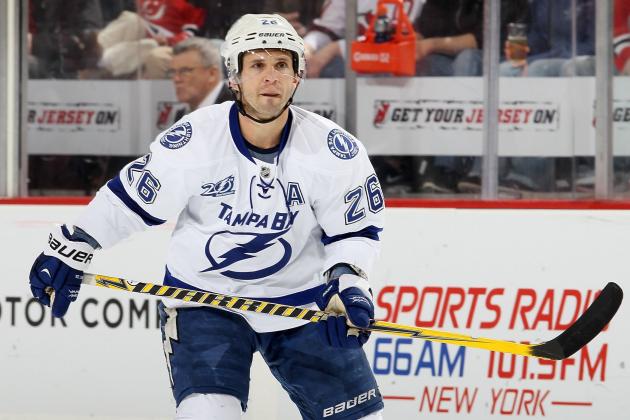 Jim McIsaac/Getty Images

The Tampa Bay Lightning are unlikely to make the playoffs again, and Martin St.Louis is a player that is one of the most competitive in the league.
At age 37, he is still one of the league's top scorers, and missing the playoffs again is something that will likely eat at the future Hall of Famer.
The speculation of a potential St.Louis trade started after an article ran in the Tampa Bay Times.
When St. Louis in July 2010 signed a four-year, $22.5 million contract extension, he did so with the notion the organization, under new ownership and management, would move in a positive direction. But after the team reached the Eastern Conference final in 2010-11, it was out of the playoffs in 2011-12 and appears this season it will fall short again.

St. Louis, 37, might look at a team clearly in transition — it is trying to develop Anders Lindback as a No. 1 goaltender and has eight players on its current roster who played last season or have played this season in the AHL — and wonder how much longer he can wait.
It is logical that Tampa would move him given the fact he still has value, and he would garner a nice return that would help complement their needs as a team in transition. St.Louis likely wants another run at the Stanley Cup, and he doesn't want to waste the good years he has left.
There will be no shortage of takers for St.Louis if he asks for a trade, and he will control his destiny with his NTC.
With Guy Boucher no longer behind the bench, St.Louis may be more willing to consider leaving now that the team could be headed in a new direction.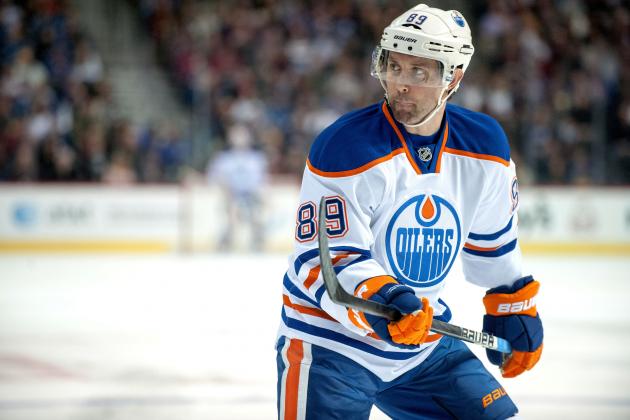 Dustin Bradford/Getty Images

The Phoenix Coyotes unofficially made Oliver Ekman-Larsson their franchise defenseman by signing him to a lengthy extension that will pay him $5.5 million a year for the next six years, and that move may signify the team's willingness to move Keith Yandle.
Rumors have surrounded Yandle for a while, and this could be the year the team decides to make a big move.
The Edmonton Oilers could use a young top-four defenseman in a huge way, just like Phoenix could use a top-six center in a huge way because of the team's weak offense.
A Keith Yandle for Sam Gagner swap, give or take a draft pick here or there, would be a very fair swap that would improve each team's roster in a big way.