Breaking Down the Carolina Panthers Depth Chart After the Peak of Free Agency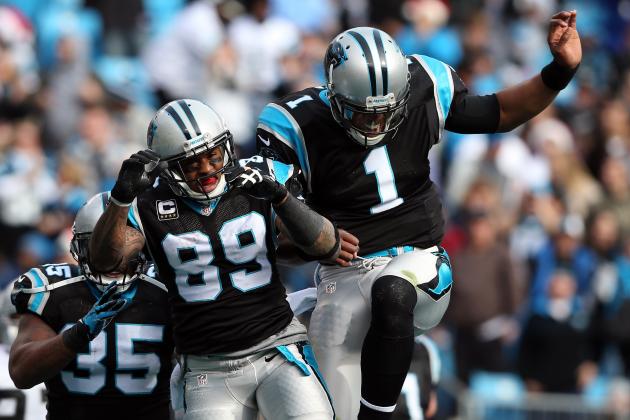 Streeter Lecka/Getty Images

The Carolina Panthers haven't made too much noise in free agency as the league heads into April and prepares for the draft. Despite not landing any marquee names, the Panthers have been able to make a few small acquisitions to help the team in 2013 and were even able to bring back a couple of key defensive players.
While the official roster has yet to be established, Carolina is steadily assembling a roster it feels will best help the team as it gets ready for spring OTAs and the start of training camp.
There are still a few more players the Panthers need to add to the team, and most of them will come through the draft. However, it is worth taking a look at how their depth chart is shaping up before the new crop of Carolina players begin their careers in the NFL.
It should be noted this slideshow will not feature any potential draft picks and will focus solely on those who are currently on the team.
Begin Slideshow

»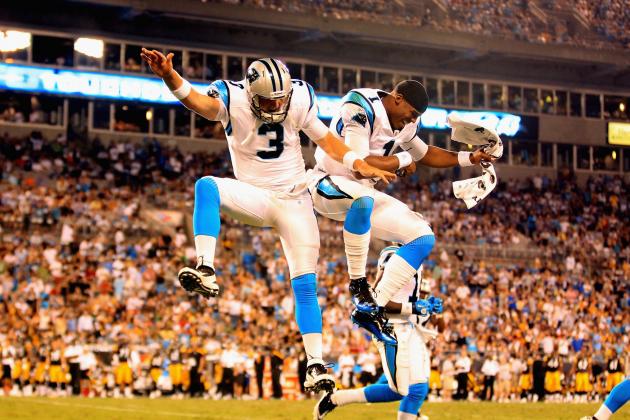 Streeter Lecka/Getty Images

Starter: Cam Newton
Backups: Derek Anderson and Jimmy Clausen
There is no debating how the quarterbacks stack up on the depth chart. Newton is the undisputed starter under center and has had two very good first years. While an increase to his passing touchdown total needs to happen, it was comforting to see him decrease the number of interceptions thrown.
The Panthers were able to re-sign Anderson to a one-year deal which works out well for them as it keeps continuity alive and keeps Carolina worrying about teaching a new quarterback its system. Clausen will enter the final season of his rookie contract and looks to be gone after the 2013 season.
While there are three quarterbacks on the roster, chances are the Panthers will only suit up Newton and Anderson on game day while keeping Clausen on the inactive roster.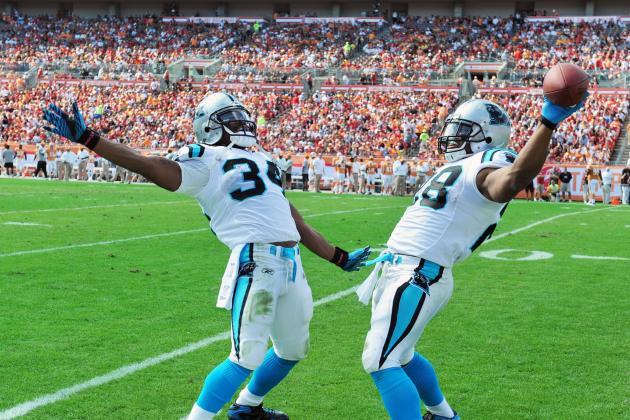 Al Messerschmidt/Getty Images

Starters: Jonathan Stewart and DeAngelo Williams
Backups: Armond Smith and Tauren Poole
Typically most teams have one feature back who gets the starting nod within the offense. The Panthers tend to roll a bit differently, as both Stewart and Williams are capable starters. Add to the fact that either one of them can start on any given week, and it's really a best guess on who is starting in the first series.
However, they have been splitting carries for a few years now and earning the moniker "Double Trouble." While they have lost a little bit of the production that made them a dangerous duo, when healthy and given great blocking, they can still cause all sorts of havoc. The latter was evident during the last game of the season. Williams played like a man possessed, rushing for over 200 yards.
Backing them up is Smith and Poole, who showed promise in training camp and could give the Panthers an option to explore if they decide to trade Williams. Smith was able to get some game time during the regular season, but it was mainly on special teams.
Given the total amount of money that is tied up in the Carolina backfield (including Mike Tolbert), don't be surprised if the Panthers make a cost-cutting move to free up some cash and go with their younger, cheaper options.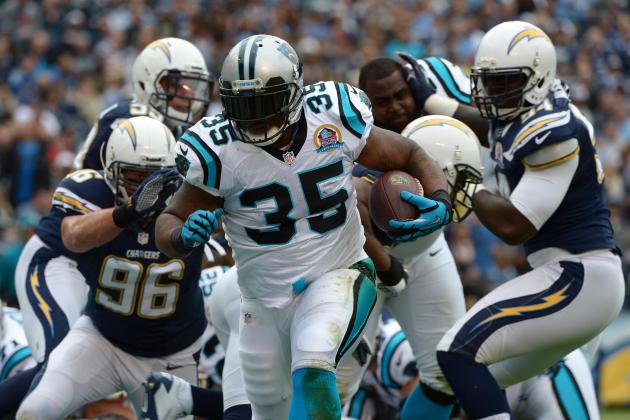 Donald Miralle/Getty Images

Starter: Mike Tolbert
Backup: Richie Brockel
Tolbert started slowly last season, and while he didn't rush for many yards, he did find the end zone seven times. Five of those scores came in two of the Panthers' last three games. That kind of production eased the minds of many who feel he may be returning to the type of player that prompted San Diego to offer him big money before he turned them down in favor of joining the Panthers.
Backing him up is Brockel, whose claim to fame was his touchdown in the famous "Chudrooskie" against the Houston Texans in 2011. Brockel won't see too many snaps in the backfield, as Tolbert has a firm grasp on the starting position.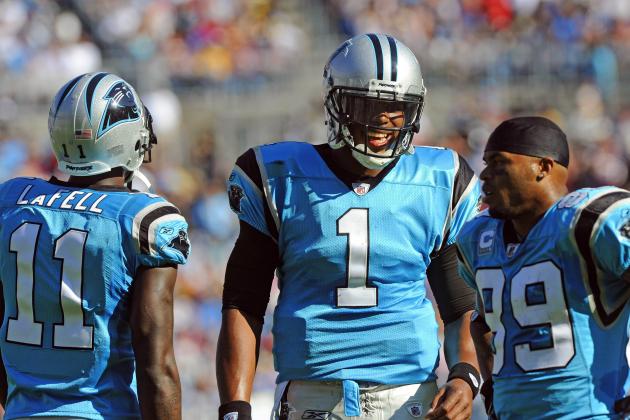 Sam Sharpe-USA TODAY Sports

Starters: Steve Smith and Brandon LaFell
Backups: Ted Ginn, Jr., Armanti Edwards, David Gettis, Kealoha Pilares and Joe Adams
The receiving corps of the Carolina Panthers has the potential of being the team's biggest strength, but eventually, they will need to find the replacement for Smith. LaFell has been a solid receiver but lacks the breakaway speed to stretch the field and get open like Smith has done during his career in Carolina.
Ginn is a solid option as he has the tools to give Cam Newton another viable receiving option; however, his talents may be more geared toward straightening out the Panthers return game. Gettis showed promise in 2011 but was limited by injuries last year. He could very well develop into a legit threat but needs to stay healthy and build a rapport with his quarterback. Pilares and Adams each offer strengths and could become good slot options, but they need to work on their fundamentals.
Edwards could enter training camp on the outside looking in. He hasn't panned out to be the threat on special teams or in the receiving game team scouts and coaches envisioned him being when he was drafted out of Appalachian State.
Expect to see the backups get plenty of reps during training camp and the preseason, because the Panthers will need to take the focus off of Smith. Of course, drafting one of the top-tier receivers in the draft could solve that problem too.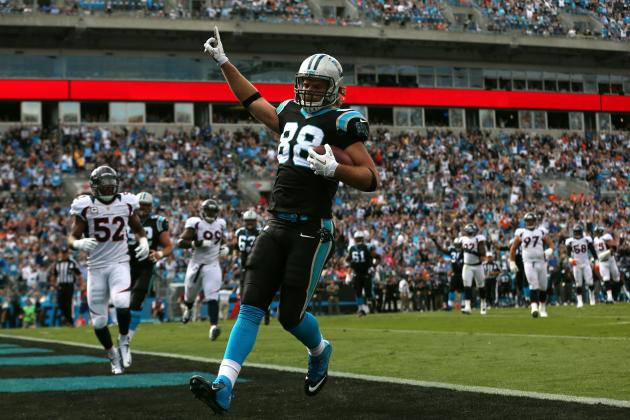 Streeter Lecka/Getty Images

Starter: Greg Olsen
Backups: Ben Hartsock and Nelson Rosario
Olsen came into his own last season and had a great year. He was a solid checkdown option and did an excellent job in hauling in passes and picking up big chunks of yards. Olsen maintained an annual constant by catching five passes for touchdowns but career highs in receptions (69) and receiving yards (843).
Had he caught a few more passes in the end zone, he probably would have received a Pro Bowl nod. He will be counted on to continue being a reliable receiver in Mike Shula's offense and be Cam Newton's security blanket.
Hartsock and Rosario will see limited time in the offense, but Hartsock has seen some action on the field starting in four games last season. Their roles will most likely be restricted to blocking assignments and/or special teams duties.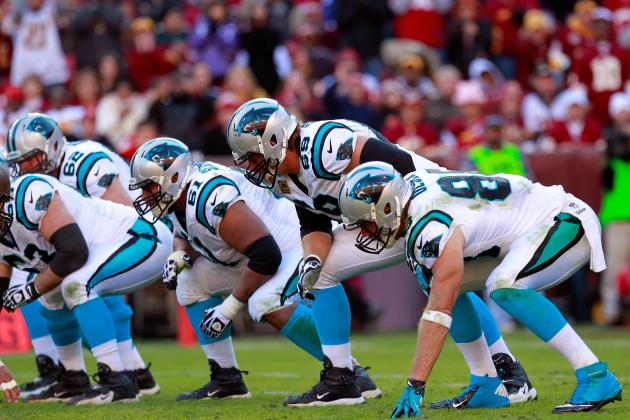 Geoff Burke-USA TODAY Sports

Starting Center: Ryan Kalil
Backup: Jeff Byers
Starting Guards: Amini Silatolu and Geoff Hangartner
Backups: Hayworth Hicks, Garry Williams, Justin Wells and Zack Williams
Starting Tackles: Jordan Gross and Byron Bell
Backups: Bruce Campbell and Thomas Austin
The biggest question mark on the offense comes in the form of the men who are charged with protecting Cam Newton and opening up running lanes for the rushing attack. The unit has been riddled with injuries as Kalil went down after five games, leaving Byers as the man to step up and fill his shoes.
Both he and Gross are getting up there in age, and there has been speculation about whether or not the Panthers might choose to draft an offensive linemen in Round 1 of the draft. Silatolu was a second-round draft selection last year, but there were moments where he looked lost and confused. It's still early to write him off, but he will definitely need to improve his skills on the line if he wants to keep his job.
The jury is still out on Bell, who was promoted to starter in 2011, but he hasn't played at a high level which would discourage Carolina from exploring the possibility of drafting a left tackle which would result in Gross moving to the right side, replacing Bell.
However, he has performed better than Campbell, whom some had pegged as a potential starter when he was acquired last season from Oakland.
There is a lot of uncertainty on the offensive line, and it shouldn't surprise anyone if Carolina looks to shore up the unit early on in the draft.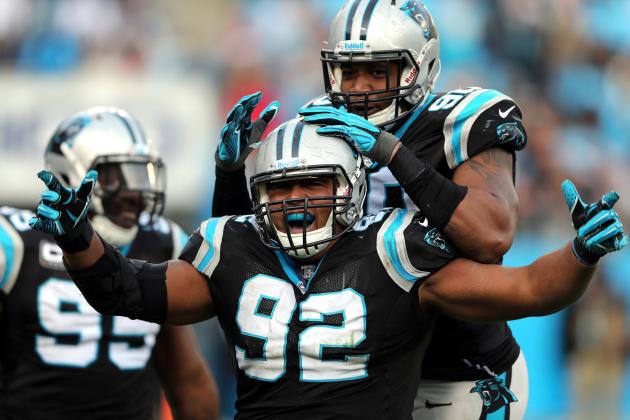 Streeter Lecka/Getty Images

Starters: Dwan Edwards and Sione Fua
Backups: Frank Kearse, Colin Cole and Nate Chandler
Carolina gave its fans some good news last week when it brought back Edwards on a one-year deal. While the Panthers are still looking for a long-term solution on the defensive line's interior, Edwards will provide a quality presence.
He had a great season last year, as he was second among defensive tackles in sacks (six) and offered the kind of performance the Panthers had been lacking since the days of Kris Jenkins. Bringing Edwards back was one of two top priorities for Carolina during the offseason, and it will have options heading into next season.
This could be the year the defensive tackle progresses to a defensive strength, especially with many analysts and experts predicting the Panthers to draft a defensive tackle in the first round of April's draft. Such a selection would immediately improve the line, and Edwards could be lining up next to a rookie in 2013.
However, Fua and Kearse are still options, and both have experience. Cole was signed prior to the start of the new league year beginning, and that was most likely done as insurance in the event Edwards was unable to be re-signed.
There are still concerns about defensive tackle, but it seems as though things are looking up, and the new season could be the year in which all those reservations are dispelled.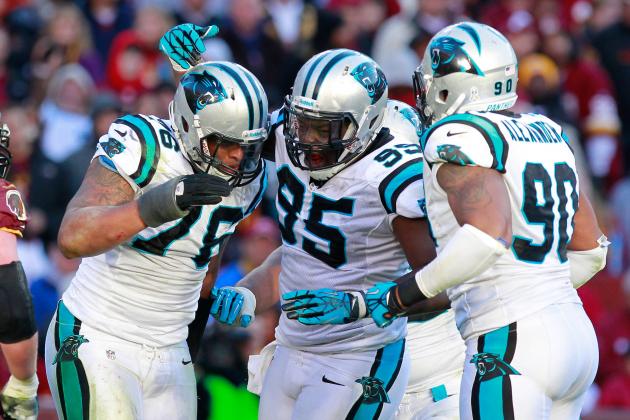 Geoff Burke-USA TODAY Sports

Starters: Charles Johnson and Greg Hardy
Backups: Frank Alexander, Thomas Keiser and Mario Addison
The strength of the defensive front came in the form of the pass-rushers off the edge and saw Carolina have two defensive ends record double digits in sacks for the first time since Mike Rucker and Julius Peppers donned the black and blue.
Johnson lived up to his deal and should continue to dominate. Hardy came into his own and showed that potential many within the organization saw when he was drafted in 2011. Hardy's emergence will prevent teams from double-teaming Johnson in 2013, and it is not foregone conclusion to assume that both of them can repeat their sack totals next season.
Alexander and Keiser have both done well in supporting roles, with Alexander giving the Panthers an option to move Hardy to the interior and creating a more disruptive pass rush.
What makes the defensive ends so appealing is that next to the linebackers, the unit is solid from top to bottom. Expect Johnson and Hardy to be a force once again.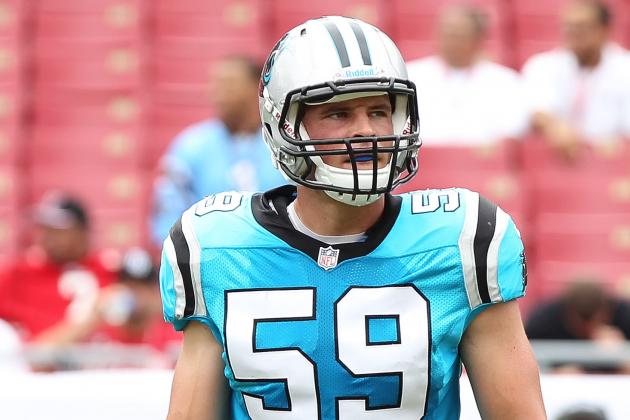 Kim Klement-USA TODAY Sports

Starting MLB: Luke Kuechly
Backup: Kenny Onatolu
Starting WLB: Jon Beason
Backup: Doug Hogue
Starting SLB: Thomas Davis
Backups: Jordan Senn and Jason Williams
The Carolina linebacker corps looked to be the strength of the defense entering 2012. The good news was that Davis was able to play the entire season and made a case for Comeback Player of the Year, but the injury bug reared its ugly head yet again and ended Beason's season. His injury prompted the coaching staff to make a change and move Kuechly over from the weak side to the middle.
The strategy paid off, as Kuechly dominated after the move and took home AP Defensive Player of the Year honors. He led the league in tackles and should continue to be a rising defensive star next season.
Carolina's backups should prove to be decent rotational players, and given the injury history of Davis and Beason, it would make sense to see Hogue, Senn and Williams getting in time on both sides of the field.
The defense looks to be embracing the philosophy of defensive coordinator Sean McDermott. The linebacker unit will be instrumental to that success, and if Kuechly plays like he did last year and the injuries are kept to a minimum, the Panthers have the potential to boast one of the best units in the league.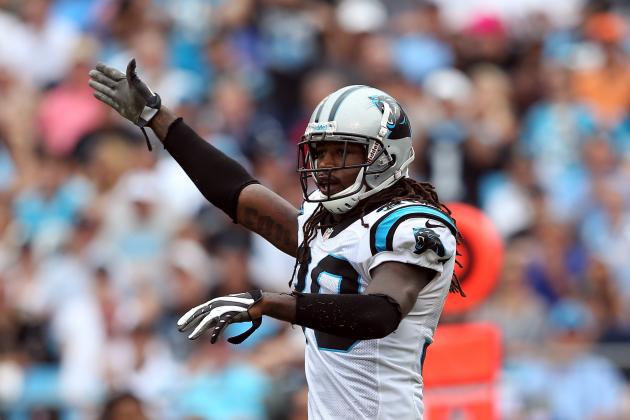 Streeter Lecka/Getty Images

Starting Free Safety: Haruki Nakamura
Backups: Colin Jones and Nick Hixson
Starting Strong Safety: Charles Godfrey
Backups: Mike Mitchell, DJ Campbell and Anderson Russell
The journey into that adventure known as the Carolina secondary begins with the safety position and the impact it had on the team in 2012. Godfrey probably had the better season between him and Nakamura as he started in all but one game last season, recorded 44 tackles and picked off two passes—one of which was returned for a touchdown.
Nakamura was a disappointment in his first year with the Panthers as he did not play up to the level many expected him to. However, a lot is usually expected of someone who found himself sitting in the shadow of Ed Reed on the depth chart.
Training camp should be interesting as Mitchell and Campbell could challenge for a starting spot and despite their roles on the depth chart, they could challenge Nakamura for starting free safety.
Essentially, the secondary needs to improve and these guys will be a big reason for its success or failure. This is another position that could see an early draft pick dedicated to improving the unit, and with the Panthers playing in a pass-happy division, improving the secondary wouldn't be a bad idea.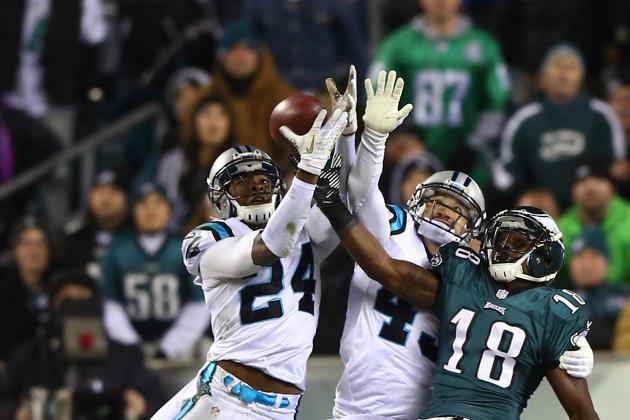 Elsa/Getty Images

Starters: Captain Munnerlyn and Josh Norman
Backups: Josh Thomas, Drayton Florence, DJ Moore and James Dockery
The other part of the key re-signings the Panthers needed to make happen was the retention of Munnerlyn. He is back for another year and looks to resume his starter duties opposite of Norman. Prior to bringing back Munnerlyn, the Panthers signed Florence and Moore prepping for the possibility that they would not only have to replace veteran Chris Gamble but Munnerlyn as well.
Much like the safeties on the team, the cornerbacks present their own set of questions and concerns as they lack a true shutdown corner. Because of that, debate has circulated as to whether or not the Panthers should take a chance on young man formerly from LSU known as the "Honey Badger."
An argument could be made for both Munnerlyn and Norman, however, as they both played well as starters and Norman brings a lot of upside. Considering that the last few games of last season saw victories over division rivals Atlanta and New Orleans, their accomplishments cannot be overlooked.
However, Munnerlyn is back on a one-year deal and could be gone after the season is finished. The search for his replacement will either start this year via the draft, from the current roster or be an acquisition sometime next year.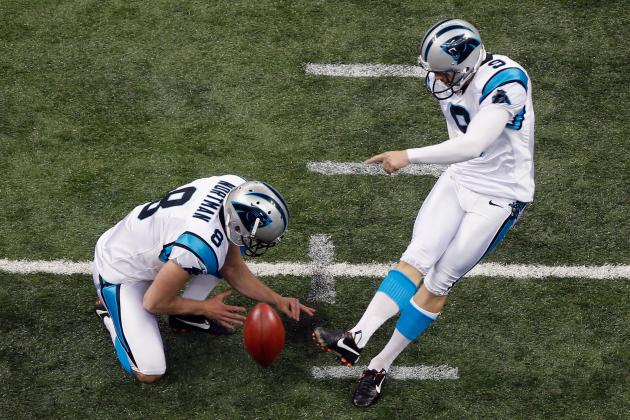 Chris Graythen/Getty Images

Kicker: Graham Gano
Punter: Brad Nortman
Long Snapper: JJ Jansen
Punt Returner: Joe Adams
Kick Returners: Ted Ginn, Jr and Armanti Edwards
Backup Returners: Kealoha Pilares and Captain Munnerlyn
The key to winning close games lies within the contributions and productivity of the special teams. Carolina released Justin Medlock last year after he proved ineffective in game situations. Gano was brought in to replace him and looks to be the starter when camp opens up this summer. Don't be shocked if the Panthers sign another kicker to compete with him, as they will need to find a long-term solution after parting ways with longtime kicker John Kasay after the 2010 season.
Nortman had his moments of frustration which saw some insanely short kicks during the season after he showed a strong, booming leg in the preseason. The good news for him is he is young and seems to have gotten over that particular flaw in his mechanics.
Jansen brings experience and confidence in long snapping duties and should continue to keep up his solid work.
The return game has a lot of potential to get better as Ginn should provide an element the Panthers have been lacking for the last few years. Additionally, he will be able to mentor Adams and Edwards.
Speaking of Edwards, he will need to impress in camp if he wants to have a roster spot entering the season. He had a long a return last year, but he failed to score. Perhaps working with a proven playmaker on special teams will turn his career around.