The Wichita State Shockers just "shocked" the No. 1 seed Gonzaga Bulldogs to advance to the Sweet 16 in the West region.
The Shockers were able to pull off the upset by draining three after three the entire second half. Ron Baker and Cleanthony Early exploded from deep and led the team to the victory by a score of 76-70.
" frameborder="0" width="620" height="430">
Wichita hit seven of their final eight shots in the last 7:35 of the game, including five straight treys. Baker, Early and Fred Van Vleet combined for 45 points and the Shockers hit an astounding 14 three-pointers at a 50 percent clip.
Kelly Olynyk put up 26 points and nine boards and Kevin Pangos netted 19 for the Bulldogs, but it wasn't enough to save the Zags.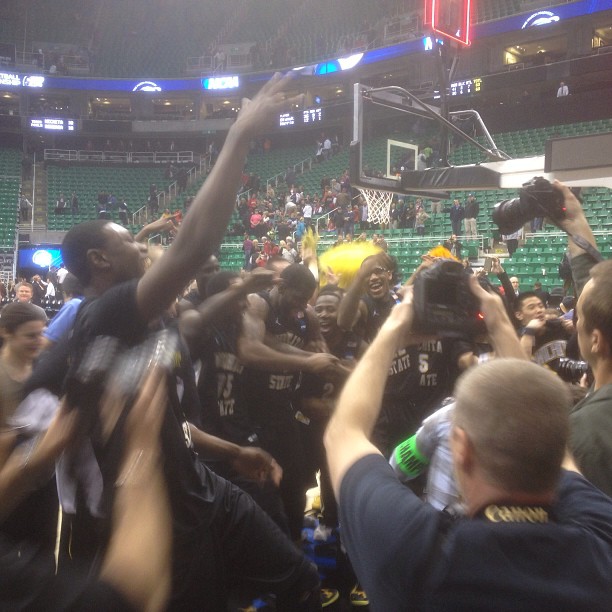 It's the first No. 1 seed to go down this season, and has now made the West region look even crazier. The region had a No. 10, 12, No. 13 and No. 14 seed all advance in the Round of 64, and now a No. 1 seed goes down.
When that happens, Twitter tends to blow up.
Twitter Reaction
The Twitter account for Sports Illustrated let everyone know what the deal was at halftime:
Upset Alert: (9) Wichita State is beating (1) Gonzaga 36-31 at halftime: bit.ly/103LuUU #MarchMadness

— Sports Illustrated (@SInow) March 24, 2013
There was plenty of criticism all season about Gonzaga's easy schedule, and Derek Schultz pointed out their schedule for the tourney:
Gonzaga's road to the Elite 8?Wichita State and Ole Miss/La Salle.If they can't get through that, then they really are a total fraud.

— Derek Schultz (@Schultz1260) March 22, 2013
People like Rich Eisen were focused on the Butler vs. Marquette game before tuning in to watch the upset:
Go from Marquette-Butler nail biter to Gonzaga-Witchita St and it rains 3s. So much fun.

— Rich Eisen (@richeisen) March 24, 2013
There were some big names watching, including Seattle Seahawks defensive back Richard Sherman and Minnesota Vikings wide receiver Greg Jennings:
#WichitaState is Hooping right now!

— Richard Sherman (@RSherman_25) March 24, 2013
Down goes Gonzaga!

— Greg Jennings (@GregJennings) March 24, 2013
The three-pointers back and forth sparked a number of awed tweets, including remarks from Rich Eisen and the Bleacher Report account:
Witchita St-Gonzaga: Lay-ups need not apply.

— Rich Eisen (@richeisen) March 24, 2013
Feel like this watching Gonzaga-Wichita State right now twitter.com/BleacherReport…

— Bleacher Report (@BleacherReport) March 24, 2013
ESPN Fantasy Sports as well as ESPN Stats & Info had some interesting information regarding the upset:
Just 3.3 percent of #TournamentChallenge brackets had Wichita State in the Sweet 16, compared to 83.6 percent for Gonzaga.

— ESPN Fantasy Sports (@ESPNFantasy) March 24, 2013
Gonzaga is the third No. 1 seed to lose in the round of 32 in the last 4 years (2010 Kansas, 2011 Pittsburgh).

— ESPN Stats & Info (@ESPNStatsInfo) March 24, 2013
Meanwhile, people are already beginning to criticize Gonzaga and losing in the Round of 32, including Jon Rothstein and Nicole Auerbach:
Gonzaga was an unproven commodity. Bulldogs weren't tested and it showed. Out in the round of 32.

— Jon Rothstein (@JonRothstein) March 24, 2013
It's too bad Gonzaga and Georgetown played into their stereotypes this season. Really thought it'd be different for both.

— Nicole Auerbach (@NicoleAuerbach) March 24, 2013
Dan Dakich openly criticized media members for voting Gonzaga as No. 1:
I understand media members that don't follow hoops closely voting Zags#1..u guys that really follow/voted them #1 should b banned frm voting

— Dan Dakich (@dandakich) March 24, 2013
Bomani Jones bring up a great question about Gonzaga's seeding:
think about this: had gonzaga gotten a 3 and lost to a 6, would THAT have been too high of a seed?

— Bomani Jones (@bomani_jones) March 24, 2013
Brian Murphy brought up a very good point about the Shockers:
Amazing night for Wichita State, but nothing compares to how amazing the Shockers' mascot is: twitter.com/knbrmurph/stat…

— Brian Murphy (@knbrmurph) March 24, 2013
Welcome to March, and bring on the Madness!