Blueprint for LA Lakers to Become a Dangerous 2013 Playoff Threat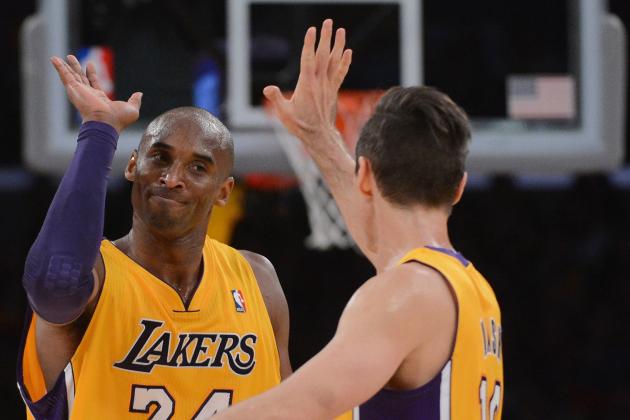 Harry How/Getty Images

The Los Angeles Lakers will more than likely qualify for the 2013 NBA playoffs, but few people, beyond diehard fans, really expect them to do much once they get there.
The Lakers, who lost a 16-point lead and the game to the Washington Wizards on Friday night, have played exactly six games with their starting lineup of Kobe Bryant, Steve Nash, Dwight Howard, Pau Gasol and Metta World Peace and have lost each one.
The starting five would be the first place I would look when formulating a blueprint to make the Lakers a dangerous team when they reach the postseason, but there are several other areas that could use some attention as well.
Reaching the playoffs after all the turmoil this team has faced this season is a small accomplishment, but anything less than a final's trip will still ultimately be considered a failure, and they only have a 12-game window to pull it all together.
Can the same Lakers team that blew a 16-point lead at home to the Wizards really contend for a spot in the 2013 NBA Finals? It might be possible if the Lakers follow this plan.
Begin Slideshow

»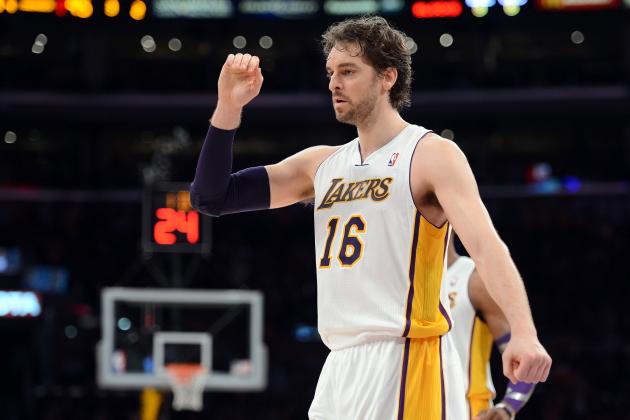 Harry How/Getty Images

Pau Gasol started in his first game back from a foot injury, and in 20 minutes, he scored four points and grabbed eight rebounds, while former starter Earl Clark could only manage seven minutes of court time against the Wizards.
Gasol certainly makes the Lakers a better team for the long haul, but why rush him back into the starting unit when Clark has been doing such an admirable job? In fact, why is it so important that Gasol starts at all?
I know that Gasol envisions himself as a starter, and he's definitely earned that privilege, but if winning championships is really the most important thing, then maybe Gasol should realize that he helps the Lakers most coming off the bench.
Gasol's smooth fundamental style would be a nice contrast to Dwight Howard's physical approach, and with his passing skills, Gasol could be the quarterback of the Lakers' second unit from the paint.
If that doesn't convince Gasol to take one for the team, then maybe coach Mike D'Antoni should just simply remind him that the marriage between him and Howard in the starting lineup is not working.
An 0-6 record with a starting five that includes both Howard and Gasol may not be enough to convince D'Antoni to consider his stance on Gasol, but it should be evidence enough to at least consider a change.
That's especially true when you consider all of the momentum the Lakers gained while Gasol was out and all the chemistry that could be lost now that he's back.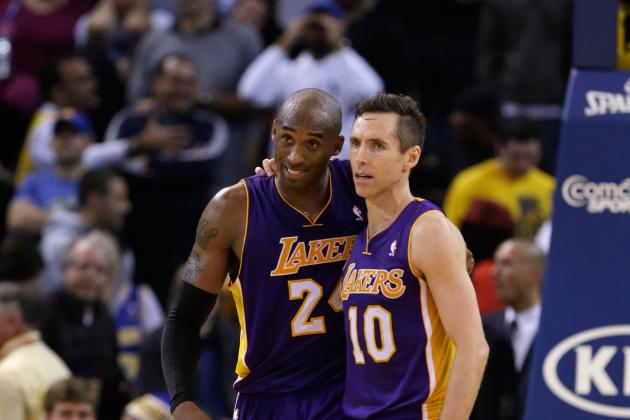 Ezra Shaw/Getty Images

If the Lakers hope to make some noise in the postseason, then they are going to need more significant contributions from Kobe Bryant and Steve Nash, but not in the traditional sense.
Bryant has been more of a facilitator lately, but he needs to become even more comfortable in that role, and Nash, who averages about 10 shots per game, should consider at least doubling that output.
Bryant is still crafty and talented enough to create his own shot whenever he wants to, but just about everybody else on the Lakers' roster could use an assist when it comes to offense, including Nash.
Of course, Nash is still more than capable of getting to the rim off the dribble, but this season, he has helped the Lakers more with his 43 percent shooting from long range. With that type of accuracy, it's a shame that Nash only attempts 2.7 three-point shots per game.
One of the most effective plays for the Lakers during their 11-5 streak since the All-Star break has been a pick-and-roll play between Bryant and Nash on the perimeter with Nash playing the roll man and then drifting around the key for a wide-open shot.
If the Lakers make it past the first round of the playoffs, "Bryant to Nash for three," could be a major reason why.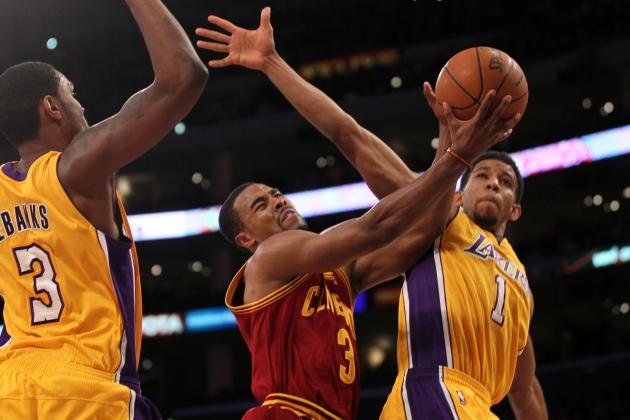 Stephen Dunn/Getty Images

Does anyone else remember Darius Morris and Devin Ebanks?
Both Ebanks and Morris made frequent appearances early in the season for the Lakers, but Ebanks has only played 14 minutes in 2013, and Morris played more minutes in the first four games of January than he has the rest of the year.
I understand that Morris and Ebanks will not lead the Lakers to the finals or even a first-round victory in the playoffs, but D'Antoni could probably use their youth and athleticism when you consider the young horses in Oklahoma and San Antonio's stables.
Most teams employ an eight- or nine-man rotation in the postseason, and D'Antoni seems to have settled on Steve Blake, Antawn Jamison and Earl Clark as his first players off the bench, which means that Clark and Howard are the only players who play who are under 30 years old.
It wouldn't hurt to find Morris, Ebanks and even Robert Sacre a few more minutes per game during the final 12 of the regular season, and who knows, the move could even pay dividends when it matters most.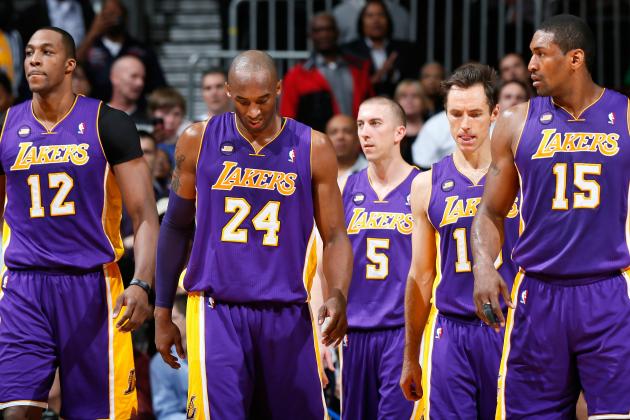 Kevin C. Cox/Getty Images

Most people would assume the Lakers suffered a monumental defensive collapse against the Wizards in the second half of their game Friday, but the truth is, Washington just started hitting some of the shots it was missing in the first half.
The Lakers' 16-point lead was built through the crispness of their own offense and the ineptitude of Washington's, but when the Lakers really needed their defense to bail them out, they failed against the 11th-best team in the Eastern Conference.
To be fair, the Lakers are in a much better place defensively than they were earlier in the year, but that's mainly because Howard has gotten healthier and his rhythm and timing is returning.
It certainly has nothing to do with the efforts of Howard's teammates.
One of the main differences between Howard's Magic teams and the Lakers, besides the talent of the personnel, was the willingness of his teammates to buy into the concept of team defense.
Each of those players on the Magic understood how good Howard could be defensively, and they also realized how great they could be defensively as a team if they simply matched Howard's dominance with effort.
It's a lesson this Lakers team has yet to learn, but it better come fast because, as good as Howard is, and can be, he can't do it by himself.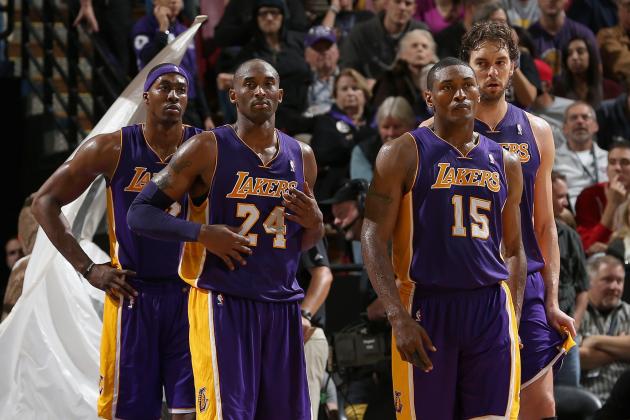 Ezra Shaw/Getty Images

I hate to keep bringing up the Lakers' loss to Washington, but the defeat was devastating in the wake of the team's recent streak of strong performances, and it was a painful reminder of one of this team's most annoying tendencies.
The Lakers will be one of the most experienced teams in the NBA vying for a postseason berth, but a great deal of their losses can be blamed on mistakes and breakdowns that are much more common with younger teams.
The defensive lapses, mental mistakes and failure to establish chemistry are not what you would expect from a team that boasts four future Hall of Famers. Sometime during these final weeks of the regular season, the Lakers better remember that.
This team still has the talent and pieces to make a deep playoff run, but do they have the will, poise and maturity?