One of the most anticipated cards of the year took place last weekend at UFC 158 as Georges St-Pierre defended his welterweight title against Nick Diaz. The event came with all the high-profile buzz, hype and media attention fans have come to expect when GSP and Diaz are involved in a UFC event, and it brought the organization's six best 170-pound fighters under the spotlight.
While UFC 158 has certainly been the high point of the month for the majority of fight fans, March has been somewhat light on the action UFC fans have come to expect. Over the past two years, Zuffa has made a habit of featuring multiple fights cards per month, and by those standards, March has been relatively quiet.
The sport's biggest promotion will return to its typically hectic form in April, as a UFC event is set to take place every weekend throughout the month.
The action will kick off in Stockholm, Sweden for UFC on Fuel TV 9, then carry on to The Ultimate Fighter 17 Finale the following weekend in Las Vegas before the organization makes its way to San Jose for UFC on Fox 7. The month's final event will come at UFC 159 in Newark, N.J., where a light heavyweight title bout between Jon Jones and Chael Sonnen will bring a hectic month full of flying leather to a close.
This stretch will feature two high-profile championship tilts, but there are several other matchups that will ultimately impact the title pictures in multiple divisions. While none of these dust-ups have been officially declared No. 1 contender bouts, it doesn't change the fact that these fights carry title implications for the fighters involved.
Granted, there is always a gray area when discussing title shots in the UFC, but there are three fights in April that will undoubtedly affect the divisional hierarchies in the weight classes they take place in.
Alexander Gustafsson vs. Gegard Mousasi
The main event at UFC on Fuel TV 9 in Sweden features two of the light heavyweight division's most promising fighters.
Gustafsson has been on a tear through the 205-pound rankings en route to an eventual showdown with champion Jon Jones, whereas Mousasi has built his reputation by dominating the opposition across multiple organizations outside the Octagon.
"The Mauler" has won six straight, with each consecutive outing coming against a higher level of competition. In his most recent showing, Gustafsson bested former light heavyweight champion Mauricio "Shogun" Rua at UFC on Fox 6 in Chicago. The victory over the MMA legend solidified the 26-year-old as one of the division's best and put him within striking distance of a title shot.
At the post-fight press conference following UFC 157, Dana White recently declared Lyoto Machida as the next title challenger following his victory over Dan Henderson. But if Gustafsson can earn a victory over "The Dreamcatcher" in Sweden, his case for contention will be carved in stone.
With perennial contenders Dan Henderson and Rashad Evans both suffering setbacks in their most recent outings, the path to a title shot is wide open and has set the table for the Alliance MMA-trained fighter. On the other hand, if Gustafsson comes up short against Mousasi in Sweden, the title shot he's been so actively pursuing will vanish from the table.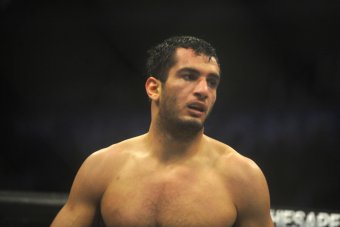 USA TODAY Sports
The situation is a bit different on Mousasi's side of the table. The 27-year-old has won 20 of his last 22 showings, with his only setbacks over this run coming in a loss to Muhammed "King Mo" Lawal and a majority draw against former UFC veteran Keith Jardine under the Strikeforce banner. Aside from those two performances, "The Armenian Assassin" has been lights out, as he's collected victories over top competition in multiple weight classes.
Competing outside of the UFC can make it difficult for a fighter to build his profile as a mixed martial artist, but wins over Hector Lombard, Ronaldo "Jacare" Souza and Mark Hunt have served to keep Mousasi's name on the radar as a fighter to keep an eye on.
Now, with his highly anticipated Octagon debut rapidly approaching, Mousasi will finally have the opportunity to prove himself on the biggest stage in mixed martial arts. If he can defeat Gustafsson in their main event throwdown at UFC on Fuel TV 9, Mousasi will not only validate the hype, which has surrounded him for years, but also immediate solidify himself as one of the best 205-pound fighters under the UFC banner.
It is an interesting set of circumstances for Mousasi in his Octagon debut. A victory in Sweden would serve to elevate his status in the light heavyweight division and put him close to a title opportunity, but a loss would push him out of the conversation entirely.
The 27-year-old has a lot to prove in his first showing under the UFC banner. And with his first test coming against a surging contender in Gustafsson, the UFC brass will get a clear look at whether Mousasi is ready to be a staple in the light heavyweight upper tier or if he's is still a prospect who needs time to adjust.
Daniel Cormier vs. Frank Mir
When the news became official that Strikeforce's doors were finally closing and the rosters would be absorbed into the UFC, the name that received the lion's share of attention was Daniel Cormier. The former Olympian and Strikeforce Heavyweight Grand Prix winner has been a wrecking ball since making his professional debut three years ago, and his Octagon debut is highly anticipated.
That opportunity will come when the 34-year-old squares off with former two-time heavyweight champion Frank Mir in the co-main event at UFC on Fox 7 in San Jose. The expectations surrounding Cormier are high as his presence in the UFC heavyweight division is figured to make an immediate impact on the weight class.
With Mir one fight removed from a title bout against former champion Junior dos Santos, facing the Las Vegas native will be a solid gauge to show where Cormier stands in the divisional picture. "D.C." already has impressive victories over top heavyweight fighters such as Antonio "Bigfoot" Silva and Josh Barnett, and if he is able to defeat Mir in San Jose, his status as one of the best heavyweight fighters in the world will be undeniable.
That being said, a victory over Mir will also present an interesting set of circumstances for Cormier. With his close friend and AKA teammate Cain Velasquez currently holding the heavyweight title, the Louisiana native has already laid out a course of action to avoid that potential problem.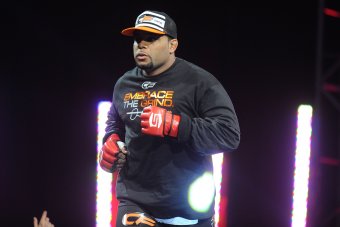 USA TODAY Sports
Following his victory over Dion Staring at the final Strikeforce card in January, Cormier revealed his intentions to first defeat Mir in their heavyweight tilt, then drop down to the 205-pound weight class for a showdown with Jon Jones later in the year.
Therefore, a victory for Cormier in San Jose could have little impact on the heavyweight division but certainly serve to shake up the title picture at light heavyweight.
A bout with "Bones" would generate a fair share of buzz, and Cormier could potentially jump to the front of the line in the 205-pound weight class. On the other hand, a loss to Mir would derail Cormier's plans for 2013 and push him to the back half of the Top 10 rankings in the heavyweight division.
Since December of 2008, Mir has competed for the UFC heavyweight title on four occasions. The 33-year-old's only successful bid in this stretch came when he defeated Antonio Rodrigo Nogueira for the interim title at UFC 92. Unfortunately, Mir's other attempts to reclaim gold weren't as successful as he came out on the losing end of matchups with Brock Lesnar, Shane Carwin and Junior dos Santos.
This scenario makes his upcoming bout against Cormier all the more important. For more than a decade, Mir has been one of the top heavyweight fighters in the UFC, and if he plans to keep that status intact, defeating Cormier will be crucial.
Aside from being the most feared submission artist in the history of the UFC heavyweight division, Mir is also considered to be a perennial contender. Over the past four years, Mir has never been more than two fights away from a title shot.
With Mir Having won three of his last four showings, a victory over Cormier next month at UFC on Fox 7 could position him within reach of another opportunity to compete for UFC gold, whereas a loss would push him the farthest he's ever been from the championship realm.
Another interesting point of note is that Mir has never lost back-to-back outings over his 12-year career. In fact, following four of his five losses, Mir rebounded with a finish in his very next outing.
Michael Bisping vs. Alan Belcher
Where the previously mentioned bouts could potentially have an immediate impact on their respective title pictures, the upcoming clash between Bisping and Belcher will not fall into that category. Both men are coming off high-profile losses in their most recent showings and were pushed out of title contention in the process.
Therefore, what makes the showdown between "The Count" and "The Talent" at UFC 159 crucial in the divisional sense is that the loser of the tilt will most likely see his title hopes dashed for the foreseeable future.
The 34-year-old Brit was on the cusp of earning a shot at middleweight king Anderson Silva at the start of the year. The only obstacle standing between the TUF winner and his long-awaited opportunity to compete for a UFC title was former light heavyweight champion Vitor Belfort. The two fighters collided at UFC on FX 7 in Brazil, and unfortunately for Bisping, a head kick from "The Phenom" put his title ambitions on ice for the time being.
Looking to bounce back in the quickest possible fashion, Bisping agreed to face Belcher, a contender who had also been recently derailed. If Bisping can make good on his promise to defeat the Duke Roufus-trained fighter next month in New Jersey, it will keep him in a middleweight title picture that has only become more crowded over the past three months.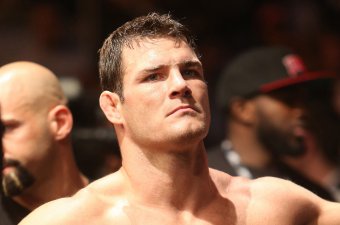 Tom Szczerbowski-USA TODAY Sports
With several high-profile 185-pound fighters like Luke Rockhold, Ronaldo "Jacare" Souza and Tim Kennedy coming over from Strikeforce, Bisping desperately needs a victory over Belcher in order to keep his standing in the middleweight division. Should he come up short in Newark, the road to an eventual title shot would certainly come with an increased amount of obstacles.
Granted, a future title shot is not entirely out of the question, but Bisping would have to put together a solid run to regain his position as a contender in waiting.
Coming into his rematch with Yushin Okami at UFC 155, Belcher was riding a wave of momentum and a four-fight win streak. Over this run, the 28-year-old had generated a solid amount of buzz, and a victory over "Thunder" would have made him a solid option to contest for Anderson Silva's title.
Unfortunately, the second go at Okami wound up being much like their first meeting, and the Japanese fighter's wrestling proved to be too much for Belcher to overcome.
While the loss knocked Belcher to the back of the division, the matchup with Bisping presents an opportunity to catapult him right back to the top. While a victory over the brash Brit will not earn Belcher an immediate title shot, it will keep him in the pack of surging contenders looking for a title shot. On the flip side of the coin, a loss to Bisping at UFC 159 would reshuffle the Biloxi-based fighter to the back of the deck in the increasingly competitive 185-pound weight class.
While there has certainly been plenty of trash talk and back-and-forth between the two fighters, both share the same goal of getting back into the title picture in the middleweight division, and the pre-fight hype will end when the cage door closes at UFC 159. There may not be a title on the line when they enter the Octagon, but the reality of the circumstances at hand will create a sense of urgency for both men on April 27.
The winner will see his title hopes rekindled, while the loser will move to the back of the pack in the middleweight division.