Michigan State vs. Memphis: Twitter Reaction, Postgame Recap and Analysis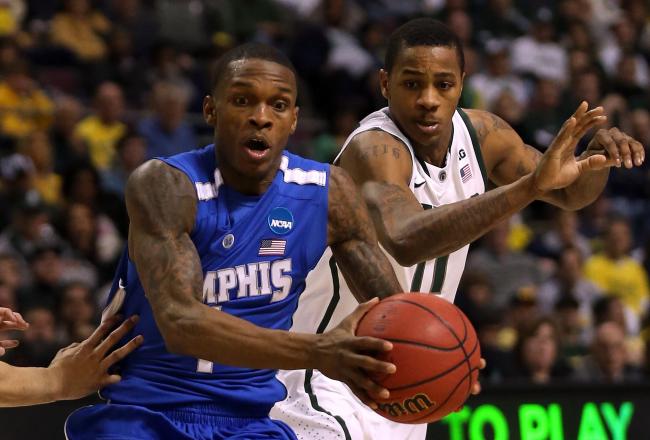 Jonathan Daniel/Getty Images
No. 3 Michigan State continued rolling into the Sweet 16 with an impressive 70-48 victory over No. 6 Memphis.
Gary Harris led the Spartans' scoring effort with 23 points, while Adreian Payne delivered a fantastic performance that included 14 points, 10 rebounds and five blocks.
During the first half, it appeared as if this round of 32 matchup would be a game of runs. The Spartans delivered the first blow and jumped out to an 11-point lead with under six minutes to play in the first half. But the Tigers countered with a 12-4 run, and Michigan State led by just three points at the break.
Harris was the star man for the Spartans in the first half, and he was hot from outside. The Tigers left him open far too often as he hit four three-pointers and racked up 16 of Michigan State's 32 first-half points.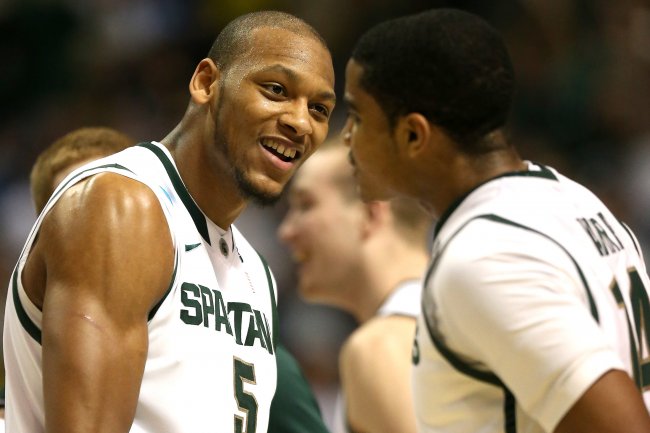 Jonathan Daniel/Getty Images
But Memphis' tough defense brought the team back, and D.J. Stephens dominated on this end of the court in the opening 20 minutes with three blocks and a steal.
In the second half, Harris was forced to spend an extended amount of time on the bench due to foul trouble, and Payne took over. Memphis has exceptional athletes, but no one on the Tigers' roster had the size and strength to contain the junior forward.
Payne delivered one of the highlights of the tournament with a monster dunk off a lob from Keith Appling with under 13 minutes to play. This put the Spartans up by 13 points, and they never looked back.
Memphis' season is now over, and the Spartans will pack up and head to Indianapolis for the Sweet 16.
Twitter Reaction
Charles Barkley took some flack for his pregame prediction that Memphis would win. DallasNews.com's Scott Bell notes that the Tigers may have preferred that he didn't throw his support behind them:
Charles Barkley takes Memphis over Michigan State. Congratulations on your Sweet 16 appearance, Spartans.

— Scott Bell (@sbell021) March 23, 2013
At the start of the game, Spartans star freshman Gary Harris looked as if he would make Chuck's prediction look "turrible," and B/R's Jonathan Wasserman passed along some advice to Memphis:
Gary Harris has had about 4 wide open looks in the last few minutes. 41% 3-point shooter. Memphis might want to locate him.

— Jonathan Wasserman (@NBADraftWass) March 23, 2013
But the Tigers came back due to excellent defense. D.J. Stephens led the effort with three first-half blocks, including this one, which Bleacher Report and NCAA March Madness teamed up to bring you:
D.J. Stephens says "NO NO NO NOT TODAY" RT @marchmadness: Real-time highlight: MONSTER block by Memphis. - snpy.tv/YMuSzX

— Bleacher Report (@BleacherReport) March 23, 2013
Despite Memphis' late first-half surge, ESPN Stats & Info notes that Tom Izzo's track record meant the Spartans still had the clear advantage:
Tom Izzo has only lost 1 NCAA Tournament game after leading at halftime against a lower seed: 2004 vs Nevada in the Round of 64.

— ESPN Stats & Info (@ESPNStatsInfo) March 23, 2013
College Basketball Talk's Rob Dauster pointed out an unexpected dustup between two Michigan State players who go way back. While the commentators seemed surprised, former Spartan Draymond Green thought it was no big deal:
Whoa, Keith Appling and Derrick Nix got into it in the huddle. Former high school teammates.

— Rob Dauster (@RobDauster) March 23, 2013
Little do they know that's pretty light for a Tom Izzo huddle lmao I love it

— Draymond Green (@Money23Green) March 23, 2013
But the incident did not slow the Spartans down. Just minutes later, Appling set up an incredible alley-oop to Adreian Payne, prompting CBS Sports' Jeff Goodman to heap praise on the junior forward. NCAA March Madness was on the spot with video of the highlight:
Adreian Payne is soooooooo damn talented.

— Jeff Goodman (@GoodmanCBS) March 23, 2013
Real-time highlights: Michigan State with a sweet alley-oop in transition to go back up by 13 points. #marchmadness - snpy.tv/ZWtCwx

— NCAA March Madness (@marchmadness) March 23, 2013
CBS Sports researcher Matt Wintner noted that, in the end, this was just more of the same from an Izzo team in the tournament:
Michigan State doing what it does best in March.....

— Matt Wintner (@MattWintner) March 23, 2013
Link to Printable PDF
Link to Live Bracket
Follow all the exciting NCAA tournament action with March Madness Live
This article is
What is the duplicate article?
Why is this article offensive?
Where is this article plagiarized from?
Why is this article poorly edited?