Top Highlights from Day 5 of the NCAA Tournament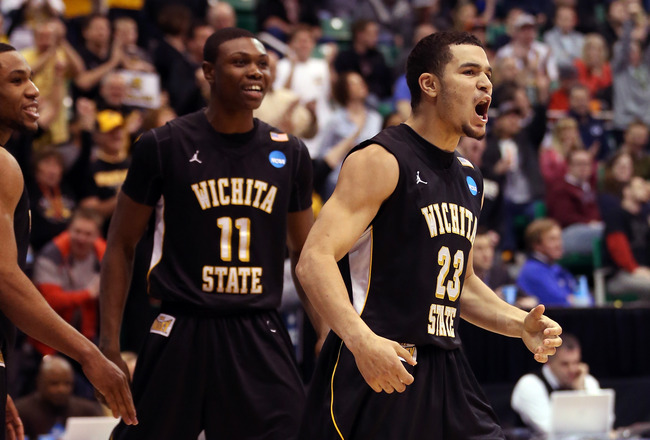 Streeter Lecka/Getty Images
A large majority of Saturday's NCAA tournament action may have resulted in blowouts, but that didn't mean there was a lack of highlight plays.
As each early game saw the lead balloon to at least 20 points, the play opened up, the pace quickened and we were treated to some jaw-dropping displays of athleticism.
In the later games, the battles were much more even, and as we got down to the wire, several players came through with insanely clutch plays.
All in all, despite some up-and-down play, there was no shortage of I-need-to-play-this-on-a-loop highlights. Let's take a look at the day's best.
Spike Albrecht's Bounce Pass
Michigan freshman point guard Spike Albrecht showed us that passes are highlights, too.
It's not often that any non-alley-oop makes the cut because of the pass involved, but when said pass is a gorgeous left-handed bounce pass that threads the needle through three defenders and lands safely in Glenn Robinson III's hand for a monster dunk, that's another story.
Man, I love fundamentals.
D.J. Stephens' Gargantuan Block
I'm so sorry, Adreian Payne.
The Michigan State big man had a monster game in the Spartans' win over Memphis, but as he learned, D.J. Stephens is an absolute highlight reel.
And if you go up softly with the amazing leaper anywhere in the vicinity, this is going to happen.
I never want to stop watching this.
Adreian Payne's Bobble Dunk
Don't worry, Adreian Payne would get his revenge.
The big man had several key plays down the stretch for the Spartans, but none were as impressive—may I remind you, that's a 6'10", 240-pounder going up with that kind of athleticism—or as crushing to Memphis as this alley-oop slam.
Just imagine what it would have been if he could catch the ball.
E.J. Singler's Three from San Diego
This long ball from E.J. Singler was early in the game, but it was pretty much the three that put St. Louis away.
At this point, the Ducks and Billikens were still going back and forth, but when Johnathan Loyd dropped the no-look pass through his legs to Singler, who buried the jumper from about 30 feet out to put Oregon ahead by four, you could tell it was going to be their day.
The Ducks' lead never got below four after that, and they went on to win by 17 in one of the most impressive efforts of the night.
Rotnei Clark and Khyle Marshall's Pick-and-Roll
Butler ended up losing to Marquette in an instant classic (the second instant classic of the year between these teams), but at least the Bulldogs have this nice parting gift.
With the game tied and just five minutes remaining, Khyle Marshall set a screen for Rotnei Clarke on the wing.
As he tends to, Clarke drew two defenders, opening up the lane for a perfect bounce pass and spectacular two-handed finish by Marshall.
Once again, I love fundamentals!
Fred Van Vleet Caps off Ridiculous Shooting Barrage
In the final minutes of Wichita State's upset win over No. 1 Gonzaga, the Shockers couldn't miss.
Literally. Like, Antoine Tyler (even though he's a Husky!) was guiding in every one of their threes. Like, they knocked down their last five attempts from the outside.
And none were bigger than Fred Van Vleet's dagger.
With a minute and a half left, Gonzaga trailed by two and was playing pretty tight defense, but as the shot clock wound down, Van Vleet lost his dribble, regained it and sent a high-arching shot to the heavens that came back down and ripped the net, sealing the epic win for the Shockers.
Cold-blooded.
Keep Reading