NFL 2009 Regular Season (Early) Predictions: Kansas City Chiefs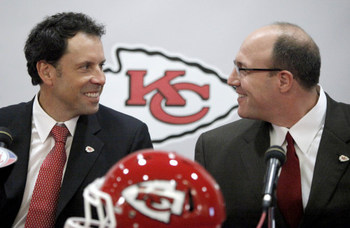 This is my attempt to predict the 2009 NFL Regular Season for the Kansas City Chiefs. I am a fan of the Chiefs but I will try to stay as unbiased as I can. Last year, I thought they would go 9-7, and we all know how that turned out. Hopefully this year I can be a little more accurate.
This is what I call an "early" prediction because the season is nowhere near being ready to go, the draft has not even occurred, nor has the final days of the free agent signing. Anyway, I will come out with another prediction toward the beginning of the season that may or may not be more accurate.
Many people have already said that the Chiefs have the toughest schedule in the league since the schedules were released, and I have to agree. It isn't just about the teams they face, but more about facing tough teams week after week after week.
They will have a whole new look to their franchise, a new GM, head coach as well as some coaching staff, new QB, etc. It will be a tough season for the Chiefs but I think they will be the opposite of the Cleveland Browns from 07-08. What I mean by that is that the Browns went 10-6 in the 2007 season because they played a really easy schedule and played two or three playoff teams that year. They ended up missing the playoffs by one game.
As a result of their great season, they were awarded about five primetime games, as well as a much tougher schedule in which they played the NFC East. As a result, the 10-6 Browns from the 2007 season became the 4-12 Browns in 2008. They were never a good team, they just had an easy schedule. Therefore, I think the Chiefs will have a pretty bad year because of their tough schedule and get no respect, and then in 2010 have a great year because let's face it, their schedule can't get much harder than what it is this year.
The tough schedule this year will prepare a young Chiefs team to play harder than ever and be ready for the playoffs in 2010. But, as for now, it will be another long season with spotlights of hope. Just one more season Chiefs fans...
Enjoy!
Week 1 - @ Ravens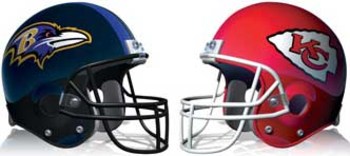 The Chiefs will be traveling to Baltimore in week 1 to face the tough Ravens defense. With the new Chiefs head coach, GM, QB, and whole new franchise, I can't see them beating the Ravens. The Ravens will win this one easily.
RESULT - LOSS
RECORD 0-1
Week 2 - vs Raiders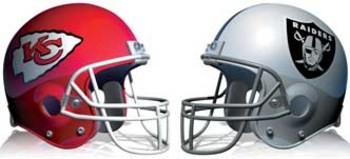 The Chiefs host the Raiders in week 2 and will continue to have success against Oakland. The Chiefs remain the only AFC West team winning the overall series against the Raiders. I see the Chiefs getting their first win as the new Chiefs.
RESULT - WIN
RECORD 1-1
Week 3 - @ Eagles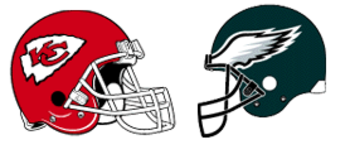 The Chiefs have to travel to Philadelphia to take on the Eagles in week 3. This will no doubt be a tough game and I don't see K.C. winning this, not in Philly.
RESULT - LOSS
RECORD 1-2
Week 4 - vs Giants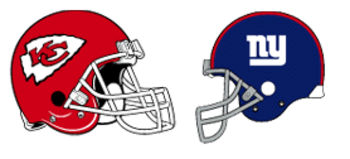 This game will be in Arrowhead, which is one of the toughest places to play, but it won't matter, the Giants are just too good.
RESULT - LOSS
RECORD 1-3
Week 5 - vs Cowboys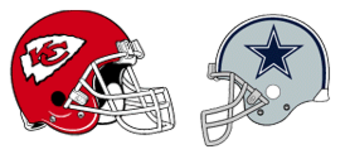 Another NFC East team, arguably the toughest division in football for the third week in a row. It will again be at Arrowhead but again, I don't think it will matter as I feel the Cowboys will be a much better team without T.O. poisoning the them. They will be firing on all cylinders this year and rip the poor Chiefs defense apart.
RESULT - LOSS
RECORD 1-4
Week 6 - @ Redskins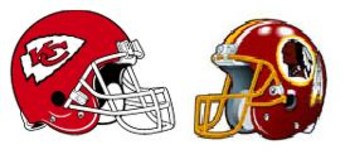 The Chiefs face their fourth NFC East opponent in a row this week and travel to the nation's capital to face their Native American brethren: the Redskins. I think KC will have had enough tough teams in a row (3) to know what to expect, and I think the Redskins are at the bottom of the NFC East, and KC will pull out a win on the road in this one.
RESULT - WIN
RECORD 2-4
Week 7 - vs Chargers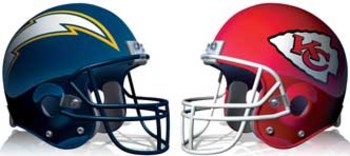 I see the Chargers having a down year in this upcoming season, and with the combination of this game being at Arrowhead, I'm calling it in the Chief's favor. They go into their bye week with two straight wins.
RESULT - WIN
RECORD 3-4
Week 8 - Bye
The Chiefs have a bye this week just as they started their winning streak. Will it continue? Read on.
RECORD AT BYE 3-4
Week 9 - @ Jaguars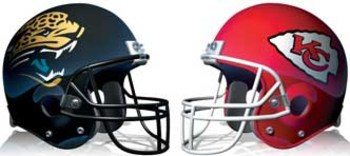 KC will be coming off their bye week and two straight wins previous to that. The Jags are another team that I think will have a bad year in 2009. With that being said, I say the Chiefs take this one in a close game to take their record to .500.
RESULT - WIN
RECORD 4-4
Week 10 - @ Raiders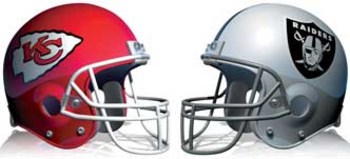 Chiefs will sweep the Raiders with this win and improve their record to above .500. The longer Al Davis stays alive, the more happy I am.
RESULT - WIN
RECORD 5-4
Week 11 - vs Steelers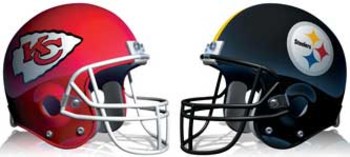 No way the Chiefs win this one. This will take KC back to .500.
RESULT - LOSS
RECORD 5-5
Week 12 - @ Chargers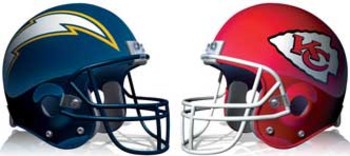 With this one being in San Diego, and the history of KC & San Diego splitting their series, I'm going to go with the Chargers.
RESULT - LOSS
RECORD 5-6
Week 13 - vs Broncos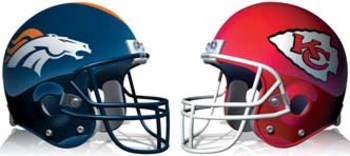 The Chiefs usually always beat the Broncos when they meet at Arrowhead, and this is an even more solid pick because the Chiefs are historically great at home in December. Also, the Broncos are starting to rebuild and are going to look awful this season. Chalk one up in the win column for the Chiefs in this one and it's back to .500 just in time for the playoff race.
RESULT - WIN
RECORD 6-6
Week 14 - vs Bills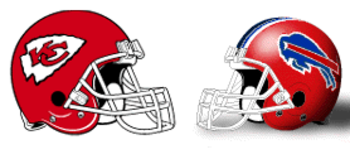 The Bills come to town in December. By this time, T.O. will have had enough time to poison this team enough to ruin them. Combine that with them trying to play football in December at Arrowhead, and you've got a KC win, continuing their winning streak on the route to the playoffs.
RESULT - WIN
RECORD 7-6
Week 15 - vs Browns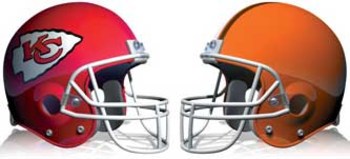 The Chiefs continue their winning streak in December with an easy win over the Browns in KC
RESULT - WIN
RECORD 8-6
Week 16 - @ Bengals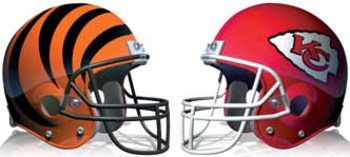 The Bengals have had KC's number for a few years now, beginning with that win over them when KC was 9-0 and Ocho Cinco guaranteed a win. I think the Chiefs get some redemption this year and push even closer to the playoffs and the AFC West title as the end of the season grows near. KC improves their winning streak to 4 in a row.
RESULT - WIN
RECORD 9-6
Week 17 - @ Broncos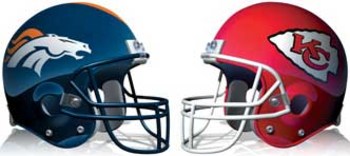 The Chiefs haven't beaten the Broncos in Denver in a very long time. This time, the have incentive as I think winning this game would be clinching the AFC West for the Chiefs. The other team that will be in the running will be the Chargers, but I think they will have a similar record. Anyway, I still don't think the Chiefs can get it done here, as bad as the Broncos will be next year, this game will probably make it onto Sunday night due to flex scheduling and KC will choke, or Denver will step up their game, or a combination of the two. At any rate, KC still doesn't win in Denver as this game determines their future in the playoffs or not.
RESULT - LOSS
FINAL RECORD 9-7
I guess in the end, this isn't a bad record at all, especially after going 2-14 the previous season. Stay tuned for my full season predictions of every week, every team coming soon...
Keep Reading

Kansas City Chiefs: Like this team?