Juan Mata: Four Reasons Why He Makes Strong Case for PFA Player of the Year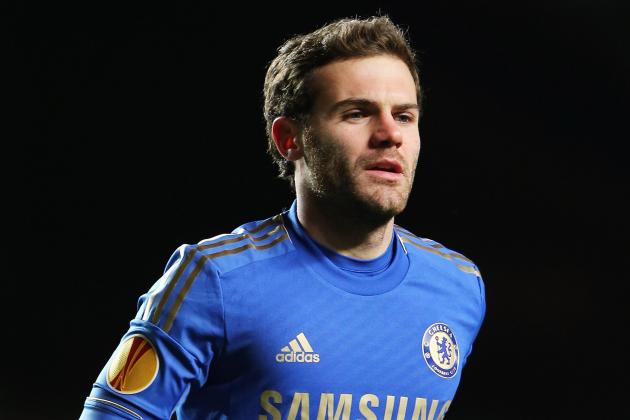 Ian Walton/Getty Images

With the annual Professional Football Awards ceremony, scheduled for 28 April 2013, just about a month away, Robin van Persie, Gareth Bale and Luis Suarez have been the talk of the town.
Van Persie has been grabbing headlines all year long with late winners and decisive moments for Manchester United, leading their surge toward a 20th league title. Bale has carried Tottenham Hotspurs on his shoulders through the season. Meanwhile, Suarez has lifted Liverpool from the lower depths of the Premier League table into seventh place.
Pundits, fans and bookies all see the battle for the PFA Player of the Year accolade as a three-horse race.
One man who can afford to feel a bit hard-done here is Juan Mata. The diminutive Spaniard picked up where he left off last season and has been a ray of light in the darkness for Chelsea, who have had a rather turbulent season.
The media would have you believe that RVP, Bale and Suarez have been miles ahead of Mata in terms of the quality of their displays all season long. That's a load of codswallop. Mata has been scintillating through 2012-13.
I, for one, feel he makes a strong case for the Player of the Year prize, and with good reason too.
Begin Slideshow

»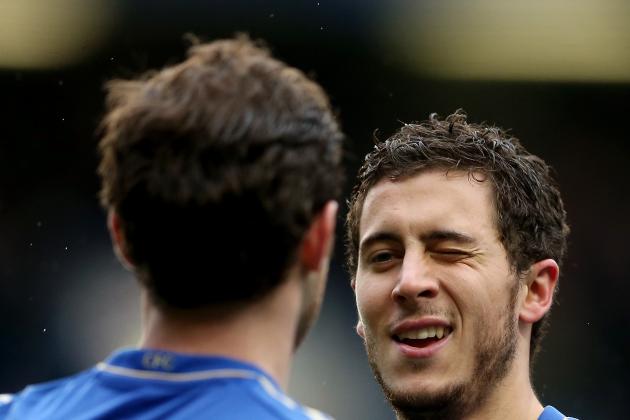 Scott Heavey/Getty Images

Every team needs a talisman to turn to when things aren't going their way. Well, for Chelsea, that man goes by the name Juan Mata.
It is a testament to his ability that, in spite of the big money arrivals of creative talents like Eden Hazard and Oscar dos Santos, Mata continues to be the Blues' heartbeat in attack. No second season syndrome there. If anything, he is an even better footballer than he was in his first year on British shores.
Chelsea have had it rough this season with Roberto Di Matteo's sacking, the club's exit from the Champions League at the group stage and defeat in the Club World Cup final to Corinthians being notable low points.
Going purely by his performances on the pitch, Mata has been unperturbed by it all.
When he doesn't start for the West Londoners, the difference is there for all to see. As Goal.com's Liam Twomey points out correctly, Chelsea are without a win in the four league games that Mata hasn't started. He is missed dearly when not on the field.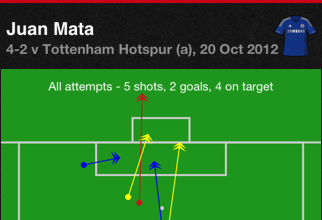 Juan Mata vs Spurs (Away)
Juan Mata isn't one to shy away when it comes to delivering against the very best the Premier League has to offer.
He has scored against the likes of Manchester United, Spurs and Arsenal already. The Tottenham vs. Chelsea game at White Hart Lane earlier in the season is a prime example of Mata's irresistible ability to turn a game on its head.
Chelsea found themselves trailing their London rivals 2-1 around the hour mark, but a Mata brace turned the tide. The ex-Valencia man then turned provider as he dispossessed Kyle Walker on the left and fed substitute Daniel Sturridge at the far post for an easy tap-in. That sealed Tottenham's fate on the day.
His passing was a delight to watch on the day as he carved open the opposition defense on multiple occasions. Mata found his man 46 times from 53 attempts.
When Arsenal visited Stamford Bridge recently, Mata rifled in the opener that sent Chelsea on their way to a 2-1 victory. The win helped maintain a reasonable gap between the two clubs and could prove decisive as the fight for Champions League slots heats up as we head toward the business end of the season.
When your manager can count on you to shine against top teams, you've most certainly got that something special.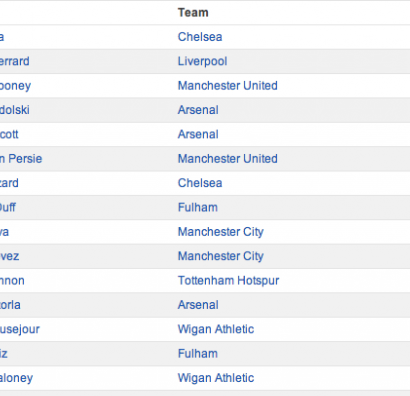 Juan Mata has racked up goals and assists for fun this term.
Having netted 18 times over the course of the season (10 in the Premier League), he has been prolific up front. That is a splendid record for a playmaker.
He is undoubtedly the chief orchestrator in attack for the Blues and has laid on 23 goals for fellow teammates in all competitions. It's no surprise to see him sit atop the league assist charts.
So that implies a direct involvement in 41 Chelsea goals for the fleet-footed Mata, a figure better than that of other contenders for the PFA Player of the Year.
Robin van Persie has 25 goals and eight assists in all competitions. Bale, meanwhile, has netted 21 times and assisted eight. Luis Suarez, the man currently at the pinnacle of the Premier League goalscoring table, has 29 and four in the corresponding categories. You do the math.
Now, I'm not going to argue that stats are the ultimate tool of comparison, but it is necessary to underscore Mata's superiority in this regard.
*Stats from espnfc.com and premierleague.com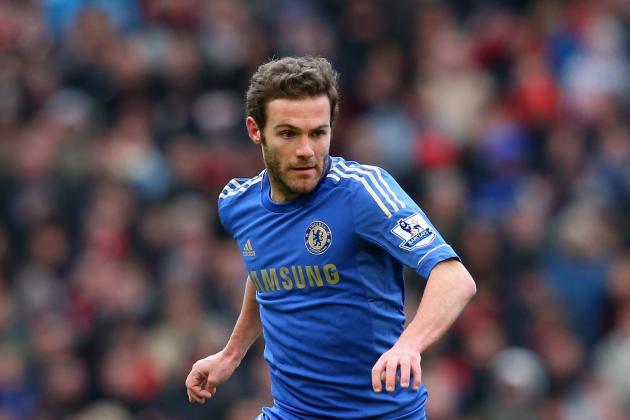 Alex Livesey/Getty Images

This is arguably the most important factor. In my book, for a player to be truly worthy of winning the PFA Player of the Year award, he needs to show his guile and mastery time and again, not just in purple patches.
I suppose it would be a good idea to present some facts. Robin van Persie has scored just once in his last seven games in a Man United shirt. Gareth Bale, meanwhile, has exploded following the turn of the year, notching up 11 goals in nine outings between Jan. 30 and March 7.
Neither has enjoyed the the kind of consistency Mata and Suarez have. I'm not suggesting that they aren't deserving candidates for the prize, rather trying to lay emphasis on the importance of being ever-present in a league campaign.
The POTY is a prestigious honor. For professionals players, it is the ultimate individual bestowal in the Premier League. If you bag the top gong, it means your footballing peers regard you as the best player in the league. And you damn right have to earn it.
Speaking of Mata's chances, Chelsea still have a shot at the FA Cup, Europa League and have a Champions League slot to grab, so the Spaniard will have at least 12 more games to further accentuate his credentials.
Do you think he deserves the POTY accolade? What about RVP, Bale and Suarez?
You can have your voice heard on Twitter: @hemant_dua