Grading Tony Parker's Return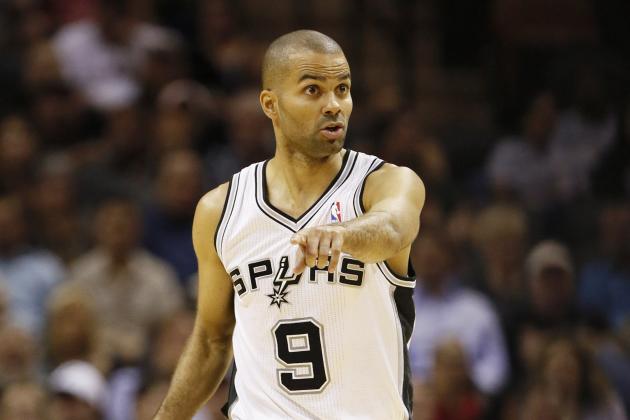 USA TODAY Sports

San Antonio Spurs point guard Tony Parker returned to action in their 104-97 win over the Utah Jazz on Friday night.
He came back a week ahead of schedule from the grade-two sprain he suffered in his left ankle in an otherwise forgettable Spurs win over the Sacramento Kings on Mar. 1.
His teammates didn't exactly help his MVP campaign in his absence. With their All-Star leader sidelined for eight games, the Spurs still found the path to victory in six of them.
But no one around San Antonio was sad to see him back in action. San Antonio entered the night just 2.5 games ahead of the Oklahoma City Thunder for the Western Conference's top spot.
The Spurs could've won all eight games that he missed, and they still would have welcomed him with open arms. He knows coach Gregg Popovich's system better perhaps than "Pop" himself.
The Spurs battled through elongated stretches of inconsistencies throughout the game, but they made enough plays late to salvage a win.
Begin Slideshow

»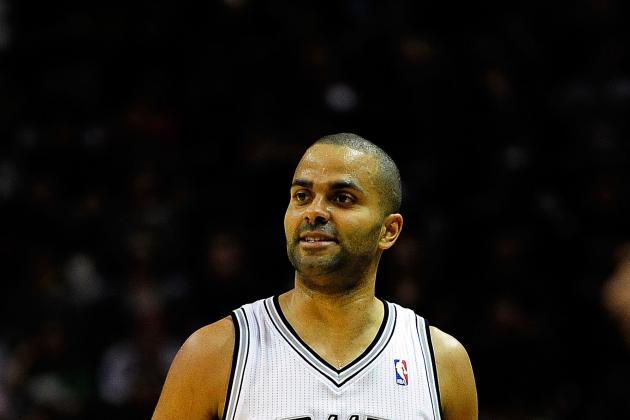 Stacy Revere/Getty Images

If there was any rust left over, Parker looked like he might have brushed it off in warm-ups.
He buried his first look of the game, flexing his feathery touch on an elbow jumper for San Antonio's first points. His teammates followed his lead, racing out to a 16-4 lead during Parker's first six-minute stint.
That early magic wouldn't last, but that shooting stroke never eluded Parker. He battled his way to his most effective spots at the mid-range. If defenses backed off, he settled into easy rhythm looks; when the defense stayed with him, he used slight dribble moves and changes of speed to buy himself enough room.
His dribble drives didn't always produce the same individual success. San Antonio's shooters couldn't pull defenders away from the basket, so his penetrations were met by mobs under the rim.
But his drives weren't always limited, either. He battled through Alec Burks' contact, then dropped in a soft floater late in the first half. He flexed his feathery touch on a go-ahead runner with just under three minutes left in the fourth.
As the defense brought even more attention, he exposed it with hi-def court vision. His assist numbers hardly jump off the page (five), but they were a greater result of his teammates' inability to finish his strong setups.
He finished the game with a team-high 22 points. He scored eight of the Spurs' final 15 points, and he created six others with his passing.
Grade: A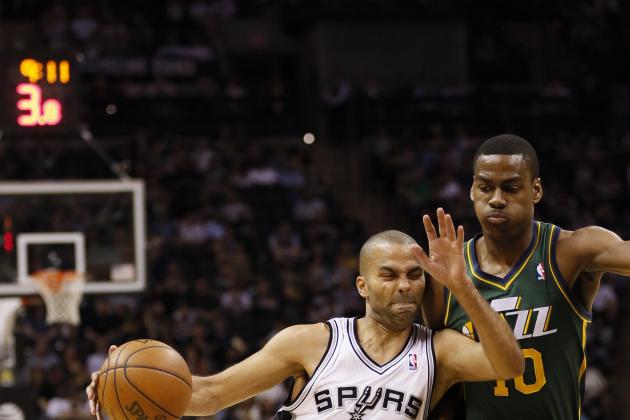 USA TODAY Sports

The way Parker was gliding across the floor, that initial four-week timetable looked more ridiculous as the clock winded down.
He didn't always force the issue off the dribble, but he never had trouble shaking his defenders when he decided to go. His quickness edge was limited only by a disciplined Jazz attack that limited transition opportunities.
Mo Williams isn't what someone would call an "athletic" point guard, but he's shifty with the ball in his hands. But Parker had no trouble sliding in front of him or stopping his drives before they ever got started.
He showed no signs of slowing down over the course of the game. He moved fluidly in the first and carried that same mobility in the game's final period. After logging more than 35 minutes, Parker flexed his old form on a step-back jumper in the final 90 seconds of overtime that pushed the Spurs' lead to six.
Grade: A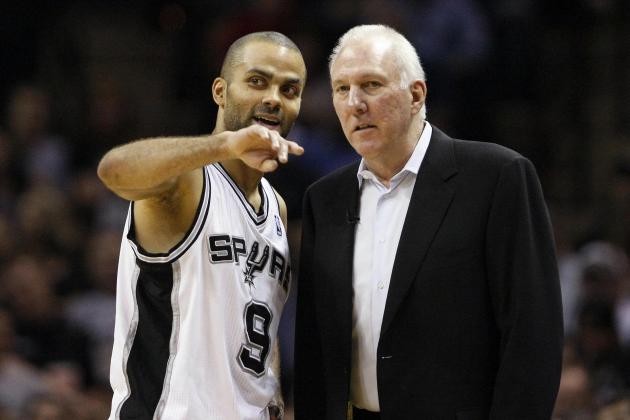 Soobum Im-USA TODAY Sports

Parker is so talented on the offensive end, and such an unassuming athlete, that it's far too easy for casual fans to overlook his defensive contributions.
The box score from this game won't do a lot to change that fact.
Mo Williams (game-high 23 points) lit up the Spurs with a series of mid-range jumpers and perimeter shots. Parker didn't completely silence Williams' attack, but Utah's point did most of his damage either in Parker's absence or when a different defender drew his number on a switch.
Parker crowded Williams, a clear sign of the confidence he had in his lateral quickness. He kept Williams from penetrating the defense, with the Jazz point guard often deferring to his teammates when Parker stood in his way.
When the athletic Burks ran the offense, Parker dared him to shoot. He left ample space for any potential drive and kept himself close enough to the paint to help his interior teammates.
Grade: B+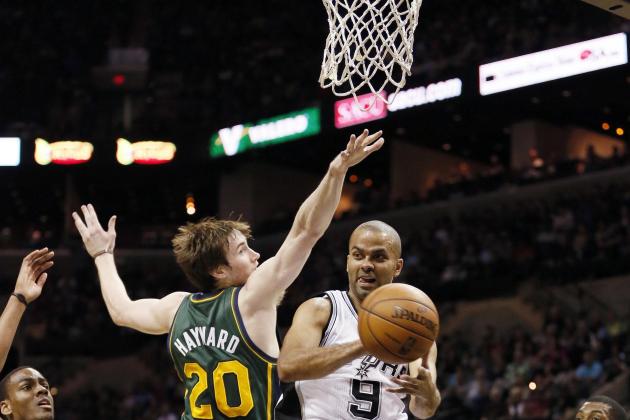 USA TODAY Sports

The Spurs offense stalled after a hot start, but Parker put his teammates in typically productive positions.
He was masterful coming off ball screens, finding a rolling Tiago Splitter or a popping Boris Diaw and Tim Duncan.
He pushed hard enough off of those screens to command extra defensive attention. When it didn't come right away, he pushed harder.
As soon as the help defender started coming his way, he was already looking for open teammates. Sometimes that meant some skillful ball-handling then a drop pass back to the screener. Sometimes it meant a strong drive to lure the weak-side defender to free a corner shooter. A few times, it even meant backing out of the play only to thread a cross-court pass as soon as the defense relaxed.
But there was a little bit of rust at times. He tried to use lead passes to free his teammates on occasion, but the should-be recipient didn't go where the ball was heading.
There was also an untimely defensive lapse on Utah's final possession of regulation, but Manu Ginobili appeared to be the one caught out of position, which allowed Marvin Williams to connect on a game-tying corner three as the clock expired.
He did appear to have a nice rhythm working with Kawhi Leonard. Parker found the sophomore for a clutch three in the final minute of regulation and another to open the extra session.
Grade: B+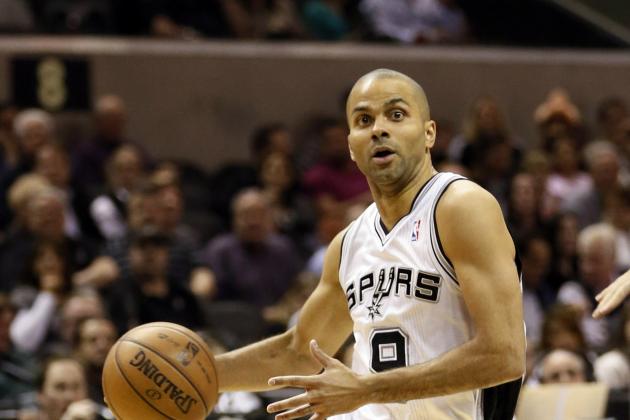 USA TODAY Sports

The Phoenix Suns' training staff is rightfully lauded as the league's elite rehabbing team.
But Popovich's handling of Parker not only afforded the point guard nearly 37 minutes, it also kept him at his peak level throughout the contest.
Popovich limited Parker to stretches of no more than six minutes. It was clearly a precautionary measure, as he never looked gassed near the end of any of his runs.
The fact that he struggled a bit early on with his drives but wouldn't quit attacking was a good indicator of his energy level.
It's not as if Parker missed months, but it's no small task to be away from the floor for three weeks then readjust to the speed of the game on the fly. There's no great way to simulate that pace in practice either.
He didn't lead a lot of fast-break chances, but he sprinted up the floor when his teammates found opportunities to push the tempo. When Utah attacked off of turnovers or long rebounds, Parker was usually the first San Antonio player back on the defensive end.
Grade: A+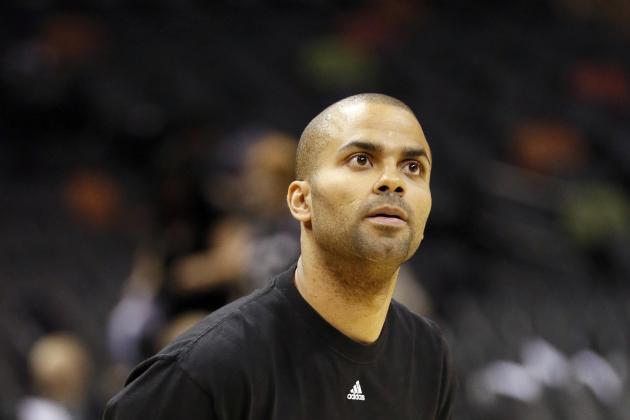 USA TODAY Sports

Parker's not the only reason that this San Antonio team is feared—Leonard continued his ascension with 21 points and eight rebounds—but he makes this team a legitimate championship contender.
This game won't go down as one of his best (he averages 21 points and 7.6 assists per game), but it takes a special kind of player to produce this performance after being out of action for three weeks.
He was operating on a bad, or at least recovering, wheel and still looked like the best player on the court. He showed an uncanny ability to read his team, knowing when it needed him to score and when it was best to involve his teammates.
The reason for San Antonio's scorching start? Parker. The reason the Spurs rallied in overtime? Parker.
Few players truly affect the performance of their teammates. Parker is one of those guys and showed in this game that he can do so even when he's not 100 percent.
The Spurs have only one game (at the Houston Rockets on Sunday) over the next four days. Parker's got ample time to rest his ankle for a stretch run and what should be a lengthy playoff push.
But after watching him in this game, I'm not sure he even needs it.
Grade: A