Kansas vs. Western Kentucky: Live Score and Updates for Round of 64 Matchup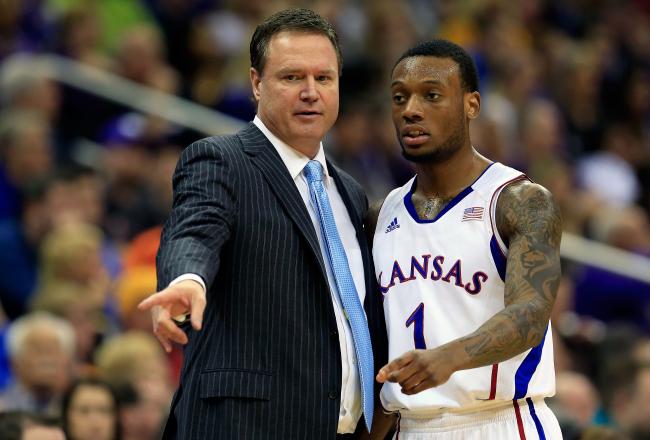 The Kansas Jayhawks should easily take down the Western Kentucky Hilltoppers tonight.
Jamie Squire/Getty Images
Kansas 64, Western Kentucky 57 - Final Score
It may not have been pretty, but senior center Jeff Withey willed the top-seeded Kansas Jayhawks to a 64-57 victory over the Western Kentucky Hilltoppers on Saturday night at the Sprint Center in Kansas City, Mo.
The Jayhawks looked sluggish from the opening tip and allowed the much smaller Hilltoppers to dominate the offensive glass. Western Kentucky pulled down 13 offensive rebounds and did much of its scoring on drives through the lane.
Kansas' 17 turnovers also helped the Hilltoppers hang around for much longer than expected.
Withey proved to be too much for Western Kentucky to handle in the end, though. The 7'0", 235-pounder scored 17 points on 7-of-9 shooting to go along with six rebounds and seven blocks.
Guards Travis Releford and Ben McLemore poured in 11 points apiece and combined for nine rebounds.
Western Kentucky shot just 31 percent from the field, which ultimately led to its downfall.
Head coach Bill Self looked very frustrated with his team's performance in the round of 64 contest, which bodes well for the eighth-seeded North Carolina Tar Heels. Former Kansas head coach Roy Williams and the Tar Heels will take on the Jayhawks in the third round on Sunday.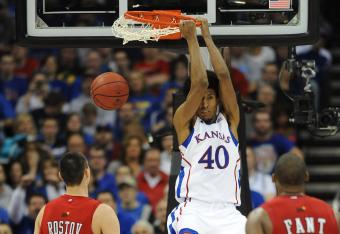 KU 64, WKU 57 - End of Game
Kansas will survive. Luckily for the Jayhawks, they drew a team that could not hit a jump shot. Had the Hilltoppers been able to make anywhere close to half their jumpers they would have been able to pull off the upset.
Very interesting stat about Western Kentucky's offense tonight:
#Big12Insider WKU has scored 13 points in last 2:23 after scoring 11 points in first 17 minutes of 2nd half. KU 59, WKU 55, 25.4 left

— Big 12 Conference (@Big12Conference) March 23, 2013
KU 59, WKU 55 - 25 seconds remaining
Brandon Harris knocks down a trey to keep Western Kentucky's hopes alive. Kansas continues to make its freebies, though.
KU 57, WKU 50 - 41.5 seconds remaining
Crooks nearly went coast-to-coast for a layup that would have brought Western Kentucky within one possession. Instead, Kansas has a chance to pull away at the free-throw line.
This has been a very lackluster performance for Kansas tonight.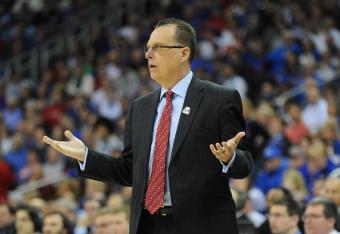 KU 55, WKU 50 - 1:41 2nd Half
T.J. Price hits a three-pointer from behind where the NBA line would be, and Kansas compounds the miraculous shot with a turnover. Western Kentucky is still very much in this game.
KU 53, WKU 45 - 2:19 2nd Half
Jamal Crook will not let Kansas roll over Western Kentucky, though. Withey is whistled for his fourth foul, and the Hilltoppers have cut the Jayhawks' lead to eight points.
Bill Self is a little hot under the collar to say the least.
Nate Bukaty of Sports Radio 810 in Kansas details Western Kentucky's shooting woes in the second half:
WKY is 1-17 from the floor this half? To be fair, they haven't had many easy looks, but my goodness.

— Nate Bukaty (@nate_bukaty) March 23, 2013
Let me reiterate, Jeff Withey is carrying the Jayhawks tonight:
Jeff Withey has put this Kansas team on his back! 17 points, 7 blocks and 5 rebounds! #kubball #witheyblockparty

— Kansas Gameday (@KUGameday) March 23, 2013
KU 52, WKU 42 - 3:44 2nd Half
The only reason Kansas is winning this game tonight is because of Jeff Withey's dominance and Western Kentucky's inability to hit a jump shot. Roy Williams and the North Carolina Tar Heels should be licking their chops for a Sunday matchup with the sluggish Jayhawks.
KU 50, WKU 42 - 5:00 2nd Half
Western Kentucky's second-leading scorer George Fant has fouled out. The Hilltoppers are going to have to make a jumper if they hope to pull off this massive upset. A lot of pressure will be on Rostov to slow Withey down during the closing stretch.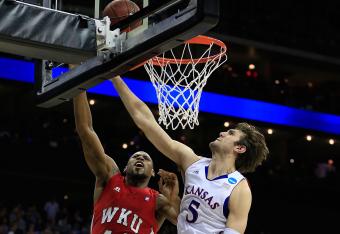 KU 47, WKU 41 - 6:41 2nd Half
Kansas needs to feed Withey the ball until Western Kentucky proves it can stop him. Withey has 12 points on 6-of-8 shooting. The senior big man is controlling the game defensively as well with five blocks.
KU 47, WKU 41 - 7:07 2nd Half
The Hilltoppers have been able to keep themselves in this game with offensive rebounding. Western Kentucky holds a 9-4 edge on the offensive glass. Very surprising statistic considering how well Jeff Withey has played tonight for Kansas.
KU 43, WKU 37 - 9:39 2nd Half
Western Kentucky has gone cold from the field. Give a lot of credit to the Jayhawks' defense, though. The Hilltoppers have not been able to get into the paint and forced to take jumpers instead.
Kansas trying to pull away, but Western Kentucky is still within striking distance.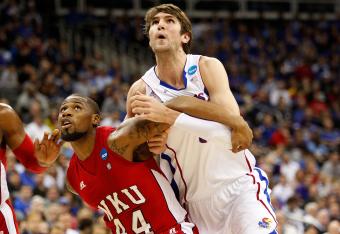 KU 40, WKU 35 - 12:13 2nd Half
Withey swats his fifth shot of the game, but threw the ball away trying to push the ball up the floor too quickly. Kansas has tried to make way too many highlight-reel plays tonight, which has contributed to its 13 turnovers.
George Fant draws a third foul on Withey inside, so the big man will be on the bench for about four minutes.
Western Kentucky still hanging around, but has just four points in the last 7:47
KU 36, WKU 33 - 14:40 2nd Half
Just when it looked like Kansas was about to take over the game, the Hilltoppers answer with a basket, and nearly get a jump-hook to fall. Western Kentucky will not go down without a fight.
Three more turnovers for the Jayhawks to open the second half.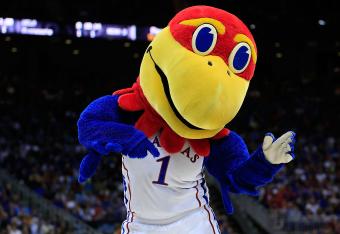 KU 34, WKU 31 - 17:16 2nd Half
Kansas looks to be playing with a lot of energy on the defensive end of the floor to start the second 20 minutes of action.
The Jayhawks need to run their offense through Jeff Withey right now. Nobody from Western Kentucky could stop him in the first half. Withey had eight points on 4-of-5 shooting in the opening frame.
Impressive dunk by Kevin Young there to put Kansas back on top.
RockChalkBlog.com provides you with Kansas' keys to the second half:
Keys to second half: do a better job in half-court defense and get some easy baskets... aka dunks.

— RockChalkBlog.com (@RockChalkBlog) March 23, 2013
Channel 6 News Sports Reporter Andrew Baker points out one disturbing stat from Kansas' sluggish first half:
KU likes to get on the break and run. First half against WKU and the Jayhawks have 0 fast break points. #kubball

— Andrew Baker (@abaker6sports) March 23, 2013
Sam Mellinger of the Kansas City Star points out that Western Kentucky has matched everything Kansas has thrown at them through 20 minutes of basketball:
Western Kentucky's earned this. Not a fluke. Shooting percentages are identical. WKU outrebounding, outworking KU.

— Sam Mellinger (@mellinger) March 23, 2013
WKU 31, KU 30 - Halftime
Jamal Cook has not missed a shot for Western Kentucky in the opening 20 minutes, and he just finished off a drive without Withey in the paint. Cook is 3-of-3 with six points heading into the break.
This one has been a shocker so far.
The crowd is trying to will Kansas to a run, but it has not been able to thus far:
Sprint Center crowd goes nuts after KU forces a Hilltopper turnover. #kubball

— RockChalkBlog.com (@RockChalkBlog) March 23, 2013
KU 28, WKU 27 - 1:29 1st Half
Head coach Bill Self went to his quick, defensive lineup with less than three minutes to play in the first half. Freshman forward Jamari Taylor got the first basket for the group on a lay up.
Kansas has come out completely shaken. The Jayhawks already have nine turnovers and are minus-six on the glass.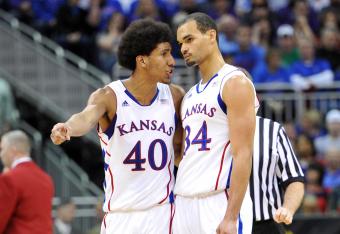 WKU 24, KU 23 - 3:55 1st Half
Kansas cannot buy a shot from beyond the arc right now. The Jayhawks are 0-of-5 from three-point land and still can't keep the Hilltoppers out of the lane.
This article is
What is the duplicate article?
Why is this article offensive?
Where is this article plagiarized from?
Why is this article poorly edited?

Kansas Jayhawks Basketball: Like this team?