New York Knicks vs. Toronto Raptors: Postgame Grades and Analysis for NYC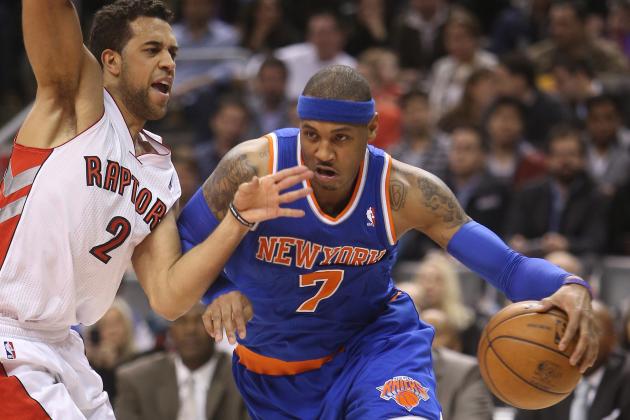 Tom Szczerbowski-USA TODAY Sport

The New York Knicks traveled to Canada on Friday night for the first portion of a home-and-home against the Toronto Raptors. The Knicks extended their winning streak to three games and officially clinched a playoff spot with the 99-94 win.
The Knicks had been winless in two contests against Toronto this season and were eager to improve on their middling record in the division.
After a mostly even first quarter, New York ratcheted up its defense in the second to open a 50-37 halftime advantage. Toronto shot just 5-of-20 from the field in the second frame for just 15 points.
DeMar DeRozan and Rudy Gay both struggled for the Raptors in the first half, combining to shoot 5-of-15 as Toronto converted only 35.7 percent of its field goals to start the game.
Carmelo Anthony led all scorers with 15 first-half points, although those came on just 5-of-15 shooting. He finished with 37 points, though Kenyon Martin was the star of the night with 19 points and 11 boards.
Alan Anderson came off the bench for Toronto and abused the Knicks for 20 points in the third quarter as the Raptors fought back to within six. He finished up a mammoth night with 35 points. Fortunately for New York, Melo scored 11 points of his own in the third, including a buzzer-beater.
The Raptors pared the lead down to just two points midway through the fourth quarter, but New York pulled away behind timely hooping from Anthony, K-Mart and Raymond Felton.
It was a sweet victory for New York, but it will need to stay focused on its northerly neighbors since it plays again at Madison Square Garden on Saturday.
Toronto came into the game only 26-42, but tied for ninth place in the East. Still, the Raptors are nine games in the loss column behind the No. 8 spot.
The Knicks had been 40-26, clinging to third place in the East and a one-game lead over the Brooklyn Nets in the division.
Let's grade the entire playoff-clinching victory.
Begin Slideshow

»
Pablo Prigioni, PG: B
Mike Woodson has found a winning formula with Prigioni as the starting point guard. While they've built a very modest two-game winning streak with the Argentine rookie as a starter, those wins came on the heels of a cover-your-eyes skid over the first four games of their West Coast trip.
But Prigioni saw less than 10 minutes in the game, as bench players Jason Kidd and J.R. Smith saw big minutes in the backcourt.
He was effective, though, making his only shot attempt, dishing two assists and snatching a pair of steals.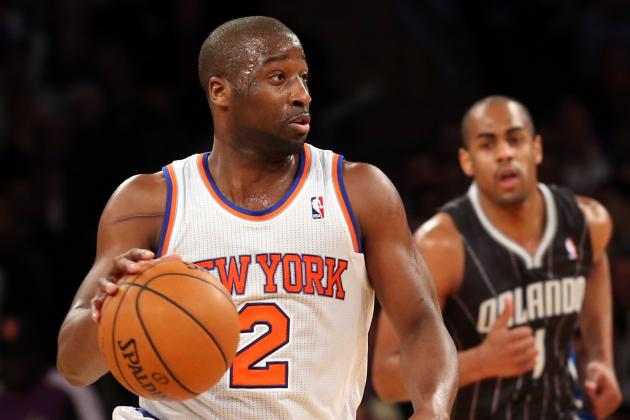 Anthony Gruppuso-USA TODAY Sports

Raymond Felton, SG: B
Felton scored only three points in the first half, which is not what you hope for from your starting 2-guard. But he combines with Jason Kidd to give the Knicks great versatility in their backcourt.
Felton's second field goal of the game was crucial. He drilled a three-pointer to put the Knicks up by 10 with four minutes left after Toronto had battled back.
He totaled seven points, three rebounds, three assists and two steals for a respectable overall evening.
New York will continue to hope that Felton can conjure up the consistently stellar play he flashed earlier this season.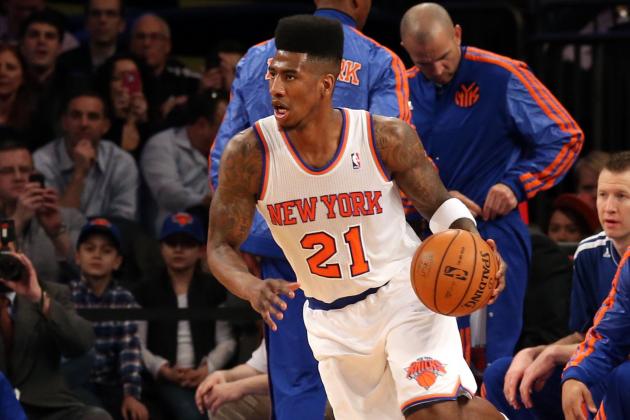 Anthony Gruppuso-USA TODAY Sports

Iman Shumpert, SF: B-
Shumpert, technically the starting small forward, was the only Knicks starter in the first half with an assist. He had three dimes, while the bench racked up six of them. He also sank his only shot of the first half, which came from downtown.
Knicks fans were cringing after Shumpert tweaked his surgically repaired knee in Wednesday's win over the Orlando Magic, but he showed no signs of harm against Toronto.
He drove confidently to the hoop on a layup in the second half and was hyperactive as usual on defense. Still, Shumpert was limited to just 17 minutes.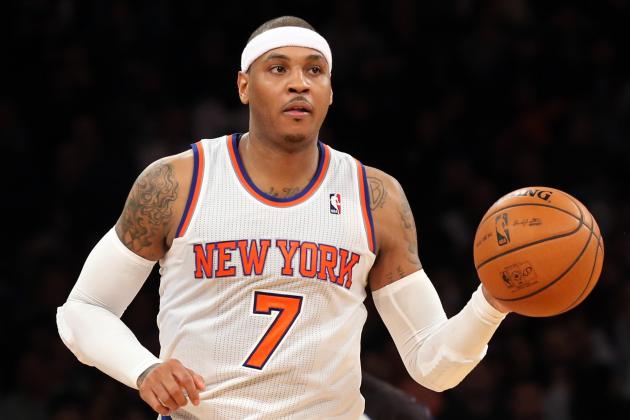 Anthony Gruppuso-USA TODAY Sports

Carmelo Anthony, PF: A-
Anthony stormed out of the gates with 15 points in the first half. While he only shot 33 percent in that span, it was good to see Melo moving with comfort and confidence for the second game after missing time due to fluid in his knee.
In the second half, Anthony found his rhythm and powered the Knicks to victory. He shot 9-of-16 over the final two quarters to finish with 37 points. He also added six boards, two blocks and a steal.
For some reason, Anthony committed seven turnovers in the game, and that is not acceptable. He also missed four free throws, but his health is paramount and that appears to be back on track.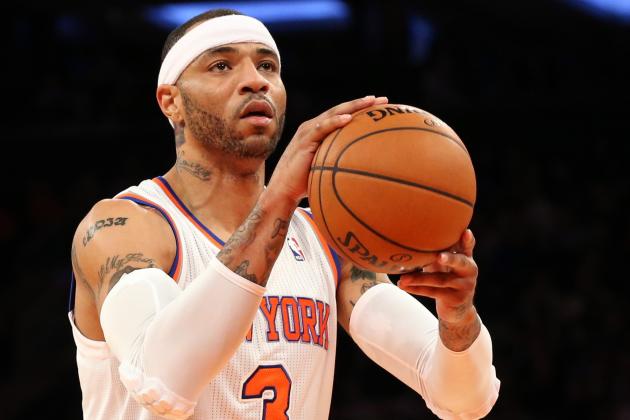 Anthony Gruppuso-USA TODAY Sports

Kenyon Martin, C: A+
Martin showed "agility and hostility" on Friday night, according to MSG announcer Walt Frazier.
Through two quarters, Martin flushed all three of his field-goal attempts and menaced on defense for two steals and a block.
K-Mart was driving the bus for New York in the second half, dominating on both ends of the floor. He finished with 19 points and 11 rebounds, five of those coming on the offensive glass.
One thing to monitor with Martin is his poor free-throw shooting. He was 1-of-2 in this tilt and had made just six of his 20 attempts on the season.
It will be interesting to see if K-Mart can sustain his current energy down the stretch, especially considering he played 36 in this contest. But there's no denying that he's been an excellent addition for the Knicks so far.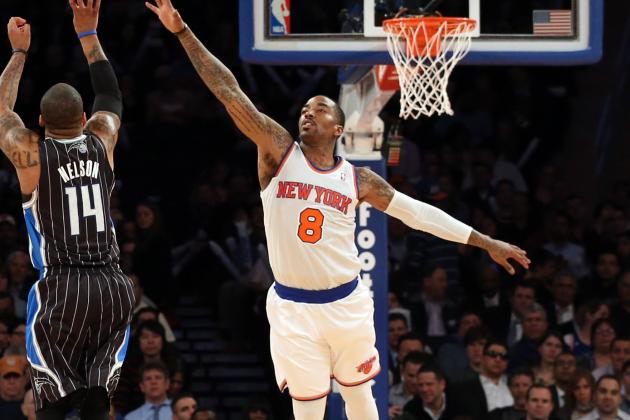 Anthony Gruppuso-USA TODAY Sports

J.R. Smith, SG: B+
Smith only scored seven points in the first half, but he added three rebounds, three dimes and a steal. His plus-11 rating was a team high.
For the night, J.R. attempted only 10 shots, hitting half of them to finish with 14 points. He would have scored more had he not shot 3-of-7 from the charity stripe.
Smith was called for a questionable shooting foul on an Alan Anderson three-pointer which trimmed the Knicks' lead to six points. He argued the call for some time and was lucky not to incur a technical foul and make it a five-point play. That's just J.R. being J.R.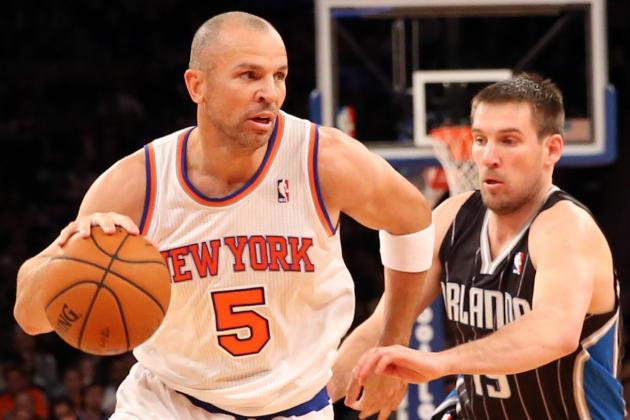 Anthony Gruppuso-USA TODAY Sports

Rest of Bench: B
Jason Kidd played big minutes in relief. As usual, he contributed all over the court. Kidd hit a pair of first-half treys, suggesting his confidence in his shot is returning. He ended with seven points, five boards, three dimes and a block. Yet again, he was the glue holding the team together in his 31 minutes.
Steve Novak drained both his field-goal tries in the first half, a three-pointer and a two-pointer with his foot on the line. He played only six minutes in total, but finished with a team-high plus-13 rating.
Marcus Camby saw time in relief of Kenyon Martin and was effective as a rebounding and shot-blocking presence. He had five rebounds and a block in 12 minutes.
Chris Copeland hit a stepback three-pointer and that was about it for him. James White did not play.
The Knicks head back to Madison Square Garden to face the Raptors again on Saturday night. Then they'll have two days to rest up for back-to-back battles against the Boston Celtics and Memphis Grizzlies.