When Nick Diaz does show up for UFC press duties, at least two things are guaranteed to occur. He will deliver multiple memorable quotes and they will be about whatever subject is running through his mind at the time.
With that being the case, no one was too surprised that when Diaz showed up at the post-UFC 158 press conference he offered up the fact that he may be retiring from MMA. Then almost immediately followed it up by looking to his right and telling UFC welterweight champion Georges St-Pierre, the man that had defeated Diaz that night in Montreal, "The one reason I'm here right now is that I want a rematch, I think I could beat you."
Most of the assembled media, as well as the fighters on the dais just kind of laughed the comment off as another incident of Diaz being Diaz. However, taking a look at the fight again, removed from the emotion, removed from the moment, removed from the 20,000 plus fans chanting for Diaz to fornicate himself, the man from Stockton may very well have a point.
No one should have ever taken the pre-fight press reel to heart. There was no way that St-Pierre was going to enter the Octagon at the Bell Centre and give Diaz "the worst beating you've ever seen him give in the UFC." That was just not going to happen and it didn't. Instead, St-Pierre dominated the early going by using his wrestling skills, just like everyone (including Diaz) should have expected.
Would Diaz stand a chance in a rematch with GSP?
For the first two rounds, St-Pierre employed a wrestling and ground assault style that saw him go 4-for-4 in takedowns and land 95 strikes. St-Pierre also negated any of Diaz's jiu-jitsu game by using counter wrestling, switching his body from side to side as he felt Diaz try and set up his jiu-jitsu game.
As always, it was a masterful plan from St-Pierre and his camp at Tristar, at least through those first two rounds.
Come Round 3, Diaz, a fighter that has always been susceptible to wrestling, began to thwart the much vaunted takedown ability of St-Pierre, stopping seven of the 12 takedowns GSP attempted during those final three stanzas. Another fact that became noticeable was that St-Pierre began to occasionally glance at the clock—something that a fighter who is not concerned about their cardio will never do.
The door seemed to open for Diaz when these two things occurred, but instead of kicking that door open, he decided it was better to strut around it. Diaz, showing no sense of urgency, wasted valuable time, walking around the Octagon with his hands at his sides jawing at his opponent. This allowed St-Pierre time and space—two things you never want to willingly give a fighter when they show weakness.
It was a squandered opportunity by the challenger, a fact that he may have come to realize a little to late.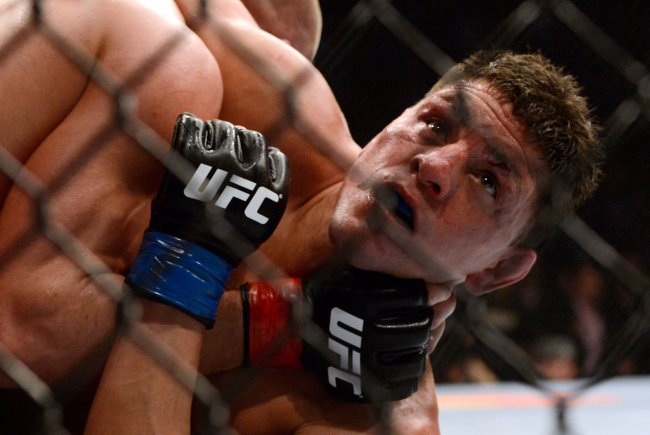 Eric Bolte-USA TODAY Sports
After the fight, Diaz lamented that he didn't have the proper training for the bout. That may have been empty excuse-making, but coming from the loyal-to-a-fault fighter, throwing his camp under the bus—even if it was perhaps only a toe or two under the wheels—made it feel like there was some truth to what Diaz had to say regarding his fight preparation.
Diaz may have been on to something when he told St-Pierre a second time, "I wouldn't hesitate for a second to take a rematch, I think I could beat you, I really do."
The problem is that in order to get a rematch with the champ, Diaz would most likely need to work his way back through the welterweight rankings. That is something the long-time veteran of the fight game may not be interested in doing, considering he said, during his in-cage post-fight interview, "I think I'm done with mixed martial arts."
Then again, it wasn't long after that announcement that Diaz called for a fight with GSP or Anderson Silva, so who knows what the future holds for the former Strikeforce champion?
With the right training, preparation and follow-through, he may have a point—he may be able to defeat Georges St-Pierre.
Then again, who's to say St-Pierre and his team aren't tearing apart the champion's performance from UFC 158 right now? And improving on it so that the openings that may have been available on March 16 will be long gone the next time the champion steps into the Octagon.