Cleveland Cavaliers vs. Houston Rockets: Live Score, Results and Game Highlights
Scott Halleran/Getty Images
Game commentary from the Houston Rockets 116-78 rout of the Cleveland Cavaliers from the Toyota Center in Houston, TX on March 22, 2013.
Keys to Rockets' Win:
1) Rebounding: HOU 54, CLE 32
2) Outstanding Balanced Scoring Attack: Seven Rockets in Double Figures; Harden leads with 20.
3) Dominant Second Quarter: The Rockets out-scored Cleveland 30-18 in the second period to take a 15 point lead at the half. They never looked back after that, and out-scored the Cavs 29-18 in the third.
ROCKETS 116, CAVS 78 — FINAL
Aaron Brooks got a solid block on Kevin Jones of the Cleveland Cavs. Brooks doesn't get up and block many as one of the more diminutive guards in the league. He's very generously listed at 6'0" but appears to stand more like 5'9".
ROCKETS 116, CAVS 78 — FINAL
Greg Smith leads the Rockets in rebounds tonight with 12 off the bench in 23 minutes of play. The Rockets have out-rebounded Cleveland 51-31 in the game.
ROCKETS 109, CAVS 74 — 2:00 4th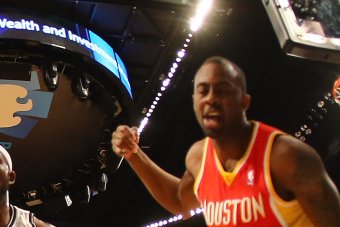 Al Bello/Getty Images
James Anderson's explosive finish at the rim brought some attention to a guy who has been standing out in practice according to Rockets color commentators on CSN Houston. Anderson was taken No. 20 overall in 2011 by the San Antonio Spurs but didn't find his way into the Spurs rotation and hasn't yet found a place in Kevin McHale's rotation either.
Anderson has nine points and four rebounds on the evening in just 10 minutes of play—but—he had to deal with his Oklahoma State Cowboys losing in the first round of the NCAA Tournament yesterday (Mar 21).
ROCKETS 106, CAVS 74 — 2:08 4th, Timeout In Play
The Rockets are 18-2 when they shoot 50-plus percent from the field and tonight they're shooting 56.7 percent from the floor.
ROCKETS 99, CAVS 72 — 4:35 4th
Omri Casspi checks in. Rockets would have been interested if he had been bought out, but had Aaron Brooks higher on their list, anyway.

— Jonathan Feigen (@Jonathan_Feigen) March 23, 2013
Omri Casspi seems like he would be a redundancy on a team with Chandler Parsons and Carlos Delfino.
Francisco Garcia's jumper on the baseline put the Rockets up 31. Garcia's Louisville Cardinals are one of the favorites to win this year's NCAA tournament.
ROCKETS 99, CAVS 70 — 5:15 4th, Timeout In Play
With Rockets up 25 after 3, McHale goes entirely with reserves. Anderson in at the three.

— Jonathan Feigen (@Jonathan_Feigen) March 23, 2013
This one should be firmly in place, and the Rockets still have five reserves in this one as the starters appear done for the night.
ROCKETS 97, CAVS 68 — 6:25 4th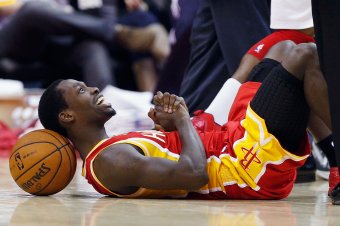 Rob Carr/Getty Images
Patrick Beverley has 11 points, five assists and four rebounds. He's making Aaron Brooks entirely irrelevant, and appears to be the backup point guard of the future, someone that Daryl Morey will undoubtedly keep around as he develops as an NBA player.
ROCKETS 95, CAVS 68 — 7:01 4th, CLE Timeout
The Rockets are starting to go into cruise mode. Their defense has become lax and they're jacking up lazy jumpshots. A Cavs run at this point is not inconceivable, but will it be enough down 20-plus with under eight minutes to go?
ROCKETS 93, CAVS 68 — 7:35 4th
REBOUNDS: HOU 40, CLE 24
#Rockets are dominating inside! They've got 43 pts in the paint vs 16 pts for #Cavs. Led by James Harden with 7 FTs, a dunk and a layup.

— Nick Ivanovic (@RocketsRedux) March 23, 2013
ROCKETS 87, CAVS 61 — 10:30 4th
You know it's a #Rockets blowout when Bill, Bull, and Clyde go into "Old Men Reminiscing" mode...

— Jason Williams (@AstroRocket) March 23, 2013
They closed the third quarter talking about eight track players and how kids today have their heads down all the time looking at their smart phones and ipods. I mean, this is the same stereotypical stuff we associate most 60-somethings with.
ROCKETS 87, CAVS 61 — 11:20 4th
Hangtime: Chandler Parsons takes the ball right to the rim and hangs in the air to make the layup. dlvr.it/3702Zm

— NBA Breaking News (@NBABNN) March 23, 2013
Parsons highlight.
Chandler Parsons has 13 points on 5-of-11 shooting and he's also grabbed four rebounds.
ROCKETS 87, CAVS 61 — End of 3rd
The Cavs starting backcourt of Shaun Livingston and Wayne Ellington is 10-of-22 from the floor (45 percent). The rest of the team is 12-of-36 (33 percent).
ROCKETS 82, CAVS 57 — 41.4 seconds 3rd
James Harden's step back three from the top of the key extended the Rocket lead to 25 points and capped off a 9-0 run.
ROCKETS 80, CAVS 55 — 1:16 3rd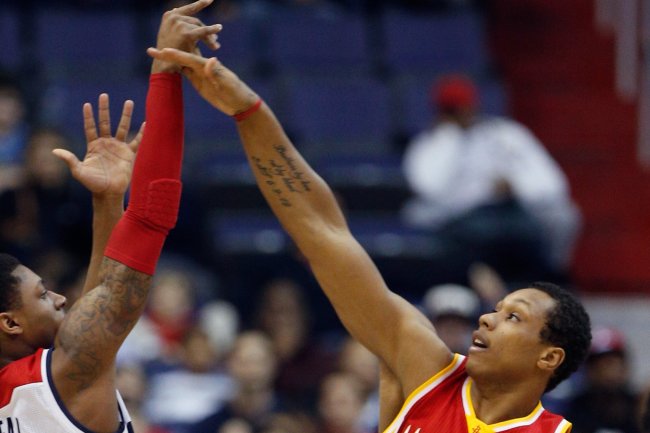 Rob Carr/Getty Images
The Rockets have 10 offensive rebounds and Greg Smith has three off the bench. Smith also has scored four points and the Rockets are plus-13 with him on the court.
#Rockets take their biggest lead of the game with a Greg Smith putback. Up 20 pts, 75-55 late Q3.

— Nick Ivanovic (@RocketsRedux) March 23, 2013
Smith was noted as having one of the best NBA bodies in the 2011 draft class, but he went undrafted. The Rockets signed the Fresno State product and they've been glad they did. His PER is 16.5 and his per-36 stats are 14 points and 10.3 rebounds.
ROCKETS 75, CAVS 55 — 2:15 3rd
The Rockets starters are shooting 50 percent (19-of-38) from the floor, and all five starters are in double figures except for Jeremy Lin, but Lin has six assists so far.
ROCKETS 73, CAVS 55 — 3:10 3rd
TURNOVERS: HOU 12, CLE 8
ROCKETS 71, CAVS 55 — 4:20 3rd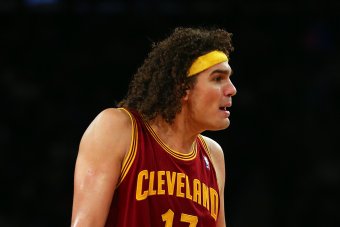 Elsa/Getty Images
The loss of Anderson Varejao has really crippled the Cavs inside. At the time the Brazilian center went down, he was leading the league in rebounding. The Cavs are being out-rebounded 33-19 tonight.
ROCKETS 70, CAVS 51 — 5:40 3rd
Tyler Zeller's brother Cody helped Indiana to a big opening round win over No. 16 seed James Madison. Cody and the Hoosiers won by 21 and will face the ninth seeded Temple Owls next.
ROCKETS 64, CAVS 46 — 9:31 2nd
Wayne Ellington and Tyler Zeller will not only have to deal with their Cavs losing tonight, but North Carolina dropped their opening round matchup to No. 9 seed Villanova.
ROCKETS 62, CAVS 46 — 10:00 3rd
Omer Asik's bucket inside scored the first Houston points of the second half. The Rockets will be wise to work some Asik pick and rolls to test Tyler Zeller's mobility.
ROCKETS 62, CAVS 43 — 10:45 3rd
Carlos Delfino's three from the right wing gave him eight points on the night and the Rockets head to the half with a 15 point lead.
ROCKETS 58, CAVS 43 — Halftime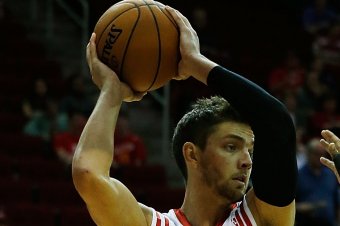 Scott Halleran/Getty Images
Chandler Parsons' Florida Gators lead 45-36 against Northwestern with about 16 minutes to go in the second half.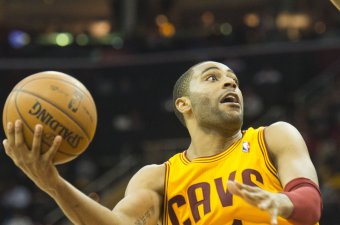 Jason Miller/Getty Images
Wayne Ellington and Tyler Zeller's North Carolina Tar Heels are up 52-48 over Villanova with just under 10 minutes to go in the game. The UNC vs. Nova is regarded as one of the best 8/9 matchups in this year's tournament.
Ellington and Zeller will likely have the game on at halftime in the Cavs' locker room.
ROCKETS 55, CAVS 41 — 1:15 2nd
This article is
What is the duplicate article?
Why is this article offensive?
Where is this article plagiarized from?
Why is this article poorly edited?