No. 15 Seed Florida Gulf Coast Stuns Georgetown in First-Ever Tourney Game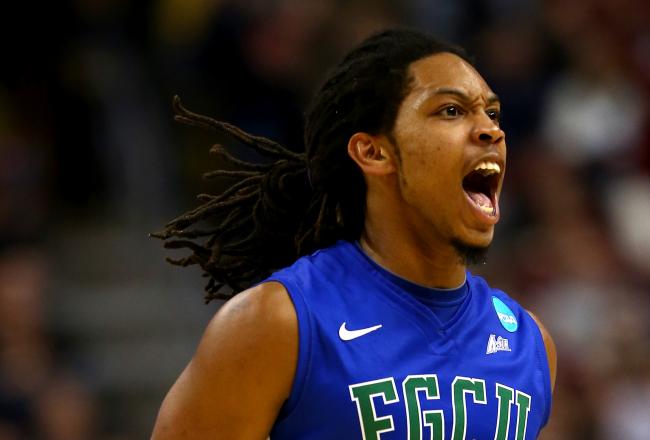 Elsa/Getty Images
Florida Gulf Coast wins!!
The ultimate Cinderella team has stunned No. 2 seed Georgetown in a seismic upset in Philadelphia, prevailing 78-68 in a second-round game in the South region.
Florida Gulf Coast (25-10), in just its second year as a Division I program, becomes just the seventh No. 15 seed to prevail in the Round of 64.
The Eagles, a 13.5-point underdog playing in its first-ever NCAA tournament game, battled Georgetown in a back-and-forth first half. Utilizing the push-the-tempo strategy coach Andy Enfield described to B/R readers in a Cinderella Diary article two days ago, Florida Gulf Coast then raced to a double-digit lead early in the second half and held off the Hoyas' late charge.
Georgetown (25-7), which entered with Final Four hopes after a recent 11-game winning streak and a pair of wins over top-5 opponents, is left to pick up the pieces after another early postseason exit.
Florida Gulf Coast advances to play the winner of the San Diego State vs. Oklahoma game.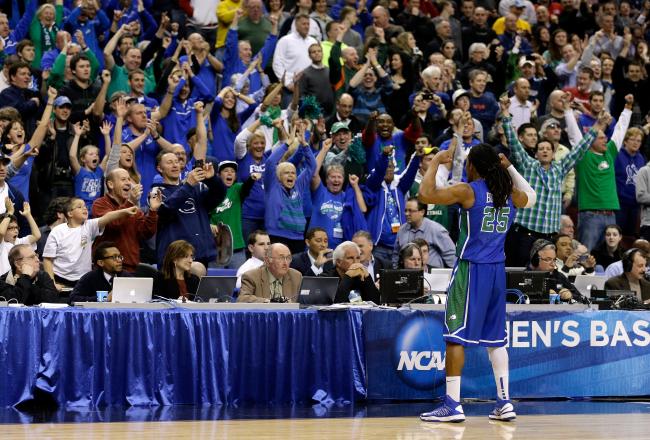 Georgetown gained steam with 11 straight Big East Conference wins and appeared primed for a Final Four run. Instead, the Hoyas and Big East Player of the Year Otto Porter are heading home.
No. 15 Florida Gulf Coast stunned a national audience in its first tournament game, eliminating No. 2 Georgetown with a 78-68 victory. The Eagles advance in the South Region and face the winner of tonight's Oklahoma-San Diego State matchup on Sunday.
Another fantastic tournament upset is in the books.
Florida Gulf Coast and its fans are savoring the moment on court right now. Eagles senior Sherwood Brown, who led the Eagles with 24 points, is an instant tournament star after displaying his big personality throughout the team's stunning upset victory.
Only 1% of brackets in the B/R Bracket Challenge had Florida Gulf Coast beating Georgetown.

— Bleacher Report (@BleacherReport) March 23, 2013
Biggest upset in Tourney history that I can remember. Florida Gulf Coast Community College over THE Georgetown University Hoyas #fb

— Aaron Brazell (@technosailor) March 23, 2013
FYI: Florida Gulf Coast started classes 15 yrs ago. Georgetown, over 220 years ago. #toughlesson

— Lisa Desjardins (@LisaDCNN) March 23, 2013
The Twitterverse was quick to react to this epic bracket-buster...
Florida Gulf Coast 78, Georgetown 68 (FINAL)
It's all over in Philadelphia. No. 2 Georgetown is toast, falling to America's new Cinderella squad -- Florida Gulf Coast. The second-year D1 program takes down the Hoyas in Field of 64 action, leading throughout most of the second half.
The Eagles are the seventh No. 15 team to knock off a No. 2 in NCAA tourney history.
Now we wait to see if Georgetown star Otto Porter departs for the NBA draft.
Florida Gulf Coast 78, Georgetown 68 (5.1 seconds 2nd Half)
FGC forcing missed shots, converting field goals. It's a recipe that will lead to the next round.
Eagles fans recognize the gravity of this moment and rise from their seats at the Wells Fargo Arena. In just its second season as Division I program, FGC is ready to make history.
Florida Gulf Coast 72, Georgetown 68 (51.2 seconds 2nd Half)
Georgetown loses sophomore forward Aaron Bowen, who picks up foul No. 5 and takes a seat. The foul should have been assigned to Markel Starks (would've been his fourth).
Starks then drills consecutive threes to keep Georgetown within striking distance.
Florida Gulf Coast 68, Georgetown 62 (1:16 2nd Half)
The Eagles' athleticism continues to overwhelm Georgetown. Sophomore Brett Comer just threw down a slam that is sure to wind up on SportsCenter's top plays tonight.
Comer is one of three FGC players in double digits tonight.
Eagles on the verge of becoming the seventh No. 15 seed to knockout a No. 2 in tournament history.
Florida Gulf Coast 64, Georgetown 56 (2:25 2nd Half)
A pair of three-pointers pull Georgetown within double digits. The team is now 5-of-21 from three-point territory.
Georgetown came ready to play. Florida Gulf Coast came ready to FIGHT. There's a difference.

— Jay Bilas (@JayBilas) March 23, 2013
Jay Bilas weighs in on the developing situation in Philadelphia, where the Hoyas have less than three minutes to stave off tournament elimination.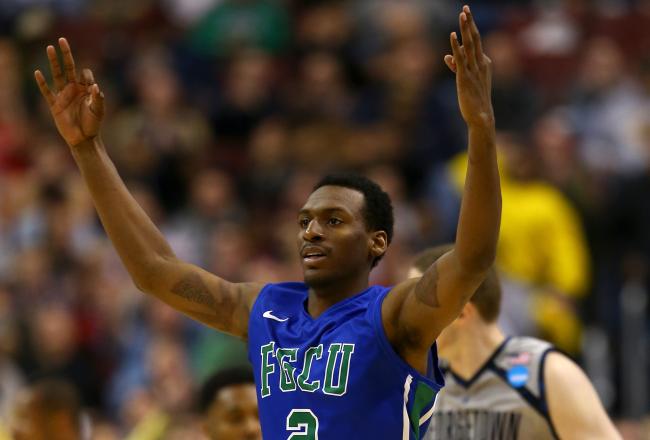 Florida Gulf Coast 61, Georgetown 47 (3:57 2nd Half)
The Hoyas are attempting to chip away at the Eagles' advantage. Georgetown has stepped up its defensive efforts to force FGC into a flurry of turnovers, but team still struggling on the offensive end.
Porter and Starks have 24 total points. The rest of Georgetown's players have 23 combined.
Hoyas' faithful growing restless in the crowd. Brackets everywhere hanging in the balance...
Florida Gulf Coast 53, Georgetown 37 (10:56 2nd Half)
People thought we were weak when we lost to Florida Gulf Coast early in the season, hope those ppl are watching them play Gtown right now!!

— Shane Larkin (@SLarkin_0) March 22, 2013
The Eagles upset Miami in November, earning the young program some early attention. Hurricanes star Shane Larkin hopes this performance sheds some light on what seemed like a head-scratching loss for Miami.
Florida Gulf Coast 50, Georgetown 33 (13:19 2nd Half)
Things are getting out of hand for the Hoyas. FGC is on a 19-2 run since the game was tied at 31 points apiece.
Georgetown has hit 13-of-35 shots tonight.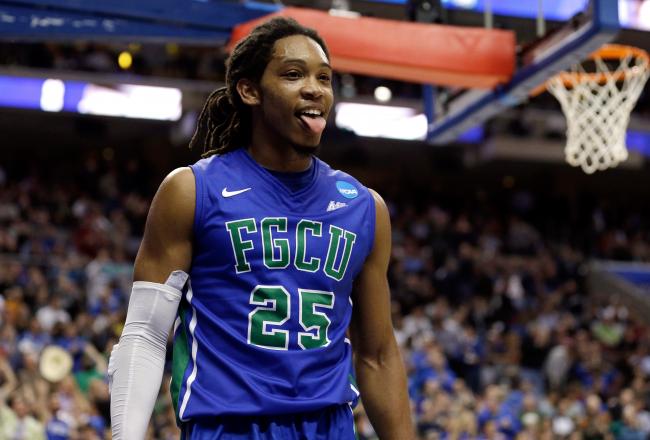 Florida Gulf Coast 39, Georgetown 31 (15:37 2nd Half)

Back-to-back three-point buckets for the Eagles extends the lead. FGC is now 5-of-12 from beyond the arc.
Sophomore Bernard Thompson leads the way with 16 points, including three long-distance connections.
Florida Gulf Coast 36, Georgetown 31 (16:02 2nd Half)
Both squads picking up their offensive efforts early in the second half.
The Eagles seized a 29-22 lead early in the half.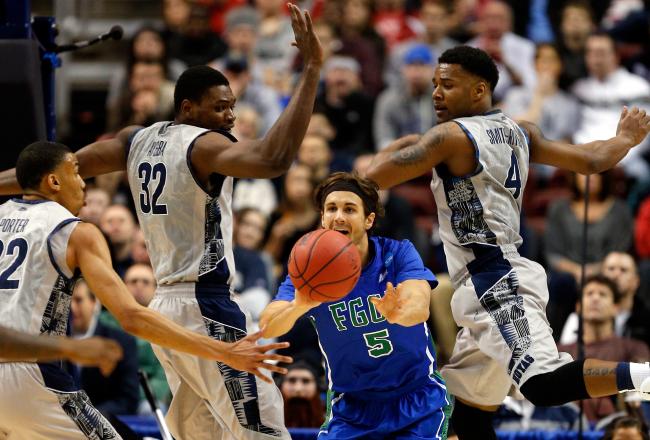 Florida Gulf Coast 24, Georgetown 22 (Halftime)
Some stats of note from the first half:
The Hoyas hit just one field goal in the final 10 minutes of the first half. Offensive catalyst Otto Porter has just four points on 2-of-7 shooting, though he does have nine rebounds.
Georgetown junior Markel Starks leads the team with nine points. The Hoyas are 9-of-27 from the floor and converted 1-of-8 attempts in the opening round.
FGC guards Bernard Thompson and Sherwood Brown combined for 18 points in the first half. The Eagles have enjoyed quality possessions, suffering just five turnovers against Georgetown's stout defense.
The Hoyas held a seven-point lead before missing 13-of-15 shots down the stretch.
Stay tuned for second-half coverage to see if we have yet another bracket-buster on our hands.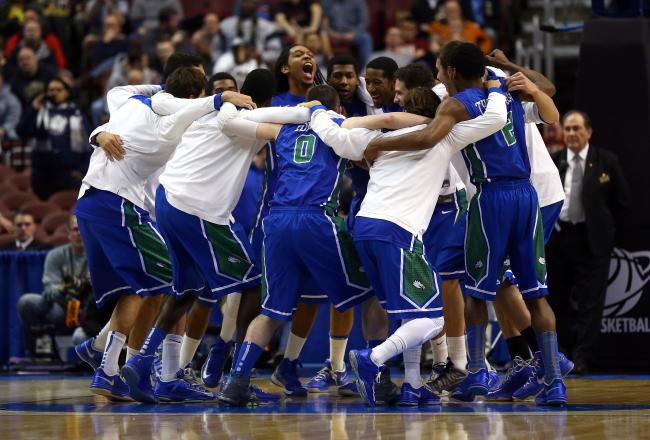 Florida Gulf Coast 24, Georgetown 22 (Halftime)
Upset Alert is in full effect in Philadelphia. The Eagles head into intermission ahead of second-seeded Georgetown.
Give FGC credit for coming out fearless in the program's first NCAA tournament appearance.
Florida Gulf Coast 22, Georgetown 22 (1:10 First Half)
Georgetown coach John Thompson III makes about 13 times more than Florida Gulf Coast coach Andy Enfield ($150,000)

— darren rovell (@darrenrovell) March 22, 2013
Just another reminder of the major discrepancy between these two programs, courtesy of ESPN's Darren Rovell.
Florida Gulf Coast 22, Georgetown 20 (3:23 first half)
Otto Porter off to a rough start on the offensive end. The Hoyas' leading scorer is 2-of-7 from the floor so far.
GFC guard Bernard Thompson with 10 points and four rebounds. Eagles flourishing in transition game and Georgetown looks a little unsettled.
Georgetown 18, Florida Gulf Coast 17 (6:55 1st Half)
The Hoyas opened with a strong shooting performance, starting 7-of-12 from the floor. Georgetown has cooled off since, converting just one of its last nine attempts.
Only Starks and Porter have made multiple field goals.
Georgetown 18, Florida Gulf Coast 17 (7:03 1st Half)
FGC is no stranger to elite competition. The Eagles battled both Miami and Duke in November,
The team defeated Miami 63-51 in Ft. Myers.
Blue Devils coach Mike Krzyzewski came away from the matchup impressed.
"They are unbelievably well-coached," Krzyzewski told the Associated Press via ESPN.com. "You talk about a coach being able to use his personnel to the maximum, and he does that. We had a good game with them, we just had this hellacious run in the game that kind of just blew it open. But it doesn't surprise me that they've had the year that they've had."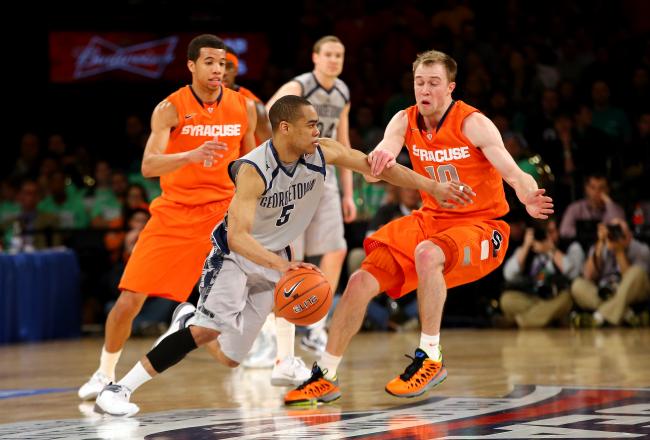 Georgetown junior Markel Starks showing urgency early. He is 4-of-5 from the floor with nine points.
Though often overshadowed by Otto Porter, the guard is fiery leader in the backcourt and provides quality perimeter shooting.
Georgetown leads Florida Gulf Coast, 16-11, with 11:30 remaining in the first half.
Back courtside to see Georgetown-Florida Gulf Coast. Nice collection of fans from the fledgling FGCU.

— Dana O'Neil (@ESPNDanaOneil) March 22, 2013
Eagles fans with a nice turnout for the team's first tournament game.
The game has reached its first timeout. Quick pace thus far in Philly, where Georgetown leads Florida Gulf Coast, 7-6, with 15:32 remaining in the first half.
Porter with four point and a pair of rebounds so far to lead the Hoyas.
Georgetown, a pillar of the Big East Conference, ranks among the nation's most historic basketball programs. Meanwhile, Florida Gulf Coast is didn't join the Division I fray until six years ago.
As expected, the Eagles have come out with energy. FGC will look to push the pace against Georgetown, one of the country's stingiest half-court defenses.
Two minutes into the matchup, the Eagles lead 6-3.
We're under ten minutes away from tip-off at the Wells Fargo Center. Georgetown (25-6) shared the regular-season Big East title, led by forward Otto Porter.
The 6'8" sophomore is a special player. If you're unfamiliar with Porter, here's a look at some of his season highlights.
This article is
What is the duplicate article?
Why is this article offensive?
Where is this article plagiarized from?
Why is this article poorly edited?

Georgetown Basketball: Like this team?