New Jersey Nets' 2008-09 Scorecard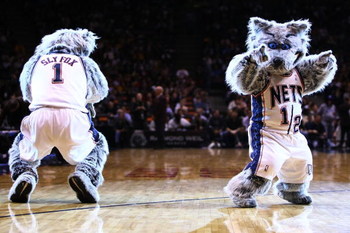 The New Jersey Nets are a team in transition.
They entered the 2008-09 season in a "rebuilding" mode to develop players, and were left with one marketable star in the previous offseason. They are also in the process of alienating their fans by a long and drawn out process to move the team to Brooklyn, so they were close to last in the league in attendance.
Put it all together and the team is hemorrhaging money and was picked to finish dead last in a weak division.
Obviously, ownership and the front office tried to keep the team competitive, and the results were mixed.
Let's take a look at the most recent iteration of the New Jersey Nets and assign praise and blame like only an unaffiliated reporter can.
Vince Carter - SG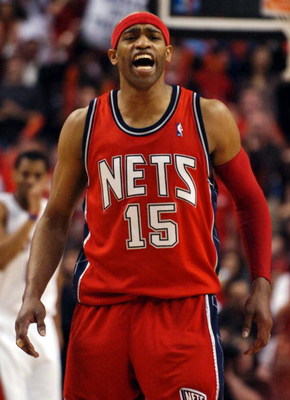 Going into the season, people questioned how motivated Vince Carter would be on a team expected to lose. The Nets' goal for Carter this year was to be a stabilizing force for the team as they went through the expected growing pains. VC did that and then some.
Pluses: Top-20 in the league in scoring. Provided constant encouragement and feedback on the floor. Filled in as point guard where necessary, as the Nets only had one true PG in Devin Harris. Game winning dunk vs. Toronto in the closing seconds one of the best plays of the year. Scored over 30 points in 13 games.
Minuses: Shot selection was sometimes poorly executed. Some individual games he completely didn't show up (see the 0-13 shooting performance vs. Toronto in December)
Summary: With the development of Harris and Lopez, VC was not the only offense the Nets needed. He's also not 25 anymore, and his role as the elder statesman and mentor seemed to fit him well. He's still the most recognizable Net, and a fan favorite.
Overall Grade: B+
Devin Harris - PG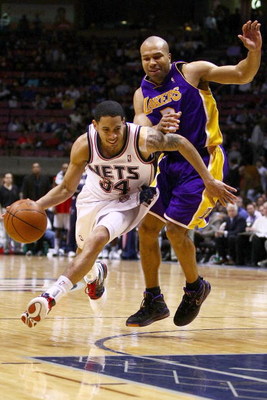 Talk about development.
Before this year, Devin Harris was considered a backup point guard and not usually a go-to option. In his fifth year in the league, the Nets had modest expectations that would allow him to grow as a scoring point guard, and Lawrence Frank tweaked his game plan to flow more of the offense through the position.
Pluses: He made the All-Star team and was probably one of the top three PGs in the Eastern Conference. Candidate for Most Improved Player. Adept at drawing fouls and was fifth in the league in FT attempts.
Among the league leaders in scoring. Scored over 25 points 24 times (Nets 16-8 in those games), over 40 points three times with team high 47. 16 double-doubles. Game winning half-court shot at the buzzer vs. Philadelphia is a season highlight.
Minuses: Missed 14 games due to injury.
Summary: Harris is the leading candidate for Most Improved Player this year. He kept the Nets in the playoff hunt much longer than they probably should have been. Became a solid No. 2 scoring option behind Carter, and showed flashes of brilliance all season. Jason who?
Overall Grade: A
Brook Lopez - C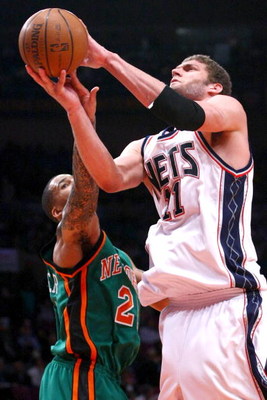 Drafted tenth overall, seven foot Brook Lopez was supposed to be eased into the rotation. With an injury to starter Josh Boone in early November, Lopez assumed the starting role and celebrated with a 25 point, nine rebound performance. Boone rode the bench the rest of the year.
Pluses: Made the All-Rookie team. Appeared in every game this season. Scored 20+ points 13 times, and posted 10+ rebounds 23 times (Nets 12-11 in those games). Lead all rookies in field goal percentage and blocks. Posted 18 double-doubles. Candidate for Rookie of the Year.
Minuses: Still developing his inside presence, although he seemed to turn it on over the last couple months.
Summary: Lopez has shown the potential to be a star center for the next decade. Lopez was given the ability to develop while playing 30 minutes per game, something that would not have happened on a team with higher expectations. Probably the most untouchable player on the Nets in the offseason.
Overall Grade: A
Keyon Dooling - G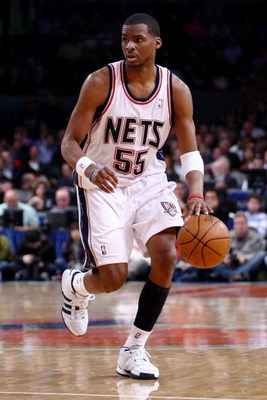 Brought in from Orlando as versatile guard, Keyon Dooling became the backup to Devin Harris and often played alongside Harris to move Vince Carter to the SF position.
Pluses: Set career highs in minutes played and all offensive statistics. Exhibited a deadly three-point shot and used it wisely. Was capable as a second-string PG, and played significant minutes when Harris was out with injuries. Started games at SG alongside Harris toward the end of the season for offensive spark. Season high 23 points twice, hit five three-pointers in a game three times.
Minuses: Had a number of games where he couldn't hit a shot at all and played extended minutes. Some defensive lapses.
Summary: If the Nets were a contending team, Dooling would have been in the Sixth Man of the Year conversation. He played all over the court without complaints, and contributed significant offense.
Overall Grade: B
Jarvis Hayes - F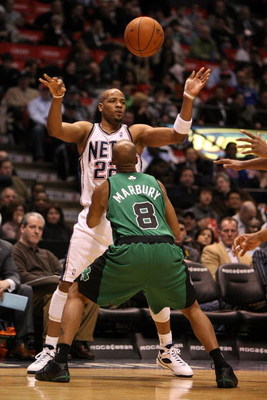 The Nets picked up Jarvis Hayes, a valuable utility forward, from Detroit. He played all 82 games the previous season.
Pluses: Came off the bench in 72 games. Decent three-point shot kept the team in many games. Generally durable for long stints off the bench.
Minuses: If he was called on to score, the Nets usually lost. Only 2-7 record when Hayes scored 15+ points in a game. Not called upon for his defense.
Summary: Hayes averaged 25 minutes off the bench, and he was usually brought on to spell Vince Carter or Bobby Simmons when he was starting. I think the glaring statistic is that his scoring didn't help the team as much as you would think.
Overall Grade: C
Bobby Simmons - SF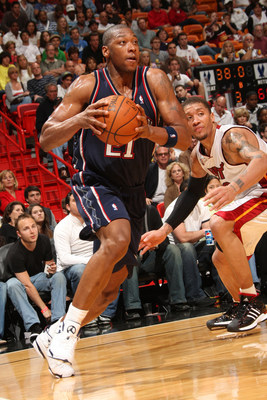 Picked up in the Richard Jefferson trade, Bobby Simmons was brought in to replace some of Jefferson's minutes, and hopefully some of his scoring.
Pluses: As the season wore on, Simmons' three-point shot heated up. After the All-Star game, he hit 47% of his threes.
Minuses: Dropped from the starting lineup because of defense. He came into the game off the bench as a three-point specialist in the second half of the season. Did not develop into a reliable scoring option after Carter and Harris to start the year.
Summary: Simmons started 44 games this season then was used exclusively off the bench. He's the second-highest paid Net (after VC), yet his production did not match his contract.
Overall grade: C-
Yi Jianlian - PF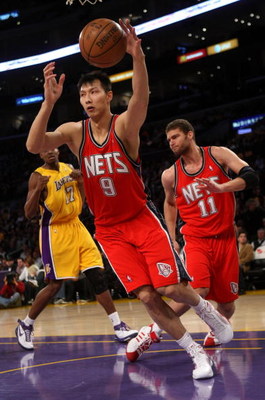 Yi Jianlian was also brought in via the Jefferson trade. He was known to be a raw talent with a good shooting touch, although his slight frame limited his effectiveness as a defender.
Pluses: The marketing folks LOVED him, and crowds of Chinese fans were a regular sight. He showed flashes of competency, scoring over 20 points on four occasions. A good outside jump shot threw opponents off when the Nets looked like they were crowding the paint. Had some really good defensive performances against quality opponents.
Minuses: Where to start. As a PF did not play with much power. Almost zero effectiveness on the offensive glass. Possibly the only seven footer in the league that had trouble dunking. Not great at passing the ball, but that could be a lack of experience. Sometimes got into foul trouble too quickly. Injured in January/February for a number of games.
Summary: Yi was often booed off the court after a bad play or two. Toward the end of the season he fell out of the rotation completely after starting games through January. It was obvious Yi was going to be a project. It was not obvious that he would need to be rebuilt from the ground up.
Overall grade: D
Ryan Anderson - F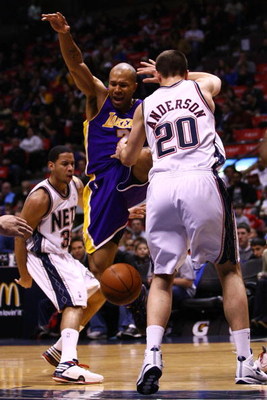 Drafted No. 21 out of Cal, Ryan Anderson was expected to develop as an understudy to the other young big men on the Nets. He wound up as a valuable rotation player, and even started 30 games.
Pluses: For a big guy, has a good outside shot (.364 three point percentage) and also began to play defense later in the season. This was apparent even if his shooting was off. Averaged 20 minutes per game.
Minuses: A couple horrific shooting performances. Looked like he was being played as an oversized small forward at times, leaving the paint empty.
Summary: Some schools of thought would consider trading Anderson for the Nets to move up in the draft. The jury is out on Anderson, but he is on the road to being a productive starter on any team that would have him.
Overall grade: B+
Josh Boone - F/C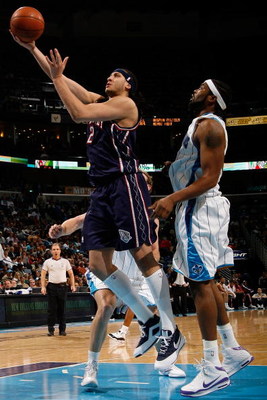 Poor Josh Boone. He started 53 games at center last year, then was pushed aside by rookie Brook Lopez after an injury only seven games into 2008. A third-year player out of Connecticut, Boone can play PF or C, yet slotted into the rotation as a C behind Lopez.
Pluses: Good rebounder and shot blocker. Streaky defensively, but got better after a benching. Took advantage of his opportunities. Double-doubles in two of his first four starts. Valuable in short stints spelling Lopez.
Minuses: Horrific free throw shooter. Often outplayed defensively. Not very valuable as a starting C.
Summary: More than anyone, Boone got the short end of the stick when Lopez was drafted, and he injured himself out of a starting job. He gives lots of effort, but his performance is emblematic of this inconsistent team. If he's here next year, I want to see what Lopez and Boone look like on the court at the same time, with Boone coming off the bench.
Overall grade: C-
Chris Douglas-Roberts - G
Chris Douglas-Roberts came to the Nets with something to prove. Namely, he was chosen too late in the draft. CDR was widely expected to go much higher than 40th overall.
Pluses: Threw off opposing defenses with his unorthodox approach. A good jump shot and good court vision. Started games toward the end of the season and provided offensive spark. Had seven assists off the bench vs. the Knicks in March, then scored a season high of 18 points to push the Nets over Miami in the next game.
Minuses: It's possible that his raw game and intensity was a turnoff early in the season, as CDR played only eight games before January.
Summary: Of all the aspects of his game, CDR's shot was the least in question. He plays very hard on defense and pesters his opponent well on the perimeter. He's possibly the best on the Nets at guarding against the three. There's raw talent, we can see it. But next year if he is to be valuable he needs to get with the program.
Overall grade: C
Trenton Hassell - F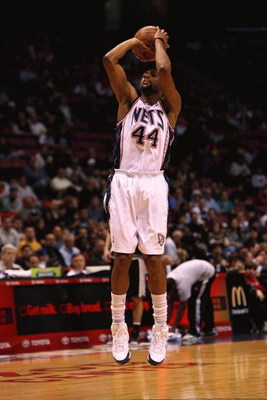 Trenton Hassell came to the Nets in the Devin Harris trade, and is considered to be the best defender on the team. His biggest opportunity came when Bobby Simmons went down with an injury and he was inserted as a starter for defensive purposes.
Pluses: Helped out defensively off the bench, played significant minutes over the second half of the schedule. Matched up against tough opponents and defended them well.
Minuses: Similar to Hayes, when he scored the Nets tended to lose. Tended to pile up unnecessary fouls.
Summary: "Tennessee" had his opportunities, but what the Nets lacked was not what he brought to the table. Or, at least at the magnitude he was able to help. Hassell is a good guy but I think he would be more valuable on a more mature team. Also, he could be marketed as "The Capitol" if he had a better chance to play every day.
Overall grade: C
Incompletes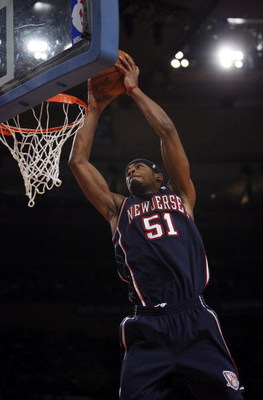 Eduardo Najera (PF) - Signed in the offseason. Played only 27 games, and could never find his groove for long stretches. Injured in February.
Sean Williams (F/C) - Played only 32 games off the bench and often in Frank's doghouse. When he played more than 10 minutes, the Nets were 10-6, so he did have positive impact. Needs to get his life in order off the court, but he can be a game-changer on the court with his shot blocking ability. Will likely never get endorsements from a cell phone store.
Maurice Ager (G/F) - A throw-in with the Jason Kidd deal, if he entered the game it was in garbage time. Until the final game, his season high 16 minutes came in the Nets' 39-point loss to Milwaukee in March, if that gives you an idea.
Lawrence Frank - Coach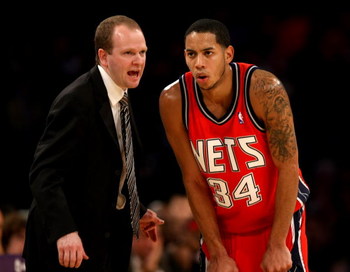 The Nets came into the season with low expectations and were picked to finish last in the division by many who do that type of thing for a living. Yet, they finished 2008 at 19-21, in playoff position, and with a star PG in the making with Devin Harris. Early season wins on the road were great but puzzling, and well-played wins against Atlanta, Phoenix, and Philadelphia gave the Nets reason to hope.
Pluses: A number of very well-coached games (especially vs. Atlanta and Toronto early in the season). The ability to win on the road. The Nets won more games this year than they did last year, when they had higher expectations. A lot of that was Frank's influence.
Lopez will become a star in the league, and Harris has developed into a go-to scoring option as point guard. And he was also able to get the most out of Carter by getting him to lead the young team he was on. Beat some playoff-bound teams with regularity.
Minuses: The team took too many horrible low-percentage shots, and didn't always finish off plays well. For every well-coached game, there was a horribly-coached game. Use of the clock was inconsistent. Sticking with Yi Jianlian too long as a starter when it was apparent he wasn't getting it done.
Inability to pull the trigger on rotation changes or in-game plans. Defense sometimes didn't show up. Lost to some really bad teams with regularity.
Summary: Believe it or not, L-Frank is the longest tenured coach in the Eastern Conference. Coaches change way too often in this league. Nets' owner Bruce Ratner and team leaders Harris and Carter have each given him a vote of confidence, but the $4 million due him in 2009-10 might keep him on the Nets more than anything else.
My opinion is that Frank deserves another shot with this team. Contrary to the way things usually work, if the team played less well, he might have kept his genius stripes a little longer. Chances are that the Nets are going to continue their rebuilding mode next year, so why ruin the continuity with a new coach?
Overall grade: C
Conclusion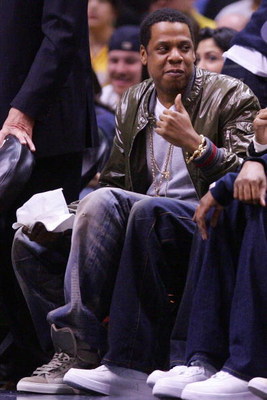 Jay-Z might be the most visible personality on the Nets' ownership team.
He might be somewhat pleased with what his team achieved this year, given the low expectations coming into the season.
We should not see the grand overhaul of the team in the offseason that occurred last year. Vince Carter will be hard to move because of his salary. Harris and Lopez are pretty much untouchable, and players like Yi and Boone won't want to be touched by other teams. Maurice Ager will be cut loose via Free Agency.
The most likely scenario for a Nets trade would be a move up in the draft, if they don't win the lottery for one of the top three picks. Players in the league they might covet will likely be cheap and underachieving.
The season was obviously a disappointment, after missing the playoffs for the second season in a row. However, seeds are planted for future success with Lopez and Harris.
Overall grade: C+
Keep Reading

Brooklyn Nets: Like this team?