NFL Records That Could Be Broken in 2013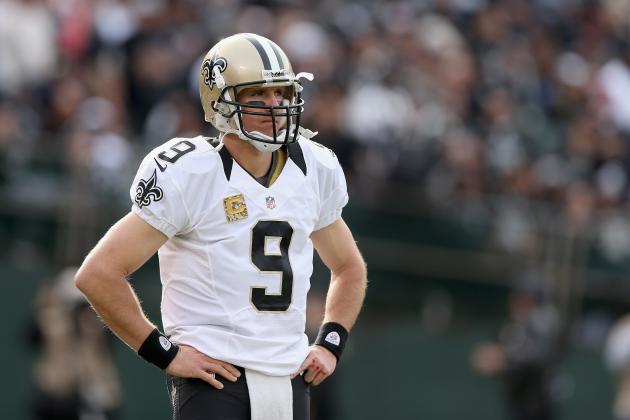 Ezra Shaw/Getty Images
New Orleans Saints quarterback Drew Brees has set several NFL passing records over the past two seasons.
It's always fun to speculate on what could be, in particular when it comes to sports.
In the 93-year history of the National Football League, we've seen great players give us great performances. And that could be either record-setting seasons or just one memorable afternoon or evening.
In any case, here's a stroll down memory lane focusing on 10 NFL records set (for the most part) at least five seasons ago. There's one milestone in particular that has held up for more than half a century.
In this piece, we opted to stay away from a few records that were recently set, with a few exceptions. In 2011, New Orleans Saints quarterback Drew Brees threw for an astounding 5,476 yards. And this past season, Detroit Lions wide receiver Calvin Johnson set a new mark with 1,964 receiving yards (could 2,000 be on the horizon for him or another player).
So who will make history in 2013? Unfortunately, we still have about six months to wait in order to start answering that question.
Begin Slideshow

»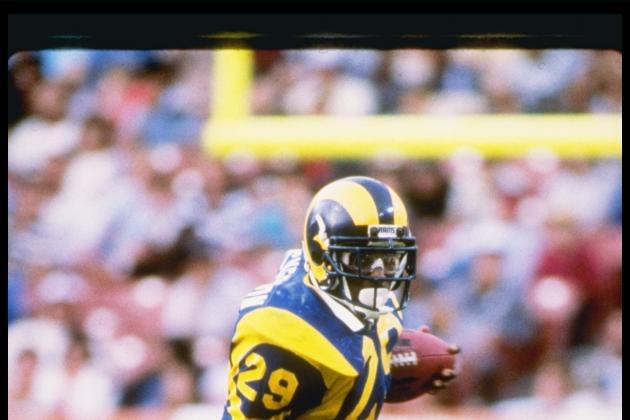 Getty Images/Getty Images
Photo courtesy: mydamrams.tripod.com
Record: 2,105; Los Angeles Rams RB Eric Dickerson (1984)
We nearly saw a little NFL history at the Metrodome last December.
As it turned out, Minnesota Vikings running back Adrian Peterson fell eight yards short of tying the single-season league rushing record set nearly three decades ago by Pro Football Hall of Famer Eric Dickerson. After totaling 1,808 yards on the ground as a rookie, the second-year pro ran for 2,105 yards and helped the Los Angeles Rams reach the playoffs for a second straight season.
Now many are wondering if Peterson can reach the 2,000-yard mark for a second straight season and or challenge Dickerson's record. If the league's MVP does, he'll find himself in uncharted territory.
Not only has no player rushed for 2,000 or more yards in consecutive seasons, no player in league history has done it twice.
Peterson's performance in 2012 marked the seventh time a performer had reached the hallowed 2,000-yard mark, with Pro Football Hall of Famer O.J. Simpson (2,003) accomplishing the feat with the Buffalo Bills in 1973 in a 14-game season.
Regardless Simpson, Peterson, Dickerson and the other four men totaled at least 332 carries those seasons, making for a lot of hits and wear and tear. Still, Peterson or Chris Johnson (2,006 yards with the Tennessee Titans in 2009) can still be the first to 2,000 twice.
As for the record, it's a tall task. But there are some big-play running backs out there capable of making a run at it.
Doug Pensinger/Getty Images

Record: 296; Minnesota Vikings RB Adrian Peterson vs. San Diego Chargers (November 4, 2007)
Talking about killing two birds with one stone?
During his first NFL season on a November afternoon in Minneapolis, Minnesota Vikings running back Adrian Peterson rolled the San Diego Chargers defense for 296 yards rushing, not only setting a new league mark but a rookie record as well.
With defenses geared towards rushing the passer and sometimes less-than-occupied with stopping the run, are we due for someone to make a run (literally) at Peterson's record?
Last season, there were eight 200-yard rushing performances, including two each by Peterson and Kansas City Chiefs running back Jamaal Charles. Even more interesting was the fact that five of those eight outings came in the month of December, including a pair on the final Sunday of 2012.
It certainly makes for interesting viewing throughout the season.
Al Bello/Getty Images

Record: 50; New England Patriots QB Tom Brady (2007)
In essence, it was the start of a new era for the New England Patriots.
Yes. Here was Bill Belichick's team rolling up a ton of points with quarterback Tom Brady at the helm. This was the same Brady who in the previous six seasons as the primary starter never threw more than 28 touchdown passes in a season.
But 2007 and beyond would be different. Thanks to the additions of wide receivers Wes Welker and Randy Moss, Brady would finish the year throwing for 50 scores with only eight interceptions. The last touchdown toss to Moss in Week 17 would break the record set by then Indianapolis Colts quarterback Peyton Manning in 2004 (49).
Over the last two seasons, we've seen our share of players throwing at least 40 touchdown passes, including New Orleans Saints quarterback Drew Brees (46 in 2011 and 43 in 2012), Green Bay Packers signal-caller Aaron Rodgers (45 in 2011) and Detroit Lions quarterback Matthew Stafford (41 in 2011).
Could Brady duplicate or surpass his own feat? Or is someone else ready to take serious aim at the 50-touchdown-pass mark? In any case, keep this fact in mind.
There have been nine instances in NFL history where a player has thrown at least 40 touchdown passes in a season. And only once (St. Louis Rams quarterback Kurt Warner with 41 in 1999) has that performer and his team won an NFL title (Super Bowl XXXIV).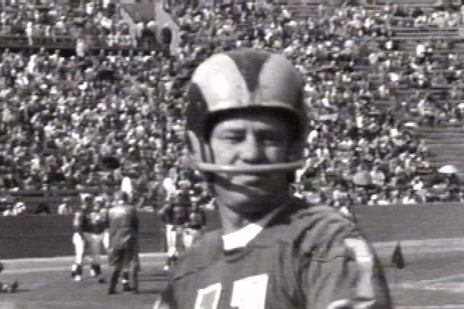 Photo courtesy: mydamrams.tripod.com
Record: 554; Los Angeles Rams QB Norm Van Brocklin vs. New York Yanks (September 28, 1951)
In this day and age of prolific passing attacks, it's amazing to think that this record has stood for more than 50 years.
Still, Pro Football Hall of Famer and Los Angeles Rams quarterback Norm Van Brocklin spent a September afternoon in 1951 riddling a defense for 554 yards passing.
Who's come closest to the record since? With the Houston Oilers in 1990, fellow Hall of Famer Warren Moon threw for 527 yards in a win over the Kansas City Chiefs. And this past November, Houston Texans quarterback Matt Schaub also threw for 527 yards in an overtime victory over the Jacksonville Jaguars. Keep in mind that both of those performances came in winning efforts.
Of course, with the aerial game in full swing these days, this mark could fall at any time.
But will it?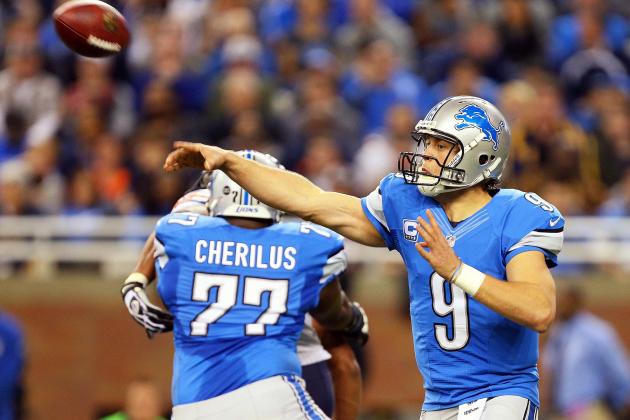 Mike Carter-USA TODAY Sports

Record: 11 (2012)
While this isn't an individual mark, it's been interesting to see the evolution of this record.
Last season, there were 11 quarterbacks who threw for at least 4,000 yards, a new high. It also marked the sixth consecutive season in which at least six players reached this passing plateau. Before 2007, it had happened no more than five times in any season.
In both 2009 and 2011, there were 10 quarterbacks who threw for 4,000-plus yards. So when you do the math, you realize that over the last six seasons there have been a total of 49 4,000-yard passing performances.
In the previous 87 years of NFL history, there were 61 such outings, 60 of those once the league went to a 16-game schedule in 1978.
So will quarterbacks continue to fill the air with footballs? Are we destined to see at least a dozen players hit the 4,000-yard mark sooner than later? Stay tuned.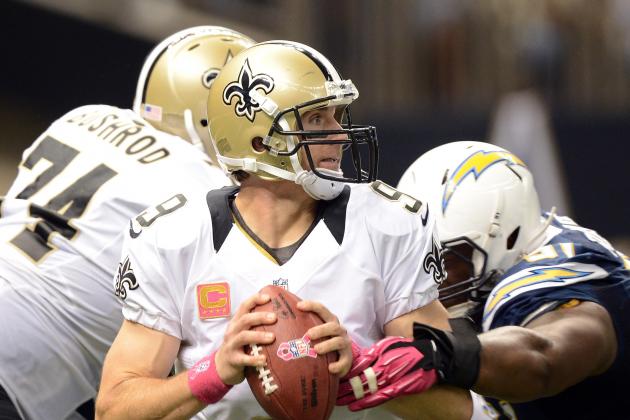 Harry How/Getty Images

Record: 54; New Orleans Saints QB Drew Brees (2009-12)
We could be foolish not to acknowledge a record just set this past season but was four years in the making.
Last season, New Orleans Saints quarterback Drew Brees entered 2012 having thrown at least one touchdown pass in 43 straight games.
A total of 11 outings later, Brees blew by the old NFL record set by former Baltimore Colts quarterback Johnny Unitas (47 games from 1956-60) and would get to 54 straight games before a rough outing against the Atlanta Falcons in late November.
Enter New England Patriots quarterback Tom Brady, who will begin 2013 having thrown for at least one score in 48 consecutive games. That means by mid- or late-October, we could see Brees' record fall just as quickly as he set it.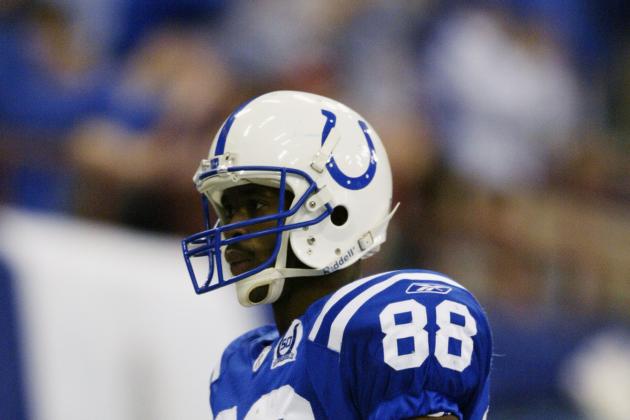 Elsa/Getty Images

Record: 143; Indianapolis Colts WR Marvin Harrison (2002)
In Week 1 of 2002, Indianapolis Colts wide receiver Marvin Harrison totaled four catches for 34 yards and a touchdown in his team's win over the Jacksonville Jaguars.
It was a less than scintillating start for a season in which the prolific pass catcher would make history.
Three months and 15 games later, Harrison finished with 143 receptions, the most by a player in a season in NFL history.
So, could we see this mark tied or broken anytime soon? Last season, six players totaled at least 100 catches, including Detroit Lions wideout Calvin Johnson (122) and Chicago Bears receiver Brandon Marshall (118).
Perhaps the player most associated with making a strong run at Harrison's mark is new Denver Broncos wide receiver Wes Welker. In his previous six years with the New England Patriots, the five-time Pro Bowler totaled 672 catches and became the first player in NFL history to total 100-plus receptions in five different seasons, including 118 grabs in 2012.
Now Welker heads to the Mile High City and teams with Manning, who was the trigger man for Harrison in 2002 with the Colts. Imagine the irony should Welker indeed tie or break the record.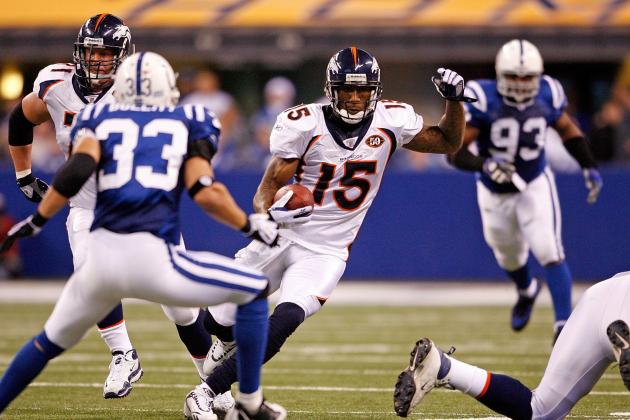 Andy Lyons/Getty Images

Record: 21; Denver Broncos WR Brandon Marshall vs. Indianapolis Colts (December 13, 2009)
Apparently time flies when you're changing teams?
It was all the way back in 2009 that Denver Broncos wide receiver Brandon Marshall had an outstanding afternoon at Indianapolis. The well-traveled performer totaled a league record 21 catches, good for 200 yards and a pair of touchdowns in a loss to the Colts.
Of course, Marshall is now with the Chicago Bears after a two-year stint with the Miami Dolphins. Last season, he finished tied for second in the league with 118 receptions, and was easily quarterback Jay Cutler's favorite target. Given the rapport between the two players, could Marshall make a strong run at his own record? Back in 2008 when the pair was with the Broncos, Marshall caught 18 passes in a game vs. the San Diego Chargers.
Speaking of 18, Dallas Cowboys tight end Jason Witten totaled that many catches last season in a home loss to the New York Giants.
Could we see this record fall in 2013? It's entirely possible and to make matters even more interesting, it could come from an unlikely player, be it wide receiver, tight end or running back, and possibly in a losing effort. Such is the way with the passing game these days.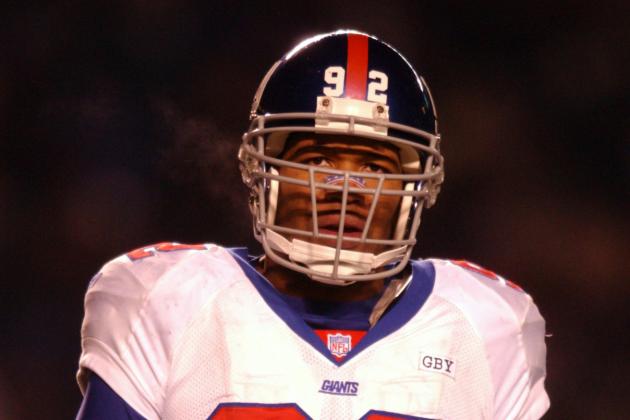 Doug Pensinger/Getty Images

Record: 22.5; New York Giants DE Michael Strahan (2001)
It's a shame that we have to put that caveat on this accomplishment.
But the fact remains that the individual sack has only been an official statistic since 1982, the year after a rookie linebacker of the New York Giants named Lawrence Taylor spent the season in the other team's backfield.
Hence, the acknowledged record is owned by Giants defensive end Michael Strahan, who totaled 22.5 sacks in 2001.
Over the last two seasons in particular, we have seen the likes of Minnesota Vikings defensive end Jared Allen (22.0 sacks in 2011) and Houston Texans defensive end J.J. Watt (20.5 sacks in 2012) get close without grabbing the cigar. And what about San Francisco 49ers outside linebacker Aldon Smith, who totaled 19.5 sacks in his first 13 games last season before being shut out for the rest of the year?
As long as offenses continue to put the ball in the air with increased regularity, the opportunity will present itself for some player to surpass this mark sooner than later.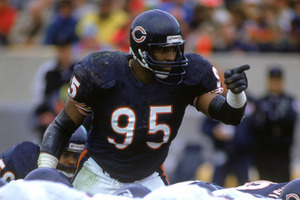 Photo courtesy: media.wths.net
Record: 72; Chicago Bears (1984)
Unlike the individual mark, they've been tabulating team "sacks" for far longer than 1982.
Still, with the emphasis on getting to the quarterback in today's game, it will be interesting to see how long this mark stands.
One season before shuffling their way to the Super Bowl, Mike Ditka's Chicago Bears terrorized opposing quarterbacks on a relentless basis. In 1984, the Bears set a new standard by totaling 72 sacks.
What makes this impressive is the fact that with few exceptions, no defense has really mounted a serious challenge to the record. Three years later (1987) Ditka's Bears amassed 70 sacks. And in 1989, a talented Minnesota Vikings defense fell one short of Chicago's record in 1989 (71).
Most recently, the team to get closest to the record was the 2000 New Orleans Saints, which totaled 66 sacks under head coach Jim Haslett.
Perhaps this is the year we see a team come up with a scheme that can't be figured out and opposing quarterbacks get dropped at a record rate. But that would take some doing indeed.