WWE Worst of the Week: Ryback, Orton and More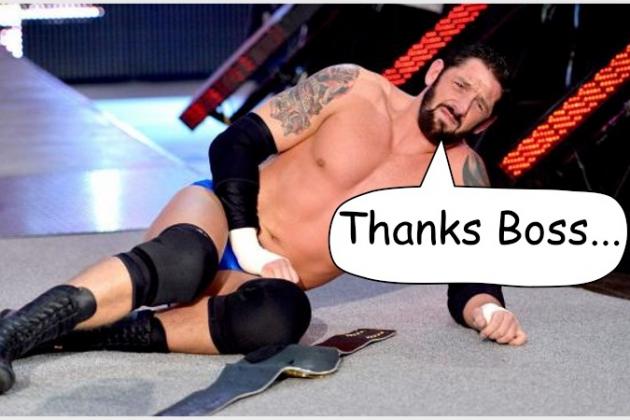 photo via wwe.com
The Road to WrestleMania is usually the best time all year to be a wrestling fan.
WWE usually cuts out all the riff-raff, the tomfoolery, the time wasting segments and just gets down to business.
Notice I said "usually."
This year's TV has been strangely lousy lately. The build to the big show has been odd.
For example, The Rock followed up his great promo exchange with Cena by beating up John Laurinaitis on SmackDown. Not quite sure how that sells 'Mania, but that moment seems to sum up pretty well the lack of urgency we see going on now.
If we weren't subjected to three-hour Raws every week, would they pick up the pace a bit? Would things feel fresher? Would Fandango's entrance be so long?
There's no time to answer those questions. Because right now is the time to celebrate WWE's dumbest decisions, their channel-changing choices and their absolute worst of the week!
Begin Slideshow

»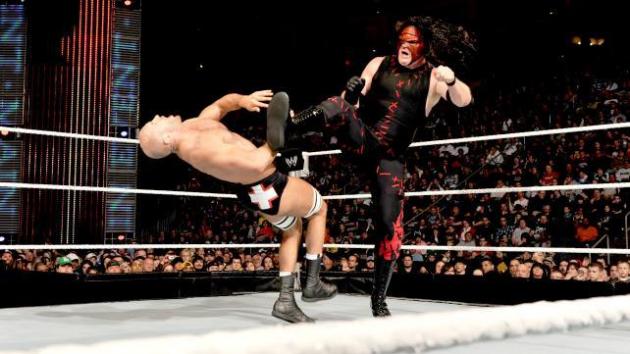 photo via wwe.com
Every week I feel compelled to write about the floundering careers of our US and Intercontinental Champions Wade Barrett and Antonio Cesaro.
This week Cesaro jobbed three times. Oh yeah, and he won once by count-out, only to be locked in the cross arm-breaker for his efforts.
Fun/depressing fact: Antonio Cesaro has lost 21 televised singles matches since winning the US Title. Compare this to Kane and Daniel Bryan, who have lost four times in traditional tag matches since they won the straps.
What is the point of the title when the US Champ loses three times in one week? The question is perhaps a paradox that has no meaning.
Cesaro has also now been given a lousy yodeling gimmick in an attempt to draw heat. Long gone are the days of him getting heat for actually winning his matches.
It was hard for WWE to make Cesaro's gimmick feel more dated, but with the yodeling, they found a way. Months ago, who would have guessed that Cesaro would have been such a non-factor by the time that WrestleMania rolled around?
Oh, and how did Barrett fare? Well, he also lost twice this week. Lucky for him, it was only his 12th singles loss as the Intercontinental champion.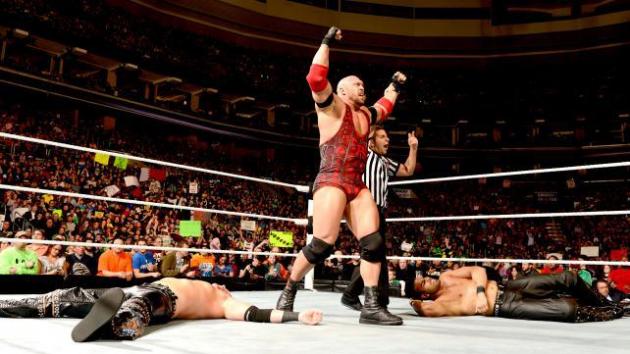 photo via wwe.com
Handicap matches are the worst.
There is just no scientific evidence out there (that I know of) that proves that handicap matches help out the company in any way.
The Usos took their 2-on-1 loss against Mark Henry on Raw, and later that night Ryback ate the 3MB by himself.
Can't we just go back to the good old days when Mark Henry would rather dance with the Usos than beat them up?
WWE just does not have the roster depth to do handicap matches. It would be one thing if the losers were no-name jobbers, but you can't have the same act lose a 3-on-1 match and then compete in a traditional tag match the next show and expect anyone to care.
There are six-and-a-half hours of first-run TV every week for WWE to fill. They just don't have enough wrestlers for so much TV time. It makes things worse when 90 percent of their roster is portrayed as losers and clowns.
Another fun/depressing fact: Last week, the 3MB took part in SmackDown's main event (for some reason) against The Big Show, Sheamus and Randy Orton. They lasted five minutes. Against Ryback this week they lasted four.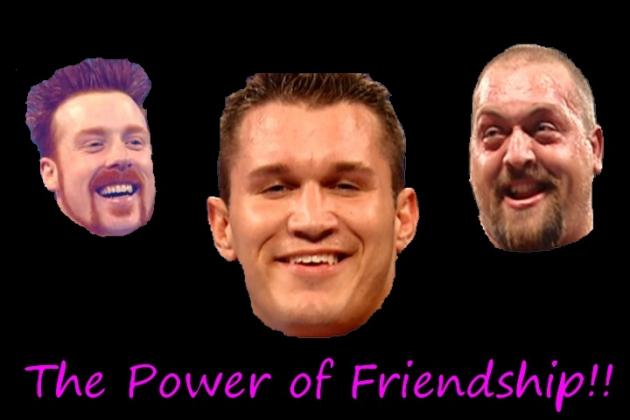 photos via whatistheexcel.com
Shaking hands, bro hugs and chanting for The Brogue—these are traits of the new Big Show headed into WrestleMania.
This feud just doesn't make sense.
Not long ago, The Shield defeated John Cena, Ryback and Sheamus. This should have been huge. They defeated the three top babyfaces in the WWE.
Afterwards, though, Cena didn't seem to care, Ryback went onto Mark Henry and Sheamus was left by his lonesome.
To fight The Shield again, he had to assemble a new team, then he traded in for worse teammates.
But the whole question of this current feud is whether Sheamus, Orton and Show can work together. That has already been answered multiple times as they ran off The Shield on Monday and beat them up on Friday.
In fact, this group has gotten the better of The Shield in nearly every encounter. So instead of The Shield being perceived as huge threats for beating the WWE's best, they've been held down to take on their second best in a third rate feud.
Fun/depressing fact: At Survivor Series, Sheamus hit The Big Show with a chair 31 times. Apparently that is water under the bridge now.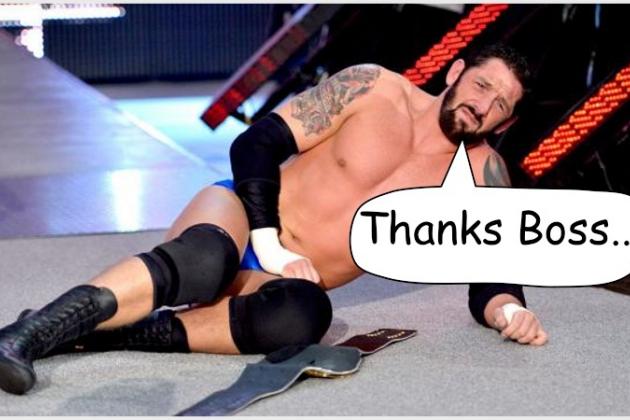 photo via wwe.com
Has your boss ever literally kicked you in the balls?
Wade Barrett has, for doing absolutely nothing, and this makes him a bad guy. We are supposed to cheer the boss man who roshamboed his own employee for just standing there.
How much better off would WWE be a year from now had Triple H been involved in a lengthy feud with Wade Barrett that was going to be settled at WrestleMania instead of Hunter/Lesnar: The Sequel.
This recalls back to Hunter's return from injury a couple years ago to fight The Undertaker.
At the time, it was a heel Sheamus who put Hunter out of action. The logical feud would have been another Sheamus/Hunter match, but instead, all Sheamus got was a kick in the junk, a Pedigree from The Boss and a dark march at WrestleMania.
It makes you wonder if Hunter kicks all his employees in the privates when he gets mad.
His secretary brings him the wrong coffee? Boom, nut shot. The lasagna in the WWE cafeteria is a little cold? Boom, cajones kick to the cook. The printer isn't working right? Better believe that printer is getting kicked where the sun don't shine.
You'd have to think there's some sort of class-action lawsuit being readied by his employees that will relieve Hunter of his management status. One can hope.
Fun/depressing fact: Getting kicked in the balls is quite painful.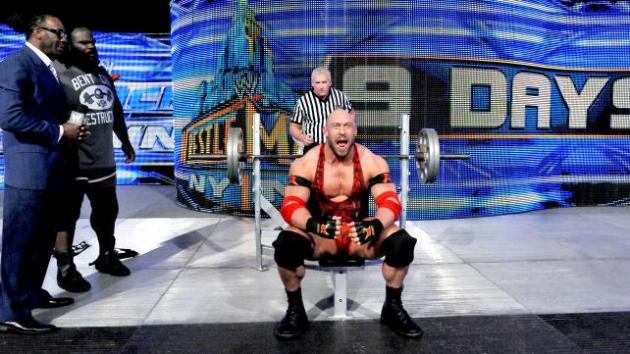 photo via wwe.com
What the heck?
This is how WWE wanted to promote Ryback vs. Mark Henry? A weightlifting competition?
Not only that, but we had to watch them lift the weights over 100 times?
Couldn't they have just made up some ridiculous number and then lifted the bar once to say that was the new world record? Was 106 times really necessary?
Last week, WWE idiotically had Ryback knock down Henry, so they had to do something else to keep the feud hot. Instead, they cooled it down even more.
In the end, weightlifting competitions (along with the dreaded arm-wrestling competition segments) are just something that don't need to exist in modern-day wrestling.
Fun/depressing fact: "The World's Strongest Man" Mark Henry finished 10th at the 1992 Barcelona Olympics for weightlifting. Aleksandr Kurlovich finished 1st.
Feed me Kurlovich?
Well, that's all for this week. Agree? Disagree? What was your worst of the week? Sound off below and have a Happy Easter!