Players Who Shouldn't Be in the Minnesota Timberwolves' Plans Going Forward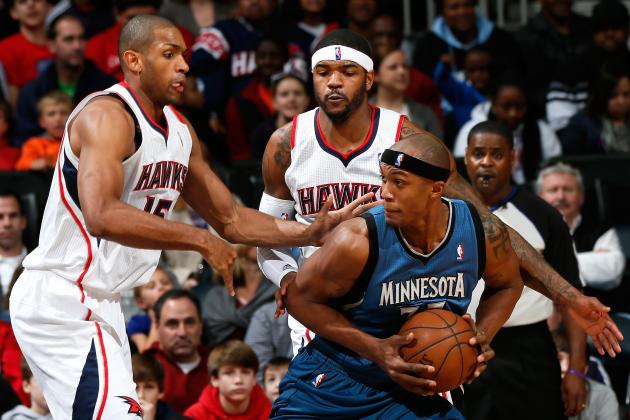 Kevin C. Cox/Getty Images

Maybe it's just me, but I'm always sad to see players go at the end of the year. Even if they have only been around for a short time, I watch them play every night, they wear the name of my city on the front of their uniform and, especially in the NBA, many of them have an outsized personality—and sometimes even a brand of their own.
On a national scale, we know Dwight Howard as a man with Samus Aran arms and a Crest Whitestrips smile that shines every time he is having a good day. Kobe Bryant is a snarling, jersey-biting cold-blooded killer. Blake Griffin is an erstwhile Pop Warner star that can travel through time and once wore jean shorts. Kevin Garnett barks at his opponents. Kevin Durant is humble and religious.
Wolves fans need not look further than right here in the Twin Cities, however, to find unique characters. Mr. Love rounds out the Kevin trio as a relatable guy. "Love's charm is that he's an everyman," writes Joan Niesen of FOX Sports. "He used to be a bit chubby, can still be a little awkward and plays for a team that hasn't won during his career." He may not bark or snarl, but we, ahem, love him for who he is.
Ricky Rubio is friendly, charming and gives the world's best pep talks. When he is not traveling the world, Nikola Pekovic—a man so large that he dwarfs Zach Galifianakis, the original member of the wolf pack—is our warm, cuddly companion.
But it's not just the franchise players that have a reputation of their own. J.J. Barea may be a bit undersized, but he flops more than Shamu. Dante Cunningham's name makes you think he has been through hell and back…and that was before he joined the Timberwolves this season. Greg Stiemsma gets pedicures.
And so it is with sadness in my heart that I bring to you a list of players that should not be in the Timberwolves future going forward. As we all know, this is a business, and the team needs to make changes to improve every year. Fortunately, with their departure comes the arrival of another cast of characters.
Begin Slideshow

»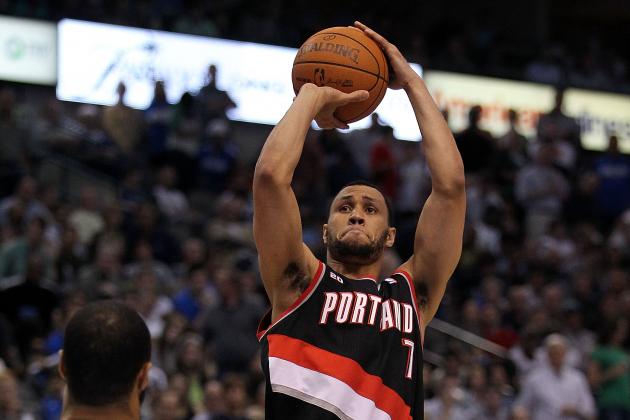 Ronald Martinez/Getty Images

This one hurts me the most, so I'll just get it out of the way.
Pragmatically, Brandon Roy was the perimeter shooter this team needed. As a member of the Portland Trail Blazers, the Seattle native appropriately made it rain every night, and although precipitation usually turns to snow in this part of the country, Roy shot so accurately that his three-point bomb is better described as a heat-seeking missile.
I know I'm not alone in rooting for him to complete a miraculous comeback this year and was disappointed to see his knees give out from under him once again, putting him in a suit and tie instead of Timberwolves blue.
With a history of injury like that, though, it's hard to see Roy as member of the team going forward.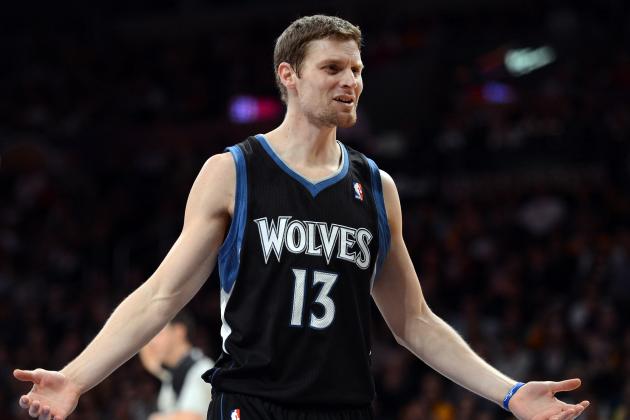 Harry How/Getty Images

Luke Ridnour is old…at least in basketball terms. How old? He is so old that he played for his hometown Seattle SuperSonics from 2003-08. He is so old that he was involved in a multi-team trade with Joe Smith (yes…that Joe Smith). He is so old that in college, he played for the Pac-10.
Okay, he's 32. He's not that old, but with a young Timberwolves team that has yet to dip its toes into playoff waters just yet, the team can best serve him by trading him to a contender in the offseason or at the trade deadline for valuable young assets.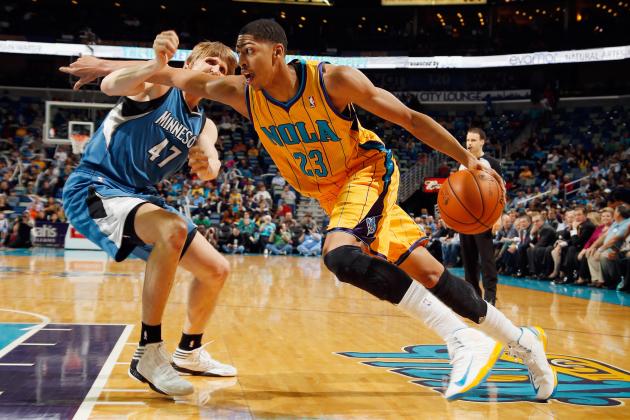 Chris Graythen/Getty Images

Speaking of older players, Andrei Kirilenko is also 32, and some people had written him off after he left the Jazz in 2011 and spent a year playing Euroball in Russia.
AK-47 came back in a big way this year, however, and proved to be a valuable player both on and off the court. He is a reliable three-point shooter that does the dirty things particularly well like defend the ball and snag rebounds.
The best thing that can happen for the Wolves next year, however, is to have Derrick Williams transition into the shooting forward role and make Kirilenko expendable. That is not meant to be a slight to Kirilenko, but rather a tip of the hat to an increasingly confident Williams, who is more than 10 years younger than the Russian forward.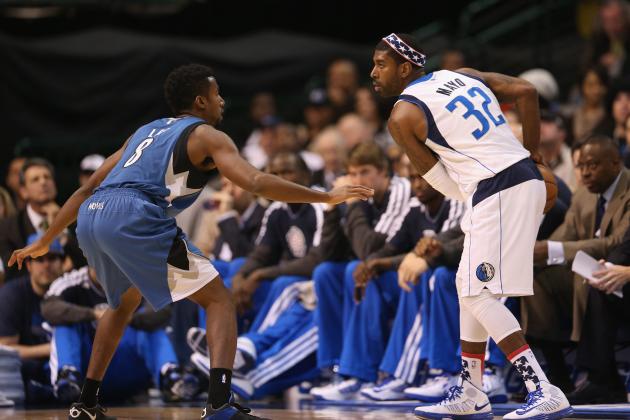 Ronald Martinez/Getty Images

We know Malcolm Lee's ceiling and he is, at best, a solid backup point guard. He filled in well during Rubio's absence, but with J.J. Barea under contract until 2014-15 and Alexey Shved as an alternative option at that position, Lee becomes pretty expendable.
His limited skill set compounded with his history of injury make him a superfluous commodity in Minnesota, but he remains under contract with the team and could be swapped for more depth at another position.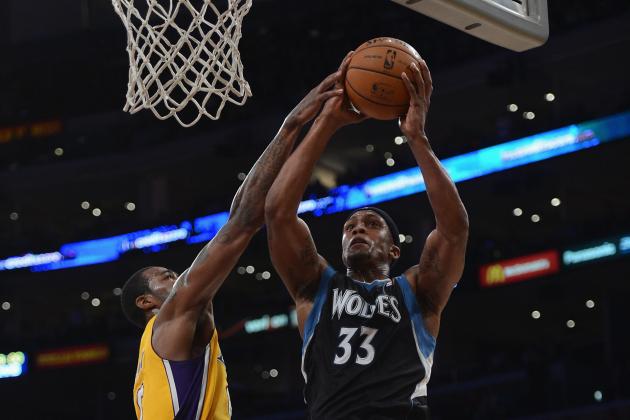 Harry How/Getty Images

All things considered, Dante Cunningham has had a solid season with the Timberwolves this year. A journeyman forward originally drafted by the Portland Trail Blazers at No. 33 overall in the 2009 draft, Cunningham has stepped in and been a solid replacement for an injury-prone club this year.
Andrei Kirilenko and Kevin Love should occupy the starting forward positions next year, and Derrick Williams is slated to move into the three spot over time. That means that Cunningham can provide some depth at the three in the short term, but despite being 25 years old, he is unlikely to be around much longer.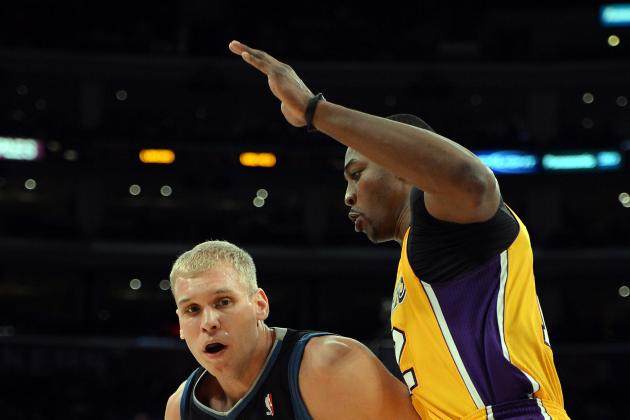 Harry How/Getty Images

Greg Stiemsma has endeared himself to the fans with his play this season and made some people wonder why he the team waived him in 2010. Perhaps it was his Wisconsin roots or maybe they felt the undrafted former Badger had limited potential.
In truth, the latter appears more plausible. "The Steamer" has been red-hot during times this season and should remain in the NBA next season—as opposed to returning to Turkey or South Korea, where he began his basketball career—but is a replaceable backup forward/center and is unlikely to remain in Minnesota long term.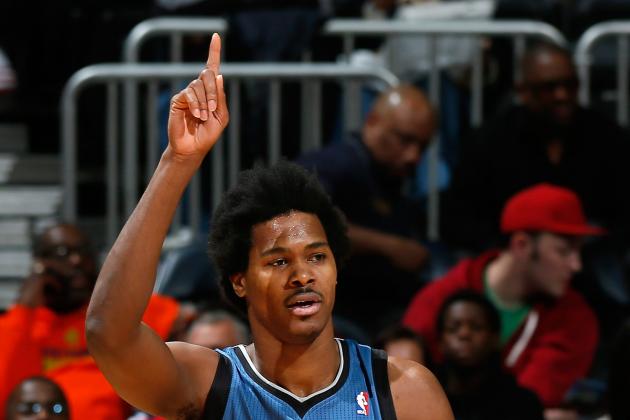 Kevin C. Cox/Getty Images

Another former Seattle SuperSonic (that's right, we've got two of them), Mickael Gelabale has spent most of his career overseas and was signed to a 10-day contract when injuries thinned the team's ranks during the season.
The 6'7", 215-pound Frenchman has accrued a decent amount of playing time this season and found a temporary home in Minnesota. He is an inexpensive depth player that could stick around next season but is unlikely to see as much playing time on a healthy team.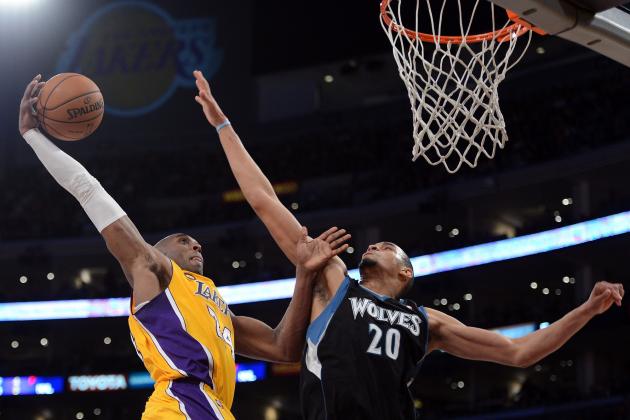 Harry How/Getty Images

Yes, I'm well aware that it was only a couple months ago that the Timberwolves faithful were chanting "M-V-P! M-V-P!" after an impressive night against the Houston Rockets in January.
"I don't agree with it at all," said Johnson after the game. "This is a great fan base here. They are showing support."
At 6'11" and 210 pounds, Johnson is tall enough to be Nikola Pekovic's replacement at center, but his small frame prevents him from being anything resembling an inside force. He has had his moments of greatness, like the "MVP Night" or when he was on the receiving end of a Ricky Rubio half court alley-oop, but while he has created memories for fans here, it is unlikely that he remains on the Timberwolves roster for very much longer.
Tom Schreier covers the Timberwolves for Bleacher Report and writes a weekly column for TheFanManifesto.com.