Every MLB Team's Cy Young, MVP of Spring Training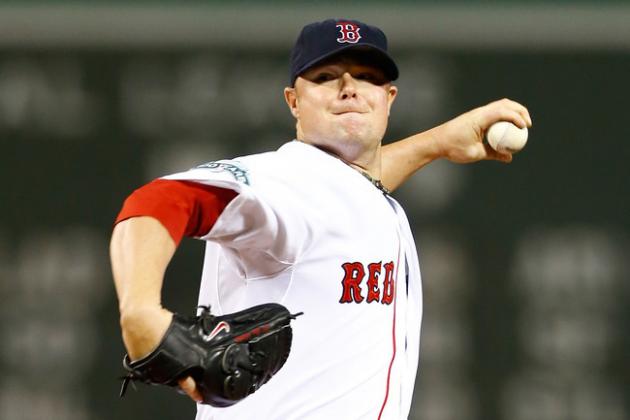 Coming off a frustrating campaign, Jon Lester once again looks like an ace for the Boston Red Sox this spring. Jared Wickerham/Getty Images
Spring training stats for MLB players don't necessarily translate to the regular season. Regardless, the best pitchers and position players have earned publicity for taking their 2013 preparation seriously and succeeding.
Playing time was the most heavily weighted factor for determining top contributors. Level of competition also loomed large.
In slide titles, a comma separates each team's Cy Young Award winner(s) from its MVP(s). Yes, the races were too close to call in several cases.
Read on as Bleacher Report recognizes the stars of the major league preseason.
*All stats current as of March 25
Begin Slideshow

»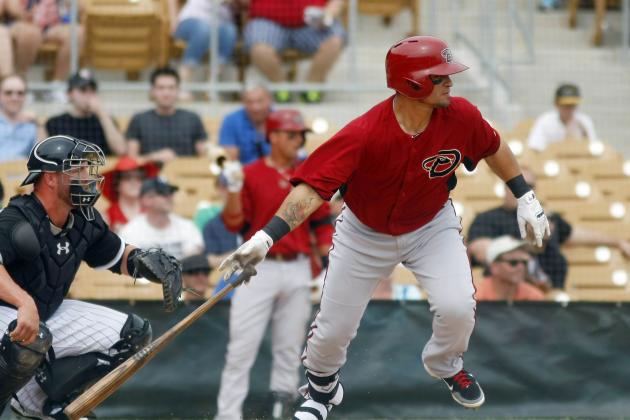 Rick Scuteri-USA TODAY Sports
Gerardo Parra.
Josh Collmenter was arguably the least effective pitcher on the Arizona Diamondbacks during last year's spring training.
Now, the long reliever is doing terrific work for the club prior to his third major league season.
In 14 innings of work, he has issued only one walk and allowed 14 baserunners overall (1.00 WHIP). Collmenter has flaunted his versatility as the only pitcher in the league with multiple saves and multiple starts.
In early March, Gerardo Parra left the D-Backs to compete for Venezuela in the World Baseball Classic. That absence deprived him of a couple dozen spring plate appearances.
Nonetheless, he leads the team with three home runs and 15 runs batted in. Parra has as many multi-hit games (five) as strikeouts.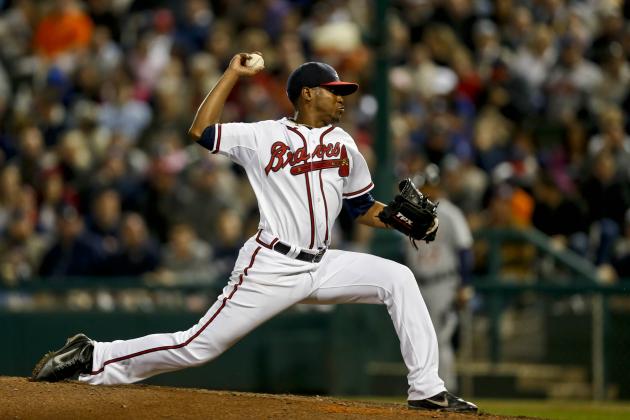 Derick Hingle-USA TODAY Sports
Julio Teheran.
Oh, what a difference a year makes.
Julio Teheran was clearly overmatched last spring—9.37 ERA, 1.84 WHIP—and just as disappointing in the minors.
But in 2013, he's making reputable MLB veterans look like amateurs.
The 22-year-old leads the Grapefruit League in strikeouts (35) while allowing less than one baserunner per inning. He didn't surrender hits to any right-handed batters through his first four starts.
Juan Francisco, Freddie Freeman, Evan Gattis and Justin Upton have all been very productive at the plate for the Atlanta Braves. However, Teheran is clearly the team's most valuable player as the preseason winds down.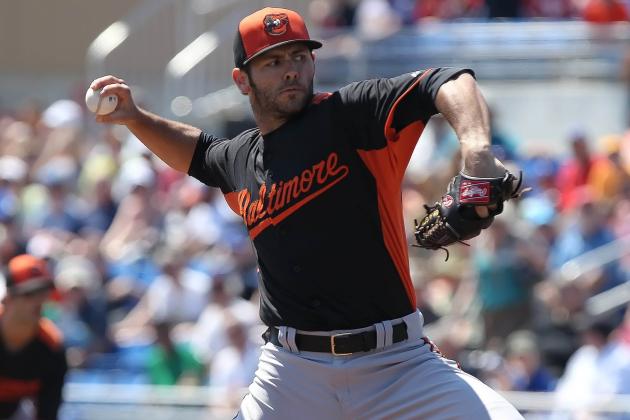 Kim Klement-USA TODAY Sports
Jake Arrieta.
The Baltimore Orioles have a handful of candidates to replace Joe Saunders in the starting rotation, but Jake Arrieta is undoubtedly the front-runner.
Arrieta has held the opposition scoreless in three straight appearances (14.2 innings). The right-hander also ranks first on the O's in numerous categories, including strikeouts and pitches thrown.
Across 61 games played during the 2012 regular season, Steve Pearce totaled four home runs. He's passed that mark this spring in just a fraction of the opportunities.
The outfielder/first baseman owns a Grapefruit League-best .946 slugging percentage (minimum 10 plate appearances).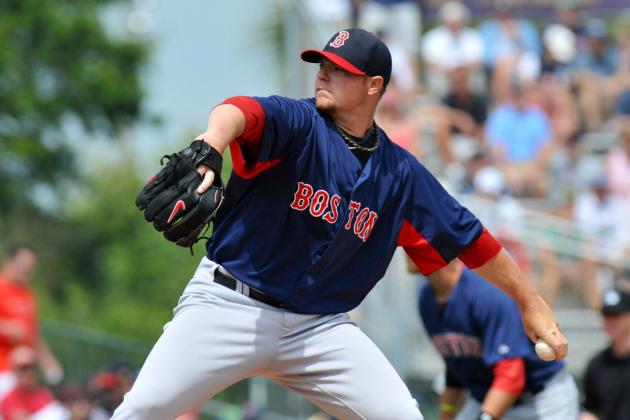 Steve Mitchell-USA TODAY Sports
Jon Lester.
Jon Lester has historically fared well in the Grapefruit League, but saying he's back to normal would be an understatement.
Exercising pinpoint control, the southpaw only walked four batters through five appearances while amassing 16 strikeouts.
Even more sensational is his .092 batting average against. He was especially locked in on March 17, pitching six perfect frames to embarrass the Tampa Bay Rays.
On the other hand, outfielder Jackie Bradley was given very slim odds of heading north with the Boston Red Sox. They still don't have him on the 40-man roster, even though his .423/.508/.615 batting line in 23 games has kept the team afloat.
A month shy of his 23rd birthday, Bradley is the probable temporary replacement for David Ortiz on Opening Day.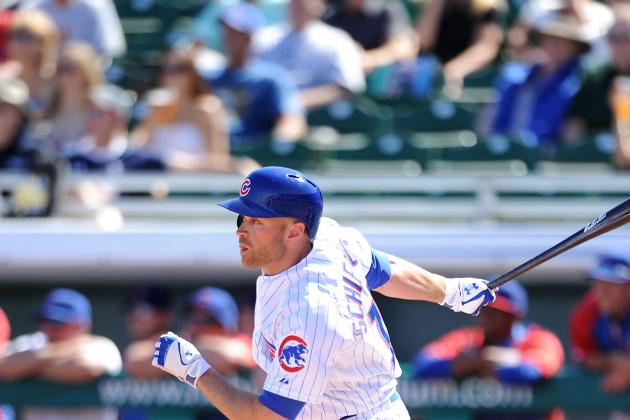 Norm Hall/Getty Images
Nate Schierholtz.
Chris Rusin is going to begin the 2013 regular season at Triple-A, though he certainly left a good impression on the Chicago Cubs coaching staff. He went undefeated in big league camp and threw more innings than any other Cubs pitcher prior to the demotion.
According to MLB.com's Carrie Muskat, the 26-year-old is "next in line" should a starter suffer from injury or inconsistency.
The team MVP was difficult to determine.
Starlin Castro's 11-game hitting streak made him a strong candidate, but he sat out two weeks in the middle of it with hamstring tightness.
Newly signed outfielder Nate Schierholtz gets the nod instead for contributing seven extra-base hits and intimidating opposing players with his cannon arm (courtesy of MLB.com).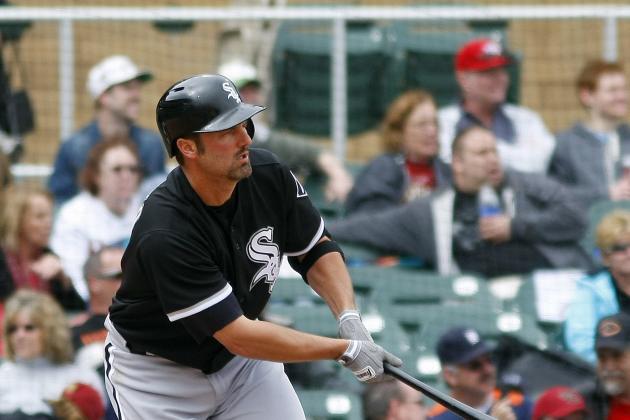 Rick Scuteri-USA TODAY Sports
Paul Konerko.
Jose Quintana outperformed most expectations in his rookie campaign last summer.
He continues to impress early in this new calendar year. Batters to face him have combined for a puny .373 OPS and only four hits.
Meanwhile, Paul Konerko is potentially participating in the final spring training of his career. The captain's contract will expire after 2013. Without his .364/.407/.673 batting line, the Chicago White Sox might be in the Cactus League cellar.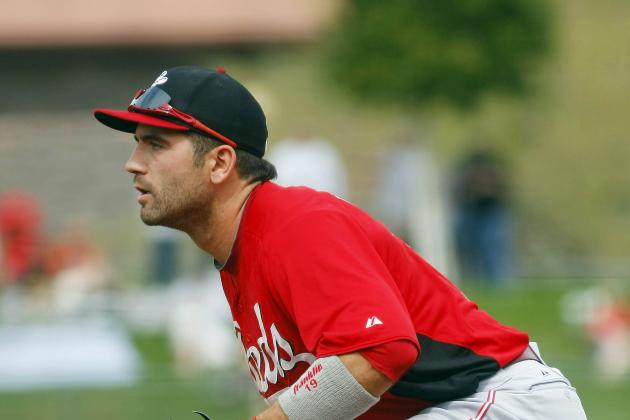 Rick Scuteri-USA TODAY Sports
Joey Votto.
Though Mat Latos was knocked around by the Texas Rangers in his latest appearance, there isn't another legitimate contender for this honor.
Projected members of the Cincinnati Reds starting rotation have faltered this spring. Latos is fourth in the group in terms of both batting average against (.273) and WHIP (1.26). Reliever J.J. Hoover has posted near-identical numbers over a smaller workload.
Representing Canada in the World Baseball Classic only required one week of Joey Votto's time. His 1.109 OPS and streak of reaching base in all 17 games played speak for themselves.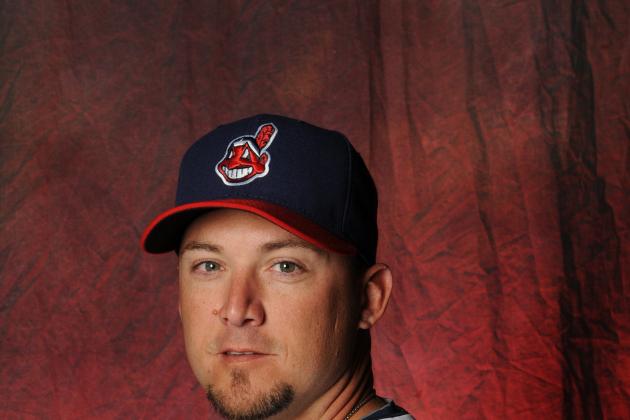 Rich Pilling/Getty Images
Ryan Raburn.
Again, we've come across a club that has been bothered by weak starting pitching in spring training.
Southpaw Nick Hagadone is the unheralded Cy Young Award choice for the Cleveland Indians this preseason. He is maintaining a spotless earned run average and elite strikeout rate (11 in 8.0 innings). Specifically, red-hot hitters Yasiel Puig and Vernon Wells went down on strikes against Hagadone earlier this month.
Ryan Raburn barely beats out Lonnie Chisenhall and Nick Swisher in an über-competitive MVP vote. His slightly superior .359/.479/.795 batting line and high contact rate deserve acclaim. This non-roster invitee has also flaunted defensive versatility by providing significant innings at second base, third base and left field.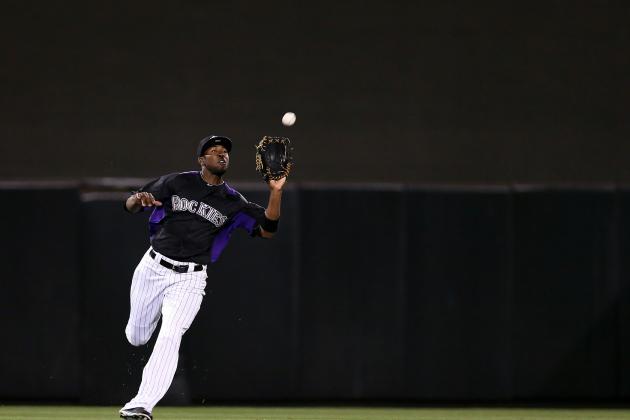 Christian Petersen/Getty Images
Dexter Fowler.
The graybeard of his team's starting five, Jeff Francis has surprisingly excelled. The 32-year-old is throwing better than 90 percent of his pitches for strikes. Only one of the lineups to face him managed to get on the scoreboard.
The Colorado Rockies considered trading Dexter Fowler this past winter, but they weren't impressed with any of the offers.
It's obvious why they value him. He has eight extra-base hits so far in 2013 and at least one run scored in every appearance since March 10.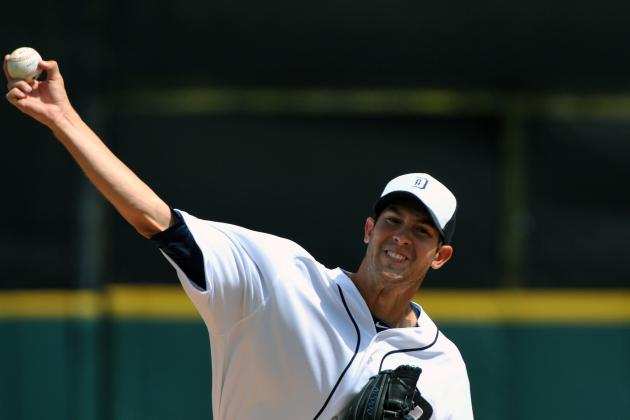 Al Messerschmidt/Getty Images
Rick Porcello.
Rick Porcello has the edge over Drew Smyly in a battle for the No. 5 spot in the Detroit Tigers rotation. Through 18 innings pitched, he hasn't allowed a walk. No other MLB pitcher can make the same claim. Porcello's 0.75 WHIP is also tops on the Tigers.
As a .176/.234/.306 career hitter with no major-league experience since 2010, Matt Tuiasosopo understandably settled for a minor league deal prior to the start of camp. Now, he is a serious candidate to head north with the club.
Detroit wants a right-handed-swinging outfielder to fill out its active roster, and by slugging .733, Tuiasosopo could get the nod.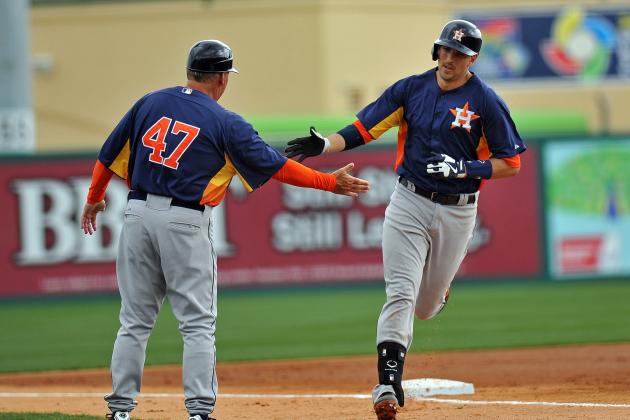 Steve Mitchell-USA TODAY Sports
Jason Castro.
The Atlanta Braves homered three times off of Phil Humber the last time he took the mound, but that doesn't negate all his surprising success in spring training. The 30-year-old is assured a spot in the starting rotation thanks to a stellar 0.60 WHIP. Humber has walked only one batter in the month of March (18 innings).
Jason Castro, a homegrown former first-round draft pick, found his power stroke immediately. He went deep in two straight contests to begin the exhibition calendar and is tied for the overall team lead with five bombs.
The Houston Astros ought to be encouraged by Castro's defense, too. Gunning down seven of 11 would-be base-stealers (36.4 percent) puts him well above the league average.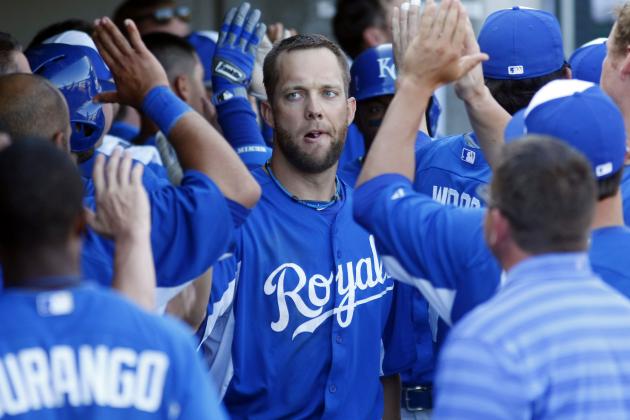 Rick Scuteri-USA TODAY Sports
Alex Gordon.
The Kansas City Royals own baseball's best spring training record despite uneven performances from the starting rotation candidates.
As a result, Donnie Joseph (1.80 ERA, 0.60 WHIP, 14 strikeouts in 10.0 innings) is their unlikely spring Cy Young Award choice.
Alex Gordon has contributed five home runs, the majority of them coming in close contests. He supplements that with four outfield assists, which is tied for the second-highest total in the majors.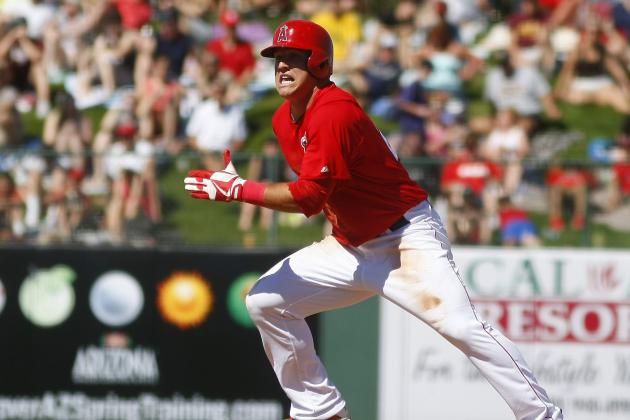 Rick Scuteri-USA TODAY Sports
Mike Trout.
Garrett Richards takes home the trophy for the Los Angeles Angels by default. The porous pitching staff is giving up more than seven runs per game, and the dry conditions in Arizona don't excuse that.
The former top prospect will be used out of the bullpen early in 2013 despite a 1.88 earned run average.
Spring co-MVP winners Howard Kendrick (1.319 OPS, 11 extra-base hits) and Mike Trout (1.168, nine extra-base hits) have been practically unstoppable.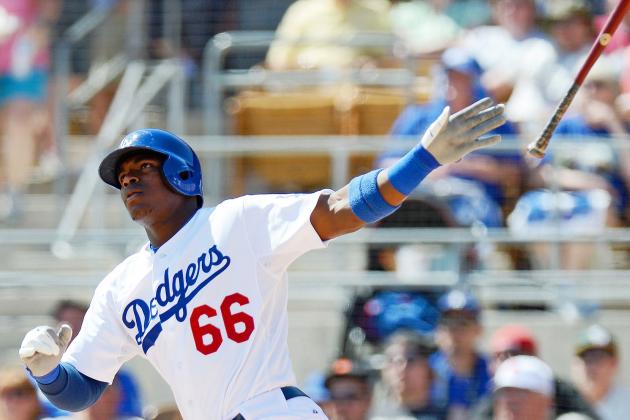 Jake Roth-USA TODAY Sports
Yasiel Puig.
Clayton Kershaw's spring training was shaky from the onset. His earned run average bloated to 9.00 through three outings. But impressively, he has surrendered just two earned runs in 17 innings pitched since, improving his overall ERA to 3.60.
The 2011 NL Cy Young Award winner has tossed 265 pitches, the fourth-highest total in the majors. His 28 strikeouts rank first on the Los Angeles Dodgers.
Sharing a clubhouse with the southpaw, Yasiel Puig is unbelievably productive. He stakes claim to the best batting average among players with at least 20 preseason plate appearances.
The Cuban defector even makes an impact when the bat is out of his hands. All five of Puig's tools have been on display, including his range in the field and powerful throwing arm (courtesy of MLB.com).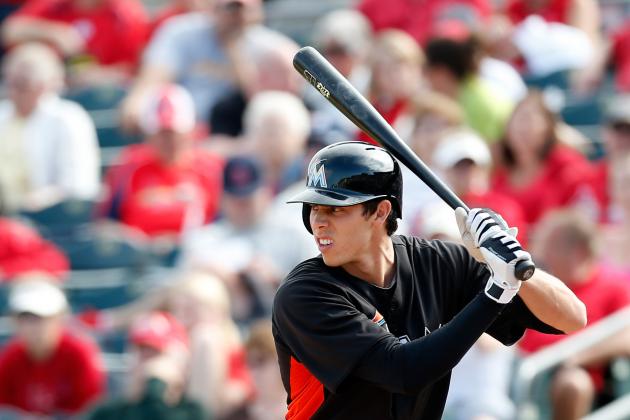 Chris Trotman/Getty Images
Christian Yelich.
Nathan Eovaldi is one of two pitchers to toss a complete game this spring (granted, it was only five innings). His ground-ball rate is encouraging, as is his effectiveness against left-handed batters.
The Miami Marlins already optioned star slugger Christian Yelich to Double-A Jacksonville. The 21-year-old had a .364/.451/.818 batting line in major league camp. He tacked on 14 runs batted in, nearly twice as many as any of his teammates.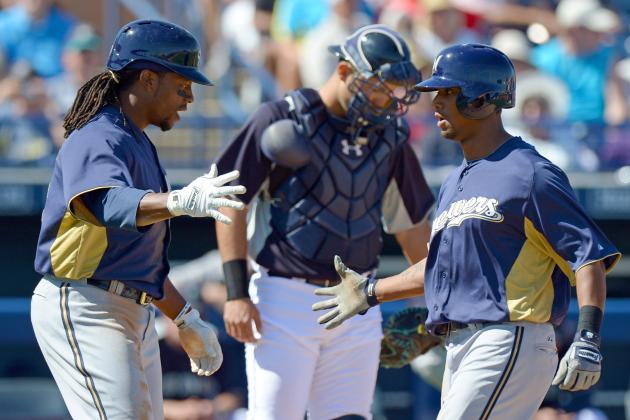 Jake Roth-USA TODAY Sports
Rickie Weeks (left) with Khris Davis.
Nearly 200 pitchers to appear for an MLB team this preseason haven't surrendered an earned run.
What makes Donovan Hand special? He's still sitting at 0.00 through 11 innings of work. The right-hander spent 2012 at Triple-A, but he ought to be in the running for a promotion.
Khris Davis is coming back down to Earth with two hits in his past 15 at-bats. Still, his fellow Milwaukee Brewers have been useless. Davis' .294/.345/.667 batting line looks great on a team that averages 3.25 runs per game, by far the most pathetic output in the Cactus League.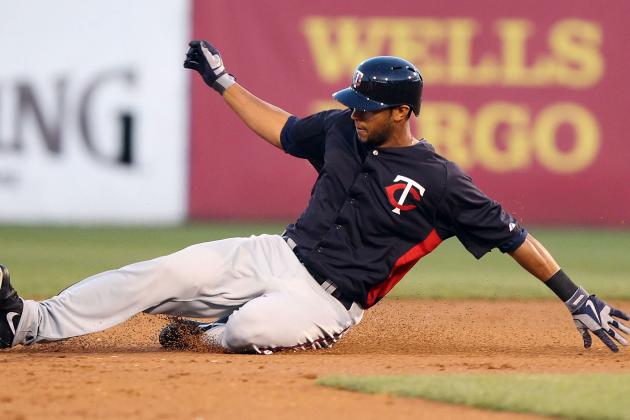 Kim Klement-USA TODAY Sports
Aaron Hicks.
Cole De Vries is in the company of aforementioned spring training Cy Young Award winners Julio Teheran, Jon Lester and Donnie Joseph. Like them, opponents have combined for a sub-.100 batting average.
Another inexperienced player has excelled for the Minnesota Twins. Aaron Hicks was named starting center fielder for his team, leading with 16 runs batted in and contributions in other facets of the game.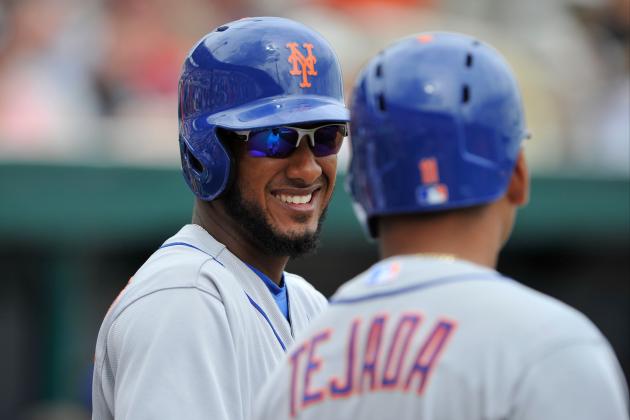 Jerome Miron-USA TODAY Sports
Jordany Valdespin.
Nobody should be second-guessing the New York Mets for giving Jon Niese the Opening Day assignment. He has been almost unhittable in spring training. The left-hander also keeps baserunners close at first base, which is why all three who attempted to steal were gunned down.
Jordany Valdespin is getting experience at second base in case Daniel Murphy doesn't heal in the coming week. As remarkable as his .972 OPS is, Valdespin has only struck out three times in 58 plate appearances.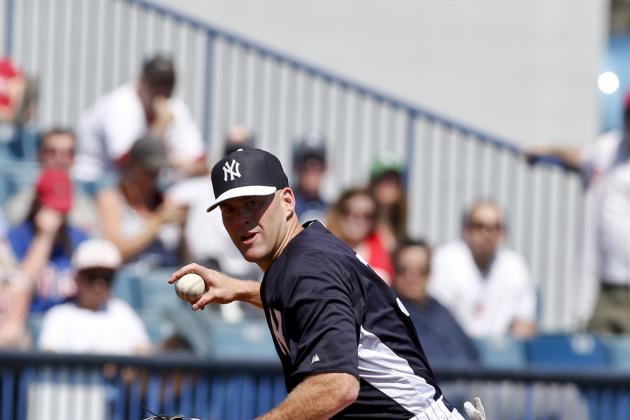 Derick Hingle-USA TODAY Sports
Kevin Youkilis.
Let's not sugarcoat it—this has been a tragic spring for the New York Yankees.
Key players are hurt, including several on the pitching staff. Phil Hughes and Clay Rapada, for example, will probably begin the regular season on the disabled list.
None of the oft-used arms have thrown consistently well, so Hiroki Kuroda is their Cy Young Award winner by default. In three contests, he has been responsible for only three earned runs.
Entering March 25, Kevin Youkilis checks in with a .262 batting average. That's good enough to be New York's MVP considering his 11 extra-base hits and sound defense in place of injured corner infielders Alex Rodriguez and Mark Teixeira.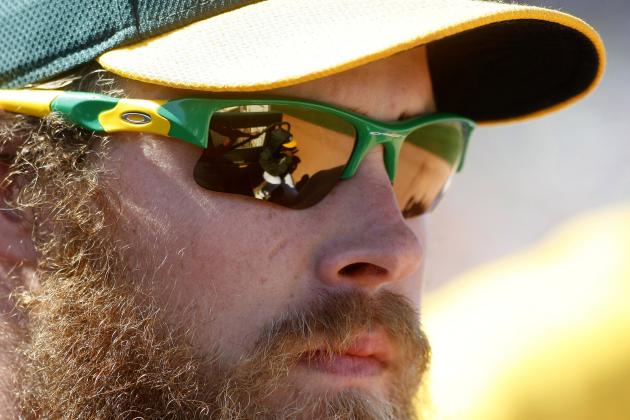 Rick Scuteri-USA TODAY Sports
Josh Reddick.
Mike Ekstrom pitched briefly in each of the past five MLB regular seasons with limited success. However, he has been terrific for the Oakland Athletics this spring.
The majority of his appearances have lasted more than one inning. By not allowing a run since Feb. 26, his earned run average has shrunk to 1.38.
The MVP honors go to Josh Reddick, who is influencing the A's as a power hitter and extraordinary defensive outfielder. Jed Lowrie and Shane Peterson were also seriously considered.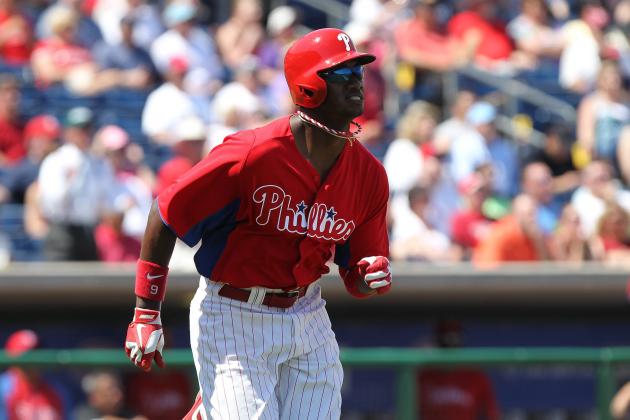 Kim Klement-USA TODAY Sports
Domonic Brown.
Prior to last season, Cole Hamels was somewhat overshadowed by veteran teammates Roy Halladay and Cliff Lee.
That's no longer the case.
The 29-year-old is now the highest-paid member of the trio and the one entrusted to start on Opening Day. Using fewer than six pitches per inning, he is undefeated in spring training with a 1.13 earned run average.
Domonic Brown has played practically every day in place of an injured Delmon Young. The former top prospect looks outstanding at the plate. He is No. 1 on the club in plate appearances, runs scored, home runs and a host of offensive categories.
Brown's athleticism also made this diving catch possible (via MLB.com).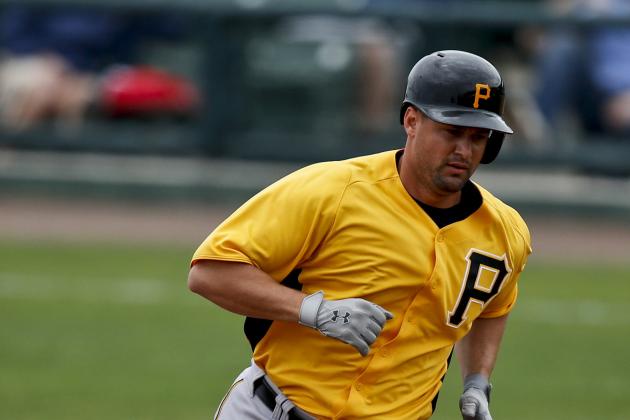 Derick Hingle-USA TODAY Sports
Gaby Sanchez.
Yet another bullpen arm steals the Cy Young Award on a team devoid of great starting pitching.
Addison Maruszak of the New York Yankees, of all people, is the only player to knock in a run against Jared Hughes. Since then, the 27-year-old has allowed one baserunner.
Coming off a miserable season, Gaby Sanchez must be seeing the ball well. He's batting .342/.409/.737 for the Pittsburgh Pirates and consistently making contact. The coaching staff has tried him out at third base and been encouraged by his progress.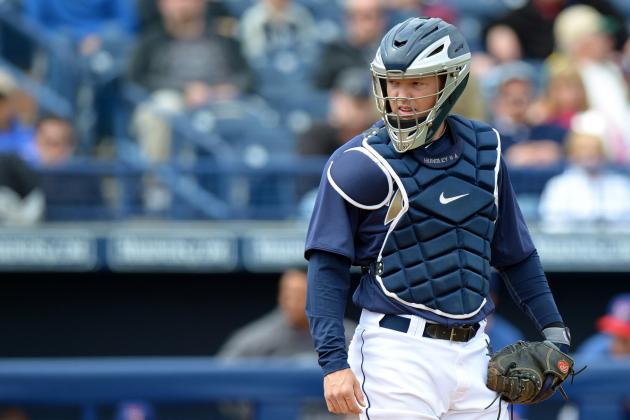 Jake Roth-USA TODAY Sports
Nick Hundley.
Tyson Ross leads the San Diego Padres in strikeouts and innings pitched, but he is struggling with efficiency. That opens the door for Sean O'Sullivan.
Entering March 25, O'Sullivan had made seven appearances (three starts). His solid 0.98 WHIP made the club comfortable enough to release Freddy Garcia.
Nick Hundley reported to spring training as the top candidate to serve as interim catcher until Yasmani Grandal returns from suspension. The homegrown backstop has proven he's capable with a 1.080 OPS.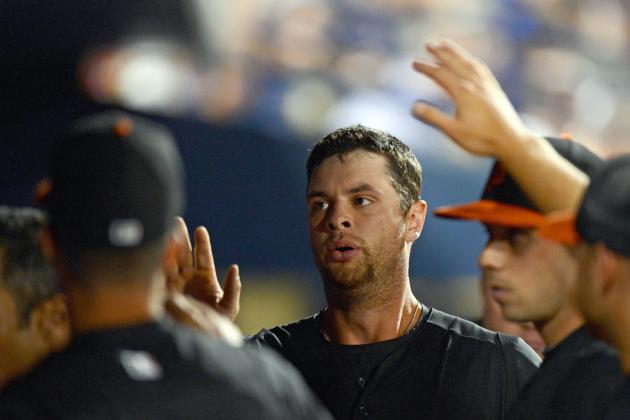 Jake Roth-USA TODAY Sports
Brandon Belt.
The two least prominent starting pitchers on the San Francisco Giants deserve recognition for their preseason efforts.
Madison Bumgarner and Ryan Vogelsong essentially have identical statistics this spring. The former is behind by one start, though, after participating for Team USA at the World Baseball Classic.
Neither man has allowed a home run.
Finally assured an everyday job, Brandon Belt is worry-free and productive for the defending world champs. His 17 runs batted in are tied for the Cactus League lead.
The first baseman even has a pair of stolen bases.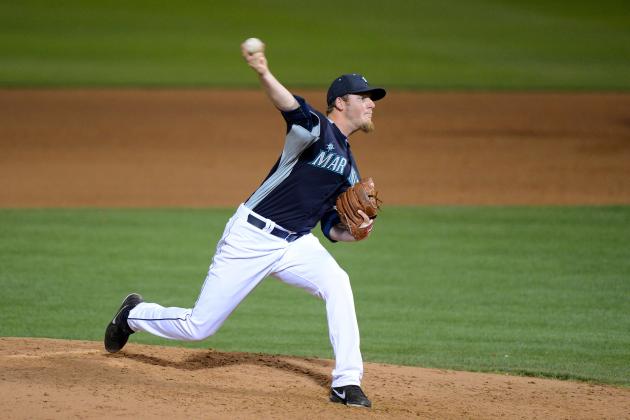 Jake Roth-USA TODAY Sports
Brandon Maurer.
Do not be alarmed if Brandon Maurer heads north with the Seattle Mariners as their No. 5 starter.
His performance has been significantly better than those of the other back-end candidates. Despite no prior experience above the Double-A level, Maurer has handled major-league batters with ease. The California native leads Seattle's pitching staff with 15 strikeouts.
The race for team MVP is hotly contested. New arrivals like Raul Ibanez, Mike Morse and Kendrys Morales continue to thrive.
But Justin Smoak breaks away from the pack with his recent performance. Veteran pitchers have been on the mound more often lately, and the first baseman has responded with a .500 batting average over his past six games.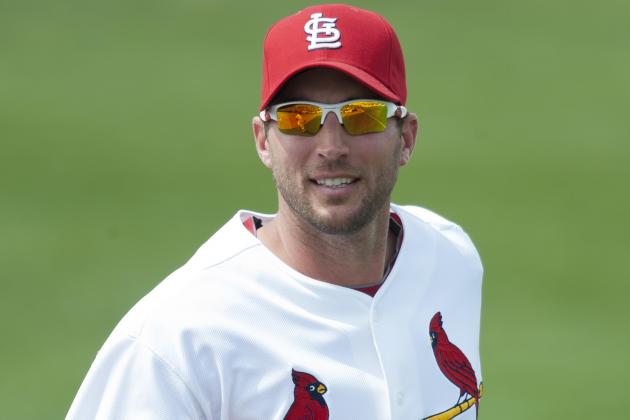 Steve Mitchell-USA TODAY Sports
Adam Wainwright.
As was the case with the San Francisco Giants, the St. Louis Cardinals have two starting pitchers performing equally well.
Adam Wainwright is the only three-win pitcher on the staff, but second to Jaime Garcia in total strikeouts.
Both boast a 3.00 earned run average through five outings.
Meanwhile, reserve outfielder Shane Robinson has been indescribably productive.
He is on the field regularly with Carlos Beltran nursing a toe injury. Batting .434/.483/.736, Robinson has contributed three home runs and four stolen bases without being caught.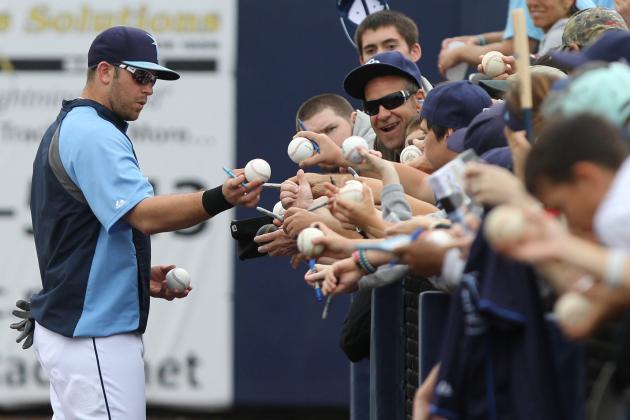 Kim Klement-USA TODAY Sports
Evan Longoria.
Confidence often manifests on the field, or in Alex Cobb's case, on the mound.
He has moved into James Shields' old rotation spot and looks like his heir apparent. Ignore the 0-1 record; the 28-to-5 strikeout-to-walk ratio is far more relevant.
Many believe a healthy Evan Longoria can win 2013 AL MVP honors.
If his .395/.429/.605 preseason batting line and smooth fielding at the hot corner are valid indications, why not?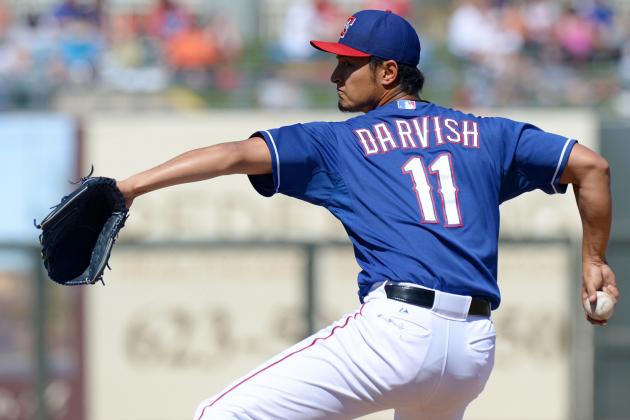 Jake Roth-USA TODAY Sports
Yu Darvish.
Yu Darvish caught fire toward the end of 2012 and has picked up right where he left off.
Opposing batters combine for a measly .528 OPS against the right-hander. His 1.98 earned run average would be even better had he not matched up with Joey Votto, who launched a home run on March 23.
In preparation for his fourth MLB campaign, Mitch Moreland looks extraordinary. He leads the Texas Rangers in extra-base hits and OPS (minimum five plate appearances).
The 27-year-old has bullied legitimate foes. He recently took major league veterans Mat Latos and Carlos Villanueva out of the ballpark.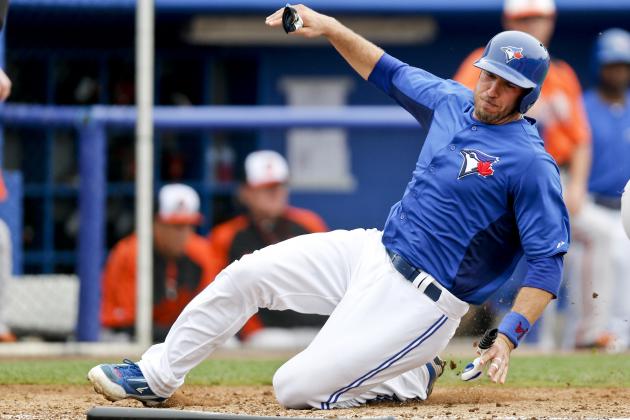 USA TODAY Sports
Mark DeRosa.
There's no space for J.A. Happ in the Toronto Blue Jays starting rotation, even though he is statistically superior to any of the "locks."
The lefty has allowed 19 hits—mostly singles—and three walks in 19 innings of work.
Jose Bautista is Toronto's chief power source (five home runs), while Mark DeRosa brings base hits (.471 batting average). Both have fielded well too.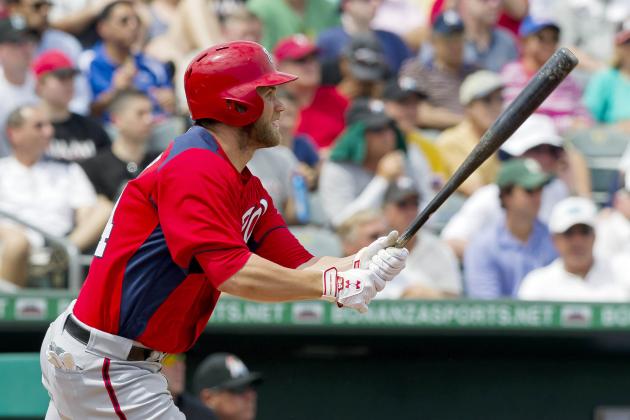 Steve Mitchell-USA TODAY Sports
Bryce Harper.
For all their talent, the Washington Nationals dwell near the bottom of the Grapefruit League standings.
Starting pitching has been shaky, but at least setup man Tyler Clippard handles his late-inning duties.
The 28-year-old was perfect through five appearances and still has not given up a run. He has 12 strikeouts compared to two walks.
Major league scouts continue to rave about Bryce Harper, the second-year outfielder with all the tools and the right attitude.
He isn't likely to sport a .431/.459/.707 batting line during the regular season, but there's no doubt he belongs in the No. 3 spot of Washington's lineup.