SEC Football: Top 10 Spring Practice Storylines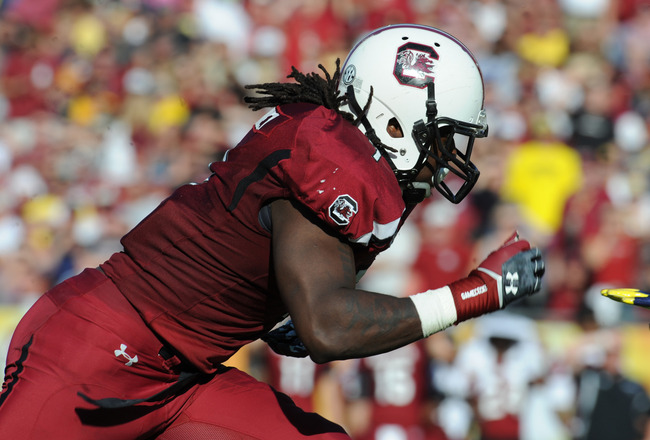 Al Messerschmidt/Getty Images
New looks, new faces and keeping players out of trouble dominate this year's spring storylines in the SEC.
The SEC continuously steals the spotlight in college football. You can thank South Carolina superstar Jadeveon Clowney, four new head coaches, new offensive looks in the league and a partying Johnny Manziel for that.
Oh, football season never truly stops, does it y'all? Spring football generates excitement for next season, and this year's spring in the SEC is full of compelling storylines.
Here are the top 10 spring practice storylines around the league.
10. Alabama Reloading at Running Back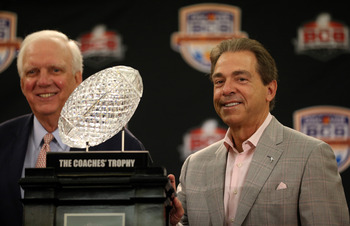 Streeter Lecka/Getty Images
There are so many storylines to pick from when it comes to Alabama this spring.
The most notable (and always seems to be) is the fact that the Crimson Tide once again have too many scholarship players. Saban is getting that number down rather quickly (thanks to the dismissal of four players), so it's not as big of a factor that one might have thought.
But what about filling holes in the offensive line? Well, Barrett Jones' center job seems to be Ryan Kelly's, and Alabama returns a lot of talent in Cyrus Kouandjio and Anthony Steen.

So that leaves us with the running back position. Alabama loves to pound the rock with two backs, and T.J. Yeldon will be the featured back in the fall with Eddie Lacy moving on.
Who will rotate with him? It might be the standout Derrick Henry, who C.J. Mosley called a bigger version of Trent Richardson. Yikes, Roll Tide.
9. Can Jonathan Williams Emerge into a Superstar?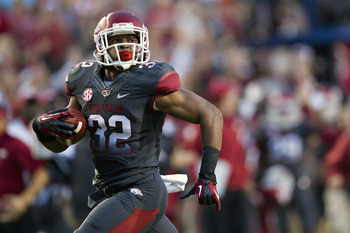 Wesley Hitt/Getty Images
Arkansas sports a different look this spring.
Gunslinger Tyler Wilson and offensive genius Bobby Petrino are nowhere to be found, which is enough reason for any Arkansas fan to hang their head low.
However, Arkansas scored big when it brought in Bret Bielema as its new head coach. So now the question is—can Bielema give Arkansas a ground-and-pound style similar to Alabama and LSU?
If he does, he's going to need a star running back, and Jonathan Williams just may be the guy. Williams rushed for 231 yards last season as a freshman. With Knile Davis and Dennis Johnson gone, Williams needs to become the Hogs' go-to back.
8. Georgia's Defensive Unit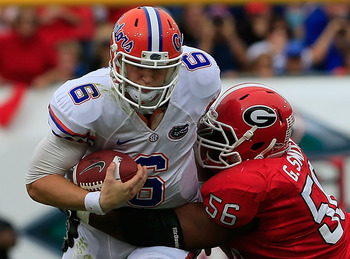 Sam Greenwood/Getty Images
A big emphasis this spring for the Georgia Bulldogs is defense, defense, defense.
Offensively, the Bulldogs are solid with Aaron Murray, Todd Gurley, Keith Marshall, Malcolm Mitchell and key offensive linemen returning.
Defensively, the Bulldogs have many holes to fill.
No need to go through the laundry list of defensive players the Bulldogs have lost—you probably already know, and if you don't, here's a look.
So far this spring, it's looking good for the Bulldogs. As you can imagine, Georgia has plenty of talent with James DeLoach and Gary Drew accepting bigger roles at linebacker and on the defensive line, respectively.
7. Tennessee's QB Battle
All eyes are on the quarterback position in Knoxville.
Tyler Bray will not be walking out of that Tennessee Volunteers tunnel this fall. If you listen closely, you'll hear Tennessee fans moan at the thought of losing 3,612 passing yards and 34 passing touchdowns.
Exit Derek Dooley. Enter Butch Jones. Time to get to work and find a quarterback, Butch.
Though Justin Worley is the favorite to win the starting position, he may have some competition in the form of a redshirt freshman. Nathan Peterman, as reported by govolsxtra.com, is taking a more commanding role at the line of scrimmage this spring. We've got a quarterback battle on our hands, folks.
6. The Continuance of Jadeveon Clowney's Legend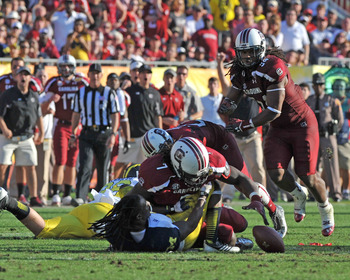 Al Messerschmidt/Getty Images
Jadeveon Clowney for Heisman.
Unless you haven't watched SportsCenter's top plays in the past three months, you saw how Clowney finished off his sophomore season.
Wait 'til you hear what he did this spring. Chris Clark from Gamecock Central tweeted that Clowney blocked a field goal by kicking it out of the holder's hand. Just wow.
Clark later said that Clowney may have been offsides, but still, that is one impressive feat.
Watch closely, friends. We are witnessing a great player turn into a legend.
5. Florida's New Offensive Direction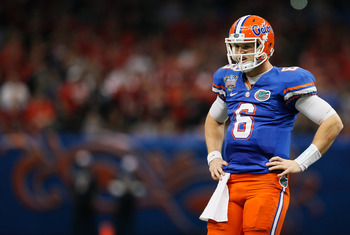 Kevin C. Cox/Getty Images
Tight ends have been a focal point of Florida's offense for many years now.
Well, that may not be the case in 2013. According to gatorsports.com, offensive coordinator Brent Pease said the tight end position is taking a backseat to the wide receivers this spring.
I know it's hard to fathom, especially for Florida fans, after Jordan Reed led the Gators in receiving last year.
Apparently, no tight end has emerged to make Reed's absence less noticeable. Will the Gators find a capable tight end by the fall?
4. The New Guys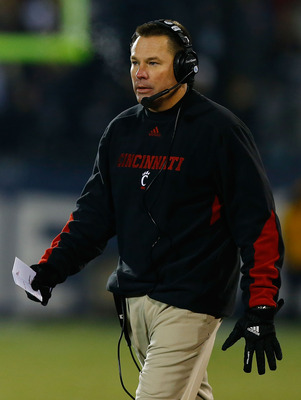 Jared Wickerham/Getty Images
Look around—lots of fresh faces in the building this spring.
Jones takes over in Tennessee, Bielema changes the style of Arkansas, Mark Stoops brings his defensive craftsmanship to Kentucky and Gus Malzahn returns to Auburn.
It's tough to compete in football's best conference, as these coaches will find out soon enough.
Which new coach will have the most progress this spring? Which coach will get his team on the fast track of learning the new systems?
3. The Cam Cameron Effect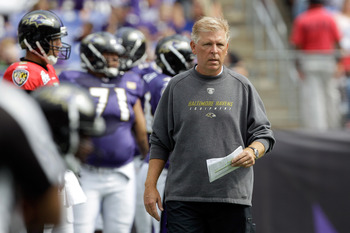 Rob Carr/Getty Images
Alright LSU, this offense just isn't working out.
Although the Tigers' ground-and-pound game has always been effective, LSU's passing game makes passionate spread offense fans vomit.
It's all good, though. Cam Cameron's here to clean things up. So far in spring practice, he's done just that.
Cameron is opening things up for the Tigers offensively, and according to Nola.com, he's picked up the pace and changed the way the offense is implemented. Not a bad start for a much-needed change.
2. Ole Miss' Rough Start to Spring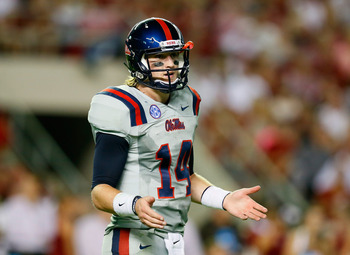 Kevin C. Cox/Getty Images
Welp, the spring has been unkind to the Ole Miss Rebels.
Let's recap, shall we? First, Bo Wallace would miss spring practice because of his shoulder. That's the Rebels starting quarterback missing quality prep time.
Then, star defensive lineman C.J. Johnson broke his fibula on the first day of pads in spring practice.
And to follow it all up—Philander Moore was charged with domestic violence assault and kicked off the team. Can it get any worse for the Rebs?
1. Johnny Manziel Partying It Up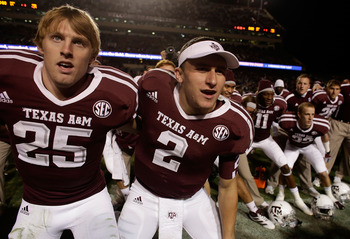 Scott Halleran/Getty Images
It might be sophomoric to put this as the No. 1 storyline in the SEC this spring.
However, Johnny Football's antics have been just as sophomoric, or that's what the media would have you believe. Come on, anything Johnny Manziel tweets or takes part in becomes instant news.
From Manziel's spring break photos to his girlfriend's pictures to his Instagram photo of himself in a casino, he's been the talk of the South.
Will Manziel mature before the fall? Are his antics even really a big deal? Either way, this storyline has dominated and will continue to dominate the news surrounding this league.
Keep Reading