Indiana Basketball: Hoosiers Open NCAA Tournament with Win over James Madison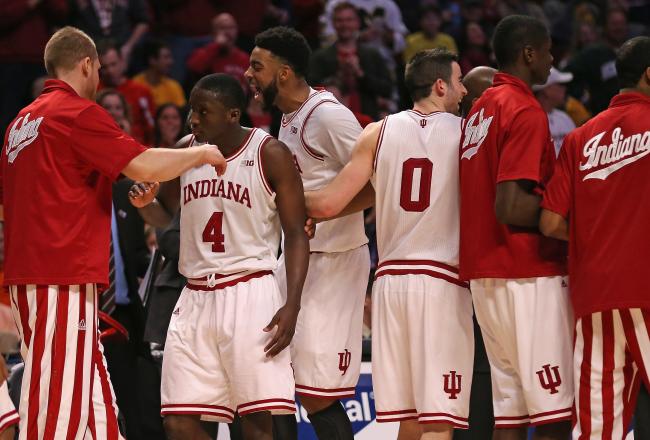 Jonathan Daniel/Getty Images
Indiana 83, James Madison 62 (FINAL)
As might have been expected, the Indiana Hoosiers got off to a roaring start on their journey to hang national championship banner number six, routing the James Madison Dukes in Dayton, Ohio.
Freshman point guard Yogi Ferrell scored 14 of IU's first 18 points, then settled into a more all-around game. Ferrell finished with 16 points, eight rebounds and six assists, all team highs.
Four other Hoosiers joined him in double figures, led by Will Sheehey's 15.
JMU was led by a pair of freshmen itself. Guard Andre Nation scored 24 and classmate Charles Cooke added 18, all but two in the second half. The two shot 17-of-28 from the floor, with the rest of the team going 9-of-34.
IU will move on to face Temple, a winner over NC State in today's Dayton opener. The Atlantic 10 went to 6-0 in the first two rounds when La Salle knocked off Kansas State.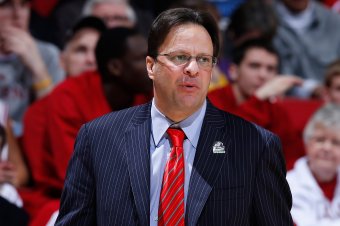 Joe Robbins/Getty Images
Indiana 83, JMU 62 (FINAL)
Nice of Coach Crean to get Maurice Creek about 18 seconds or so.
Nation and Cooke did all they could to keep JMU in the game, but they were doomed by a lack of support. The rest of the Dukes shot 9-of-34 from the floor.
The Hoosiers will look ahead to Temple on Sunday.
Alex Bozich points out some friendly competition for IU's Remy Abell:
Remy Abell just told his teammates he'll guard Andre Marks. The two were teammates in high school at Eastern in Louisville.

— Alex Bozich (@insidethehall) March 22, 2013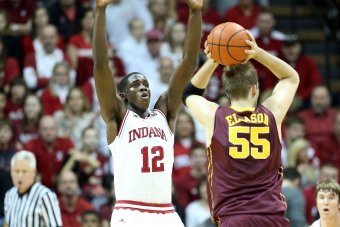 Andy Lyons/Getty Images
Indiana 79, JMU 57 (2:00 2nd Half)
Hanner Perea scored. Hell's weatherman is starting to make jokes about cold fronts.
In other news, Tom Crean has finally gotten all of his starters off the court. Credit to James Madison for keeping this game within 30.
Indiana 77, JMU 52 (3:11 2nd Half)
JMU's Charles Cooke had scored only nine points in his last five games before knocking in 15 against LIU. Today, he's added 12, 10 of those coming in the second half. He and Nation are freshmen, so the Dukes may be back to the dance at some point in the next three years.
According to the Indianapolis Star's Zak Keefer, Yogi Ferrell is a bit of a winning addict:
With today's win, Yogi Ferrell teams will have won 15 consecutive postseason games dating back to March 27, 2010. #iubb

— Zak Keefer (@zkeefer) March 22, 2013
Ferrell's no closer to that trip-dub, in case you're wondering.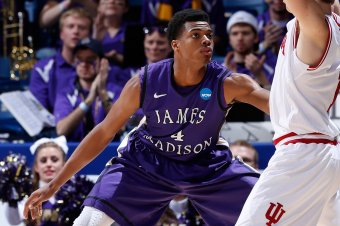 Joe Robbins/Getty Images
Indiana 70, JMU 41 (6:40 2nd Half)
The James Madison freshmen are the only ones who showed up to play, as Charles Cooke makes back-to-back threes and joins Andre Nation in double figures.
The two rookies have combined for 29 of Madison's 41 points, and they're shooting 12-22 from the floor. The rest of the team? 5-29.
So much for senior leadership, eh?
Indiana 68, JMU 35 (8:17 2nd Half)
JMU keeps gamely scoring, but IU will not be denied. A Will Sheehey steal and slam gives him 12 points, second-most for the Hoosiers.
This is the third time in the last four games that Sheehey's broken 10, only being denied in the Big Ten tournament loss to Wisconsin.
Rivals.com's Jeff Rabjohns throws out IU's last triple-double, in case you're keeping tabs on Yogi. It's been a while:
The last triple double for Indiana was Steve Downing vs. Michigan, Feb. 23, '71 - 28 points, 17 rebounds, 10 blocks.

— Jeff Rabjohns (@JeffRabjohns) March 22, 2013
Yogi's still at 14-8-6, FYI.
Indiana 56, JMU 28 (11:48 2nd Half)
Anybody remember the last time IU was a No. 1 seed?
Try 1993, when Calbert Cheaney, the director of basketball ops, was the All-American stud. That team reached the Elite Eight and started off with a 97-54 win over Wright State.
Highly possible the Hoosiers equal that margin today.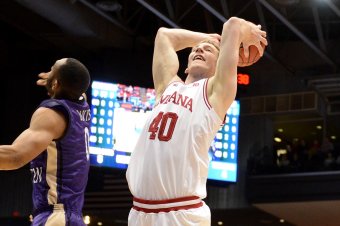 Jason Miller/Getty Images
Indiana 56, JMU 26 (14:00 2nd Half)
Zeller throws down his second megadunk of the second half, and it's officially time to start the Walk-On Watch.
JMU still can't quite crack 31 percent from the floor.
In other news, Yogi Ferrell is still IU's leading scorer with those same 14 points, and he also leads IU with eight boards and six assists.
Indiana 52, JMU 26 (15:25 2nd Half)
Diouf refuses to allow Oladipo to get the steal and slam, and a bit of a scary moment when Victor plows into a cameraman under the basket.
Hulls and Watford, though, have back-to-back threes, and the Hoosiers have no interest in prolonging the suspense in this one.
In addition, a little bonus reading from CBS Sports' Jeff Borzello about the impressive Mr. Nation:
By the way, if you're impressed by James Madison's Andre Nation, I wrote this about him the other day: cbssports.com/collegebasketb…

— Jeff Borzello (@jeffborzello) March 22, 2013
Indiana 46, JMU 26 (16:50 2nd Half)
Andre Nation already has a layup around Zeller and a thunderous alley-oop dunk.
This, by the way, is Nation's fourth straight game in double figures. He's up to 14. Unfortunately, he's also up to three fouls.
ESPN analyst John Gasaway forecasts the Atlantic 10 taking over the world, apparently:
At some point an A-10 team will lose. Soon they'll be the only ones left and they'll play each other.

— John Gasaway (@JohnGasaway) March 22, 2013
The A-10 is now 6-0 with La Salle beating Kansas State. Oh, by the way, Temple would await IU in the next round.
CAAHoops points out that the Dukes aren't getting a very balanced effort so far:
Those not named Nation or Davis shot 2-of-17 from the field in the 1st half. Nation/Davis have 17 of #JMU's 22 points. #CAAHoops

— CAAHoopsStaff (@CAAHoopsStaff) March 22, 2013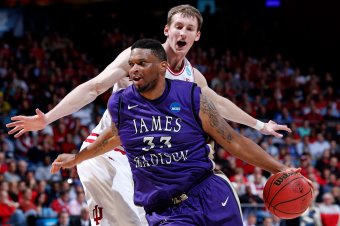 Joe Robbins/Getty Images
Indiana 43, JMU 22 (Halftime)
The CAN'T MISS SUREFIRE GADGET PLAY missed.
IU leads the Dukes 21-15 on the glass, but as per usual, an Indiana opponent is getting some second looks. JMU has seven offensive rebounds, three by Goins.
The Hoosiers have hit 57 percent from the floor, including 6-of-13 from deep.
Only four turnovers for either team, but foul trouble will quickly become an issue for JMU. Three starters head to the locker room with two. For IU, Derek Elston has two of the team's five whistles.
Indiana 43, JMU 22 (:02.7 1st Half)
Andre Nation is up to 10 points after drawing a blocking foul on Derek Elston and missing the and-one.
The Dukes will need to hit those shots, because they're not getting many. That's only their third foul shot and they're not in the bonus yet.
Meanwhile, Tom Crean has a CAN'T MISS SUREFIRE GADGET PLAY to draw up in these final three seconds of a game he's dominating.
Really? Let's get to halftime so fans and live bloggers can use the can.
Indiana 39, JMU 20 (2:28 1st Half)
Jordan Hulls hits one from just east of Cincinnati, and IU keeps its foot down to prevent any hope of a JMU rally.
The upside for the Dukes: they finally have the lead...on Yogi Ferrell.
Inside the Hall's Alex Bozich notes just how well the IU offense is humming:
Indiana at 1.48 points per possession at the under four media timeout. Season-high is 1.47 against Sam Houston State. #iubb

— Alex Bozich (@insidethehall) March 22, 2013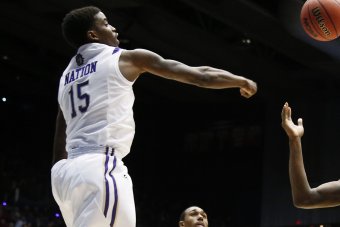 Gregory Shamus/Getty Images
Indiana 34, JMU 17 (3:52 1st Half)
The Dukes aren't exactly making hard off-ball cuts, but they still get a three-pointer from Andre Nation.
As an aside, can we start a fan club for Andre and call it Nation Nation?
...
Anybody?
...
Okay, I'll get my coat.
Indiana 32, JMU 14 (5:16 1st Half)
Madison's A.J. Davis has seven points, and now one embarrassing airball, courtesy of the onrushing Victor Oladipo.
For IU, Yogi Ferrell is still the leading scorer (duh) with 14, but he's also pulled six rebounds. Career high: eight against Butler.
This one comes straight from the Overreaction Department at Deadspin:
A New Mexico beat writer actually quit his job because of the Harvard loss: deadsp.in/ehbKbL3

— Deadspin (@Deadspin) March 22, 2013
Think Terry Hutchens will throw it in if James Madison comes back?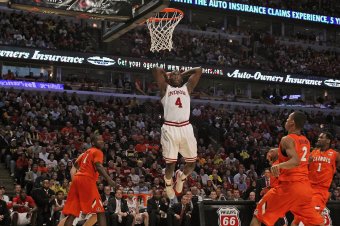 Jonathan Daniel/Getty Images
Indiana 29, James Madison 12 (7:36 1st Half)
The Hoosiers are taking turns teeing off now. Victor Oladipo got his contractually mandated highlight dunk on a vicious baseline drive, then he adds a three.
Even Remy Abell has scored already. Is it too early to ask for the running clock?
Indiana 24, JMU 10 (9:15 1st Half)
In case anyone was wondering about the location of IU's favorite unused scholarship, Peter Jurkin, Inside the Hall's Alex Bozich has the answer:
Yep. Sitting in the crowd with other bench mob members. RT @at_beezy @insidethehall did Peter even make the trip?

— Alex Bozich (@insidethehall) March 22, 2013
So, doubtful he'll be part of the walk-on invasion that may take place with about 10 minutes left in this one.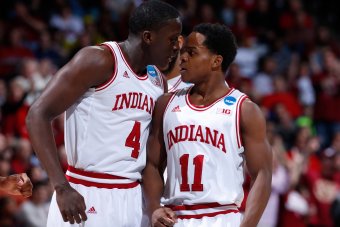 Joe Robbins/Getty Images
Indiana 18, JMU 7 (11:33 1st Half)
Yogi Ferrell has a hand in nearly all of IU's points so far. He's scored 14 points himself on 6-6 shooting and dropped a dime to the Big Handsome.
Ferrell scored 19 against Iowa on March 2 and 15 against Penn State on January 23. Those are his only games with more points than he has in these eight-plus minutes.
Indiana 18, JMU 5 (13:20 1st Half)
We all know Yogi struggles with his outside shot, and the Dukes do, too. Er go, they refuse to defend him? He has 12 points already. Career high's 19.
Plans will need to change quickly, or Tom Crean will be getting Taylor Wayer 10 minutes this afternoon.
This article is
What is the duplicate article?
Why is this article offensive?
Where is this article plagiarized from?
Why is this article poorly edited?

Indiana Hoosiers Basketball: Like this team?