Vince Wilfork is a big man, one who loves his wife tremendously. Both of those facts really should have been enough to negate anyone from ever making fun of her.
I think you know where we are going here.
Deadspin reports former Patriots linebacker Ted Johnson—who now hosts his own Houston sports radio show—was on air and asked by a caller for his opinion on which former teammates' wife was the ugliest.
That is the precise moment callers in the Houston area turned up the volume and really should have been the time for Johnson to dump out or change the subject.
Airtime isn't going to fill itself, so Johnson entertains the odd question and you can hear it below.WILFORK-WIFE by bubbaprog
You can almost picture Johnson's face gloss over with wonder as he contemplates whether his former teammate will ever hear this. He throws caution to the wind and says Bianca Wilfork is the winner.
Wilfork, of course, caught wind and answered in kind. It seems the tweets below have been deleted with just this one remaining.
Let me apologize to my fans in advance of whatever I may say today but I do not play when it comes to my family

— Vince Wilfork (@wilfork75) March 22, 2013
Deadspin managed to save the others.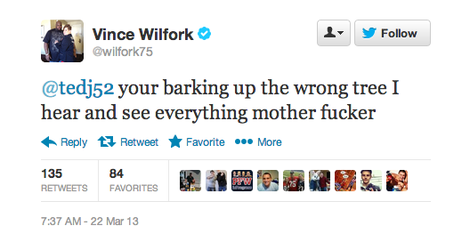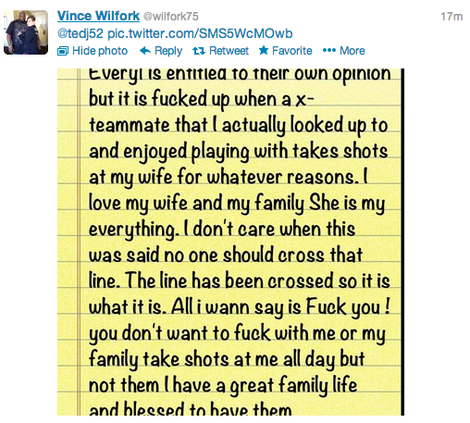 I can sit here and tell you that beauty is in the eye of the beholder and everyone is gorgeous in their own way, but you heard the same stuff when you were a kid. If it didn't stick then, it won't stick now.
However, I do have to say that wives, like mothers, are off limits. We all love to talk smack while watching games, which is no different from the men playing them.
Talk about specifics at your own peril, because once it gets personal, it's very much on.
Now Johnson has since come forward to apologize via Twitter.
I just made a huge error in judgement and want to apologize to Vince and his wife for comments I made earlier today on a Houston radio show

— Ted Johnson (@TedJ52) March 22, 2013
This should come as a lesson to you radio hosts out there. If a caller asks your opinion on ugly wives, just say all women are beautiful in their own right.
OK, that makes for horrible radio.
I guess you can always infuse humor into the situation like B/R's Matt Miller suggests.
Why didn't Ted Johnson answer ugliest spouse question with "Tom Brady"? Easy out, everyone laughs, move along.

— Matt Miller (@nfldraftscout) March 22, 2013
I know, it would behoove radio hosts to be funny. Just make sure to keep Wilfork's wife out of the discussion and all should be dandy.
Hit me up on Twitter for more sage wisdom.