Wisconsin vs. Ole Miss: Live Score and Updates for Round of 64 Matchup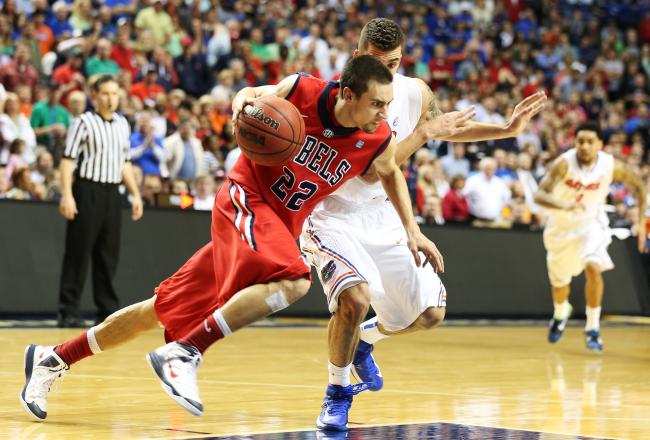 Andy Lyons/Getty Images
Ole Miss has knocked off Wisconsin 57-46 in the second round of the NCAA tournament, becoming the third No. 12 seed to defeat a No. 5 seed in this year's tournament.
Both teams entered the tournament pretty hot, as the Rebels won the SEC tournament championship over the Florida Gators, while the Badgers came up just short against Ohio State in the B1G tournament final.
It took over 20 minutes, but Marshall Henderson finally found his stroke from outside, and it helped propel the Rebels to the upset. It's the second significant upset in the West region, as 14-seed Harvard defeated New Mexico Thursday night.
The Rebels will play the winner of Kansas State and La Salle on Sunday.
Ole Miss will play the winner of Kansas State and La Salle on Sunday. Thanks for following along today and enjoy the rest of the action!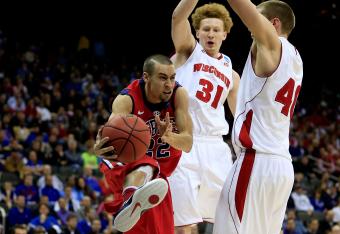 The Badgers only made one field goal in the final 6:51 and shot 25.4 percent from the field. That's not going to win you many games. Marshall Henderson scored 17 points in the second half to lead the Ole Miss comeback, finishing 6-of-21 overall.
And that'll do it. The Badgers go completely cold from the field and become the third No. 5 seed to fall victim to a No. 12 seed in this year's edition of the NCAA tournament.
Final score: Ole Miss 57, Wisconsin 46
And it's going to end like this, with missed shot after missed shot.
— Jim Polzin (@JimPolzinWSJ) March 22, 2013
This one is in the bank and drawing interest for Ole Miss.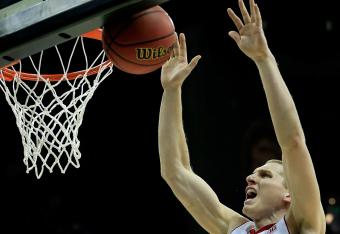 Wisconsin simply can't put the ball in the basket. Down by seven with 90 seconds to go.
Henderson just hit one from the next county to put the Rebels up by six. Wisconsin needs to make a run here with time winding down. Just 1:54 left in the second half.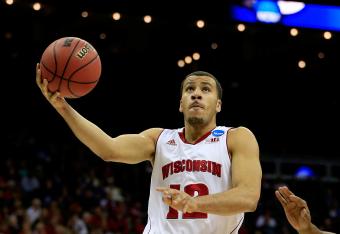 And of course, Jackson buries a three. Timeout Wisconsin.
Ole Miss 47, Wisconsin 44 with 3:06 remaining.
That's Buckner's 12th board. Ole Miss is up 45-41 with 3:33 to play.
— Hugh Kellenberger (@HKellenbergerCL) March 22, 2013
Off of another Jackson miss, who is now 1-of-9 for the game.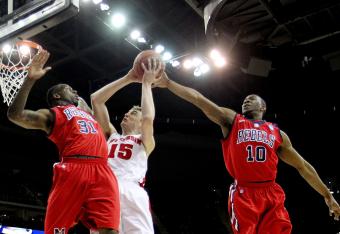 Not much offense for the Badgers at the moment, and taking Dekker out of the game won't help matters. Ole Miss up by two with six minutes remaining in the game.
Bad shots from Jackson, Henderson heating up, the Rebels crashing the offensive boards and a costly turnover have swung momentum in Kansas City. A few questionable calls (and no-calls) have hurt Wisconsin, but it hasn't helped itself, either.
Ole Miss 40, Wisconsin 39 (7:51 2H). Last two calls have gone against Wisconsin.

— Hugh Kellenberger (@HKellenbergerCL) March 22, 2013
Henderson and Berggren exchange threes, and we have a ball game.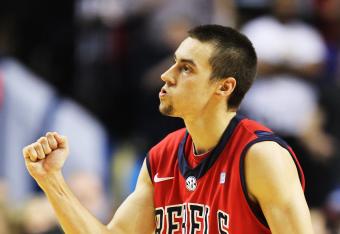 Henderson FINALLY knocks down a three off of a screen. Immediate timeout by Bo Ryan, who didn't like the fact that Henderson got an open look from outside.
Dekker with a steal and a basket on the other end to put a stop to a scoring drought. It puts the Badgers back up by six.
Wisconsin 36, Ole Miss 30 with 11:35 remaining.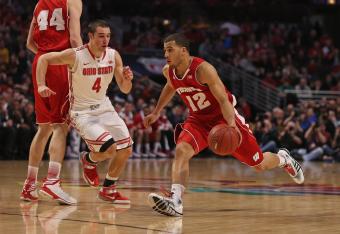 Jackson with back-to-back airballs for Wisconsin. Ole Miss has switched to man-to-man after the Badgers' early success on offense.
Still plenty of ball game left, but Henderson is still ice cold and the Badgers haven't turned it over yet in the second half. Should those trends continue, it will be difficult for Ole Miss to get the lead back from Wisconsin.
Wisconsin 34, Ole MIss 28 (15:21 2H). Henderson missed his first shot, now 1-of-12.

— Hugh Kellenberger (@HKellenbergerCL) March 22, 2013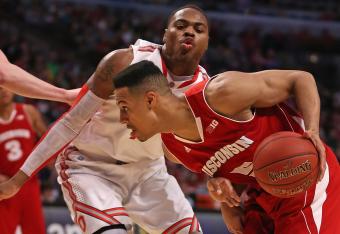 The Badgers are beginning to get the ball inside for some easy looks. It's been back and forth early in the second half, but Wisconsin is still in the lead.
Berggren begins the second half by missing a wide open baseline jumper, but then slams home his next chance to put the Badger up five early in the second half.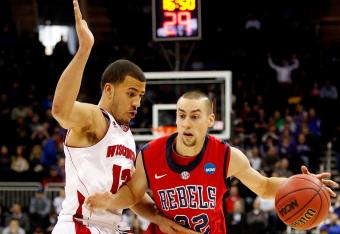 In the second half, we'll see if the Badgers adjust better to the Ole Miss zone and limit the turnovers. On the other end, will Henderson try and get to the basket more often? He has settled for jump shots, including four three-point attempts.
Berggren and Buckner with three blocks apiece. Bot teams are shooting slightly above 30 percent from the field. Ole Miss is yet to make a three-point basket while the Badgers are 4-of-13 from beyond the arc. Wisconsin has also shot seven more free throws than the Rebels through one half.
Mike Bruesewitz is doing a nice job of denying Marshall the drive, forcing him to step out for shots or shoot over people.
— Hugh Kellenberger (@HKellenbergerCL) March 22, 2013
Not sure how much Henderson likes Bruesewitz anymore.
Unofficial final points per possession: UW 0.78, Ole Miss 0.67. Dekker with 10 points to lead all scorers; Buckner with 7 to lead Ole Miss.

— Jim Polzin (@JimPolzinWSJ) March 22, 2013
Summers completes the three-point play, the Badgers turn it over AGAIN, and the half comes to a close. Sloppy basketball from the Badgers, pitiful shooting for Henderson, and it's Wisconsin 25, Ole Miss 22 through 20 minutes.
Henderson now 1-for-11, 0-for-4 from 3-point range. He's missed seven straight shots.
— Jim Polzin (@JimPolzinWSJ) March 22, 2013
Not a typo.
This article is
What is the duplicate article?
Why is this article offensive?
Where is this article plagiarized from?
Why is this article poorly edited?