England's 10 Greatest Kits of All Time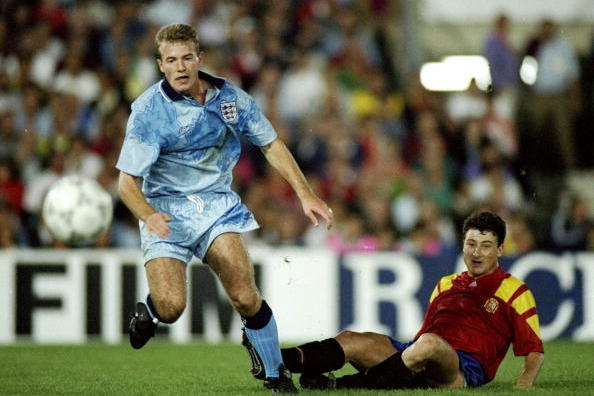 (Getty Images)
England's World Cup qualifier with Montenegro next Tuesday marks the end of an era.

It will be the last time the Three Lions wear an Umbro uniform, as the kit manufacturing deal will be ceded to American apparel giants Nike.
In celebration of a relationship with Umbro that dates back to the 1950s, here are 10 of B/R's favourite England strips of all time...
Begin Slideshow

»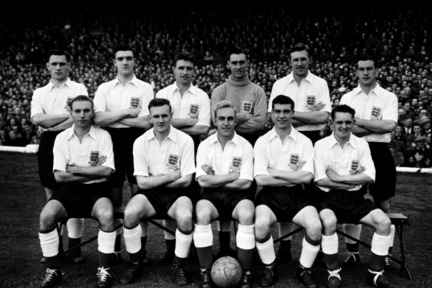 (Getty Images)
This is the final kit worn by England before they began their association with Umbro in 1954, made by Hope Brothers Ltd. It features an oversize collar and the first iteration of the Three Lions crest that we know today.
Here, it is prior to a 2-0 victory over Northern Ireland in Belfast in 1954, the last time it was ever worn.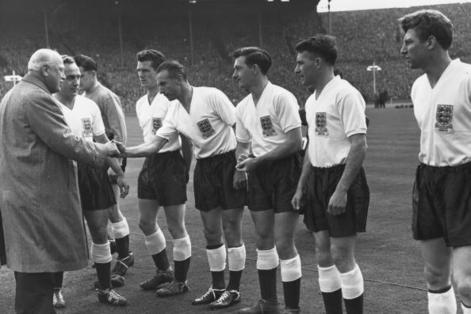 (Getty Images)
The first Umbro shirt debuted against Wales in 1954. The large collar of the previous iteration was abandoned for a more "continental" style, making this a lightweight v-neck t-shirt. Simple but very effective.
It is pictured prior to a 2-1 victory over Scotland at Wembley in 1957. The player shaking hands is Stanley Matthews.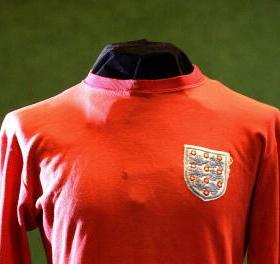 (Getty Images)
England made 12 appearances in this long-sleeved red uniform, including the most famous day in the Three Lions' history: the 1966 World Cup Final.
This is the very shirt George Cohen wore on July 30, 1966, the day England beat West Germany 4-2 at Wembley to become champions of the world.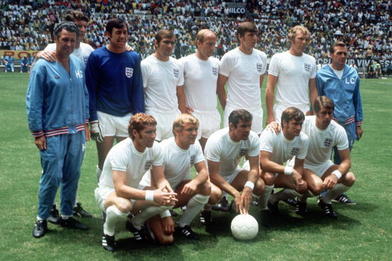 (Getty Images)
Defending World Cup holders England headed to Mexico 1970 with an all-white shirt with a rounded neck. It was teamed with white shorts and white socks. So everything was pretty white.
It was worn six times, most famously in the 1-0 defeat to Brazil in Guadalajara, remembered for Gordon Banks' "greatest save of all time" against Pele.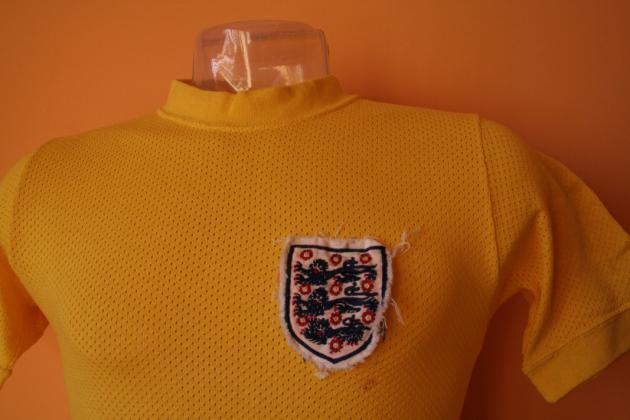 (englandfootballonline.com)
Although it has occasionally been blue—and once an unlucky grey in 1996—England's away strip is almost always red.

In 1973, however, there was a complete break with tradition when the Three Lions went on tour wearing yellow, perhaps as a tribute to reigning World Cup holders Brazil.
It was only worn three times, resulting in a draw and two losses.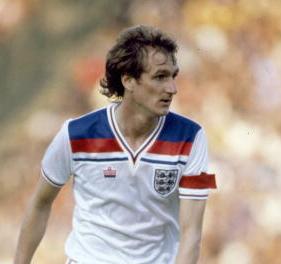 (Getty Images)
Between 1974 and 1983 England took a break from Umbro, as Admiral took the manufacturing helm.
Having failed to qualify for a World Cup or European Championship since 1970, England arrived at Euro 1980 in this radically different design, featuring thick blue and red stripes across the upper chest.
Here's Phil Thompson wearing the shirt in a World Cup qualifier against Romania in September 1980.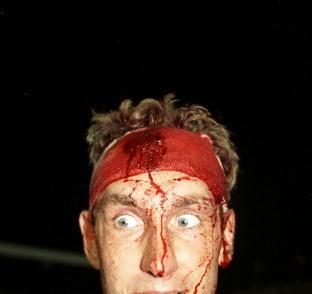 (Getty Images)
This natty Umbro effort—worn in the winless Euro 1988 Final campaign—featured a navy blue crew neck and shiny rhombus patterns that could only belong in the 1980s.
It used a "revolutionary" new material called Tactel, which apparently ensured coolness in the heat and warmth in the English chill. In reality, it was just quite itchy, but it looked great.
Its most iconic appearance was a 1989 World Cup qualifier against Sweden, in which a Terry Butcher head injury threatened to turn it into an away strip.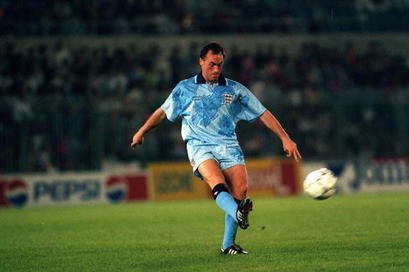 (Getty Images)
Surely England's most "out there" kit of all time was the away shirt worn between March and September 1992.
It was pale blue and featured three huge lions across the chest—how could that not strike fear into the hearts of the opposition?

Ultimately, it didn't strike any fear, as it was only worn twice and resulted in a loss and a draw.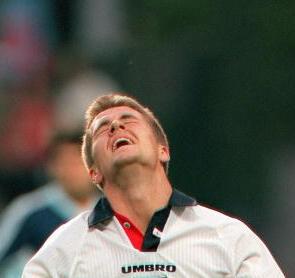 (Getty Images)
England played 22 matches in this jersey, which featured a large navy blue collar, red and blue stripes on the flanks and a centered crest, much like the Euro 1996 strip that proceeded it. One of the best features was a small St. George's Cross tag sewn onto the collar.
The Three Lions wore this shirt at France 1998, including the match against Argentina where David Beckham was sent off for kicking Diego Simeone and where Michael Owen scored the goal that kickstarted his career.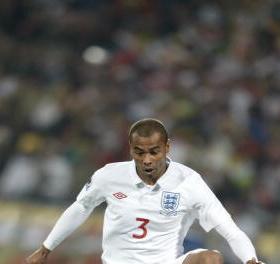 (Getty Images)
The 2009 design, debuted in a friendly against Slovakia, was technically the first England shirt made by Nike, with the American brand having purchased Umbro in 2007.
It's a beautiful classic design that escapes all the fuss and detailing of the shirts that preceded it, harking back to the simplistic pre-Umbro shirt featured at the beginning of this list.
Here's Ashley Cole wearing it during the 2010 World Cup match with the USA.