Breaking Down the Capitals' Successful Tandem of Ribeiro and Ovechkin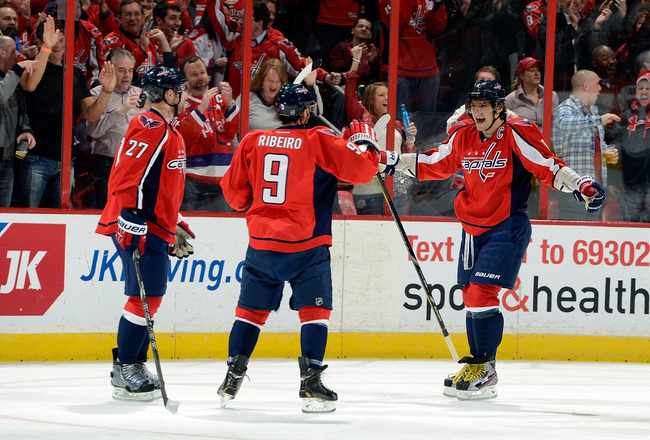 Greg Fiume/Getty Images
With the Washington Capitals' season in the balance Thursday and Friday night, on the road, against the Southeast Division-leading Winnipeg Jets, it was Alexander Ovechkin who came to the rescue.
When the Caps absolutely needed their captain the most, Ovi responded on Thursday night with a goal and two assists as the Caps shutout Winnipeg, again, 4-0.
For an encore on Friday night, Ovechkin scored two more goals and the Caps completed a sweep of the Jets, in Winnipeg no less, with an emphatic 6-1 win.
The Caps have gone from seemingly dead in the water to very much alive in the very tight playoff race in the Eastern Conference.
The Caps currently sit just five points behind the Jets for the division lead, but they are now just three points behind the slumping Carolina Hurricanes for the final playoff spot in the Eastern Conference.
What was somewhat unique about the Caps' wins over the Jets was that Mike Ribeiro did not assist on any of Ovi's goals. Perhaps equally as odd was the fact that neither of Ovechkin's assists on Thursday went to the man called "Ribs."
To say that the tandem of Mike Ribeiro and Alexander Ovechkin has been one of the few success stories in D.C. during a difficult 2013 season would be an understatement. While they may not be conjuring memories of such pairings as Gretzky and Messier or Lemieux and Jagr—at least not yet—the tandem of Ribeiro and Ovechkin has been as effective and successful a pairing as has been seen in Washington in a very long time.
How successful have they been and what has been the secret to their success? Let's take a closer look at the most dangerous duo on the Washington Capitals this season.
A Closer Look at Mike Ribeiro

Here is one example of Mike Ribeiro and Alexander Ovechkin working very well together.

If there is an MVP for the Caps so far this year, it has to be Mike Ribeiro. The man Caps fans simply call "Ribs" is having a stellar season on multiple levels.
Ribeiro leads the Caps in several major offensive categories. He leads the team in assists with 24. He has a five-point lead over Alexander Ovechkin for the team lead in points with 34. He is third on the team in goals with 10, trailing only Ovi (15) and Troy Brouwer (12). He is second only to Ovechkin in power-play goals with five.
In short, "Ribs" has done it all for the Caps this season, and he has done it pretty much every night.
Ribeiro has made George McPhee look like a genius. It was on draft day 2012 that McPhee cut a deal with the Dallas Stars, whereby the Caps got Mike Ribeiro in exchange for Cody Eakin and the 54th pick in the draft (Washington Times).
The thought process for McPhee was simple. He had been looking for a second-line center for a couple of years, and he felt that Ribeiro would more than fill that role.
It was a move that made a lot of sense, especially as Ribeiro is in the last year of his contract. His play so far this season has got to have the Caps thinking about a contract extension. "Ribs" has been far more than just an adequate second-line center. He truly has been the Caps' MVP so far this year. His effectiveness on the power play cannot be mentioned enough.
What is somewhat surprising is that Ribeiro is doing all of this without shooting the puck much. He has only put 37 shots on goal so far this season, which has him ranked 10th on the team.
But Ribeiro is more than happy to be a setup man and his unselfish play has had a profound effect on the Caps. If you watch him work with Ovechkin, the two have some real chemistry. Ribeiro has been phenomenal at finding Ovi at the left circle, where Ovechkin is most dangerous. This is particularly true as far as the Caps power play is concerned.
Regardless of how this season turns out, Ribeiro's performance is going to give George McPhee something to really think about in the offseason. Do the Caps offer "Ribs" an extension, or do they let the man who will likely be the team's MVP go to free agency?
There is no denying just how well Mike Ribeiro has played. But at 33 years of age, how much do the Caps really want to invest in him? Personally, I would like to see him come back to D.C. for a couple more years.
GMGM will have a tough decision to make in the very near future.
A Closer Look at Alexander Ovechkin

Another example of how Mike Ribeiro and Alexander Ovechkin have made the Caps power play so lethal.

It has certainly been an up-and-down season for Alexander Ovechkin.
At times, he has been spectacular, such as he was on February 23, when he recorded his first hat trick in over two years in a 5-1 win over the New Jersey Devils.
Then, there have been moments such as the 4-1 loss to the Philadelphia Flyers, where Mike Milbury absolutely ripped Ovi for his terrible play. It was not an isolated incident, either. Ovi has made several, shall we say, mental errors that have cost the Caps at key times this season.
With Ovi's inconsistent play, it is sometimes easy to forget that this is the same guy who, during the 2007-2008 season, led the league in goals and points and captured the Art Ross, Rocket Richard, Lester B. Pearson and Hart Memorial Trophies—the first player in history to win all four major awards in one season.
But this is also the same player whose play has indisputably declined the past few seasons. The fact of the matter is that since Ovi hit a a career-high 65 goals during the 2007-2008 season, his goal total has gone down every season up through the 2011-2012 campaign. Even then, Ovi only scored 38 goals, quite a bit below the standards he set for himself many years earlier in his career.
This season, Adam Oates has been creative, to say the least, to try and get Ovi back to scoring as much as he was earlier in his career. He has lined him up on right wing and inserted him into just about as many line combinations as possible.
After a relatively slow start, Ovi has started to pick up the pace. Ovi leads the Caps with 15 goals and he is also ranked 18th in the NHL in this category. He also leads the team in power-play goals with 10, which also leads the NHL in this category.
Ovechkin is also second on the team in points with 29 and he is far and away the team leader in shots with 131. The next closest teammate to him in this category is John Carlson with 71 shots.
Ovi might also be getting hot at just the right time. He has five goals in his past five games and even his plus-munus rating has improved, as he is a plus-one over those same five games.
Much of Ovechkin's success this season has been directly linked to Mike Ribeiro. Just how much are these two guys dependent on each other to succeed?
The last slide will illustrate this.
How Dynamic Is This Duo?

Ovechkin and Ribeiro combine for a game-winner in Carolina.

To gain a good understanding of just how effective Mike Ribeiro and Alexander Ovechkin have been as a duo, consider some of the following stats.
Of the 15 goals Ovi has scored this season, Ribeiro has assisted on nine of them. In other words, Ribeiro has assisted on 60 percent of Ovi's goals this season.
Of the 10 goals Ribeiro has scored, Ovechkin has assisted on seven of them. That means that Ovi has assisted on 70 percent of Ribeiro's goals.
Consider that the Caps have scored 89 goals all season and that Ovechkin and Ribeiro have accounted for 25 of those goals, or roughly 28 percent of the team's goal production, and the importance of the duo becomes even more pronounced.
This is especially true on the power play, where 10 of the Caps' 26 power-play goals on the season have involved Ovechkin and Ribeiro. Ovi and Ribeiro have been so effective on the power play that the Caps have the best power play in the NHL, operating at a staggering 24.5 percent.
If you watch the Caps power play, you can see the chemistry between Ovi and Ribeiro. Those two guys are communicating out on the ice without saying anything to each other. They have hardly really played together too much, yet they play as though they have been teammates for years.
Ribeiro seems to have just an uncanny ability to find Ovechkin near the left faceoff circle, which is where Ovi likes to be. But it is more than that. Ribeiro has a great ability to get other key players involved on the power play, such as Troy Brouwer, Nicklas Backstrom and Mike Green.
For a very good breakdown of the Caps power play, and why it works so well, it is worth the time and effort to read an article that appeared a couple of days ago on Japersrink.com. It is a pretty interesting look at why the Caps power play is so effective.
And the power play shows no signs of slowing down, either. As the Japersrink.com article notes, with Ribeiro being more or less the quarterback of the Caps power play, opponents have to respect other Caps players on the ice, such as Backstrom, Brouwer, Green or the recently returned Brooks Laich. This invariably leaves Ovechkin open at the left faceoff circle and, from there, he is as money as it gets.
Alexander Ovechkin and Mike Ribeiro have that certain chemistry that just does not grow on trees in the modern NHL. It is all the more impressive when you consider they have accomplished this in a lockout-shortened season.
It makes one wonder what this dynamic duo might be able to accomplish in a full 82-game regular season, with a full training camp and exhibition season under their belts.
For now though, Caps fans have to be hoping that the stellar combination of Alexander Ovechkin and Mike Ribeiro can find a way to get the Caps back to the playoffs in 2013.
So far—I would have to say—so good.
Keep Reading

Washington Capitals: Like this team?