Dillon Gee, Ruben Tejada Among New York Mets Expected to Outplay Their Contracts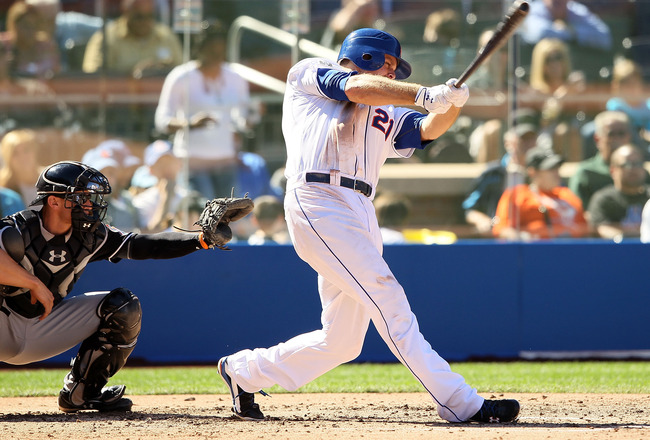 Lucas Duda should put up enough offensive firepower to make the Mets feel they're more than getting their money's worth.
Alex Trautwig/Getty Images
It's doubtful that anyone would shed a tear about the ability of a Major League Baseball player to provide a living for himself and his family. That said, some players could credibly make the argument that they're underpaid. Again, that's not exactly something that would elicit sympathy points from the tin lunch pail crowd. We highlight three players on the New York Mets roster who, at season's end, should have cause to say that they were had for a bargain basement price of around half a million bucks.
Lucas Duda, Outfield, $497,318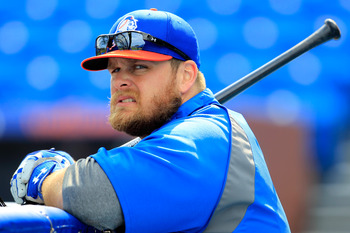 Despite a grim spring training, Lucas Duda is expected to be the Mets' starting left fielder in 2013.
Chris Trotman/Getty Images
Lucas Duda's spring hasn't exactly been one for the record books.
Despite his recovery from off-season wrist surgery and a sour grapefruit slump, Lucas Duda can feel somewhat reassured, as the buzz is that he's penciled in as the Mets' starting left fielder. His March 3 performance against the Miami Marlins—which included a double and his first home run—gave everyone in orange and blue a sense of optimism that Duda would be just fine.
The pundits feel the Mets have the weakest projected starting outfield in the league, so Duda—who hit .239 last season after hitting almost .300 in 2011—doesn't have to rise above a stellar level of competition to get into the lineup. However, to avoid the bench, it would be in his best interest to improve the leather skills.
Lately his swing has improved and, based on his numbers from the last two full seasons, 20 HR and 75 RBI in 2013 aren't totally out of the question.
"I feel like I'm good in the outfield," Duda told the (Newark, N.J.) Star-Ledger. "I feel like I'm a good hitter. I'm going to continue to work hard and let the chips fall where they may.
Ruben Tejada, Shortstop, $491,209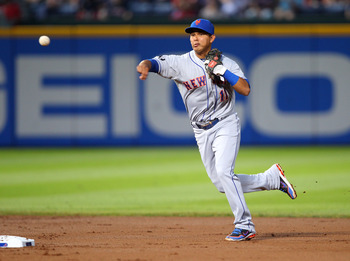 Ruben Tejada gives you what you'd typically expect in a shortstop: good glove, decent average and no power.
Mike Zarrilli/Getty Images
Ruben Tejada is another member of the Mets' "walking wounded" crew, as he has been dealing with a strained quad. He and his teammates aren't sweating it, and his status as the starting shortstop is essentially a lock.
It's clear the Mets see upside in Tejada, despite a terrible camp that included a 3-for-34 slump.
Tejada fits the long-time stereotype for his position—solid fielder and good contact hitter with no power. In each of the last two seasons, his batting average has been a little above .280, so a performance north of .300 is not a crazy pipe dream.
The shortstop is just what the Mets need at the top of the lineup—someone who can get on base and show a little bit of speed.
Dillon Gee, Pitcher, $502,000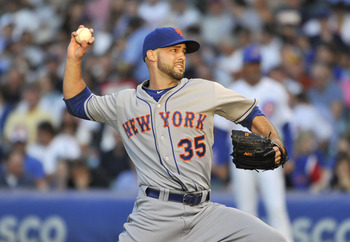 Dillon Gee is hoping his shoulder trouble is a thing of the past.
Brian Kersey/Getty Images
By now, you can probably sense a common theme: Mets performing poorly in the spring. But, if you know you're going to get playing time during the upcoming season, it's better to stink it up now than when it counts.
Let's be clear: Dillon Gee is stinking it up now with an ERA of 8.31.
Although, perhaps we can give him somewhat of a pass because he had surgery on his throwing shoulder to remove a blood clot.
Like Duda, he showed some flashes during the March 3 game against the Marlins, tossing three scoreless innings and allowing only three hits and a walk.
"I remember last year I had a bad April and I built off that and ended up stringing a lot of good starts together," Gee said in the Star-Ledger. "Hopefully, maybe my April this year is my spring this year and I'm going to start great."
Keep Reading

New York Mets: Like this team?