6 Free-Agent Outfielders the New York Mets Could Realistically Sign in 2014
Jared Wickerham/Getty Images
With a handful of big contracts coming off the books after this season, there are plenty of quality outfielders the New York Mets could realistically sign next offseason.
The big contracts include over $18 million owed to the departed Jason Bay, $6.5 million to the disappointing Frank Francisco and $25.5 million to the injury-riddled Johan Santana, who may become trade bait by midseason.
After this season, and assuming the Mets smartly do not pick up Santana's $20 million option for 2014 (if he has not been traded), they will not owe a dime to any of these players.
Therefore, the Mets will have an unusually high amount of cap space after 2013. Barring any surprises this season, the outfield will be one of the biggest needs next offseason for the Mets, especially in terms of right-handed power hitters.
Even more, the 2014 Mets will look to seriously contend as their talented prospects reach the majors. They should be buyers that offseason for the first time in a long time. And at this point, the 2014 free-agency class has a deep pool of outfielders available.
Here are some outfielders the Mets should try to sign next offseason:
1. Hunter Pence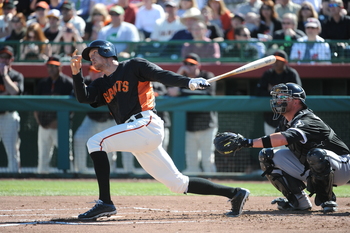 Pence looks a bit goofy at times, but he plays hard every game and is a powerful, consistent hitter.
Rich Pilling/Getty Images
Hunter Pence had a down year in 2012, but should bounce back to his old form in 2013.
In 2011, Pence hit .314 with 38 doubles, 22 home runs and 97 RBI. Last season Pence did have career highs with 24 home runs and 104 RBI, but his batting average dipped all the way to .253. That included a .219 batting average when traded to his current team, the San Francisco Giants.
But at only 29 years old, Pence has plenty of quality baseball left to play.
The Giants will have some more pressing needs next offseason. They must worry about re-signing big names such as MVP Buster Posey and two-time Cy Young winner Tim Lincecum, as well as the club options on Ryan Vogelsong and another Cy Young winner in Barry Zito.
There is a good chance Pence's name could slip through the cracks.
Considering his struggles in 2012, Pence could still come very cheaply, even with a solid 2013 season. He would provide the right-handed power that the Mets desperately need.
2. David Murphy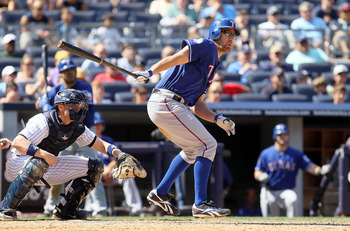 Murphy is a phenomenal fielder who proved last season he can also hit well against righties and lefties, if given full-time duties.
Jim McIsaac/Getty Images
Murphy is one of the most underrated left-handed bats in baseball.
Although the most pressing need is for righties, the Mets need offense and outfielders in general. Murphy can provide both.
In 2012, hitting primarily against right-handed pitchers (84 percent of his at-bats), Murphy hit .304 with 29 doubles, three triples, 15 home runs and 61 RBI in only 457 at-bats.
Murphy tallied only 75 at-bats against lefties.
Remarkably, though, he managed to hit .347 with a .405 on-base percentage. His OPS against lefties was only 17 points less than it was against righties. This is even more impressive considering all 15 of his home runs came against right-handed pitchers.
Furthermore, Murphy plays incredible defense, with experience in all three outfield positions. He also committed only one error despite playing over 1,000 innings in the field last season.
Again, the most pressing need for the Mets is right-handed power hitters. But the Mets simply need offensive talent in the outfield altogether.
Murphy has never been a full-time starter on the Texas Rangers, and therefore could also come at a cheaper price than a full-time starter. But Murphy has the offensive talent and versatility to become a productive full-time starter for the Mets in 2014.
3. Carlos Beltran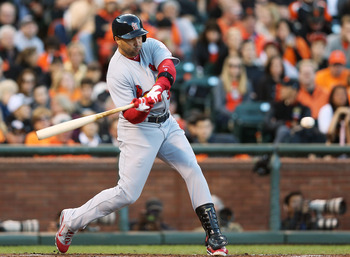 The talented Beltran struggled for years with injuries with the Mets, but he finally seems healthy and is putting up big numbers offensively.
Ezra Shaw/Getty Images
Why not?
Carlos Beltran had an injury-riddled but very successful career with the Mets from 2005 to 2011. Most fans may remember Beltran for his knee-buckling strikeout to end the 2006 NLCS, which was also the last time the Mets were in the playoffs. But the Mets would be wise to consider a reunion with Beltran.
The Mets may be trying to build long-term success by getting younger talent, but Beltran, who will be 36 by next season, still has a lot of legs left.
The main reason Beltran is still successful at his age is due to lingering injuries in past seasons; he simply hasn't played in as many games as most players at 35 years old.
But Beltran has been healthy and very productive in the past two seasons. In total, Beltran only missed 31 games the past two seasons, and most of those were just for a day off. Injuries no longer seem to be a major concern for the talented outfielder.
Last season, Beltran hit 32 home runs, his highest output since hitting 33 home runs in 2007 with the Mets.
Beltran may come with a heftier price tag than most free agents simply due to his track record. But even at his advanced age Beltran is fully capable of putting up 30 doubles and 30 home runs for the next few seasons.
The Mets should consider signing Beltran as they look to contend again in the near future.
4. Chris Young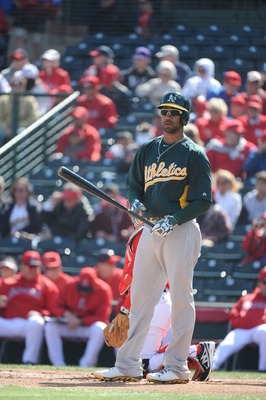 Young has struggled all career with his batting average, but he is a good defender who can provide big power and stolen base numbers.
Rich Pilling/Getty Images
Chris Young is an incredible talent, but he has struggled to put up a decent batting average as a career-.240 hitter.
But Young still has a superb combination of power, speed and defense.
An injury limited Young to only 101 games last season. Before 2012, Young averaged 34 doubles, 23.2 home runs and 20.4 stolen bases in the previous five seasons.
Young's new team, the Oakland Athletics, have an $11 million option on him for 2014. But the A's are notorious for their cheap contracts and Moneyball strategy, which thrives on players getting on base. While Young's .318 career on-base percentage is not bad considering his low batting average, it is not worth $11 million for a low-budget team.
Therefore, the Athletics will likely not pick up his option.
The Mets could use a dangerous bat like Young's. He will only be 30 years old in 2014, and the Mets could acquire him in his prime for the next few years.
5. Corey Hart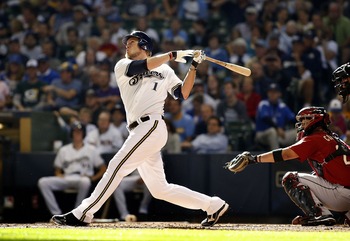 Hart has quietly been one of the top power hitting outfielders in baseball, primarily since he has been overshadowed by his outfield teammate, Ryan Braun.
Mark Hirsch/Getty Images
Corey Hart is constantly overshadowed by his outfield teammate, perennial MVP candidate Ryan Braun.
As a result, Hart is also one of the most underrated right-handed, power-hitting outfielders in baseball.
Hart, who will turn 31 this Sunday, has averaged 31.3 doubles and 29 home runs the past three seasons, including 35 doubles and 30 home runs in 2012. Hart also hit a respectable .270 last season, which should improve this season considering he hit .283 in 2010 and .285 in 2011.
Hart also switched to first base last season, where he played a majority of his games. But Hart still maintained a decent amount of experience in the outfield in 2012, and early defensive troubles for the Mets would be acceptable if he gave his usual offensive production.
Moreover, Hart can provide offensive production all season.
Last year, Hart's monthly home run totals were: 6, 4, 5, 5, 5 and 5. With the second-half struggles the Mets have had the past two seasons, they could certainly use a player like Hart who can perform well all year.
Hart has quietly been a dangerous offensive player for the past five years, and the Mets will have more than enough cap space to pick him up.
6. Jacoby Ellsbury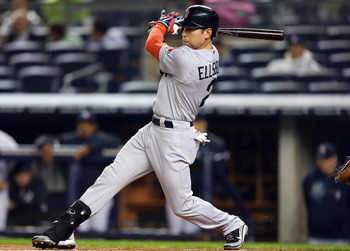 Ellsbury struggled due to injury in 2012, but when healthy he is still capable of being the best leadoff hitter in baseball for the next half-decade.
Elsa/Getty Images
Aside from right-handed power, the Mets also need a consistent leadoff hitter.
Jacoby Ellsbury was an MVP candidate in 2011 as he combined an amazing .321 average with 212 hits, 46 doubles, five triples, 32 home runs, 105 RBI and 39 stolen bases. Most impressively, Ellsbury got 97 of those 105 RBI as a leadoff hitter. This was primarily due to his surprising home run rate and incredible .366 batting average with runners in scoring position.
But 2012 was a much different story.
A shoulder injury crippled Ellsbury's ability, and he was a shadow of himself all season long.
Ellsbury finished the season hitting .271 with 18 doubles, zero triples, four home runs, 26 RBI and 14 stolen bases in 303 at-bats. Those are fairly good numbers for any leadoff hitter, but Ellsbury is capable of much more.
It is also worth noting that Ellsbury hit .245 last season as a leadoff hitter, but .364 as a No. 2 hitter. It will be interesting to see if that trend continues this season.
Regardless, the 29-year-old should have a much better season in 2013, and that will have a huge impact on the amount of money he receives next offseason.
Yet no matter how much money Ellsbury commands in 2014, he is a player in his prime who can be one of the most dangerous leadoff hitters in baseball.
The Mets should look into signing Ellsbury this offseason, as well as any of the other outfielders in this list.
Stats and Splits from ESPN.com
Keep Reading

New York Mets: Like this team?