Oklahoma State Football: Week 2 Spring Practice Stock Report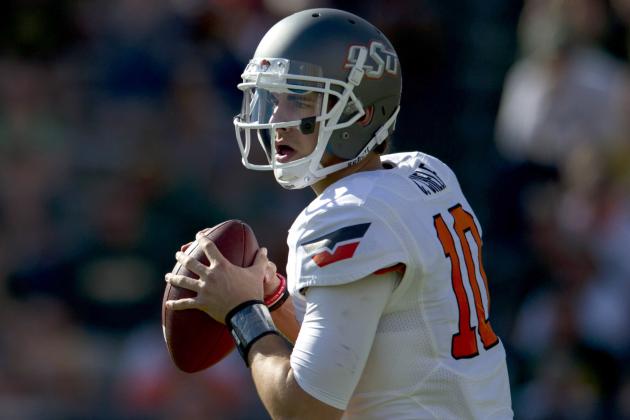 Cooper Neill/Getty Images

The Oklahoma State Cowboys' spring practice session is underway. However, spring break has put the kibosh on any big news coming out of camp.
Still, there is plenty to discuss, with major position battles taking place in at least four or five major positions. The offense and defense will look very different when the 2013 regular season finally arrives.
Please keep in mind that, because of spring break and the fact that spring practices have barely started, there is very little news on these players. However, there is enough for us to speculate on who is going up and who is going down stock-wise.
Begin Slideshow

»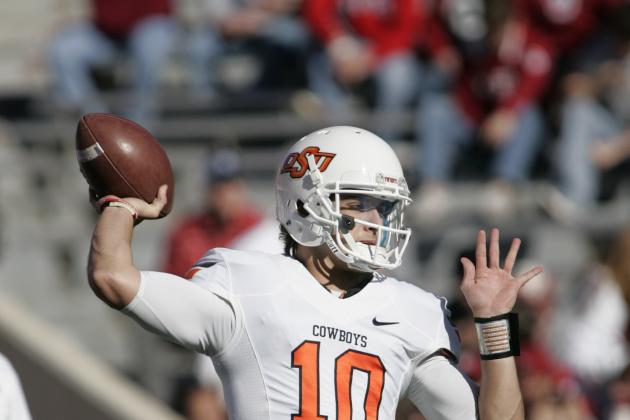 Brett Deering/Getty Images

No Change
In his weekly Power Lunch Chat, John Helsley of The Oklahoman stated that Clint Chelf entered the spring as the No. 1 quarterback on the team. It seems unlikely that has changed given the lack of practices the team has had so far.
Chelf appears to be the favorite to win the job, especially given how well he played late in the year last season. He also gives the team the combination of running and throwing ability that neither other quarterback candidate can offer.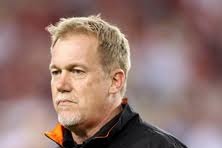 Stock Up
It might seem odd to have a coach on this list, but so far, the buzz about the Cowboy defense has been completely positive. As I outlined in my article earlier in the week, Gina Mizell of The Oklahoman discussed how the defense needed a spark and Spencer is providing that spark.
Very little of the team's problems were schematic last season. Instead, most of the defensive problems seemed to have more to do with attitude and energy. Spencer is focusing on that problem, which is enough to push his stock up.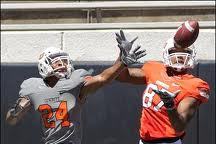 Stock Down
One of the key position battles on the defensive side will be at cornerback, where a number of players will battle to replace the departed Brodrick Brown as a starter. Little news has come out about this, but if any player's already dropped stock-wise, it is probably Miketavius Jones.
The primary reason to think that is simple. Last season, when Brown or Justin Gilbert had to come out, it was not Jones that primarily played. Instead, it was Kevin Peterson or Ashton Lampkin, both of whom were true freshmen. Considering their youth combined with the fact that they got more playing time last season, it seems likely that one of them will win the starting job over Jones.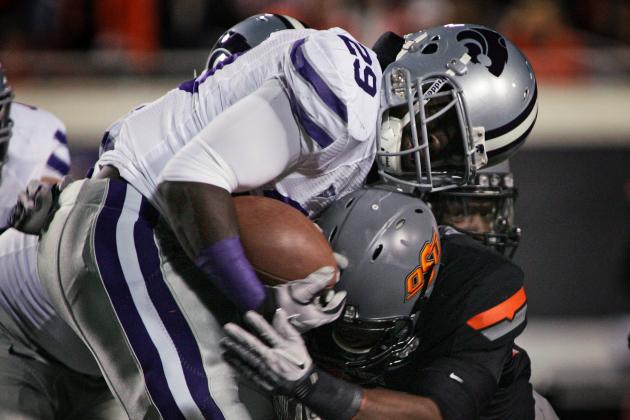 Brett Deering/Getty Images

Stock Up
Another position battle is at linebacker, where Alex Elkins' graduation leaves a huge hole to be filled. Demarcus Sherod was Elkins' backup last season, but there is reason to believe that he will not win that starting job.
Joe Mitchell looks like the job is his to lose. As a senior, he has the most experience of the players looking to fill the spot. He also no longer has to compete with the super-athletic Lyndell Johnson, who is being moved to safety.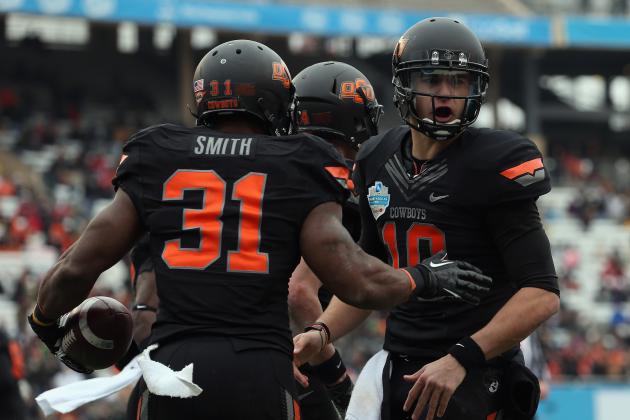 Ronald Martinez/Getty Images

Stock Up
Maybe this one is cheating a bit, but the fact that Joseph Randle left for the NFL automatically shoots up Jeremy Smith's stock. The likelihood of the starting running back job going to Smith is about 99 percent, given the inexperience of the backs behind him.
The one problem with Smith could be his injury issues, which have kept him from having a major impact last season. However, he did do very well back in 2011 when, as a backup, he rushed for 646 yards and nine touchdowns. If he can play that way while getting a starter's touches, the Cowboy run game will be fine.