Miami Football: 10 Ways You Know You're a Hurricane Fan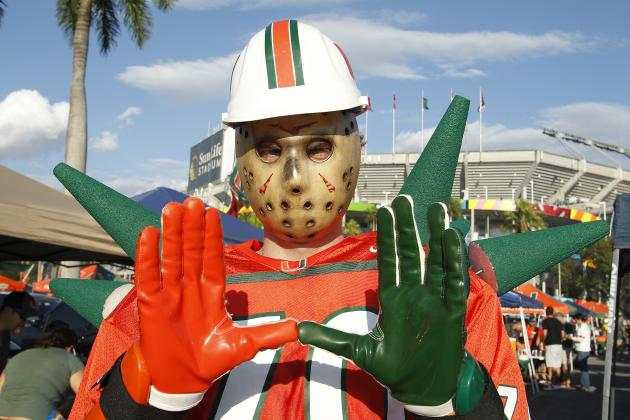 Joel Auerbach/Getty Images

If you are a diehard college football fan, it's not very hard to pick out what your favorite team is. In Alabama you will see the color crimson plastered all over with some even sporting a Bear Bryant houndstooth hat.
If you head into Gainesville, Fla., you will see cut-off jean shorts and a bunch of people clapping incorrectly—aka Gator chomping.
Miami fans have their own tradition and let's be honest—there is nothing like it anywhere. Read on to know how to spot a 'Canes fan.
Begin Slideshow

»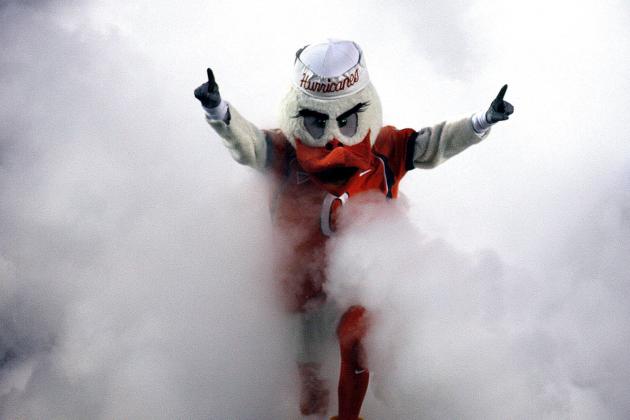 Marc Serota/Getty Images

In the 1950s, University of Miami transportation director Bob Nalette came up with a way to get the fans more interested in the Hurricanes football team—by using fire extinguishers. Not to spray the fans with, but to have the football team run through it before a game.
To this day there isn't a more exciting entrance in college football. In fact, it was so cool that multiple teams started to copy the Hurricanes and use smoke of their own.
Sure beats a fake Indian running on the field with a spear.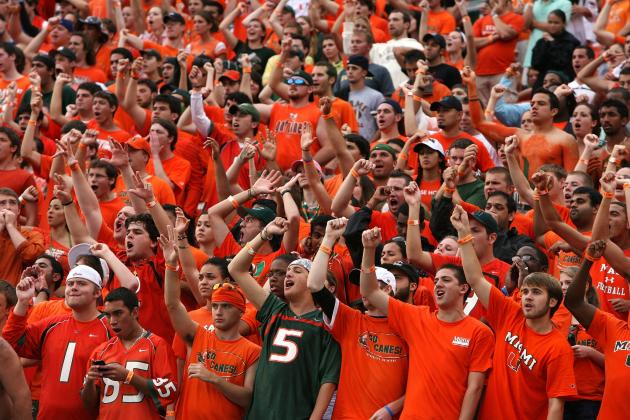 Doug Benc/Getty Images

There is only one school in the FBS division that sports team colors of orange and green, the Miami Hurricanes. What's even better about that is the fact that the color scheme actually makes sense.
The state of Florida is known for oranges so back in 1926 the school decided to use the colors of the orange tree as the school's colors. Orange for the fruit, green representing the leaves and white for the blossoms.
Other colleges, such as the Florida Gators, think blue and orange make sense, but quite honestly I have never seen an orange and blue alligator in my 36 years of existence.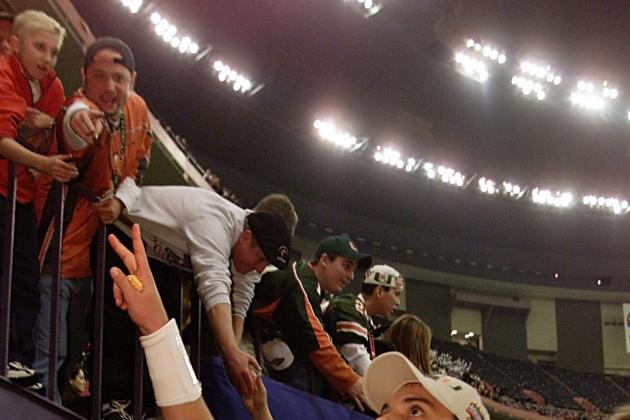 Brian Bahr/Getty Images

Gator and Seminole fans always attack the Hurricane fanbase every opportunity they have, whether it's Florida's championships in 2006 and 2008 or the Seminoles running their mouths over the last three victories over the Canes'.
Either way their point is moot. Miami has a better head-to-head record against either team and has five national championships compared to Florida's three and FSU's two.
Let me break this down for those fans. Miami has five rings, your two schools combined have five. There is no comparison of what college is the best from the state of Florida—unless your math is rotten.
If you are sitting around some people at a bar somewhere and someone talks about how bad certain referees are doing and someone mentions the name Terry Porter, chances are that person is a Hurricanes fan.
The horrific pass interference call Porter made against Miami defensive back Glenn Sharpe still haunts my dreams every January. For those who live in a cave and don't understand what I am talking, about just check out the video on this slide.
Another thing that upsets me about the call is that the flag wasn't even pulled out for a good three seconds after Miami started celebrating. No, Porter didn't have problems getting the flag out.
Now granted, the Hurricanes were too good for allowing the Buckeyes to get within 21 points of them, but that missed call by Porter cost Miami its second straight national championship.
I will forever hate Porter, and truthfully, I will never like the name Terry or Porter ever again.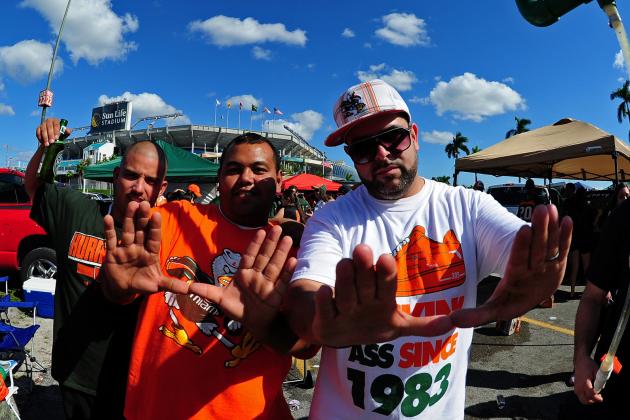 Scott Cunningham/Getty Images

I live in north central Florida and represent the U everywhere I go. When other 'Cane fans notice me, they throw the U sign at me instead of saying something or waving. It's just how 'Cane fans are.
Many people I hang with don't even understand what just happened so I have to explain it to them. When you place your hands together with just the thumbs touching it is U-shaped—meaning it's all about the U.
Ex-Hurricane players still throw up the U when they make a play in the NFL and a lot of future 'Canes do it in high school.
I guarantee you as you read this article there are U's getting tossed up somewhere.
The Florida State and Miami rivalry was already strong before the Seminoles started missing kicks against the Hurricanes. There were technically five missed field goals from 1991 to 2004 that cost the Seminoles a victory over Miami.
The first one was in 1991 when FSU kicker Gerry Thomas kicked it wide right with less than a minute remaining. Miami won, 17-16.
The second came just a year later when Dan Mowrey's field goal went wide right giving Miami the 19-16 victory.
The third came in 2000 when Matt Munyun's field goal sailed to the right allowing Miami to escape with a 27-24 victory.
The third came with just minutes remaining in the game. The Hurricanes led 28-27, but Xavier Beitia's kick sailed wide left giving Miami another close victory over Florida State.
The last fail by a Florida State field-goal kicker came in the 2004 Orange Bowl when Beitia's 39-yard field goal sailed wide right with 5:30 left in the game giving Miami the 16-14 win.
I mean let's be real. If you were a 'Canes fan, wouldn't you laugh if you heard "wide right" or "wide left"?
We still do.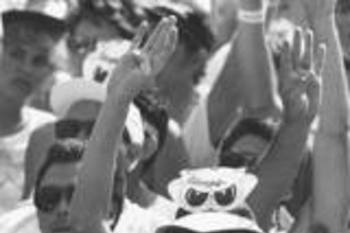 Alabama fans believe that back in the Bear Bryant days he would hold up four fingers before the fourth quarter, letting his team know that it was important to finish the game strong. Answers.com said Miami supposedly started the fad back in the '80s and Cane fans on Twitter believe that as well.
Regardless of who started, Miami popularized it when it dominated teams in the '80s. I never saw a team hold up four fingers until I saw the 'Canes do it on national television.
Now everyone does it in college or the NFL. I personally thank Miami for that tradition.
If you ask non-Cane fans what sweatshirt and hat Vanilla Ice was sporting in the "Ice Ice Baby" video, they probably wouldn't be able to tell you without watching it.
I can tell you right now (without seeing that video in years) that Ice was sporting a white Miami sweatshirt and hat with orange zubaz. Embarrassing I know, but he was the biggest thing on the planet back then and when I saw him wearing my team gear—I was stoked.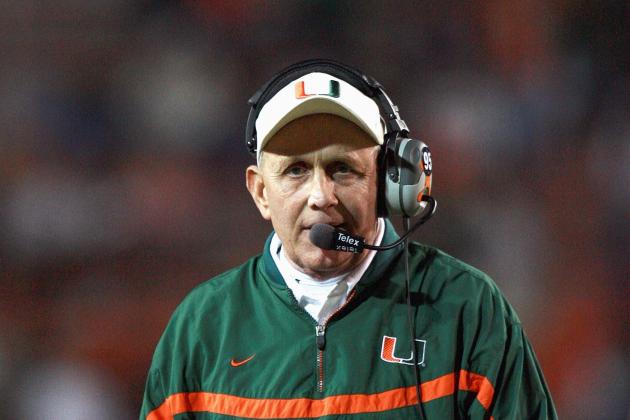 Doug Benc/Getty Images

A lot of fans across the country would be ecstatic to have a head coach with a 60-15 record while playing in two national championships and winning one of them. Unless you are a 'Canes fan.
Yes, the national championship was nice, but every Hurricane fan knows that Miami should have won three with the teams he had.
The real credit goes to ex-Hurricane coach Butch Davis who recruited all those studs. Coker just had to take the talent and put it all together, which he did the first couple years of tenure.
The main problem wtih Coker was once the talent was gone, it was over. He had no recruiting skills at all. He basically rode Butch's coattails until he was fired after the 2006 season.
Alabama, Nebraska, Florida, USC, Notre Dame and other colleges can brag about how good their teams were all they want, but every Hurricane fan knows that the 2001 team was the greatest college football team ever assembled.
Want proof? No problem.
The Hurricanes finished the season at 12-0 (7-0 Big East). They beat two ranked teams (No. 14 Syracuse and No. 12 Washington) in consecutive weeks by a combined score of 124-7—still an NCAA record for largest margin of victory over consecutive ranked opponents.
They were the No. 3 scoring offense scoring 43.18 points per game and the No. 1 scoring defense allowing just 9.4 points per game. The defense allowed just 14 touchdowns and two field goals the entire season.
Six Hurricanes made the first-team All-American team while 13 made the first-team All-Big East team. Ten 'Canes were nominated for national awards, with four of them winning.
Now if those stats don't impress you maybe this will—38 players from the 2001 team were drafted into the NFL and 41 Pro Bowl game appearances came from that team.
Name another college football program in history that were not only great in college, but dominated the NFL for years?
Didn't think so.