5 MMA Fighters Who Need to Think About Changing Training Camps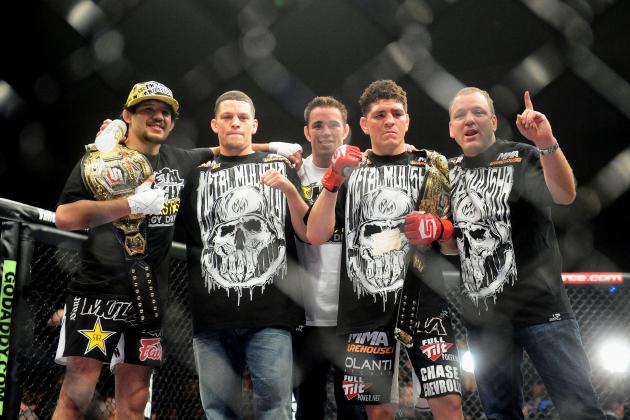 Mark J. Rebilas-USA TODAY Sports

The instant Nick Diaz revealed that his coaching staff essentially let him down during the post-fight press conference for UFC 158, it became clear that the former Strikeforce champ should promptly make a change.
It's often difficult to cut ties with coaches, training partners and other affiliates of specific training camps. But when a fighter hits a wall, gets neglected or fails to stop evolving both physiologically and psychologically, a radical change must ensue.
Getting integrated into fresh training and learning routines can rejuvenate even the most frustrated fighters.
But there's a thin line between ruining a good recipe and making an intelligent adjustment to staleness or negligence. Rashad Evans represents an example of the former while Robbie Lawler signifies an instance of the latter.
Here are five fighters who should leave their comfort zones and head for greener pastures.
Begin Slideshow

»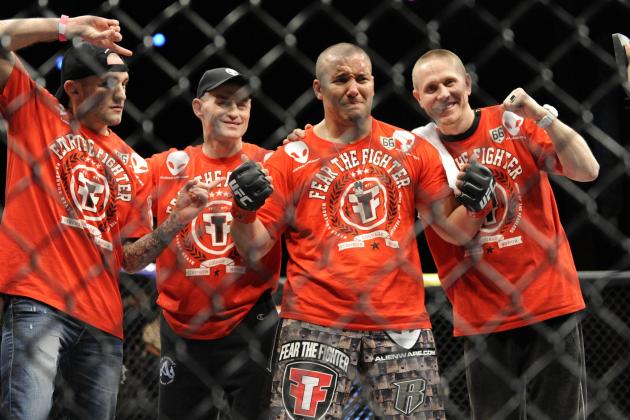 Josh Holmberg-USA TODAY Sports

Granted, Pat Barry's head trainer, Greg Nelson, brings a wealth of grappling and striking knowledge to the table. However, with the departure of Nelson's former star peers, Brock Lesnar and Cole Konrad, Barry really doesn't have the proper workout partners at his disposal at Nelson's Minnesota Martial Arts Academy.
Barry also periodically travels to Trevor Wittman's Grudge Training Center in Colorado, but primarily to polish his already refined striking game.
Because he's dropped three of his 10 fights in the UFC via submission, "HD" should consider relocating to a camp like The American Kickboxing Academy in California or the Blackzilians in Florida.
Both camps possess plenty of light heavyweight and heavyweight contenders who can give Barry the high level of live grappling training he needs.
Barry often jokes about his deficiencies on the ground, but the 33-year-old Louisiana native knows that it could soon cost him his job if he doesn't address the issue.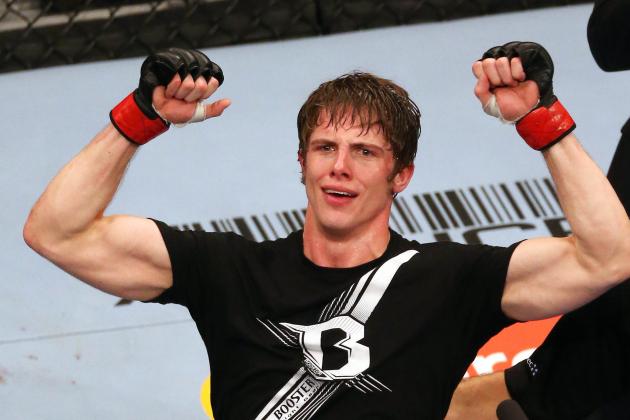 Tom Szczerbowski-USA TODAY Sports

If Matthew Riddle believes that fighting in mid-tier promotions like Legacy Fighting Championships will offer him a life of relative comfort and luxury like the UFC once did, he's sadly mistaken.
Riddle openly admitted that he moved from Pennsylvania to The Throwdown Training Center in Las Vegas so he could obtain a medical marijuana license and smoke the medication legally.
But Riddle subsequently tested positive for elevated marijuana metabolites twice between July 2012 and February 2013, a pair of mishaps that helped spell his demise in the UFC.
Since getting his walking papers, Riddle has not only publicly degraded the UFC, he's also foolishly taken shots at the company's president, Dana White.
Riddle needs some fatherly guidance to get his life back on track, and there's not a more suitable place to get that than at Dan Henderson's Team Quest MMA Fitness in Murrieta, Calif.
"Hendo" and head Brazilian jiu-jitsu coach Ricardo Feliciano could certainly work with Riddle's solid grappling dexterity and possibly turn the young renegade into a disciplined champion.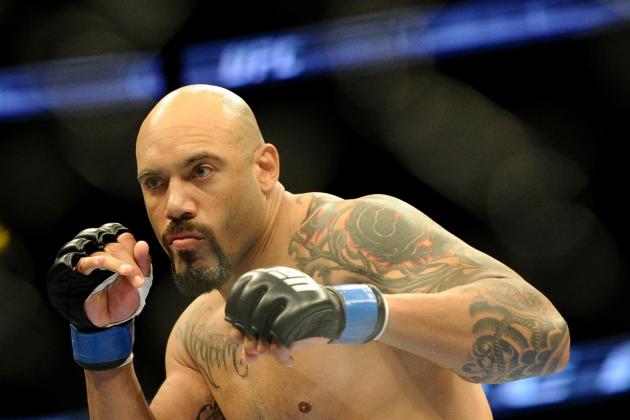 Jayne Kamin-Oncea-USA TODAY Sports

If Lavar Johnson could KO Joey Beltran and TKO Barry in his first two fights with the UFC, then the California native obviousky has the power to render any man unconscious.
Johnson, a product of Pro Buhawe and the American Kickboxing Academy, doesn't lack top-flight heavyweight training partners, he just hasn't gotten the neccesary attention from the world-class coaches in his corner.
Despite watching him lose three of his previous five bouts by submission, Johnson's coaching staff failed to persuade the heavy-handed 35-year-old to sharpen his grappling prowess before his bout with Brendan Schaub at UFC 157.
As usual, Johnson outstruck his opponent, but Schaub scored five takedowns and an unprecedented eight guard passes en route to an easy unanimous-decision win.
Like his stint in Strikeforce, in which Johnson won his first three bouts by KO and then dropped his last two by submission, Johnson has thrashed lower-level fighters in the UFC and floundered against top-tier competition.
If Johnson ever wants to become more than just a one-trick pony, he'll need to relocate to a gym where he can optimize his talents like Jackson's MMA in Albuquerque, N.M., or Xtreme Couture MMA in Las Vegas.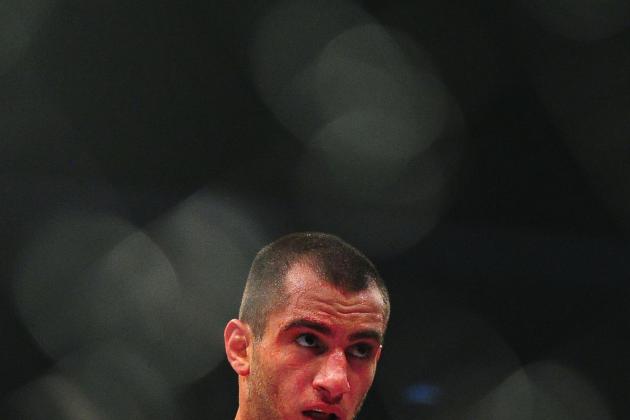 Mark J. Rebilas-USA TODAY Sports

Arguably the best fighter in the world who's yet to compete in the UFC, Mousasi astoundingly admitted in an interview with The MMA Hour's Ariel Helwani that he's only recently experienced a bona fide training camp.
I didn't have a lot of motivation the last couple of years, but I'm really excited to fight, and with the idea after this fight, maybe I can go to the UFC, so that is very motivating, and I am training really well for this fight. Now, I have coaches and sparring partners. I am doing now everything right. Maybe this sounds weird, but I don't believe I ever trained for a fight.
A pro since 2003, Mousasi bounced around several renowned gyms in Europe—all of which offered him little guidance—before finally realizing that he needed to permanently move to The United States in order to fully evolve.
But Mousasi, an Armenian who was born in Iran, who's lost just three times in 38 fights, has yet to stabilize himself with a trusted group of teammates, coaches and advisers.
"The Dreamcatcher" has already developed phenomenal striking and submission abilities. Mousasi just needs to touch up on his wrestling chops, an area that could be greatly improved with a permanent move to a camp like The American Kickboxing Academy or Dan Henderson's Team Quest MMA Fitness.
Nick Diaz's shocking rant during the post-fight press conference for UFC 158 surely came as an unpleasant surprise to his training camp.
In the midst of Diaz's tirade, it became evident that the Californian was carelessly hurling passive-aggressive insults at his inner-circle of coaches and training partners at Cesar Gracie Jiu Jitsu.
Cesar knew I had it coming. Everybody knew I had it coming. And then as soon as I had it coming, nobody was around to help me. The only ones that came to help me was my sambo coach Gil Castillo. You know, Jake (Shields) and Gil (Melendez) they can't train hard right now. They have fights coming up. They've got stuff going on, and they need to have their downtime when it's downtime. I can't go roughing those guys up just because I need training.
While his UFC 158 opponent, Georges St-Pierre, had an intricate support system in place at Tristar Gym in Montreal, Diaz was seemingly on his own at Cesar Gracie Jiu Jitsu.
Although it's a job with endless demands to prepare for St-Pierre, Gracie and his confidants didn't even bother to hook Diaz up with the appropriate training partners.
How could Gracie confidentally send Diaz into a scrap with one of the world's best pound-for-pound fighters knowing that he didn't properly prepare him?
Rest assure, though, with the help of head trainer Firas Zahabi, St-Pierre got thrown several Diaz clones during the months leading up to UFC 158, essentially winning the bout before it ever began.
Diaz already squashed the idea of moving camps after UFC 158. But if the 29-year-old "Stockton Bad Boy" ever wants to fully realize his potential, he'll need to get a guy like Zahabi in his corner.