Upsets are the staple of March Madness, and there are bound to be a few on Friday when Day 2 of the 2013 NCAA tournament's second round kicks off.
No. 14 seed Davidson nearly knocked off third-seeded Marquette on Thursday, and if not for a last-second bucket by Vander Blue, it would have represented the tourney's first big upset.
With 16 games on the schedule, Friday's slate features some of the most powerful teams in the nation. Duke, Ohio State, Miami, Indiana, Kansas, Florida and Georgetown will compete in their first game of the tourney, so which teams are ripe for an upset?
Florida (3) vs. Northwestern State (14)
Florida got off to a hot start at the beginning of the season, but the Gators are not as strong as their No. 3 seed suggests.
This team had six of its seven losses come against unranked opponents during the 2012-2013 season and cruised through a relatively easy schedule for most of the year.
The Gators face an intriguing Demons squad that scored more points during the regular season than any other team in the nation. Not only does Northwestern State pour on the points, but it also rebounds the ball exceptionally well, averaging more than 39 boards per contest.
Junior forward DeQuan Hicks is the leading scorer for the Demons, and his ability to make plays in the paint will challenge Florida's big men inside.
Should Florida's shooters come out cold in the first half, it's not crazy to imagine the Demons breaking out with a big lead at the half and a big upset at the end of the game.
Kansas State (4) vs. La Salle (13)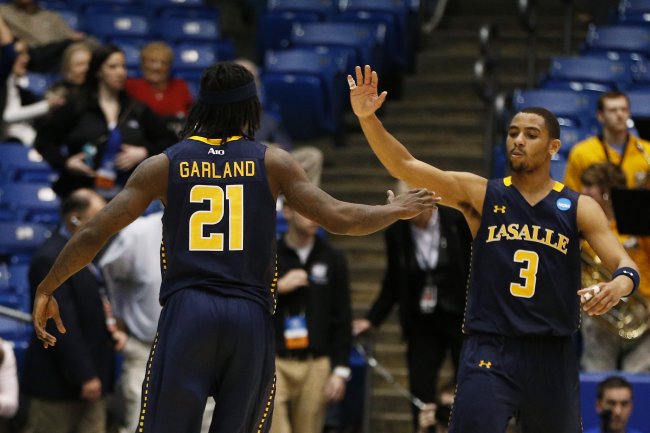 Gregory Shamus/Getty Images
The Wildcats have been a tough team to beat all year long. Of their seven losses, only one has come against an unranked opponent.
Kansas State is a defensive-oriented team that allows just 61.4 points per contest (No. 46 in the nation). However, this team isn't particularly adept at locking down opposing shooters (42.7 percent for No. 152 in the nation). It limits opposing teams' scoring by grinding out the clock on offense.
La Salle presents trouble for the Wildcats, as guards Ramon Galloway, Tyreek Duren and Tyrone Garland all average more than 13 points per contest and are capable of lighting it up from behind the arc.
Given La Salle's propensity to shoot three-pointers (20.5 per contest) and Kansas State's inability to rebound the basketball (35.3 rebounds per game, No. 141 in the nation), the Explorers will give the Wildcats fits all game long.
La Salle will get out to an early lead with a barrage of three-point baskets, and the Wildcats won't be able to keep up with the torrid pace.
UCLA (6) vs. Minnesota (11)
The Golden Gophers limped into the tournament having lost 11 of their last 16 games.
UCLA, on the other hand, has won nine of its last 12 contests.
Easy pick, right?
Not so fast.
Minnesota features Austin and Andre Hollins (not related), two guards who are capable of lighting up the scoreboard on any given night. Playing up front are two veteran forwards, Rodney Williams and Trevor Mbakwe, both of whom are strong on the glass and score in double digits on a nightly basis.
If Shabazz Muhammad run into shooting trouble, there isn't much depth behind them to pick up the slack. Jordan Adams is out and in need of surgery on his foot, and he was the team's second-leading scorer.
Should the Bruins struggle to hit open shots, the Golden Gophers will eke out a gutsy win to move on to Round 3.
Don't forget to print out your bracket and follow along with the live bracket.
Make your picks for the 2013 NCAA tournament here with the Bracket Challenge Game.
Follow all the exciting NCAA tournament action with March Madness Live.
Follow me on Twitter @JesseReed78