Michigan vs. South Dakota State: Live Score and Updates for Round of 64 Matchup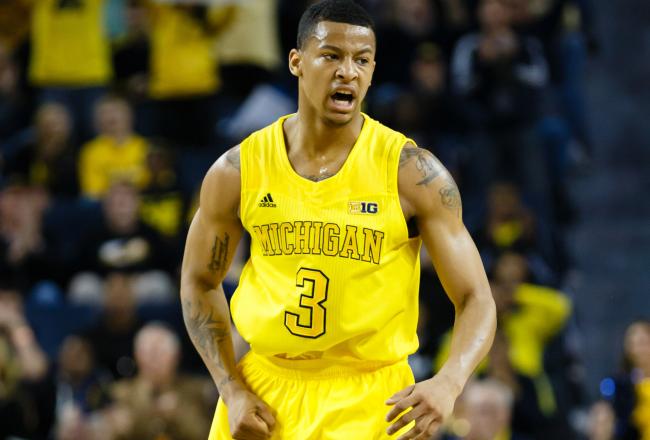 Trey Burke will look to lead Michigan past South Dakota State.
Rick Osentoski-USA TODAY Sports
Michigan 71, South Dakota State 56 - Final Score
Despite the fact sophomore point guard Trey Burke failed to score at least 10 points for the first time this season, the Michigan Wolverines were able to pull away from the South Dakota State Jackrabbits in the second half of a decisive 71-56 victory on Thursday night.
Freshman small forward Glenn Robinson III and junior shooting guard Tim Hardaway Jr. combined for 42 points to guide the fourth-seeded Wolverines to victory. The two knocked down 16-of-22 field goals.
Burke scored just six points on 2-of-12 shooting, but Michigan got a big boost from freshman power forward Mitch McGary. The Chesterton, Ind. native scored 13 points and snagged nine rebounds in the win.
The Wolverines' much maligned defense also turned around quite a bit this evening. Michigan held Nate Wolters, who averages 22-plus points per game, to just 10 points on 3-of-14 from the field.
The Maize and Blue now await the winner of the Akron Zips vs. VCU Rams matchup, and will be back in action on Saturday.
Michigan 71, South Dakota State 56 - End of Game
Burke dribbles out the clock. A very impressive win for Michigan tonight, which will certainly infuse some mojo back into a team that limped into the NCAA tournament.
Mich. 71, SDSU 54 - 1:11 2nd Half
Burke hits the dagger by knocking down a step-back jumper from the top of the key. Michigan will be scouting the Akron vs. VCU matchup after it closes out the Jackrabbits.
Larry Lage of The Associated Press details how Michigan has been able to pull away tonight:
The Hardaway (21 points), Robinson (19) & McGary (13) led #Wolverines have pulled away, leading South Dakota State by 15 with 3:30 left

— Larry Lage (@LarryLage) March 22, 2013
Mich. 67, SDSU 52 - 3:30 2nd Half
Mitch McGary comes up with a steal on the wing and runs the floor for an uncontested dunk. McGary now has 13 points and nine rebounds.
Michigan has taken over and is not looking back. Pretty impressive night for the Wolverines when you consider Burke has just four points on 1-of-10 shooting. This will likely be the first time all season Burke has been held below 10 points.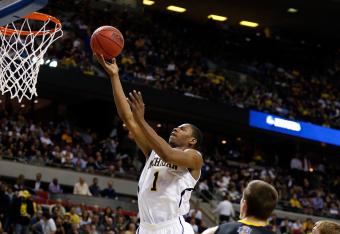 Mich. 61, 50 - 5:40 2nd Half
Robinson's big night continues as another jumper goes down. Michigan needs him to produce if it is going to make a run to the Final Four.
Mich. 57, SDSU 45 - 8:38 2nd Half
Michigan stretching its lead, despite Burke not being on the floor. Good sign for the Wolverines, but they need Burke back to make a deep run. In fact, Burke is coming back into the game right now.
Tim Hardaway Jr. is unstoppable when he knocks down that pull-up jumper from the top of the key. Hardaway is feeling it tonight from beyond the arc, though, which is a great thing for Michigan's Final Four chances. Hardaway is 7-of-10 and 5-of-7 from distance.
Rod Beard of The Detroit News provides an update on Burke's injury situation:
Burke is going to the locker room to get some medical attention -- and probably a concussion test, I would guess.

— Rod Beard (@detnewsRodBeard) March 22, 2013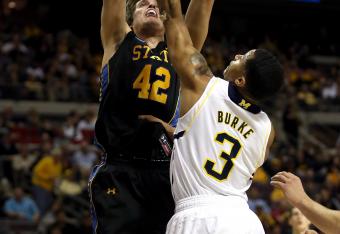 Mich. 49, SDSU 41 - 11:07 2nd Half
Trey Burke went up for a defensive rebound and nearly slammed his head on the ground. Replays showed just his shoulders hit, but Burke is still down on the floor.
Dan Revsine of the Big Ten Network makes a great point about Burke's poor shooting performance:
Burke having an off night may be best thing for #Wolverines.Need Robinson and Hardaway to be factors to make a deep run.

— Dave Revsine (@BTNDaveRevsine) March 22, 2013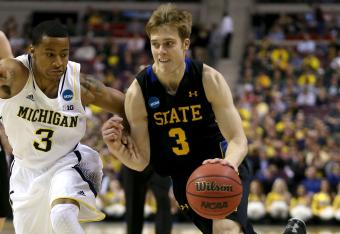 Mich. 47, SDSU 38 - 12:27 2nd Half
Burke with a bullet pass to Robinson for an easy lay up. Although Burke has just one field goal, he is still producing for in a big way for the Wolverines. Burke has six assists to just two turnovers thus far.
Good to see Michigan taking better care of the ball in the second half. The Wolverines will need that kind of performance if they meet the VCU Rams in the round of 32.
This stat from Chris Balas of TheWolverine.com proves how important Glenn Robinson's production is to Michigan:
Reminder: Michigan 17-1 when Glenn Robinson III scores 10 or more. He currently has 15.

— Chris Balas (@Balas_Wolverine) March 22, 2013
Mich. 41, SDSU 34 - 15:05 2nd Half
Robinson with another triple. All three of them have been wide open looks. Burke is still struggling from the field, but the other Wolverines have picked up the slack, which is great to see.
Mich. 36, SDSU 28 - 17:08 2nd Half
Glenn Robinson III has got his jump shot going tonight. Robinson is 4-of-4 shooting and just hit a big three-pointer from the wing. Burke fed him again in the corner for three more.
If Robinson becomes a consistent shooter he will be a lottery pick in a future NBA draft.
The second half is underway!
This was also quite a shock, though, too:
Trey Burke & Nate Wolters have combined for 6 points at the half. Burke & Wolters combined average 42 PPG this season.

— ESPN Stats & Info (@ESPNStatsInfo) March 22, 2013
The biggest surprise of the first half: redshirt junior forward Jordan Morgan did not play at all. McGary is obviously playing well, but Jon Horford came off the bench first for Michigan. It will be interesting to see if Morgan plays at all in the second half.
South Dakota State hit just 3-of-13 three-pointers in the first half. The Jackrabbits will have to take the ball inside more often, or start knocking down perimeter shots to take down Michigan in the second half.
The Wolverines simply need to do everything they did in the first half, but Trey Burke needs to start scoring for them to pull away.
Bleacher Report's very own Adam Jacobi has made his prediction for the second half via Twitter:
I'd say Michigan wins this one by 15. Maybe more. No need to panic.

— Adam Jacobi (@Adam_Jacobi) March 22, 2013
Michael Rothstein of ESPN.com points out South Dakota State's lack of depth via Twitter:
So...South Dakota State had four guys play 20 minutes, one guy play 17 and the other 3 in the first half.

— Michael Rothstein (@mikerothstein) March 22, 2013
Stats from the first 20 minutes of action:
HALF - Team Stats - FG: 11-24 (45.8%) 3PT: 5-10 (50%) FT: 3-6 (50%) | 16 rebounds, 5 assists, 3 blocks, 2 steals

— Michigan Basketball (@umichbball) March 22, 2013
Mark Snyder of the Detroit Free Press provides a statistic to show how unexpected Brayden Carlson's outstanding first half was heading into tonight:
SD's Carlson only in double figures 7 times all year... has 14 already

— Mark Snyder (@Mark__Snyder) March 21, 2013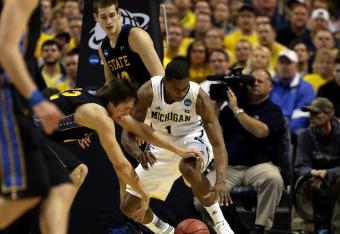 Mich. 30, SDSU 26 - Halftime
Hardaway is on fire from three-point land. The junior shooting guard is 4-of-5 from deep and has 12 points. Burke assisted on the last trey from Hardaway. Great pass for his third assist.
Michigan will take a four-point lead into halftime without Burke knocking down a single field goal. Burke and the Wolverines have also held Wolters to just four points on 2-of-7 shooting.
Mich. 27, SDSU 22 - 1:45 1st Half
Burke gets his first points of the game at the free-throw line. It is a great sign that Michigan is ahead by five points, while Burke has just two.
Braden Carlson's three-point shooting has the Jackrabbits hanging around, though. Carlson is 3-of-4 from beyond the arc and has 14 points.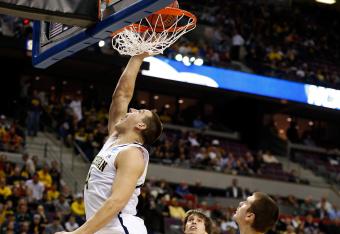 Mich. 25, SDSU 19 - 2:55 1st Half
McGary does a great job running the floor for being 6'10". The freshman just caught a lob pass from Burke, took one step to get his balance and threw down a two-handed flush.
Michigan is starting to get out in transition, which is where it thrives.
Mich. 21, SDSU 19 - 4:05 1st Half
Burke misses yet again on another drive to the basket. Glenn Robinson III came up big along the baseline, though, and hit a jumper. Hardaway knocked in his third three-pointer as well.
The Wolverines have the momentum after allowing the Jackrabbits to take an early lead.
This article is
What is the duplicate article?
Why is this article offensive?
Where is this article plagiarized from?
Why is this article poorly edited?

Michigan Wolverines Basketball: Like this team?