Biggest Takeaways from Week 5 of MLB Spring Training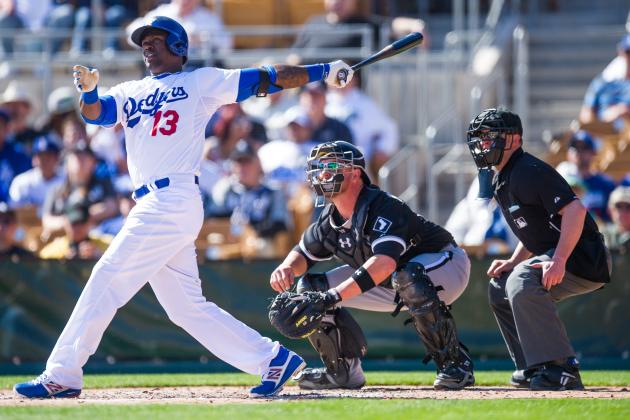 Rob Tringali/Getty Images

Five weeks of spring training games are in the books, and Opening Day is now right around the corner, with the first game of the season scheduled for March 31 when the Astros square off against the Rangers.
Only so much stock can be put in a team or player's performance during spring training, but we can still take something away from preseason games.
So here are the biggest takeaways from the fifth week of MLB spring training and the key storylines of the past seven days in preseason baseball.
Begin Slideshow

»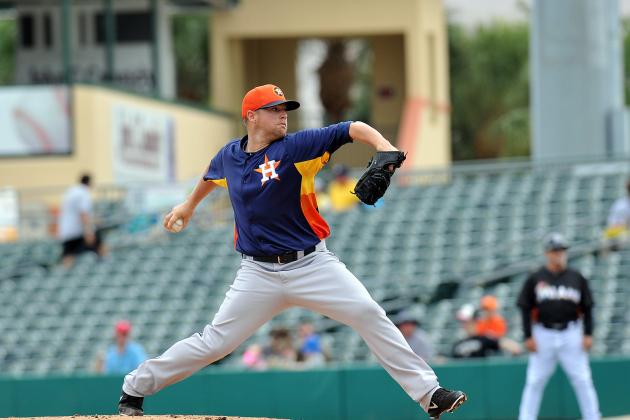 Steve Mitchell-USA TODAY Sports

Throughout his four big-league seasons, Bud Norris has shown flashes of being a plus major league starter, as he has a 4.42 ERA and 8.8 K/9 for his career.
Last season, the right-hander went 7-13 with a 4.65 ERA and 165 strikeouts in 168.1 innings. This spring, he's allowed nine earned runs and 14 hits in 14.2 innings of work.
On most teams, those numbers would make a guy a No. 4 starter at best. On the rebuilding Astros, it's good enough to earn an Opening Day nod and the role of staff ace (h/t CBSSports).
With a salary of $3 million, he's one of the few players on the roster not making the league minimum, so don't be surprised if he's on the move by midseason.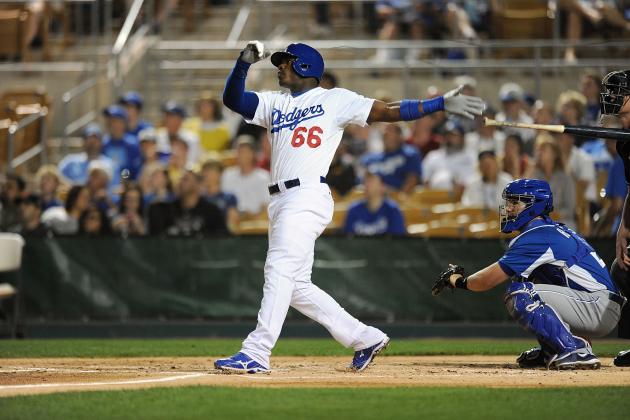 Norm Hall/Getty Images

Another week, another series of spectacular performances from Dodgers uber-prospect Yasiel Puig, highlighted by a 4-for-4 game on Tuesday in which he tripled and homered.
The 22-year-old Cuban defector is 25-for-48 with eight extra-base hits and 11 RBI this spring, and he's been the MVP of spring training to this point.
He has just 82 minor-league at-bats under his belt and has yet to play above High Single-A, but he has made a serious case to break camp with the team.
With Hanley Ramirez and Carl Crawford both headed for the disabled list to kick off the season, the team has an opening in left field and in the middle of the lineup. Time will tell if L.A. pulls the trigger on naming him to the 25-man roster, but he certainly looks ready to make a serious impact.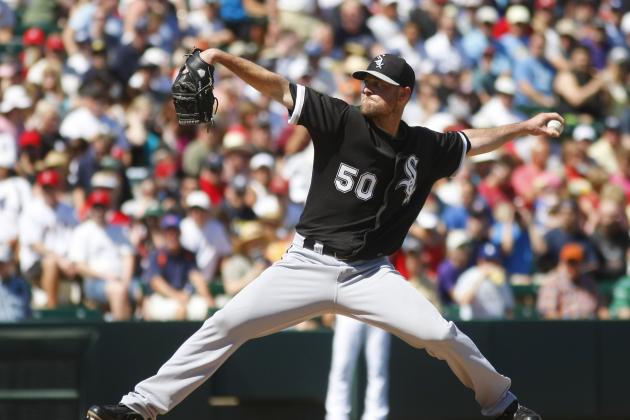 Rick Scuteri-USA TODAY Sports

Over the three-year span from 2008-2010, John Danks went 40-31 with a 3.61 ERA as he quietly emerged as one of the best southpaws in the league.
Despite a down year in 2011, the White Sox gave him a five-year, $65 million extension prior to last season, as he was set to hit free agency at the end of the year.
Given the Opening Day nod, Danks struggled out of the gates, and through his first nine starts, he went 3-4 with a 5.70 ERA before hitting the disabled list with a shoulder strain that wound up requiring season-ending surgery.
Looking to get back on track this spring, Danks has allowed 27 hits and 20 earned runs in 11 innings of work, and a lack of arm strength will land him on the DL to open the season (h/t ESPN).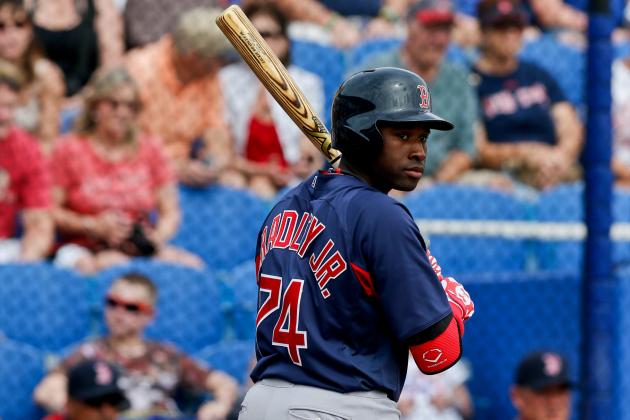 Derick Hingle-USA TODAY Sports

It seems like every year a top prospect steps forward with a huge spring and forces the big league club into a tough decision on whether to put him on the Opening Day roster.
This spring, we have two guys, as Dodgers outfielder Yasiel Puig, whom we talked about earlier, and Jackie Bradley Jr. have both been fantastic during the preseason.
A supplemental-round pick in the 2011 draft, Bradley hit .315/.430/.482 in his first full pro season while reaching Double-A.
Expected to compete for a starting job next spring, Bradley has come through a year early, going 20-for-45 this spring as he's making a real case for a roster spot.
With David Ortiz on the DL to start the season, the Red Sox could move Jonny Gomes in from left field to DH and hand Bradley the left-field job to open the season. It's a big decision and one that will be followed closely in the days ahead.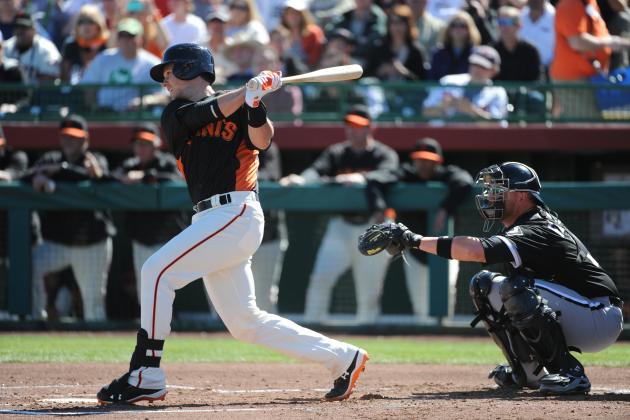 Rich Pilling/Getty Images

According to Jon Heyman of CBSSports, the Giants have quietly begun talks with superstar catcher Buster Posey on a long-term deal.
The reigning NL MVP, Posey means as much to his team as anyone in the league, and the fact that he plays a premium position only adds to his value.
Terms of a potential deal have not been released, though Heyman reported that there is a decent-sized gap between the Giants and Posey at this point.
The eight-year, $184 million extension that Joe Mauer signed with the Twins set the bar for contracts among catchers, and while the length of the deal may not be realistic, the $23 million annual salary may not be far off from what Posey could fetch.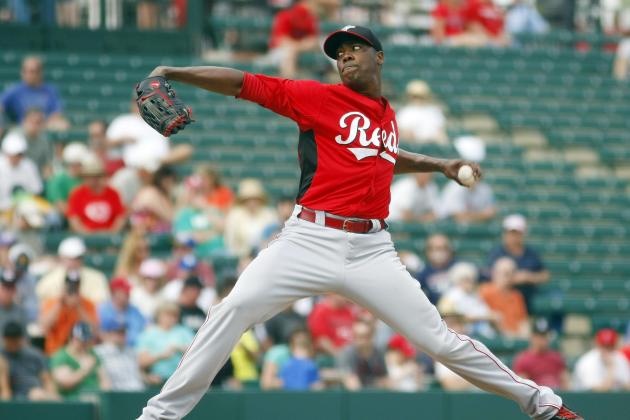 Rick Scuteri-USA TODAY Sports

A starter during his time in Cuba and while he was progressing through the Reds' system, Chapman turned a corner in his development when Cincinnati opted to move him to the bullpen.
After serving as a setup man in 2011, the team handed him closing duties last season, and he turned in an All-Star campaign with 38 saves and a whopping 122 strikeouts in 71.2 innings.
Despite that late-inning success, the Reds opted to stretch him out this spring and move him to the rotation. That is, until Monday, when Chapman told the media he would prefer to remain in the ninth-inning role (h/t ESPN).
It appears as though the Reds will honor the wishes of the flame-throwing left-hander (h/t CBSSports), as Mike Leake will move to the No. 5-starter spot and Jonathan Broxton will be bumped to a setup role.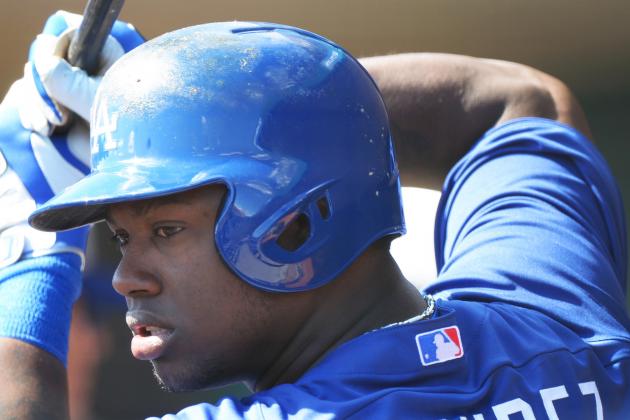 Jake Roth-USA TODAY Sports
Dodgers SS Hanley Ramirez
The Dodgers' payroll entering the season: $213 million. The Yankees' payroll entering the season: $210 million. Those two teams find themselves head and shoulders above the rest of the league in spending (h/t Yahoo).
However, a seemingly endless budget can't guard against injuries, and each of those clubs have been hit hard by the injury bug this spring.
For the Dodgers, Carl Crawford has been slow in his recovery from Tommy John surgery last August. Major offseason-acquisition Zack Greinke (elbow inflammation) and Hanley Ramirez (torn thumb ligament) have battled injuries as well this spring, as the Dodgers are not off to a great start.
As bad as that is, things are much worse for the Yankees, who lost Alex Rodriguez to hip surgery before the season even started. Key sluggers Mark Teixeira (strained wrist) and Curtis Granderson (fractured forearm) will join him on the disabled list, and perhaps even Derek Jeter, as he has been slow to return from a broken ankle suffered last postseason.
Despite the tons of money these two teams have spent, they can't buy luck, and they've both been hit with some terrible luck this spring in the health department.